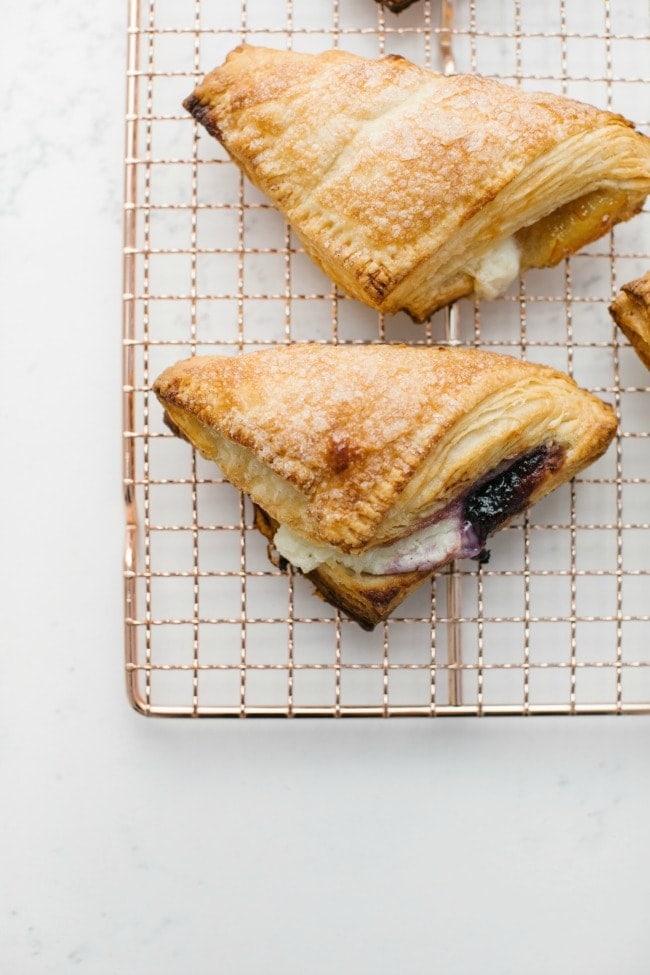 'I'm all over the place, up and down, scattered, withdrawing, trying to find some elusive sense of serenity.'
'The world can't give that serenity. The world can't give us peace. We can only find it in our hearts.'
'I hate that.'
'I know. But the good news is that by the same token, the world can't take it away.'
–Anne Lamott, Bird by Bird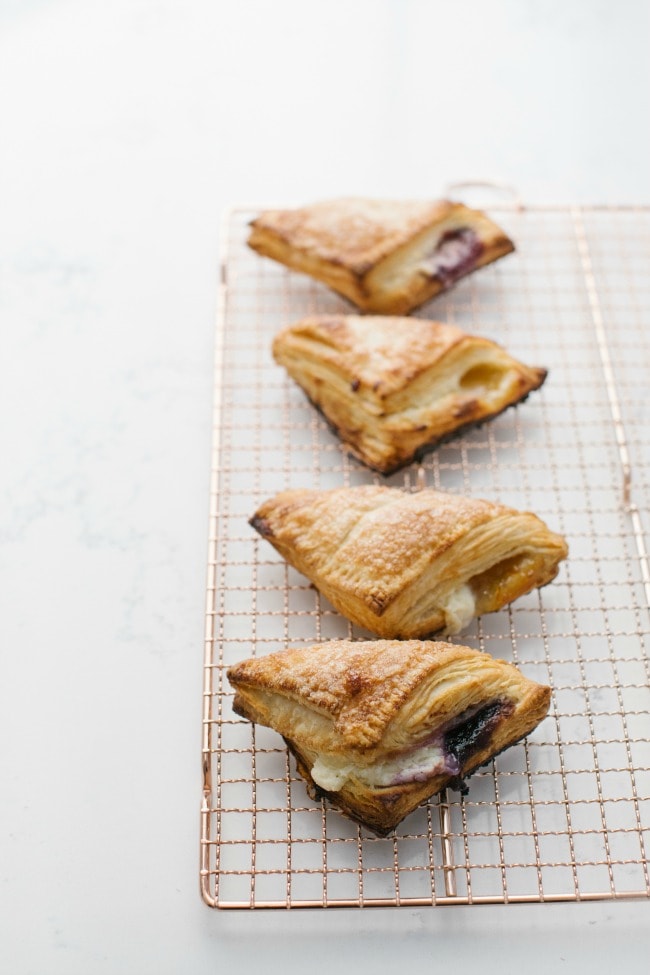 I come to you with a recipe for turnovers filled with jam and cream cheese filling. I love puff pastry filled with fresh fruit, but it's not always in season.
I often turn to jam when all my summer berries are not in season. I have mixed feelings about jam in baked goods; often it's just too sweet, and then I regret using it. Here I've paired it with a tangy cream cheese filling, which balances the sweetness.
I also try to use jams with a bitter or tart edge; orange marmalade and blackberry jam are two favorites. The combination of the flaky, buttery pastry, tart-but-sweet jam, tangy cream cheese, and a crunchy, sugary top is a great idea on a bitter, cold winter morning.
(Also, I couldn't quite find words this morning to how I was feeling, but then remembered I already had said them here.)
Visual Tutorial of How to Make Turnovers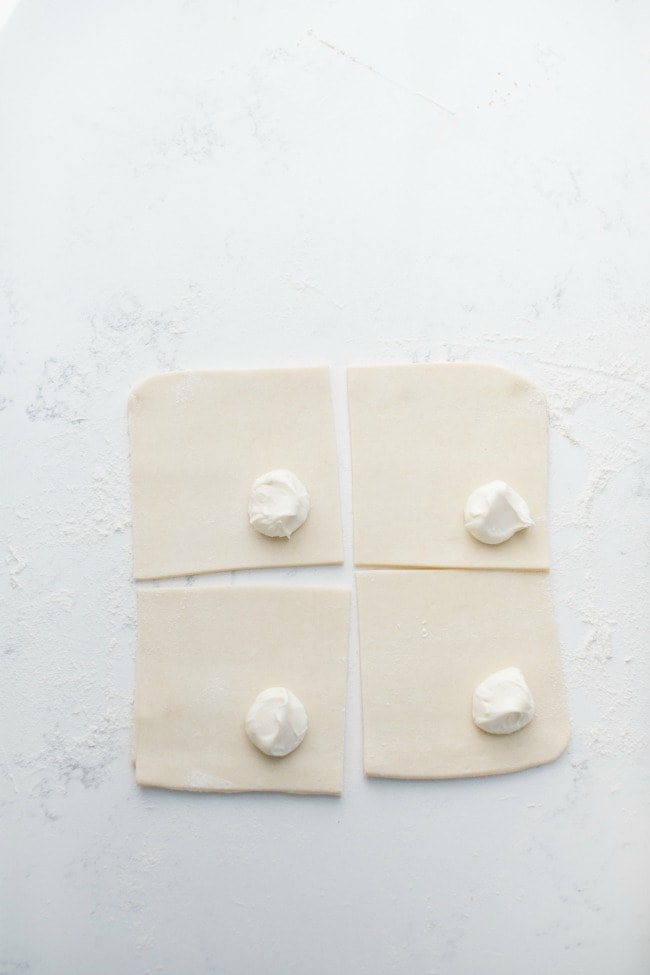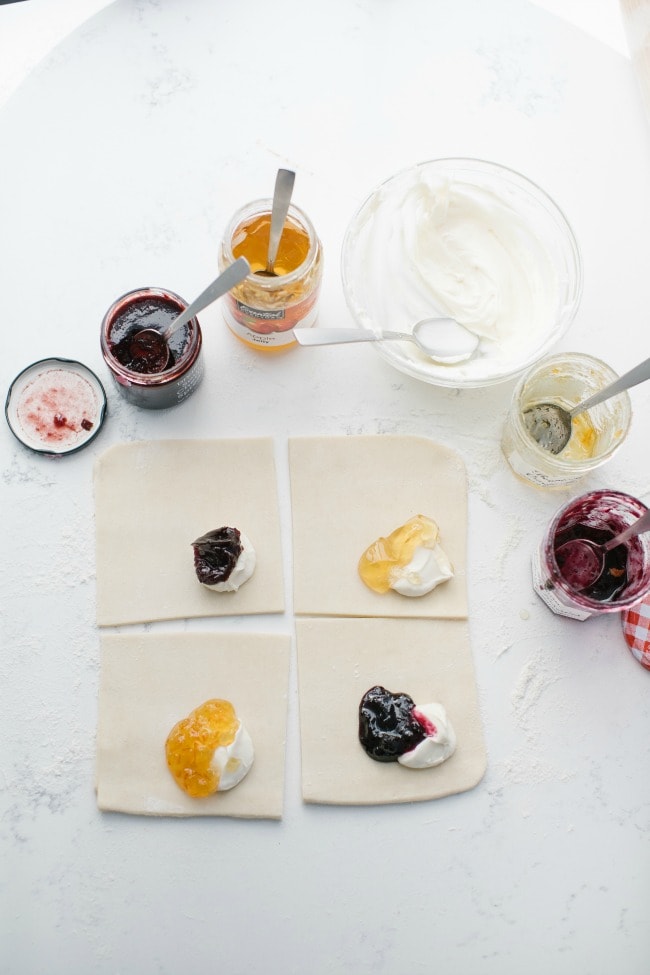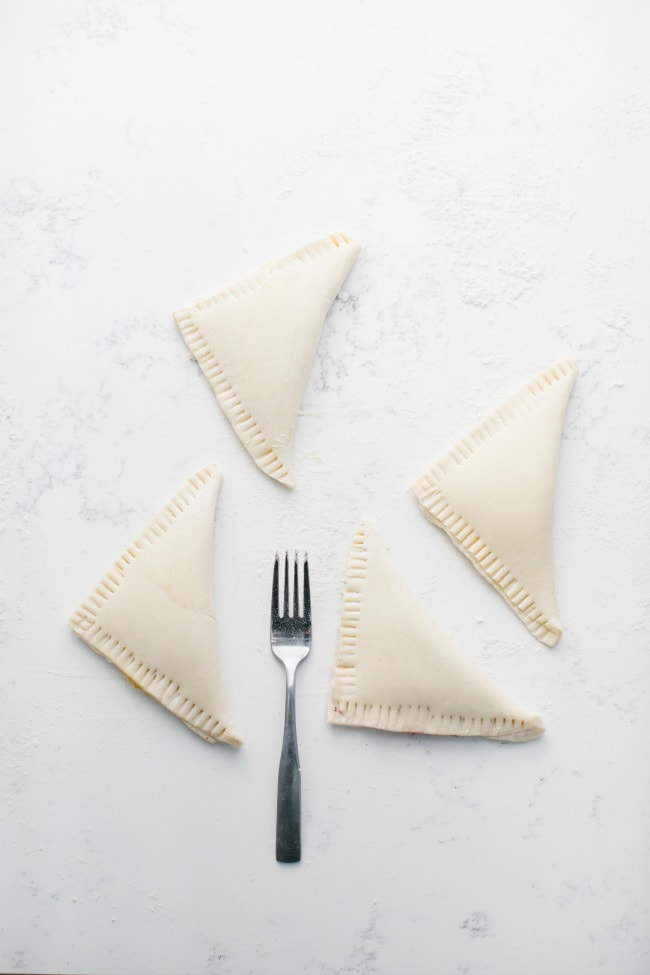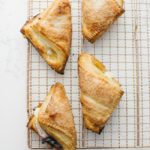 Flaky Puff Pastry Turnovers with Jam
Flaky, buttery turnovers filled with a tart-but-sweet jam and tangy cream cheese. Use store-bought puff pastry to make things easy!
Print
Pin
Rate
Ingredients
1

pound

puff pastry,

store-bought or homemade, see notes*

Jam,

marmalade, fruit butter, etc
Cream Cheese Filling
4

ounces

(113g) cream cheese, softened

2

tablespoons

sugar

1/2

teaspoon

pure vanilla extract

Pinch

salt

1

teaspoon

lemon juice
Instructions
Make the filling
Using stand mixer fitted with paddle, beat cream cheese, sugar, vanilla, and salt on low speed until smooth, about 1 minute. Scrape down the sides of the bowl, add 1/4 teaspoon of lemon juice, and mix to combine. Taste filling – you are looking for the lemon juice to brighten the filling, but not make it taste like lemon. Add more juice if needed. Transfer to a bowl, cover with plastic, and refrigerate until ready to use.
Make the turnovers
Preheat the oven to 400F degrees, with the oven rack in the middle position. Stack two baking sheets on top of each other and line the top sheet with parchment paper. (Occasionally the bottoms of the turnovers can bake faster than the tops, which is why I have you bake them with two baking sheets stacked on top of each other.)

Gently flour your work surface, and roll each piece of the pastry dough into a 10-inch square. Cut each square into four 5-inch squares, for a total of 8 squares.

Place a dollop of cream cheese and a dollop of jam on each square (about a tablespoon of each). Brush the edges of each square lightly with water.

Fold each square of dough to make a triangle, and crimp the edges with a fork to seal. Move the triangles to the prepared baking sheets, and refrigerate for 15 minutes.

Brush the tops of the turnovers lightly with water and generously sprinkle the tops with sugar. Bake the turnovers until golden brown (20-25 minutes), rotating the pan halfway through. Move the turnovers off the baking sheet to a wire rack and cool slightly. Serve warm.
Notes
The turnovers may leak a bit in the oven – this is normal, and nothing to worry about.
I used my rough puff pastry recipe to make them, but you can use store-bought to make things quick and easy. If you are going to use store-bought puff pastry, use a brand that uses butter instead of oil if possible.
In the directions, I'm assuming you are using store-bought, which usually comes in two 1/2 pound pieces. If you are using homemade, you will need to cut your puff pastry into two 1/2 pound pieces to roll and shape the turnovers.
I like to use a fruit filling that is on the tart/bitter side, as it balances nicely with the cream cheese (but sweet filling will taste good, too). You can omit the cream cheese filling and just use jam if you prefer. I also have recipes for sour cherry turnovers.