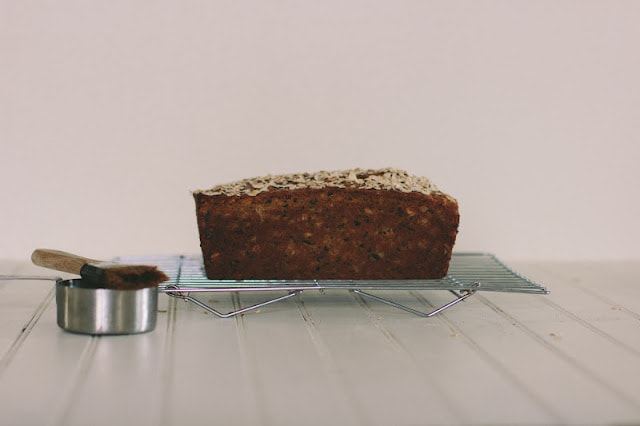 Lately I've been rocking a well-worn copy of
Molly Katzen
's
The Enchanted Broccoli Forest
. I've loved this cookbook for a long time; it was a staple at my beloved
Blue Heron Coffeehouse
, and Larry and Colleen were frequently seen thumbing through it, shocking the sleepy town of Winona with Chinese mushroom soup and eggplant salads and all kinds of other goodness that were found handwritten on it's beautiful pages.
And there was this bread one day, one crisp fall day when Adam and I were off again and most my grades were off again, and I had skipped another lecture and there were piles of homework in my dirty red back pack. I stopped in for lunch before my work shift, and scrawled on the hanging chalkboard under 'soup of the day' was 'creamy zucchini' and 'maple oatmeal bread'. I don't know if they were meant to be together, but they both sounded so good that I ate them together anyway and went back for seconds. And I had never had creamy zucchini soup or maple oatmeal bread, but that first taste is forever etched in my mind; Me: greedily hunched over a well-used cream-colored bowl, eating my bread and soup and feeling comfort for the first time in weeks. I will never forget those flavors on my tongue and how warm they were to my belly; the maple and oatmeal and cream and zucchini relieving my heartache for a few precious moments. Each bite held kind voices, my sister's laugh, the tall oak trees that watched over me as a child. When my bowl was empty I took it in the back, and there, as my shift was starting, I couldn't bring myself to wash it.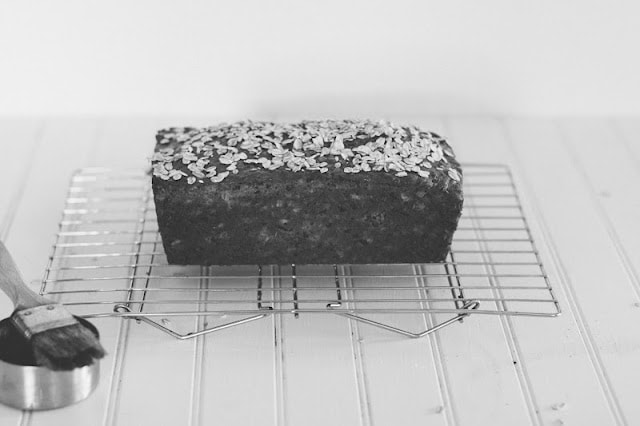 Maple Oatmeal Bread with Cacao Nibs
adapted from The Enchanted Broccoli Forest

The original recipe is slightly different – it did not have cacao nibs, but I've found them to be a wonderful addition. You could omit them, or add pecans instead. If you want to use whole wheat flour in this recipe, you can substitute 1 cup of the all purpose for 1 cup of whole wheat. This bread is very very dense and doesn't rise much. The raspberry cream cheese can be omitted, but of course, it's terribly delicious. I was inspired to add raspberries to the mix after seeing a raspberry-cacao nib tart on Pinterest.
2 cups unbleached all-purpose flour
1 1/2 cups rolled oats
1 1/2 teaspoons baking soda
1/2 teaspoon baking powder
3/4 teaspoon salt
1/2 cup cacao nibs
2 eggs
1/2 cup real maple syrup
1 cup buttermilk
2 teaspoons vanilla
5 tablespoons melted butter, cooled slightly
1 tablespoon maple syrup, for brushing
rolled oats, for sprinkling
Preheat oven to 350. Grease a 8 x 4 inch bread pan.
Whisk together flour, oats, baking soda, baking powder, salt, and cacao nibs. Set aside.
In a standing mixer, beat the eggs until lightly beaten. Add the maple syrup, buttermilk, vanilla, and melted butter. Add the flour mixture and beat on low until combined. Turn into the prepared loaf pan and bake 40-50 minutes, until a toothpick comes out clean. Let cool ten minutes, then removed bread from pan and place on a wire rack. Lightly brush the top of the warm bread with 1 tablespoon maple syrup, and sprinkle with oats. Serve with raspberry cream cheese if desired.
Raspberry Cream Cheese
3 ounces cream cheese, soft
1/3 cup raspberries, crushed
1 tablespoon maple syrup [more or less to taste]
Mix all three ingredients together with a fork, whisk, or mixer.