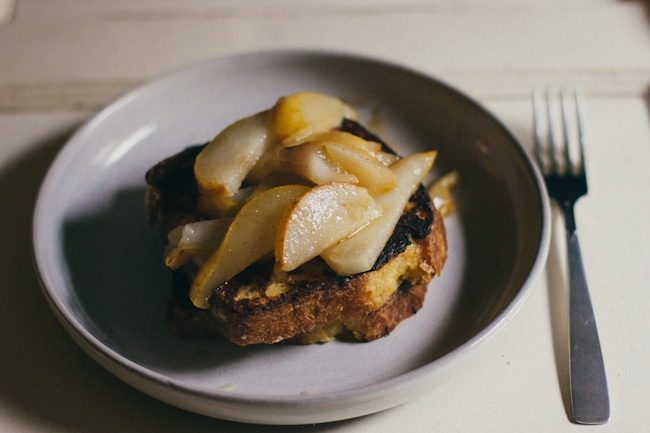 'I am not a chef and have never been. I am a home cook who writes about food. Not even a passionate cook (whatever one of those is), just a quietly enthusiastic and slightly greedy one. But, I like to think, a thoughtful one. Someone who cares about what they feed themselves and others, where the ingredients come from, when and why they are at their best, and how to use them to give everyone, including the cook, the most pleasure…
The art of crafting something by hand – a sandwich even- for others to enjoy is something I can always find time for. Making a dish over and over again till it is how you want it, whether a loaf of bread or a pasta supper for friends, gives me a great deal of pleasure…[i]f we follow a recipe word for word we don't really learn anything, we just end up with a finished dish. Fine, if that's all you want. Does it really matter how you get somewhere? I don't think it does. Short cuts are fine, rule breaking is fine. What matters is that the food we end up with is lick-the-plate delicious.
Let us never forget that we are only making something to eat. And yet, it can be so much more than that, too. So very much more.'
(Nigel Slater, Notes From The Larder)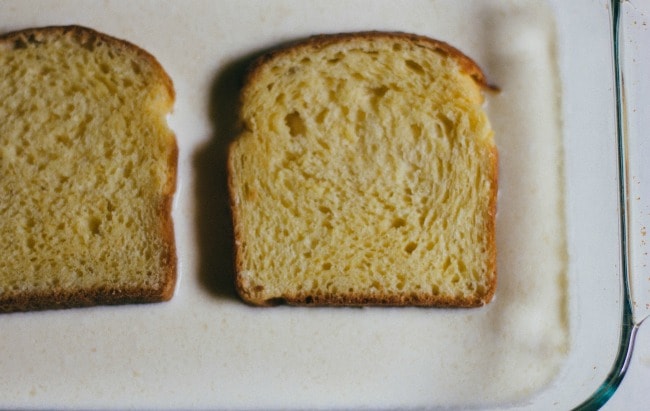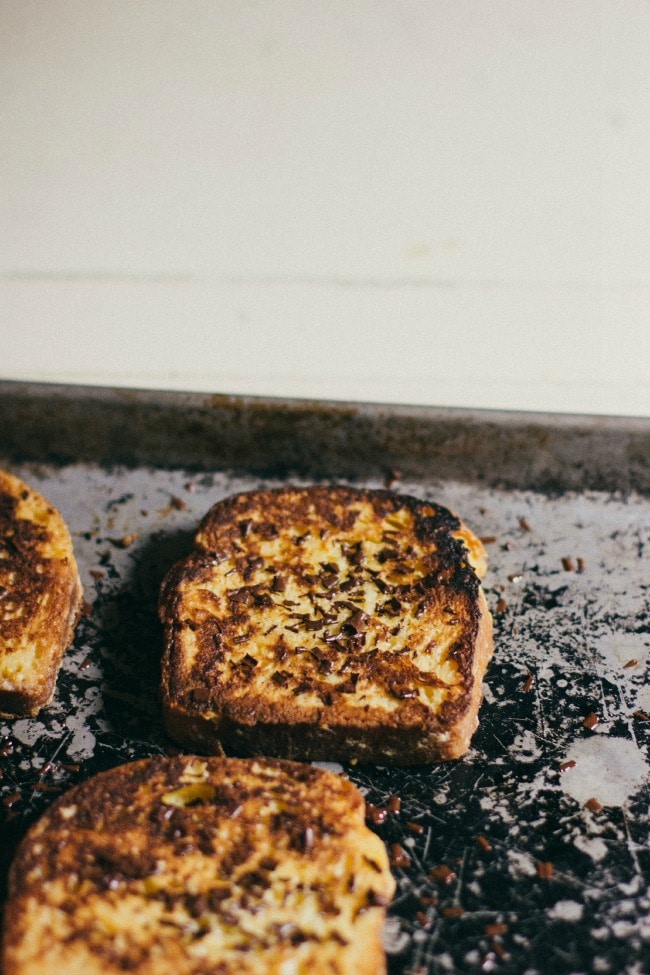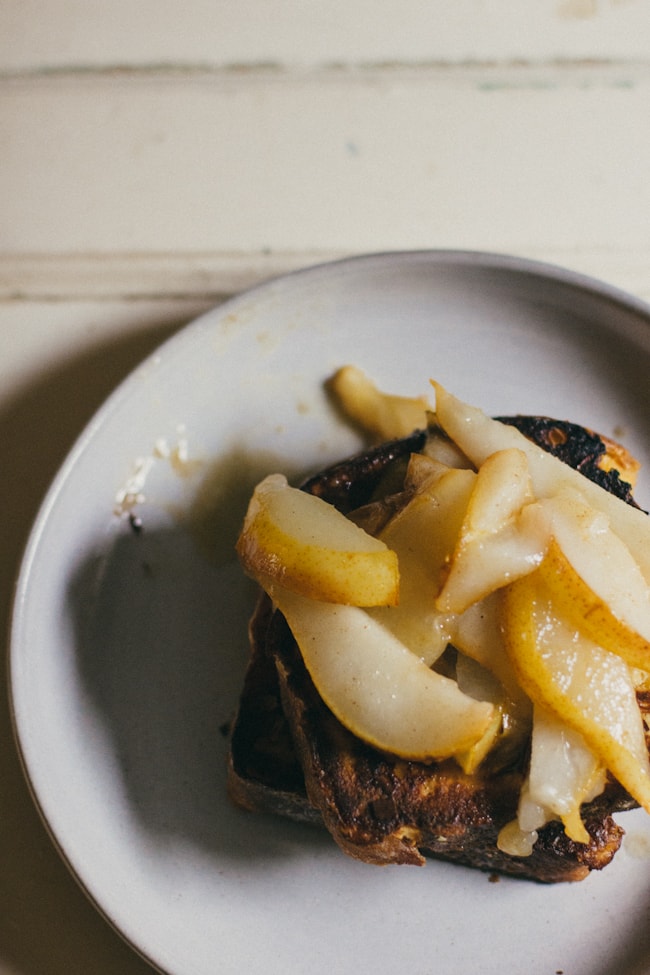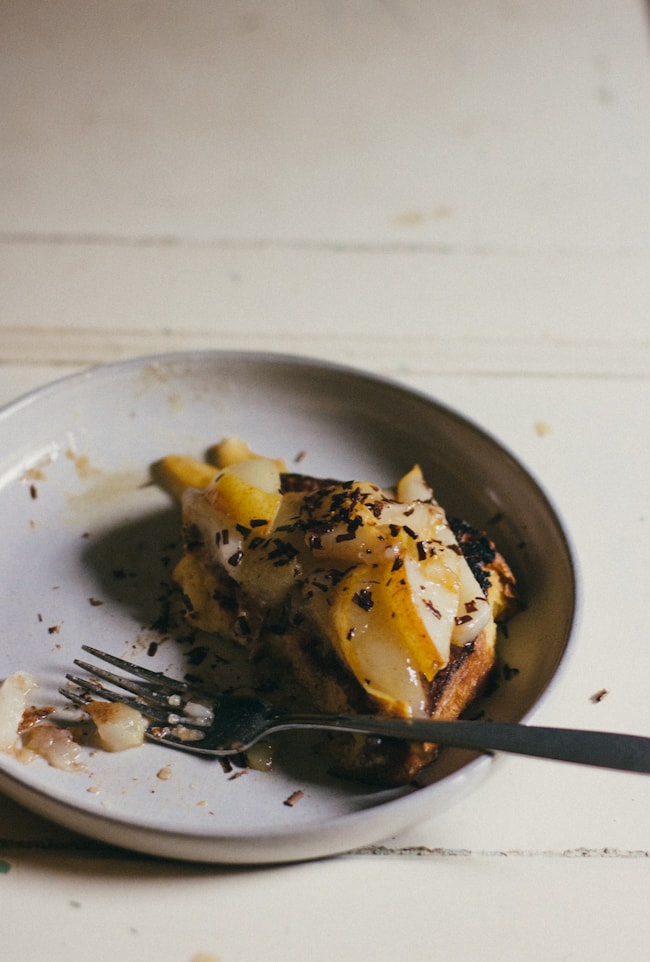 French Toast with Bittersweet Chocolate and Pears
adapted from Cooks Illustrated
8 slices brioche (or challah, or good white bread will work, too)
2 tablespoons butter, plus more for the pan
1 1/4 cups half and half
1 egg
2 tablespoons sugar
2 teaspoons vanilla
1/4 teaspoon salt
1/4 cup flour
a few ounces bittersweet chocolate, grated or finely chopped (I used a vegetable peeler)
sautéed pears (recipe follows) (optional)
Preheat your oven to 200 degrees, and arrange the bread on a wire rack set over a baking sheet, and bake until the bread is slightly dry, 15 minutes or so (alternately, you can also leave the bread slices out uncovered overnight, which will help then dry). Remove the bread from the oven but leave the oven on, with the pan still inside.
Melt the butter and let cool slightly. When it has cooled a bit, whisk the egg and butter together until well combined (if the butter is too hot, the egg may scramble, so make sure it is warm, not hot). In another bowl or measuring cup, whisk together the half and half, sugar, vanilla, and salt. Add butter-egg mixture, and combine. Slowly add the flour and whisk until smooth. Pour the batter into a shallow dish.
Melt some butter (about 1 tablespoon) in a 12 inch cast iron pan (a non-stick skillet will work, too) over medium heat until it is just beginning to brown, and swirl the butter in the pan to coat it. Soak two pieces of bread in the batter while the butter is melting (about 30 seconds per side), allowing any access batter to drip off back into the dish, and put the bread in the hot pan. Cook until golden brown on both sides, about 2 1/2 minutes per side. Transfer the toast to the wire rack and keep warm in the oven. Repeat until all the bread is cooked.
Remove the baking pan from the oven, and sprinkle the grated bittersweet chocolate evenly over the toast, as much or as little as you'd prefer (I'll just say I started out with a little bit, and ended up going back and adding more. I liked my slices covered well). Serve with maple syrup and whipped cream, or warm, sautéed pears.
Sautéed Pears
4 large pears (I used Barletts), sliced
3 tablespoons butter
2 tablespoons honey or sugar
Melt the butter and honey together in a cast iron skillet (I used the same skillet I had made the French toast in – just made these quickly while the toast was warming in the oven). Add the pears and cook until soft and beginning to brown slightly, 3-5 minutes (the time will depend on how ripe your pears are). Serve on the French toast warm.