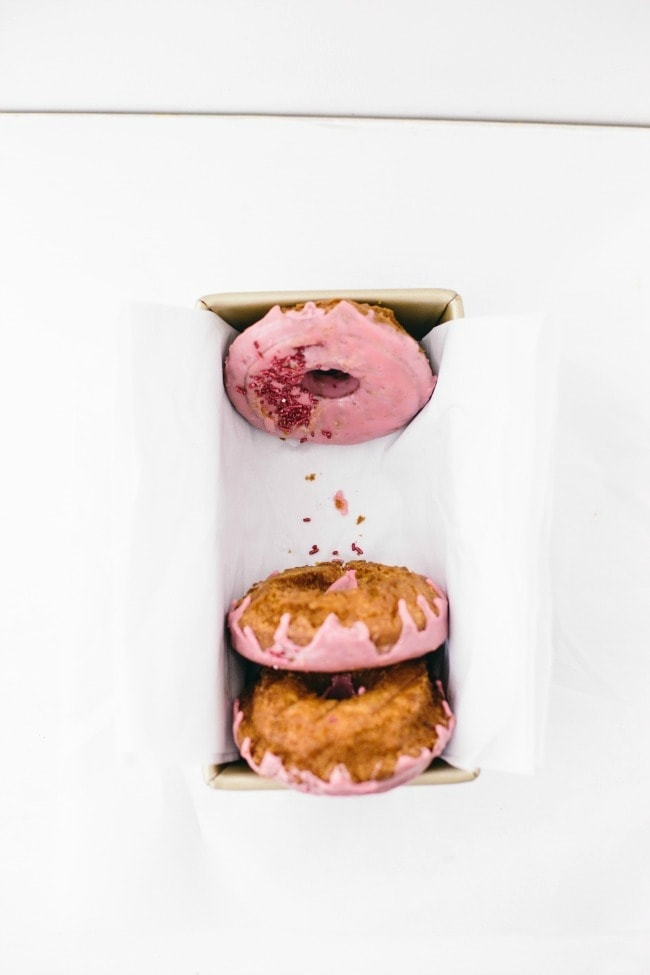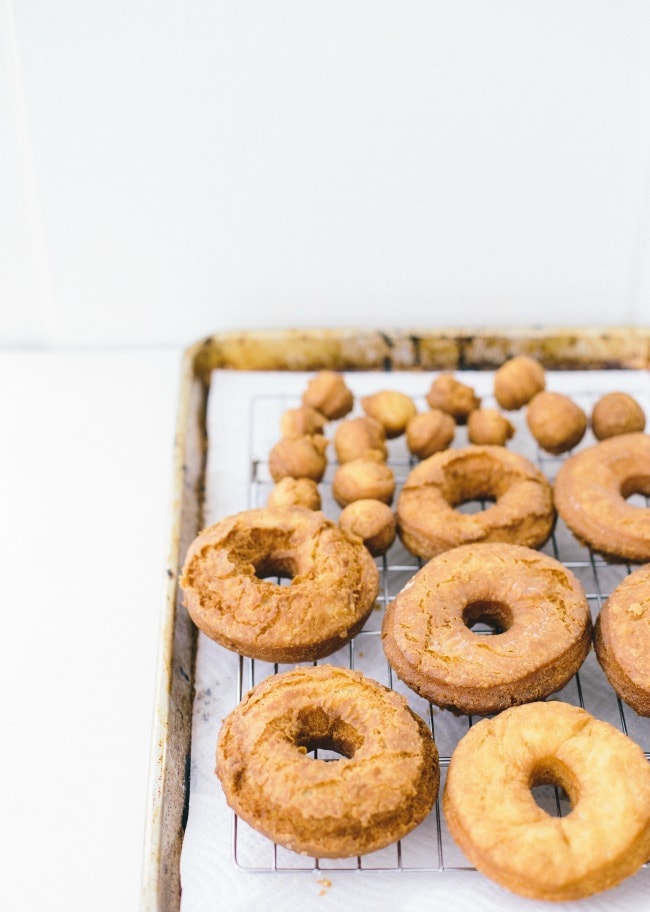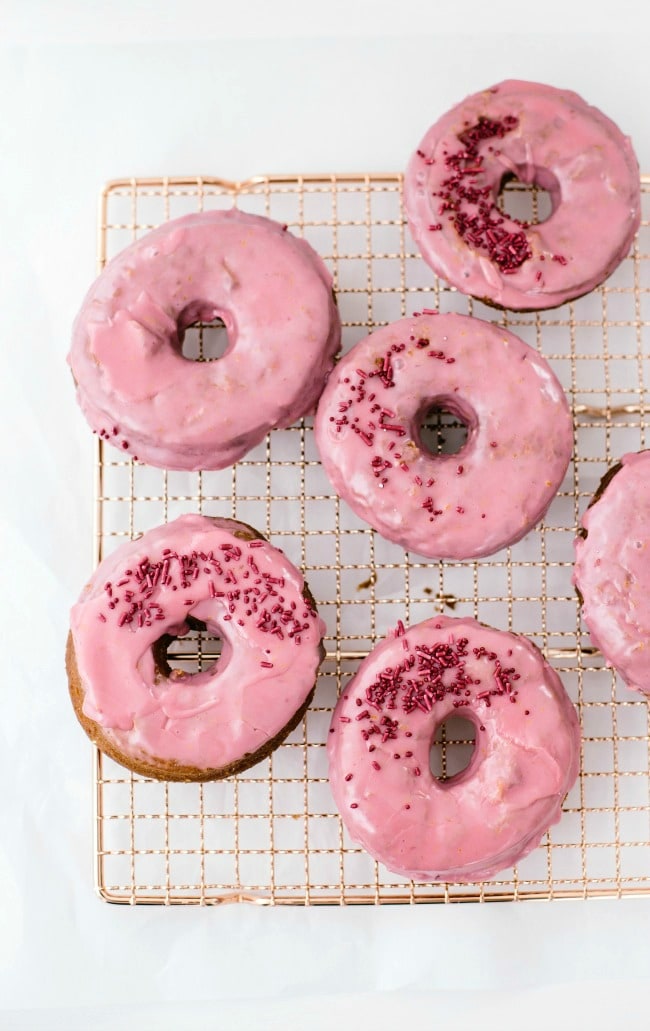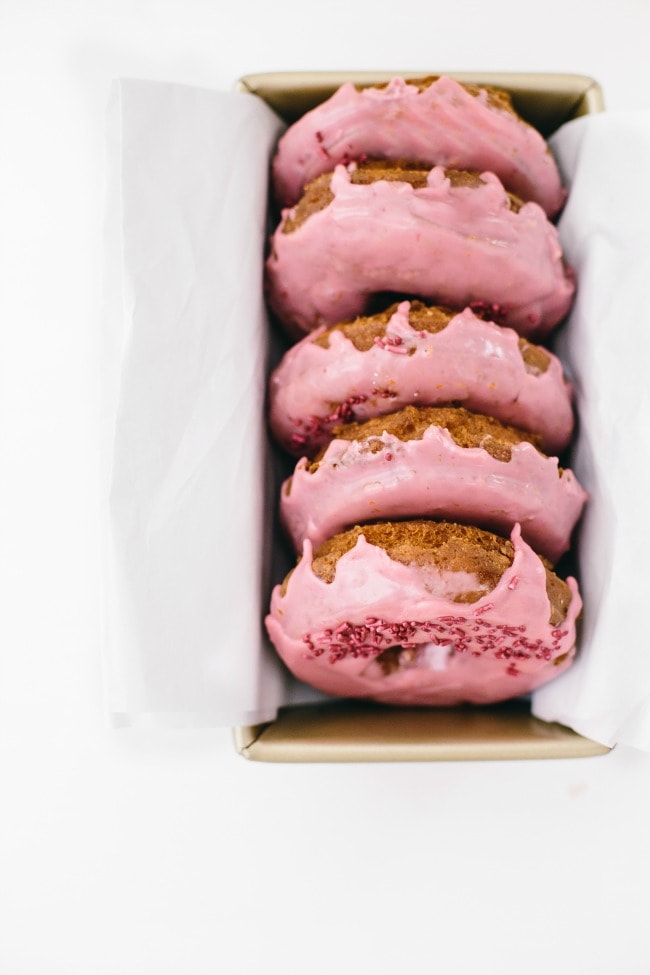 Yossy Arefi's (from Apt 2B Baking Co.) new cookbook is out today, and I'd just like to begin by saying it's so gorgeous. I've been a fan of Yossy's work for quite some time and have been eagerly awaiting this release. The book focuses on all things fruit, and is filled with stunning photographs, unique flavor combinations, and recipes that work.
'The recipes in this book range from simple, five-ingredient affairs to more complex and involved baking endeavors like laminated pastry dough and composed tarts. My hope is that you'll find something that's just your speed, and that these recipes show the wide range of desserts you can make that highlight fresh, season fruit all year.'
I'm of the opinion that you can never have too many baking books, and highly recommend adding this gem to your collection. Also, you can check out the beautiful book trailer here.
Blood Orange Old Fashioned Donuts
Old-fashioned donuts are humble and unassuming, craggy and cracked. But the addition of a blanket of pink blood orange glaze turns these old-fashioneds into beauty queens. If you've never made fried donuts before, this style is a great place to start because the dough comes together a lot like cookie dough.
The dough can also be prepared the day before frying if you want to surprise your friends with donuts for breakfast next time you host brunch at your place.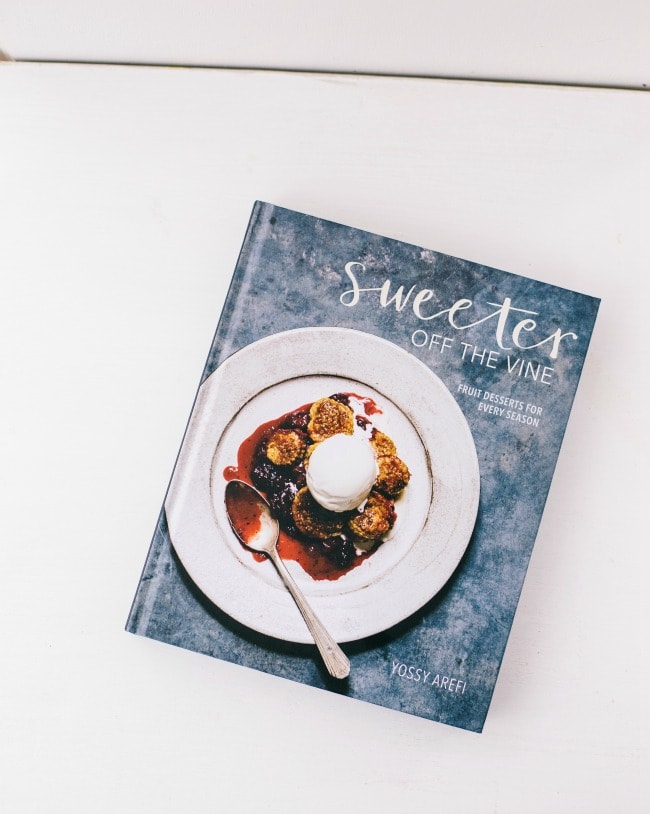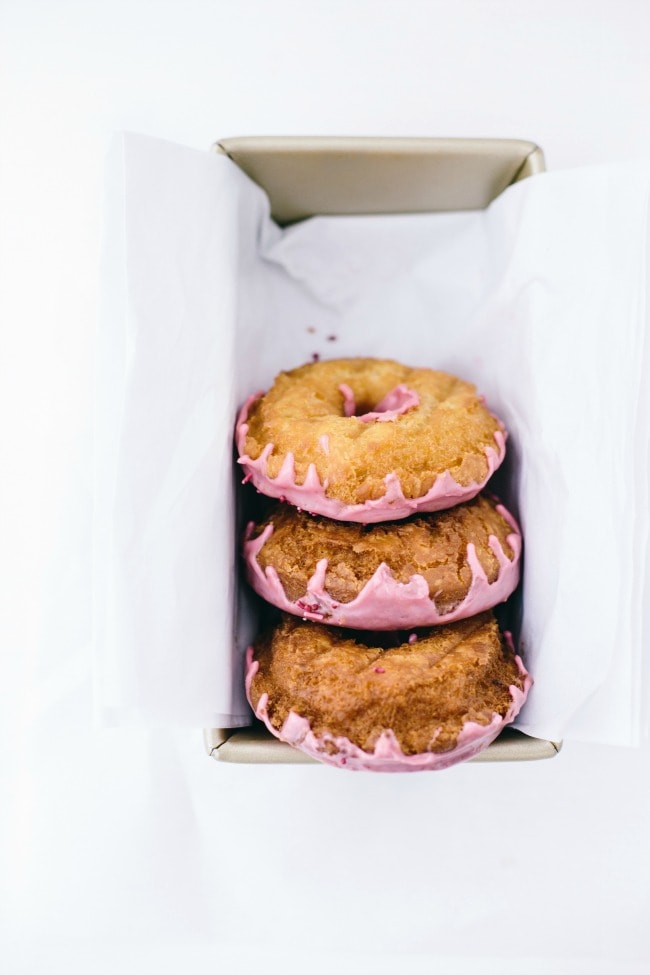 More Donut Recipes: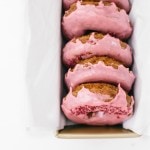 Blood Orange Old-Fashioned Donuts
These tender old-fashioned donuts have blood orange juice and zest in the batter, and in the glaze! Made with cake flour to keep their texture light. A great recipe for homemade donuts.
Print
Pin
Rate
Ingredients
DONUTS
2 1/2

cups

(285g) cake flour

1 1/2

teaspoons

baking powder

1/4

teaspoon

baking soda

1

teaspoon

salt

1/4

cup

(55g) unsalted butter, softened

1/2

cup

(100g) granulated sugar

1

teaspoon

blood orange zest

2

large egg yolks

at room temperature

3/4

cup

(170g) full-fat yogurt or sour cream, at room temperature

3

tablespoons

blood orange juice

1

teaspoon

vanilla extract

Canola oil

for frying
GLAZE
2

blood oranges

3

cups

(300g) confectioners' sugar, sifted

Pinch

salt
Instructions
To make the donuts:
Sift the flour, baking powder, baking soda, and salt together into a medium bowl.

In a stand mixer fitted with the paddle attachment, or with a handheld electric mixer, mix the butter, sugar, and orange zest together until sandy. Add the egg yolks and mix for 30 seconds, scraping down the sides of the bowl to ensure even mixing. The mixture should lighten in color and be very thick. Add the yogurt and stir until evenly combined, then add the blood orange juice and vanilla. Add the flour mixture all at once and stir until just combined; use a spatula to scrape down to the bottom of the bowl to ensure even mixing. The dough will be thick and sticky like cookie dough. Wrap the dough in a piece of plastic wrap and refrigerate for at least 1 hour and up to overnight.
Just before frying, make the glaze:
Zest of one of the oranges and measure out 1/2 teaspoon of zest. Juice both of the oranges and measure 1/4 cup of juice. Whisk the juice, zest, and salt into the confectioners' sugar until smooth. You want the glaze to be thick but pourable. If the glaze seems thin, add a bit more confectioners' sugar; if it seems too thick, add a bit more orange juice. Set aside while you fry the donuts.
To fry the donuts:
Line a baking sheet with paper towels and set a cooling rack on top. Add enough oil to a Dutch oven or deep-sided skillet to measure a depth of at least 3-inches. Heat the oil over medium high heat until it reaches 350ºF (170ºC) on a candy thermometer.

While the oil is heating, cut the donuts. Lightly flour a baking sheet. Roll the dough out on a well-floured surface to about 1/2 inch thick. Use a well-floured donut cutter to cut as many donuts and holes as possible; the dough will be soft and sticky, so do your best to handle it gently. Flour the cutter in between each cut to prevent sticking. Gently reroll the scraps and cut again. Transfer the cut donuts and holes to the floured baking sheet. Refrigerate while the oil heats.

When the oil has come up to temperature, dust the excess flour off the donuts and holes and carefully place each one in the hot oil, working in batches and making sure to not crowd the pan; the donuts will expand a bit in the oil. Keep an eye on the temperature of the oil; you may have to raise or lower the heat under the pan to keep the oil at a consistent temperature. Refrigerate the baking sheet with the uncooked donuts in between batches.

Fry each batch of donuts and holes until they are deep golden brown, about 90 seconds, then use a spatula or spider strainer to carefully flip the donuts. Cook the other side for about 90 seconds, or until deep golden brown and cooked through. Remove to the rack until to cool enough to touch, about 5 minutes.

Dip each warm donut in the glaze and let the excess drip off. Return the glazed donuts to the rack, glaze side up, and let them sit until the glaze is no longer sticky. Serve warm or at room temperature. These donuts are best the day they are made.