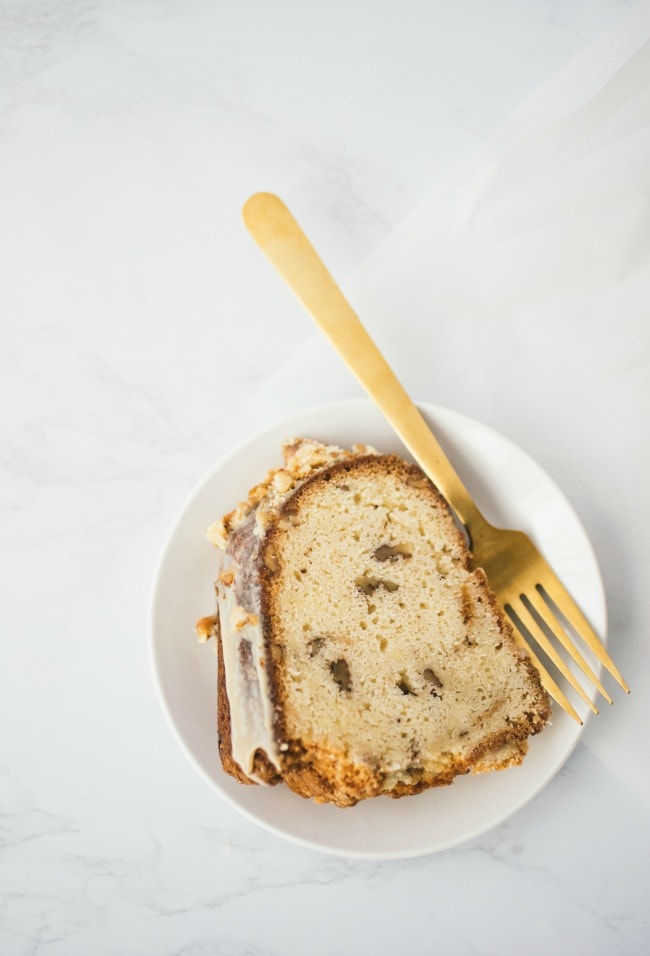 This post is sponsored by California Walnuts. As always, all opinions are my own.
I have another cake for you; this one is in Bundt form, studded with white chocolate and topped with candied walnuts (which, you may remember, is my new favorite treat). I love Bundt cakes because they fall in the dessert category of 'simple but classy', and can be eaten any time of the day without guilt or shame.
I've teamed up with California Walnuts to bring you some recipes over the following year (such as this chocolate walnut cake and this chocolate walnut shortbread). Over 99 percent of walnuts grown in the U.S. come from California's walnut orchards, many of which are on family owned and operated farms that have been around for generations. Walnuts are nutritious and heart-healthy*, and offer 4 grams of protein and 2 grams of fiber per ounce. Walnuts are also the only nut with a significant amount of plant based Omega 3 ALA (2.5 grams/ounce). You can check out the CA Walnuts website for more nutrition info, research, tips for cooking with walnuts, recipes. I'm excited to share more recipes with you!
******************************
Fairytale
At night, when we dreamed,
we went down a street
and turned a corner;
we went down the street
and turned the corner,
and there, it seemed,
there was the castle.
Always, if you knew,
if you knew how to go,
you could walk down a street
(the daylight street)
that twisted about
and ended in grass;
there was
always, the castle.
Remote, unshadowed,
childish, immortal,
with two calm giants
guarding the portal,
stiff in the sunset,
strong to defend,
stood castle safety
at the world's end.
O castle safety,
Love without crying,
honey without cloying
death without dying!
Hate and heartbreak
all were forgot there;
we always woke,
we never got there.
-Joy Davidman
I've been reading a biography on Joy Davidman, who is famous for marrying CS Lewis late in life, but was an author and poet in her own right. The book is well-written and interesting, and I've been highly enjoying her poetry as well (you can find all her poems in this volume).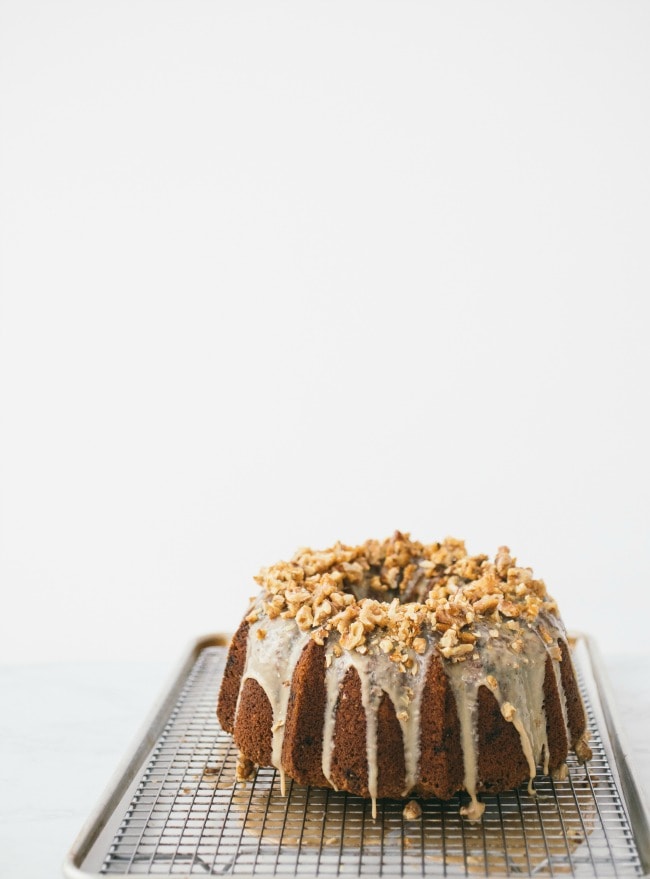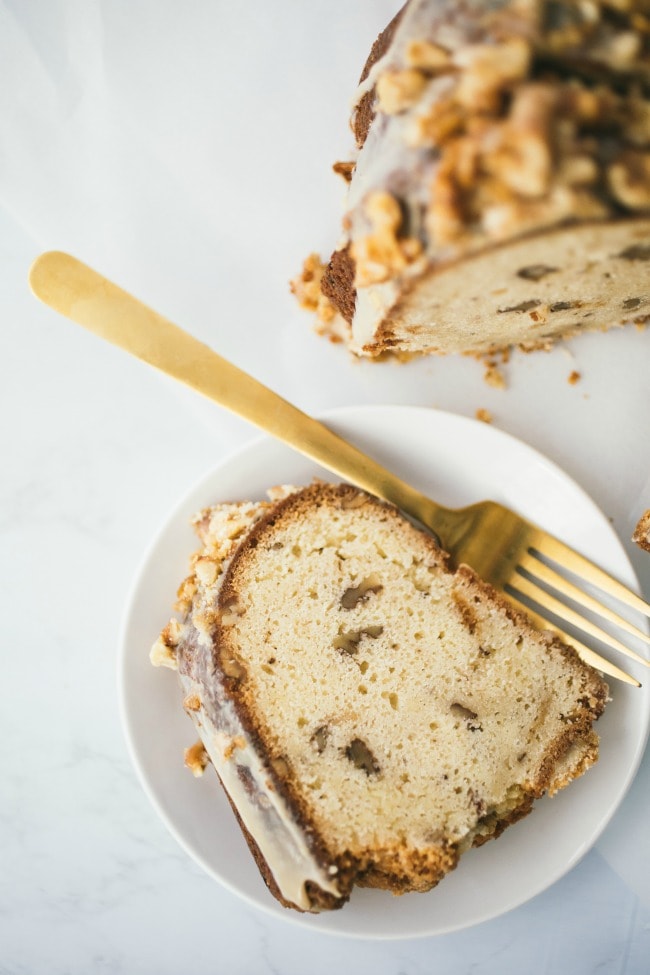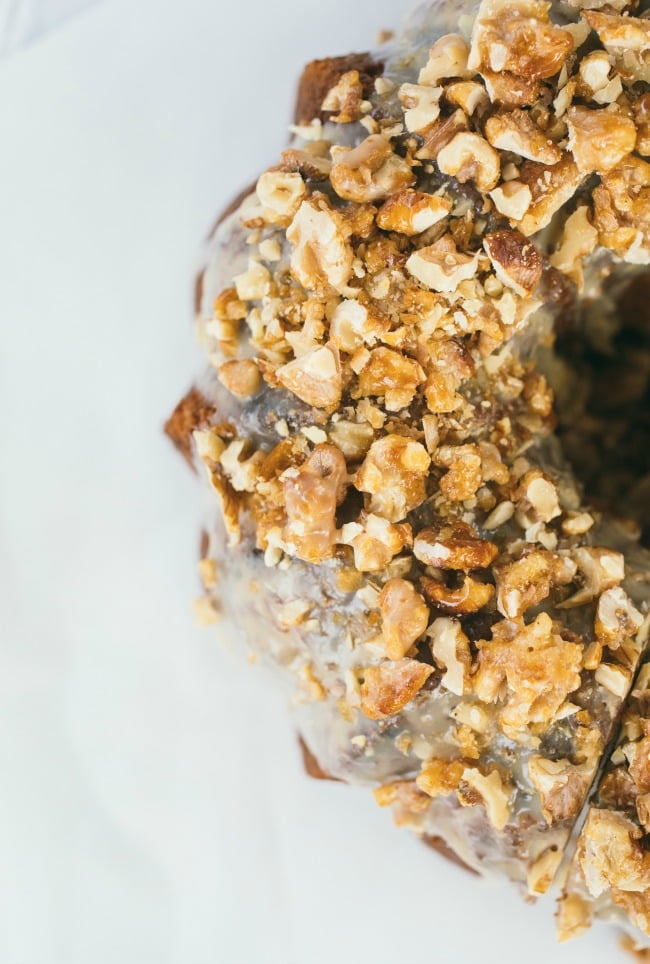 Walnut White Chocolate Bundt Cake
4 cups (562g) all-purpose flour
2 teaspoons baking powder
1/4 teaspoon baking soda
3/4 teaspoon salt
2 cups (452g | 4 sticks) unsalted butter, room temperature
3 cups (594g) granulated sugar
6 large eggs
2 teaspoons pure vanilla extract
1/2 cup sour cream
1/2 cup whole milk
1 cup (100g) walnuts, toasted and chopped into bite-sized pieces
1 cup (170g) white chocolate, chopped into bite-sized pieces
White Chocolate Ganache
6 ounces (170g) white chocolate, chopped
1/3 cup heavy cream
Candied Walnuts
2 cups (200g) walnuts
1/2 cup (99g) granulated sugar
1/4 teaspoon salt
Adjust an oven rack to the middle position, and preheat the oven to 350F (180C). Grease a 12-cup Bundt pan.
In a medium bowl, whisk together the flour, baking powder, baking soda, and salt.
In a stand mixer fitted with a paddle, beat the butter on medium until creamy. Add the sugar, and beat again until light and fluffy, 2-3 minutes. Add the eggs one at at time and beat on low until combined, scraping down the sides after each addition. Add the vanilla and mix on low until combined.
Add 1/3 of the flour mixture, and mix on low until almost combined. Add the sour cream, and mix again on low. Add another 1/3 of the flour mixture, and mix on low until almost combined. Add the milk, and mix again on low. Add the remaining 1/3 of the flour mixture, and mix on low until almost combined. Add the walnuts and the white chocolate, and mix on low until completely combined. Remove the bowl from the mixer and use a spatula to make sure the batter is completely mixed.
Pour the batter into the prepared pan and bake for 55-75 minutes, until a wooden skewer or toothpick inserted into the cake comes out clean. Move the pan to a wire rack and let cool for 20 to 30 minutes before flipping the cake out of the pan. Let the cake cool before topping with the white chocolate ganache and candied walnuts.
For the ganache
Place the chopped white chocolate in a small bowl. Heat the heavy cream in a small saucepan, until it is simmering and just about to boil. Pour the cream over the chocolate, then cover the bowl with plastic wrap and let it sit for 5 minutes. Remove the wrap and whisk the cream and chocolate together, until it is completely smooth. Let cool to room temperature.
For the candied walnuts
In a large skillet, stir together the walnuts, sugar and salt. Cook over medium heat until the sugar begins to melt and the nuts begin to toast, stirring almost constantly. Once the sugar begins to melt, turn the heat down to low and cook until the nuts are lightly caramelized. Pour the nuts onto baking sheet lined with parchment paper. Let them cool completely before chopping.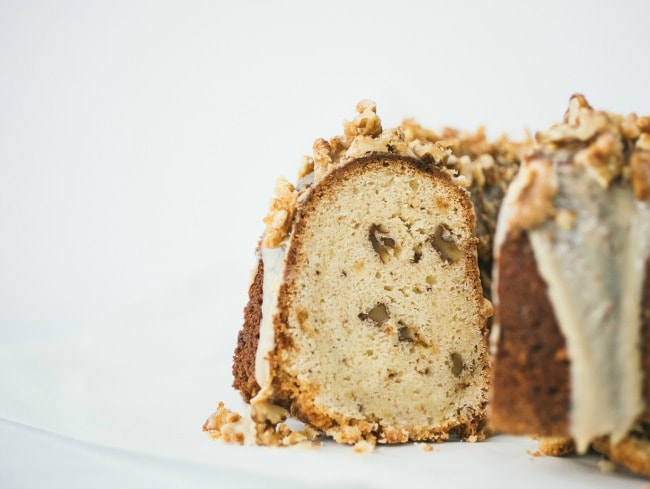 *Supportive but not conclusive research shows that eating 1.5 ounces of walnuts per day, as part of a low saturated fat and low cholesterol diet, and not resulting in increased caloric intake may reduce the risk of coronary heart disease. One ounce of walnuts provides 18g of total fat, 2.5g of monounsaturated fat, 13g of polyunsaturated fat, including 2.5g of alpha-linolenic acid, the plant-based omega-3.