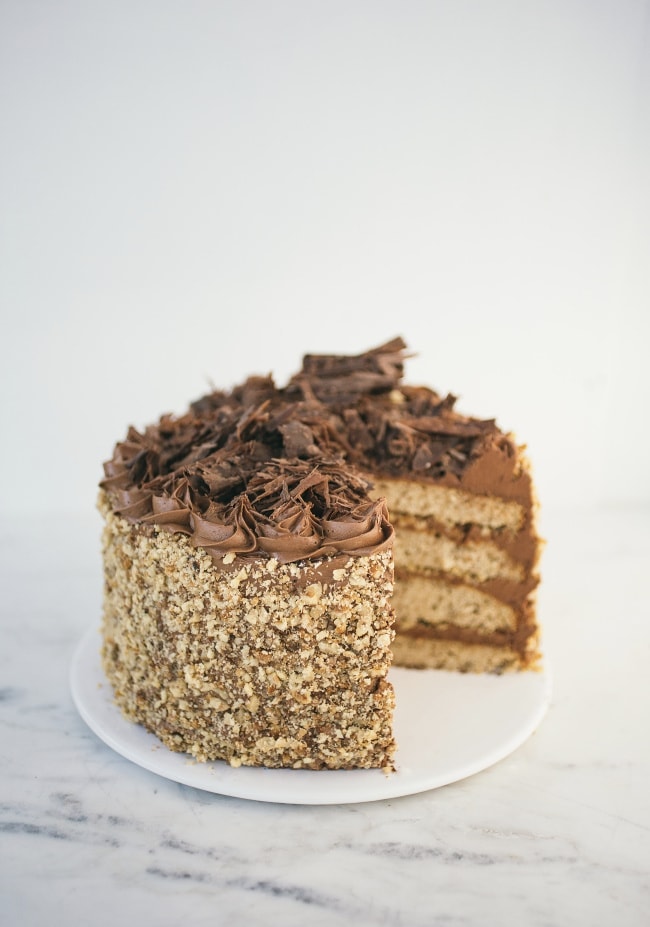 This post is sponsored by California Walnuts. As always, all opinions are my own.
I'm excited to share this cake with you, for two reasons. First, it has been a whole month since I made a layer cake, so I was due for another one. Second, this cake involves candied walnuts, and I didn't realize until I made them how incredibly delicious they are. (My family agreed, and I made a batch of just the candied walnuts after the cake was gone for us to snack on.)
I've teamed up with California Walnuts to bring you some recipes over the following year (such as this chocolate walnut shortbread). Over 99 percent of walnuts grown in the U.S. come from California's walnut orchards, many of which are on family owned and operated farms that have been around for generations. Walnuts are nutritious and heart-healthy*, and offer 4 grams of protein and 2 grams of fiber per ounce. Walnuts are also the only nut with a significant amount of plant based Omega 3 ALA (2.5 grams/ounce). You can check out the CA Walnuts website for more nutrition info, research, tips for cooking with walnuts, recipes. I'm excited to share more recipes with you!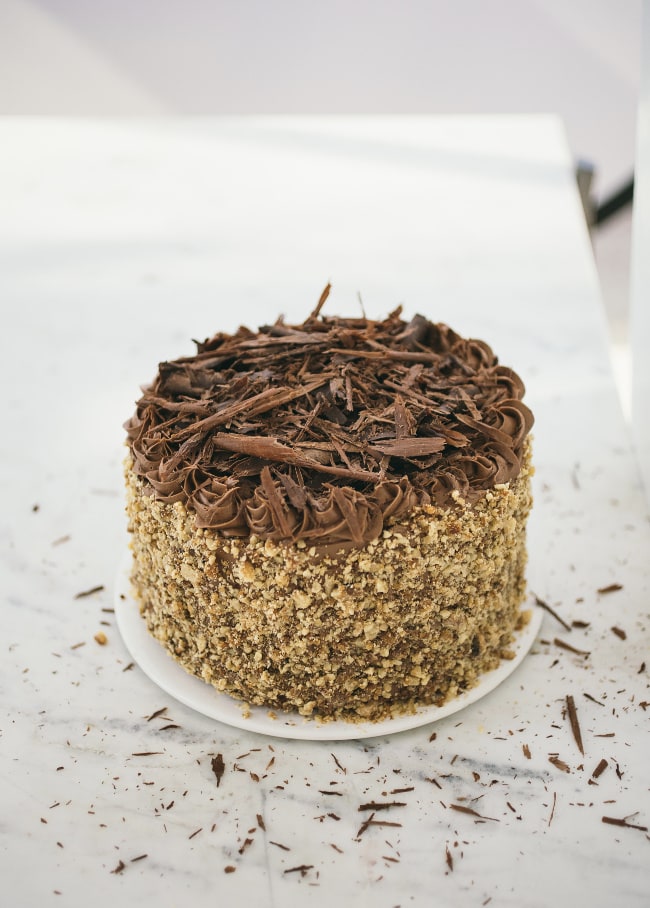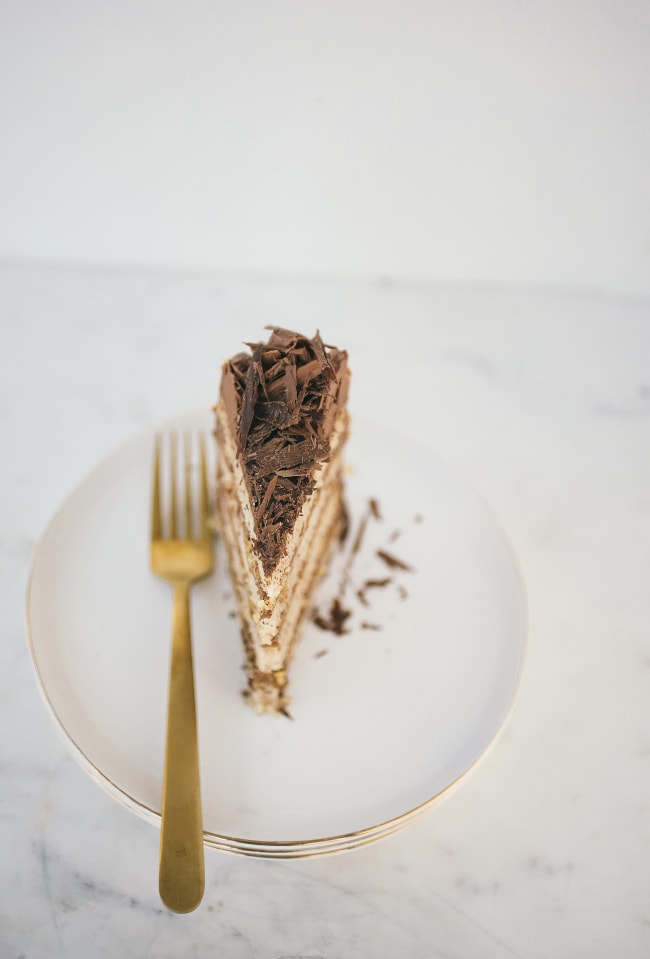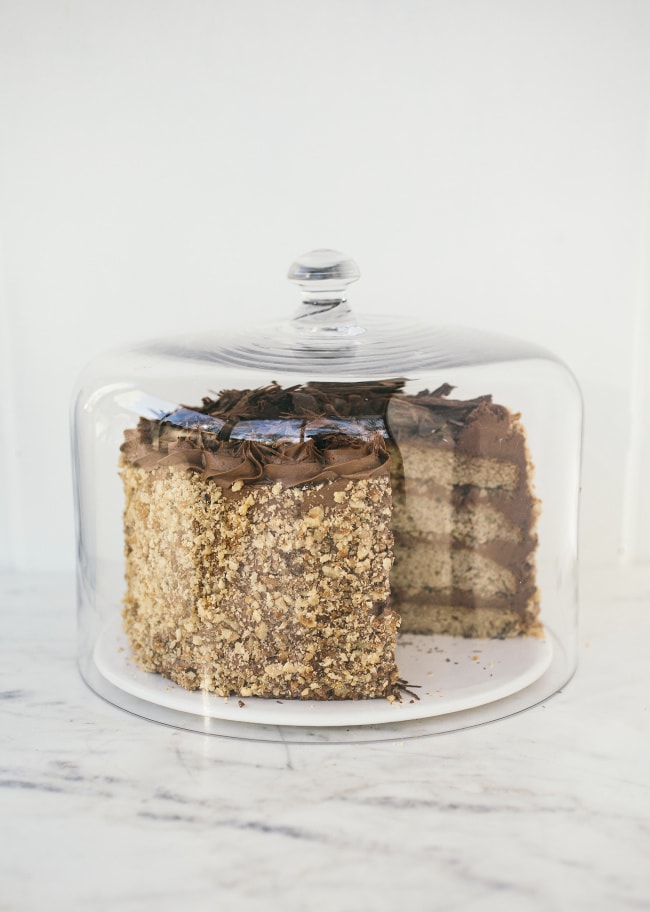 Walnut Cake with Chocolate Buttercream and Candied Walnuts
I did decorate the top of the cake with chocolate curls. If you never have made them before, there are instructions here if you are interested. This could also be made with a chocolate cake if you are not a white cake kind of person – sub your favorite chocolate cake for the layers, and follow the directions for the buttercream and candied walnuts. Candied walnuts inspired by Zoe Francois.
Cake
3 large eggs
2 eggs yolks
1 tablespoon pure vanilla extract
1/2 cup sour cream
1/2 cup whole milk
2 cups (284g) all-purpose flour
1/2 cup (50g) walnuts, toasted, and finely ground in a food processor
1 1/2 cups (297g) granulated sugar
3/4 teaspoon baking powder
3/4 teaspoon baking soda
3/4 teaspoon salt
1/2 pound (2 sticks | 227g) unsalted butter, room temperature, cut into 1-inch pieces
Chocolate Buttercream
12 ounces (340g) semisweet chocolate, chopped
2 cups (452g | 4 sticks) unsalted butter, room temperature
1 teaspoon pure vanilla extract
3 tablespoons corn syrup
1/4 teaspoon salt
3 cups (340g) confectioners' sugar
Candied Walnuts
3 cups (300g) walnuts
3/4 cup (149g) granulated sugar
1/4 teaspoon salt
For the cake
Adjust an oven rack to the middle position. Preheat the oven to 350F. Butter and flour two 8 by 2-inch cake pans and line the bottoms with parchment paper.
In a medium bowl or liquid measuring cup, whisk the eggs, egg yolks, vanilla, sour cream, and milk.
In the bowl of a stand mixer fitted with a paddle, mix the flour, ground walnuts, sugar, baking powder, baking soda, and salt on low until combined. With the mixer running on low, add the butter one piece at a time, beating until the mixture resembles coarse sand. With the mixer still running on low, slowly add half the wet ingredients. Increase the speed to medium and beat until incorporated, about 30 seconds. With the mixer running on low, add the rest of the wet ingredients, mixing until just combined. Increase the speed to medium and beat for 20 seconds (the batter may still look a little bumpy). Scrape down the sides and bottom of the bowl, and use a spatula to mix the batter a few more times until completely combined.
Pour the batter into the prepared pans and smooth the top. Tap the pan gently on the counter 2 or 3 times to help get rid of any bubbles. Bake 23-28 minutes, rotating the pan halfway through, until the cake is golden brown and pulls slightly away from the sides and a wooden skewer or toothpick inserted in the centers comes out clean.
Transfer the cakes to a wire rack and let cool for 30 minutes. Turn the cakes out onto a half sheet pan lined with parchment paper, remove the parchment paper from the bottom of the cakes, and let the cakes cool completely upside-down (this will help deflate any doming). Once cool, the cakes can be wrapped in plastic and refrigerated overnight or frosted.
For the buttercream
Put about 1 inch of water in a medium saucepan and bring it to a gentle boil.
Melt the chocolate in a heatproof bowl set over the pan of boiling water, being careful not to let the water touch the bottom of the bowl. Stir constantly until just melted and set aside to cool slightly.
In the bowl of stand mixer fitted with a paddle, beat the butter on medium until light yellow and fluffy, about 3 minutes. Add the vanilla, corn syrup, and salt and beat on medium until combined. Turn the mixer to low and gradually add the confectioners' sugar. Beat at medium, stopping to scrape down the sides of the bowl as necessary, until smooth and creamy, 2-3 minutes. Add the chocolate and mix on low speed until no streaks remain.
For the candied walnuts
In a large skillet, stir together the walnuts, sugar and salt. Cook over medium heat until the sugar begins to melt and the nuts begin to toast, stirring almost constantly. Once the sugar begins to melt, turn the heat down to low and cook until the nuts are lightly caramelized. Pour the nuts onto baking sheet lined with parchment paper. Let them cool completely before chopping.
To assemble
Cut each layer of cake in half horizontally, to make a total of four layers. Put one layer, cut side up, on a serving platter, and top with 1/2 cup of the chocolate buttercream. Use an offset spatula to spread it evenly over the layer, then sprinkle with 1/2 cup candied walnuts, chopped into small pieces. Repeat with two more layers and then top the cake with the remaining layer, cut side down. Frost the cake, and press the remaining candied walnuts gently onto the sides of the cake. Decorate the top of the cake as desired.
*Supportive but not conclusive research shows that eating 1.5 ounces of walnuts per day, as part of a low saturated fat and low cholesterol diet, and not resulting in increased caloric intake may reduce the risk of coronary heart disease. One ounce of walnuts provides 18g of total fat, 2.5g of monounsaturated fat, 13g of polyunsaturated fat, including 2.5g of alpha-linolenic acid, the plant-based omega-3.