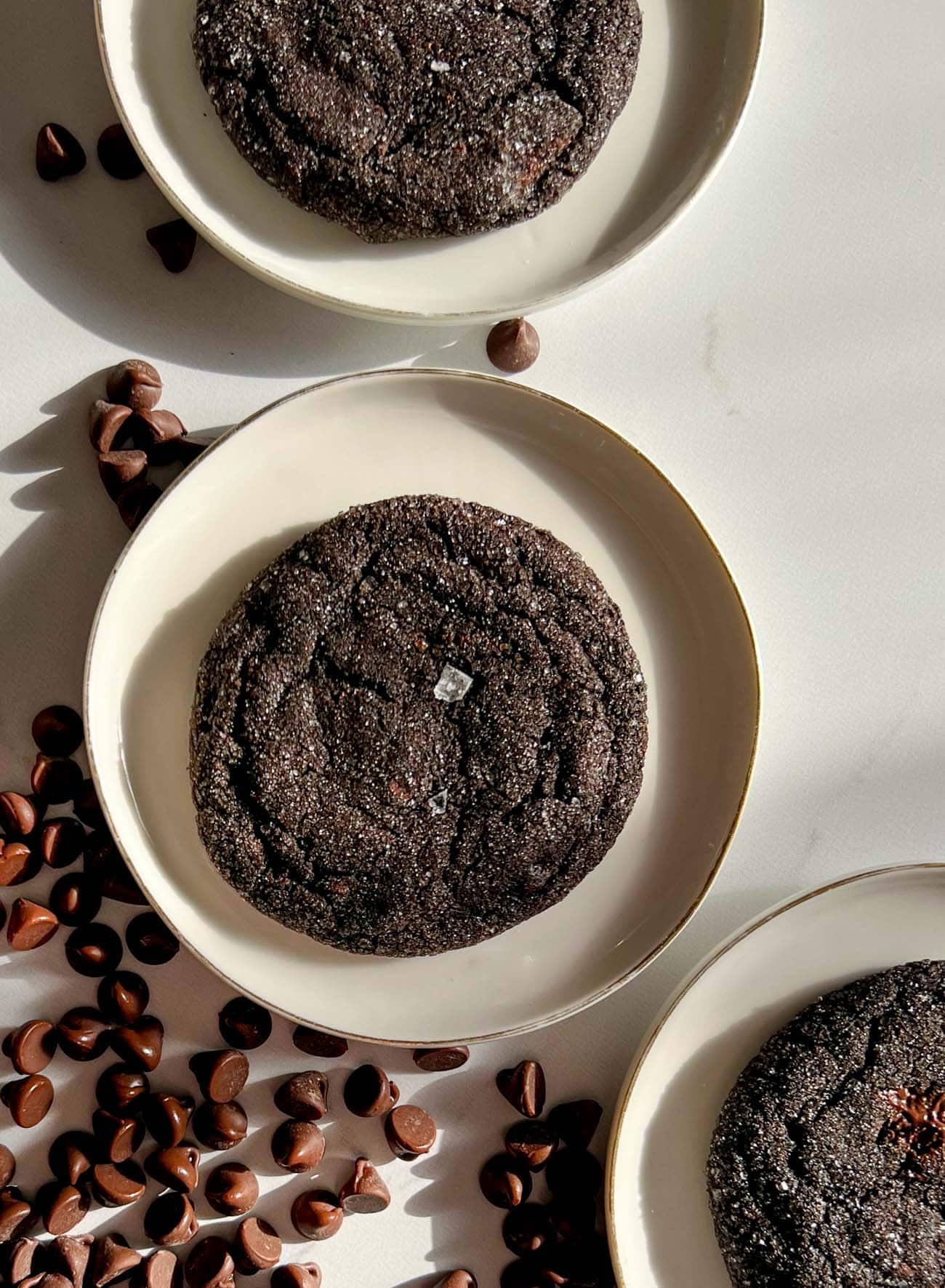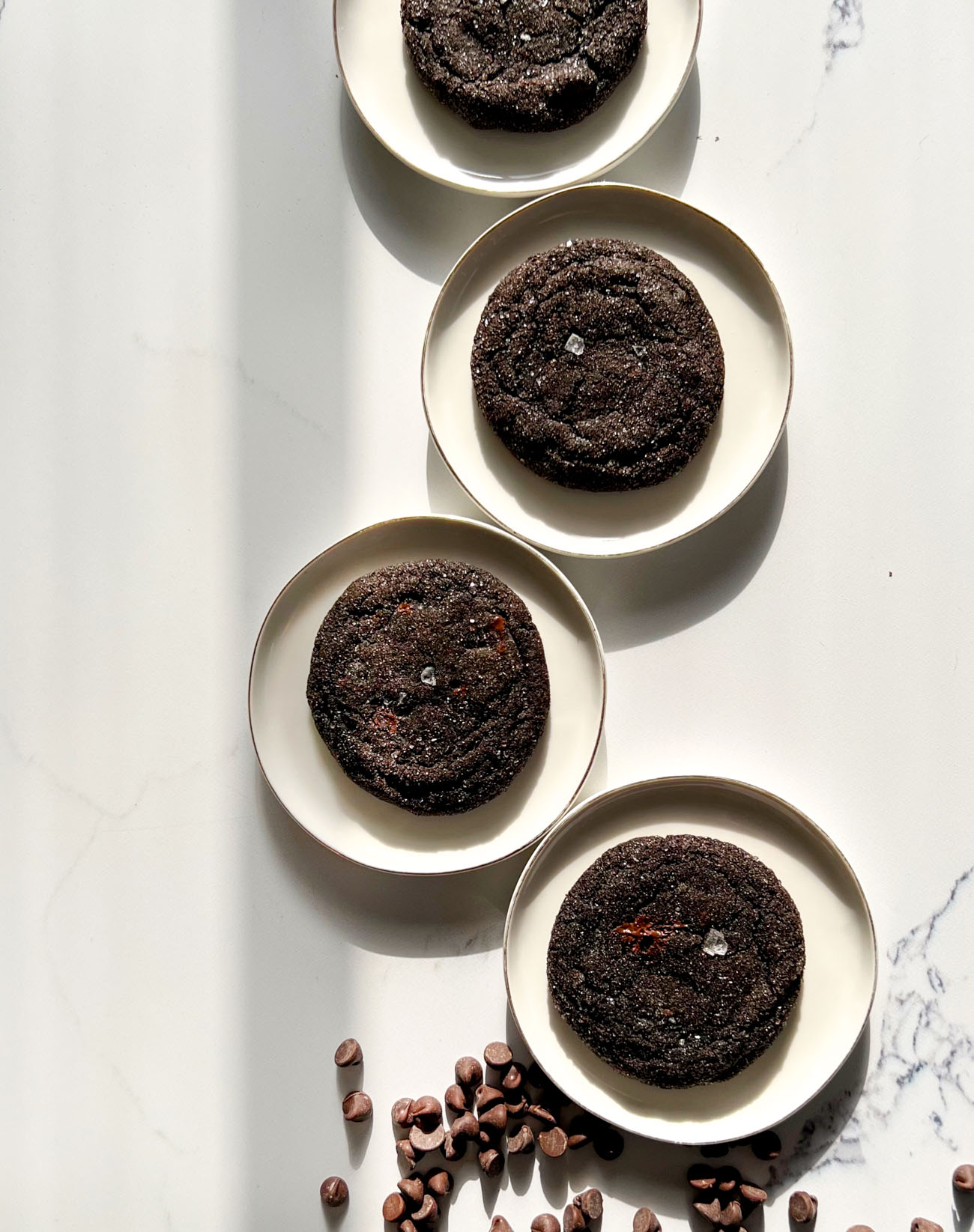 These Chocolate Espresso Cookies are a favorite recipe to make around the holiday season, and are perfect for gift-giving boxes. I have a non-espresso version in 100 Cookies, but I've found the inclusion of ground espresso and a dash of coffee-flavored liqueur adds really nice flavor, and compliments the chocolate perfectly.
These cookies are rich with so much chocolate flavor, have slightly crisp edges the day of baking, and a tender, rich center that lasts for days. They incredibly easy to make, no refrigeration of the dough needed. And they freeze well, which helps when planning holiday get-togethers and recipes for your holiday cookie boxes.
Ingredient Notes for Chocolate Sugar Cookies:
All-Purpose Flour: Make sure your all-purpose flour is not too high or low in protein; I like to use Gold Medal unbleached all-purpose for cookie baking. At 10.5 percent protein it is a good, moderate choice to keep baked goods tender.
Ghirardelli Majestic Cocoa Powder: When I was recipe testing with this cocoa powder, I noticed the difference with one bite of the cookies. Ghirardelli uses the heart of the cacao bean, called the nib, to create this premium dutch-processed cocoa. The nibs are ground, pressed, and pulverized to release their intense flavors. They are then treated with an alkali to neutralize acids. This process gives it a darker color and a mild, subtle flavor that complements other baking ingredients. I use this cocoa powder in my Ultimate Chocolate Cookies, too.
Ghirardelli Dark Wafers: I used Ghirardelli Dark Wafers in this cookie; it is a versatile baking chocolate that melts beautifully with rich chocolate flavor. I am a big fan of Ghirardelli Chocolate, and tested most of my 100 Cookies cookbook with it. I am very excited about their professional line of chocolate; there are more varieties to choose from, and the bigger bags are perfect for recipe testing, holiday baking, and snacking! The 5 pound bags are geared toward bakeries and professional kitchens, but it's honestly been more economical for me (and maybe you, too) to buy the larger bags with the increase in chocolate prices and holiday baking season upon us.
Espresso Grounds or Powder: I like to use straight-up espresso grounds in my cookies for strong flavor, but instant espresso powder will also work if you do not have espresso beans on hand.
Cream of Tartar: I use a small amount of cream of tartar to help activate the baking soda. It also helps the cookies bake up slightly chewy.
The quality of the chocolate is the result of Ghirardelli's commitment to control all steps of the chocolate-making process, from roasting the cocoa beans, to refining the product for smoothness and well-balanced flavor. In addition, the company understands that sustainable sourcing and knowing the origins of the cocoa beans speaks to the quality of the finished product.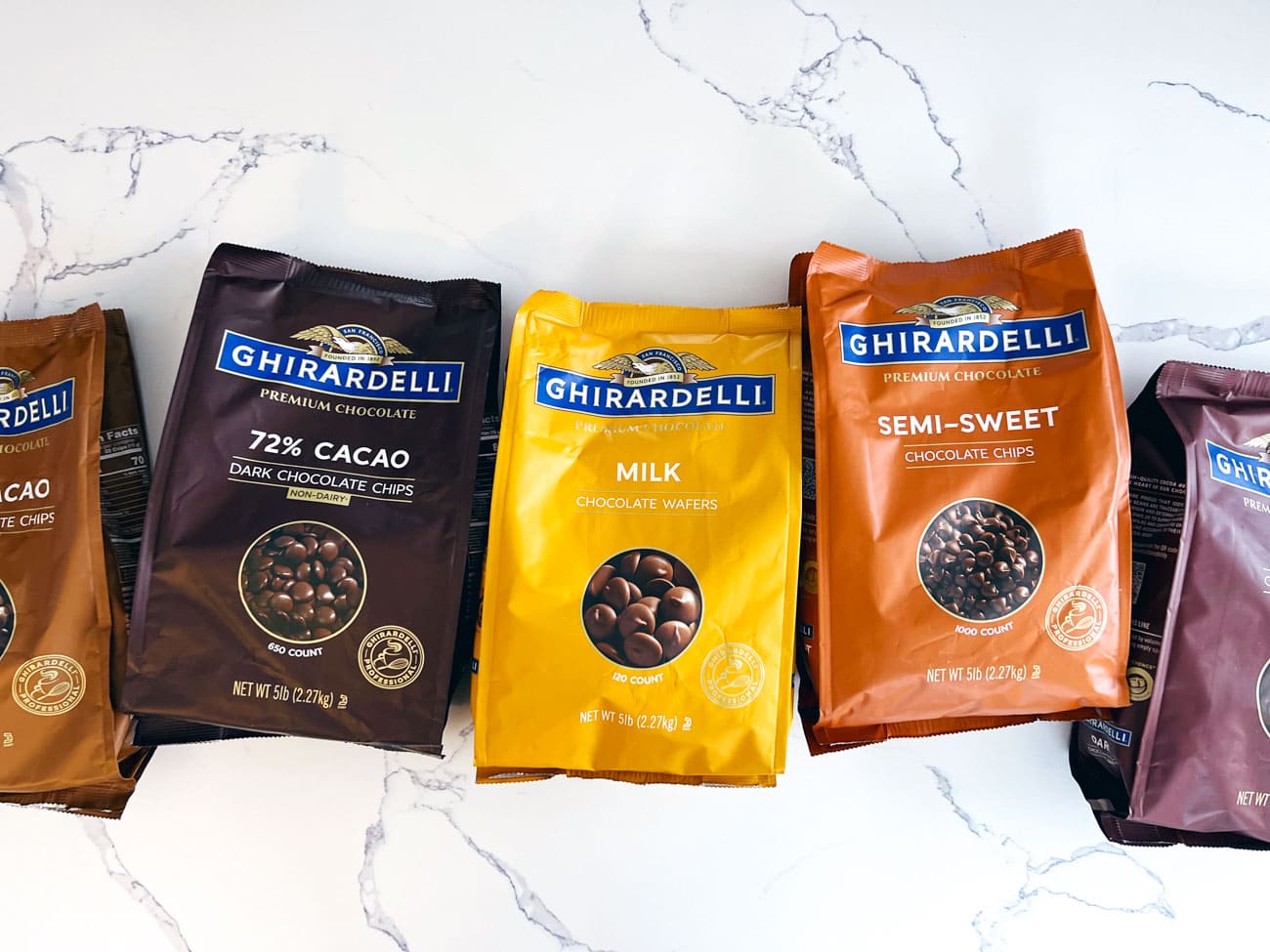 Can The Cookie Dough Be Frozen?
This cookie dough can be formed into balls and frozen for up to 2 weeks; let the cookies sit out at room temperature until the oven preheats. The cookies will need an extra minute if baked frozen. Also, cookie dough can be formed and refrigerated overnight, then baked the next day; the cookies may need an extra minute if chilled. Baked cookies can also be frozen: store them in a freezer-safe bag or container for up to 2 weeks.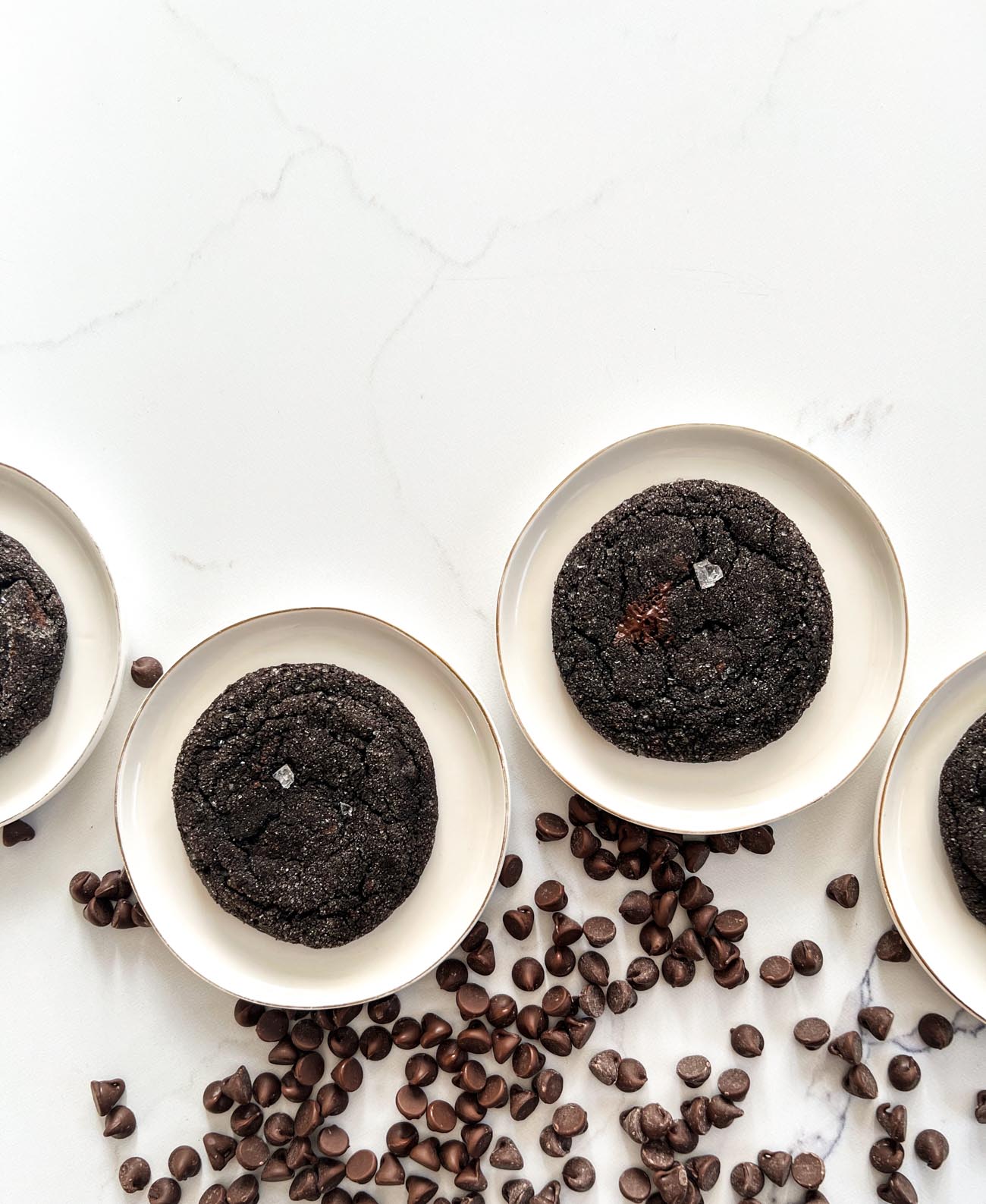 More Cookie Recipes: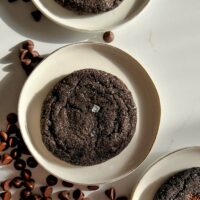 Easy Chocolate Espresso Sugar Cookies
These sparkly sugar cookies are rich with so much chocolate flavor, have slightly crisp edges the day of baking, and a tender, rich center that lasts for days.
Print
Pin
Rate
Instructions
Adjust an oven rack to the middle of the oven. Preheat the oven to 350F [180C]. Line three sheet pans with parchment paper.

In a small bowl, combine the flour, cocoa powder, baking soda, and cream of tartar.

In the bowl of a stand mixer fitted with a paddle, beat the butter on medium speed until creamy, about 1 minute. Add the granulated sugar, espresso grounds, and salt, and beat again until light and fluffy, 2 to 3 minutes. Add the egg, yolk, vanilla, and Kahlua (if using), and beat on low speed until combined. Add the flour mixture and beat again on low speed until combined. Add the chopped chocolate and mix on low until just combined.

Place some sanding sugar in a medium bowl.

Scoop the dough into 1 ½ oz [45 g] portions, about 2 tablespoons each, and roll into a ball. Roll each ball in the sugar. Place 8 cookies on each sheet pan. Sprinkle with flaky salt if desired.

Bake one pan at a time, rotating halfway through baking. Bake until the sides are set and the top beings to crackle, 12 to 14 minutes. Transfer the sheet pan to a wire rack and let the cookies cool for 5 to 10 minutes on the pan, then remove the cookies and let them cool completely on the wire rack. Store cookies in an airtight container at room temperature for up to 3 days.
Notes
For extra-dark cookies, use a black cocoa powder, such as Ghirardelli Midnight Cocoa Powder