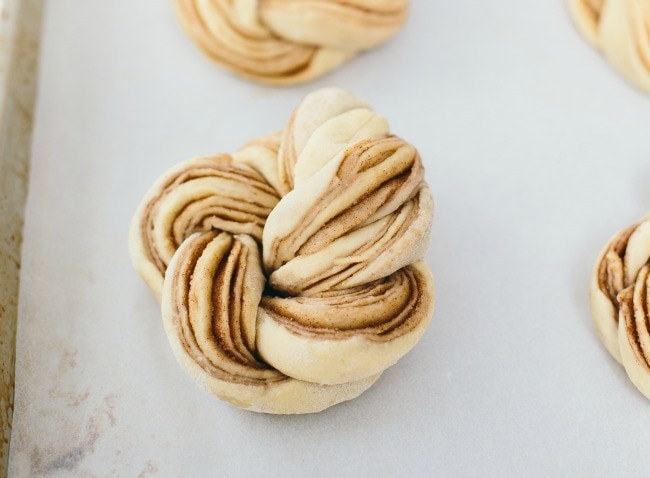 It's chilly today, but the sun is peeking out from behind its entourage of cloud cover. The oven is preheating, and my to-do list has so many items on it; every time I glance at it my mind goes black and can't figure out where to start. Distractions everywhere are whispering to me. It's so cozy on that couch. Maybe you could play Farms and Castles just one more time while watching Parks and Rec. I get out the butter, the sugar, the eggs, and flour. It's time to get to work.
I'm sort of obsessed with these braided brioche knots. I've been working on a version for my book, but couldn't help also turning them into a post. They are so beautiful, and fairly easy to make once you get the hang of twisting and turning them. I plan on making them this holiday season, and thought you might want try them, too.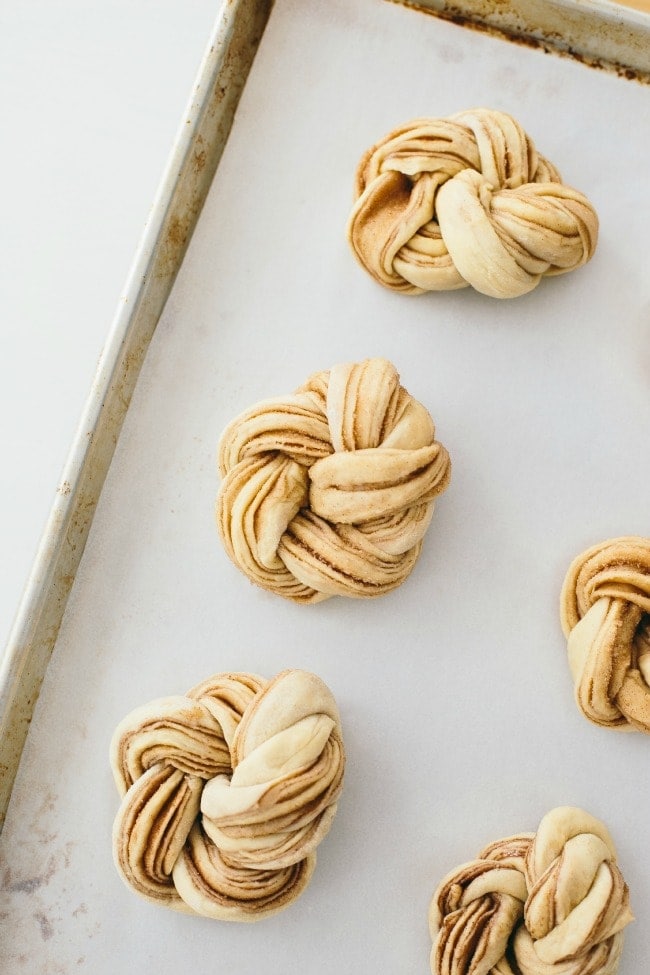 Need more brioche in your life? I also have Pumpkin Spice Monkey Bread on Bread in 5 today!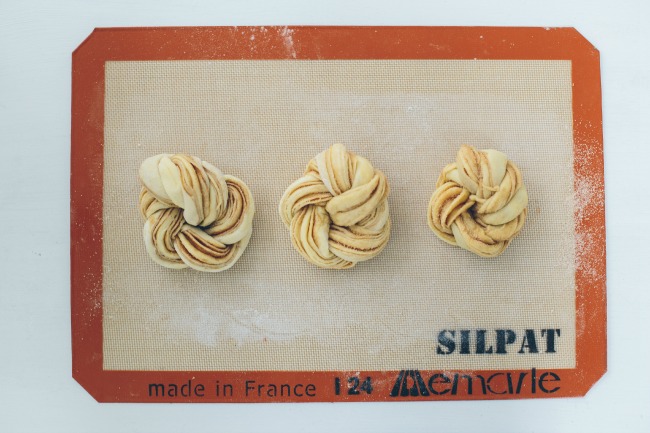 Pumpkin Spice Braided Brioche Knots
I used Bread in 5's brioche dough here. It's so easy to make and worked well for me in this application. Their Challah dough would also work well, and any favorite brioche recipe or sweet dough recipe should (in theory) work.
I have also made these knots with a sweet dough I'm working on for my cookbook, and found cutting the dough into 8 pieces worked as well. You will have to roll the dough slightly smaller if you do so – just make sure you have a long rectangle that isn't too thin to work with, and you should be fine.
I should note there is no actual pumpkin in this knot – just pumpkin spices. I don't mean to be deceiving, I just love all the spices that go along with pumpkin desserts, and wasn't quite sure what else to call it. Other fillings can work here, too. Just make sure they are not too sticky – you want to be able to have neat, distinct layers as the knots are twisted and are baked.
2 pounds Brioche dough (see note)
4 tablespoons unsalted butter, melted and cooled slightly
1 1/2 cups sugar
2 teaspoons cinnamon
3/4 teaspoons ginger
1/2 teaspoon nutmeg
1/8 teaspoon cloves
good pinch of salt
egg wash: 1 egg, 1 tablespoon of water, and a pinch of salt lightly beaten together
In a small bowl, combine the sugar, cinnamon, ginger, nutmeg, cloves, and salt.
Cut the brioche into 6 pieces (or 8 – see note). Roll each piece into a ball, and cover the balls with plastic. Generously flour your work surface, and working one at a time, roll each ball into a 6 x 14 inch rectangle (if you have trouble getting your dough to 14 inches, don't worry. You just want a long rectangle that isn't too thin). Brush each rectangle with melted butter, and sprinkle generously with the sugar mixture. Starting with the long end of the dough, roll each piece of dough into a log. Place all 6 logs of dough on a baking sheet lined with a Silpat or parchment, and chill in the fridge for 10-15 minutes (this will help make cutting the dough easier). After the logs have chilled, trim about 1/4 inch off both ends of the roll. Gently cut the roll into half lengthwise, so the layers of dough and filling are visible (I found a scissors easier to use than a knife – it made much cleaner cuts). With the cut sides facing up, gently press together one end of each half, and then lift the right half over the left half, letting the layers fan out as you twist them. Continue until you have 'braided' the entire roll. Press the ends together, so each end has a point. Shape the twisted dough into a small circle, with both ends of the dough extending past the circle (the ends will make a sort of cross shape over each other). Bring the end that is on the bottom up and over top piece, and bring it through the center of the knot. Tuck the end that is on top underneath the bottom of the knot, and pinch the two ends together under the knot (see photos above for a visual). Place the knots on a baking sheet lined with parchment paper, cover lightly with plastic wrap, and let rise for 1-1 1/2 hours, until the knots have risen slightly.
Preheat the oven to 350, with the oven rack in the middle position. Brush the knots carefully with egg wash (try not to brush the sugar filling all over the knots while you do so) and bake until the knots are golden brown, about 20-25 minutes. (As the knots rise and bake, they will leak a little bit of sugar and butter, just like cinnamon rolls do.)