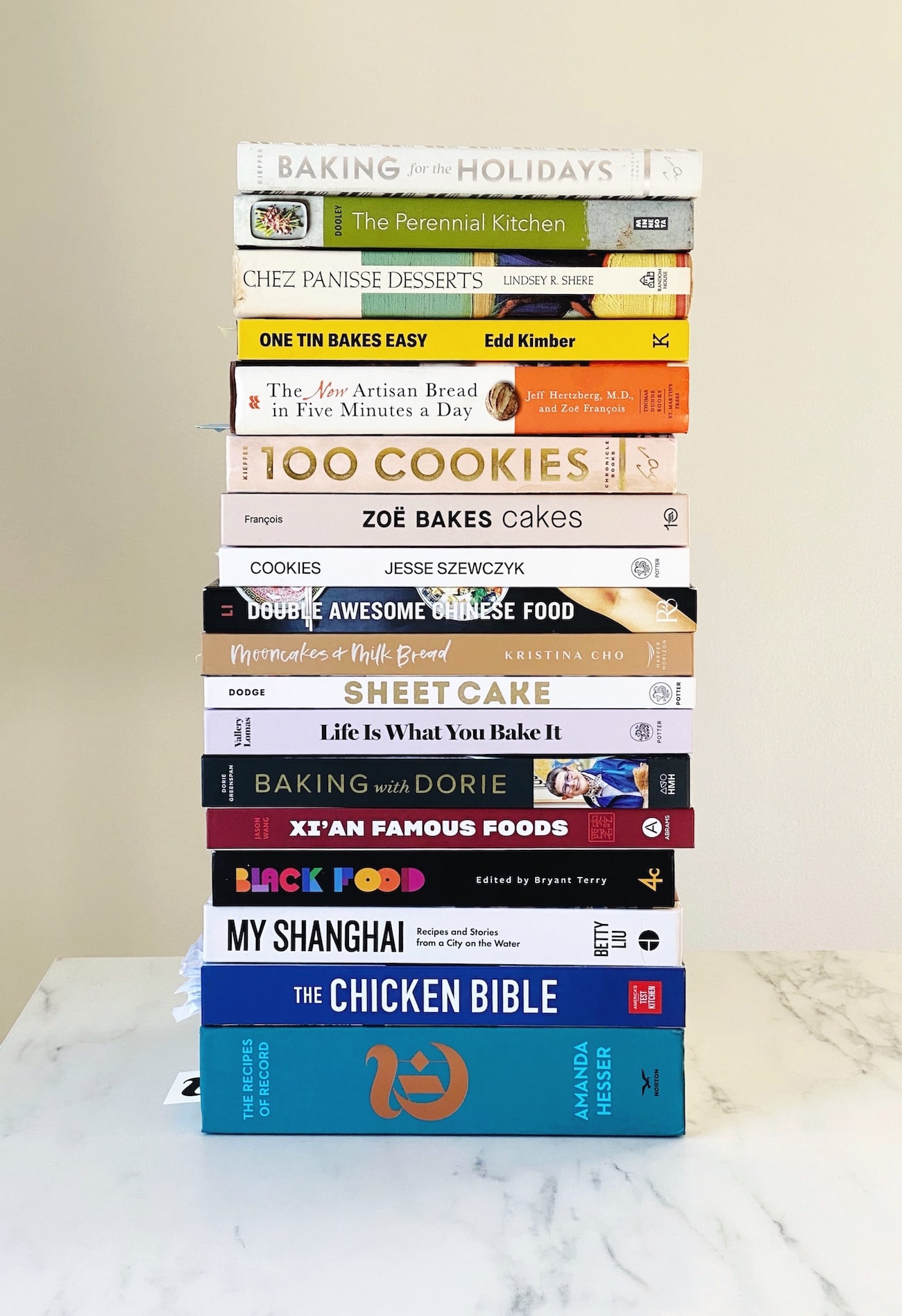 Cookbooks
These first 11 books are book that I have been using over and over since receiving them; they are well-used and loved. Also, my new book, Baking for the Holidays, is on this list, wink wink.
1. Baking for the Holidays
My new book, Baking for the Holidays, is now available! Inside you'll find recipes for Morning Breads and Pastries, Holiday Desserts, Gift Giving, and Beyond Christmas. You can find it at all the bookstores listed here, and there are also signed copies locally at Moon Palace Books and Barnes and Noble Minneapolis and Edina.
2. Zoë Bakes Cake – Zoë Francois
My dear friend, Zoë Francois, put out her first non-bread book, and it is a must have for every cookbook library. Zoe's book is filled with all kinds of cake, featuring everything from Bundt cakes and loaves to a beautifully layered wedding confection; you can celebrate any occasion, big or small, with her delicious homemade cake. Her Devil's Food Cake is a must-have recipe.
3. Mooncakes and Milk Bread – Kristina Cho
Kristina's new cookbook is one of my absolute favorites to come out in 2021. Inside you'll find "sweet and savory baked buns, steamed buns, Chinese breads, unique cookies, whimsical cakes, juicy dumplings, Chinese breakfast dishes, and drinks. Recipes for steamed BBQ pork buns, pineapple buns with a thick slice of butter, silky smooth milk tea;" the list goes on. I started with her Milk Bread recipe and it was incredible. The how-to photographs throughout the book are helpful, and the directions are written thoroughly and completely, which is so important to me.
4. Life is What You Bake It – Vallery Lomas
Vallery's book is another favorite this year – I was drawn in by the photographs and moving introduction, and stayed for all the amazing recipes. It's one I've been turning to when I need some baking inspiration. My family loved her Olive-Oil-Chocolate Chip Cookies, and her Tiger Doughnuts are on my next-to-bake list.
5. Baking with Dorie – Dorie Greenspan
Dorie is one of the nicest, most generous cookbook authors out there, and I have been highly enjoying her latest book. I am obsessed (obsessed) with the recipe for her Mokonuts' Rye-Cranberry Chocolate Chunk Cookies and have them on constant rotation. I'm also excited to try the S'mores Ice Cream Cake and World Peace Cookies 2.0. This is a great addition to your cookbook library.
6. Chez Panisse Desserts – Lindsey Remolif Shere
This is an "oldie but a goodie", and now only available in paperback (I lucked out and snagged a used hardcover a few years back). I love to read this book – Ms. Shere has so many interesting tips and insights; her approach to baking is unique, and I learn something each time I pick it up.
7. Double Awesome Chinese Food – Andrew, Irene, and Margaret Li
If my family could eat Chinese food for dinner every single night, they would. And while we love to frequent our favorite near-by restaurant (Tea House!), we've been trying to make some of our favorite dishes at home, too. I love this book by the Li siblings, and recommend trying the Three Sisters Dumplings, Dan Dan Noodles with Crispy Pork Belly and Brussel Sprouts, and Kung Pao Chicken Dip.
8. The Chicken Bible – America's Test Kitchen
America's Test Kitchen is always a reliable source for cooking, and I often turn to their books around 4 pm when I realize that I have not (yet again) planned anything for dinner. Their new book, The Chicken Bible, has been a huge help to me this year while writing my own cookbook – the recipes are easy, and I often have ingredients on-hand that I need. It's a great addition to the "dinner" section of a cookbook library.
9. Xi'an Famous Food – Jason Wang
I love this book. My family loves this book. The very famous, giant, incredible hand-pulled Biang Biang noodles live up to all the hype. I've never had them in New York City, but I have made them at home dozens of times now, and they are DELICIOUS and so fun to make. We've also loved making the Pineapple Chicken. Also do yourself a favor and order some of their XFF Chili Oil.
10. The Essential New York Times Cookbook – Amanda Hesser
This is Ms. Hesser's "once-in-a-generation cookbook", and it contains all the classics from the previous book, along with "120 new but instantly iconic dishes". I was floored to find my Pan-Banging Chocolate Chip Cookies among the pages.

11. Artisan Bread in Five Minutes a Day – Zoe Francois and Jeff Hertzberg This book is always being used in my kitchen! The master recipe is a classic, but the brioche and challah are also incredible. There are so many great recipes among the pages, with much room for your own interpretations and spins. If you don't yet have it, I highly recommend it.
Books That Recently Came Out That I'm Excited About
This list includes books that recently came out and look amazing. I'm so excited to dive and and cook and bake from these pages.
Sugar, I Love You – Ravneet Gill
The title alone sells me! I loved Ms. Gill's first book, and am so excited for her second release.
The Perennial Kitchen – Beth Dooley
Local author Beth Dooley has written another beautiful book, this one celebrating simple recipes for a healthy future.
One Tin Bakes Easy- Edd Kimber
Another great book from Edd Kimber, this one includes gluten-free recipes as well. I'm a big fan of the Marble Cake recipe.
Cookies: The New Classics – Jesse Szewczyk
A cookie cookie book that puts a unique spin on classic cookies. I've got the Minty Shortbread Sandwich Cookies on my holiday bake list.

Black Food: Stories , Art, and Recipes from Across the African Diaspora – Bryant Terry
A collection that explores Black foodways within America and around the world. You will find recipes for Lani Halliday's I LOVE NY Pink + Gold Cookies (!!!) and Erika Council's Buttermilk Biscuits, but also recipes from Lazarus Lynch, Cheryl Day, Toni Tipton-Martin, Charles Hunter III, and so many others.

Sheet Cake – Abby Dodge
Abby is a trusted recipe source, and her new book is a lovely collection of easy one-pan recipes.

My Shanghai – Betty Liu
A beautiful collection of recipes, stories, and photographs centered around the City on the Water.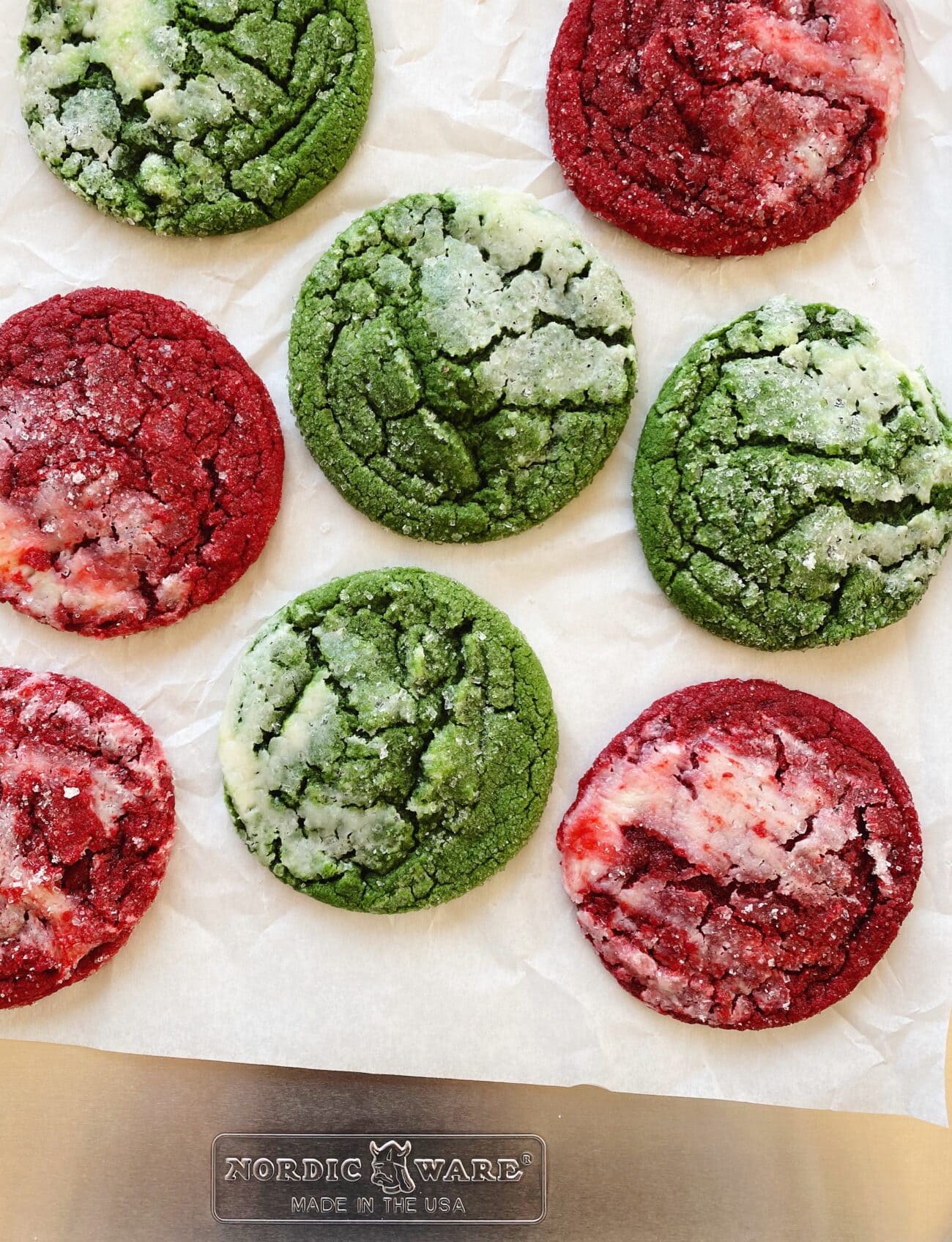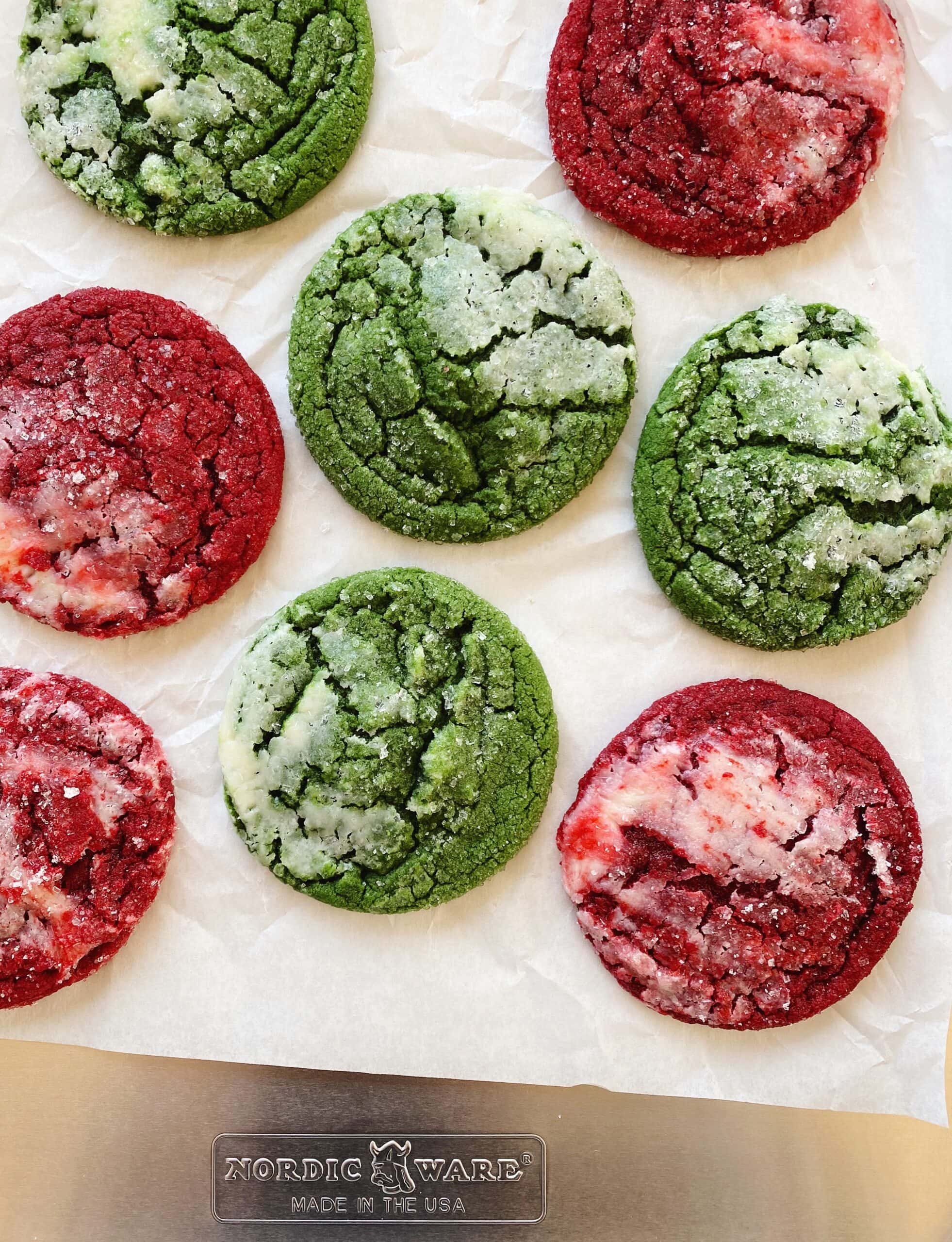 Kitchen Tools
These are tools that I use and love in my own kitchen.
1. Nordic Ware Half Sheet Pans
3. Mauviel Copper Sugar Saucepan
4. Nordic Ware Brilliance Bundt Pan
6. Cookie Spatula with Walnut Handle
Holiday Playlists
I'm a big "holiday music" person and have some playlists up for the holidays!
Something Fun!
And, my cousins (The Kieffer Bros) created a website for a party game that we love to play at the holidays. And the Consequences Were is a creative writing game to play with friends. There are eight questions for everyone to answer. Once everyone finishes, all the answers are scrambled, and each player gets to take a turn reading their story aloud to the group. The story format goes like this:
Her name was ___. His name was ___. They met at ___. She wore ___. He wore ___. She said, "___." He said, "___." And the consequences were: ___.

My family and I used to play this on strips of paper, and would fold it down after answering and pass it to the next person. Now, we can play online, which is especially great during a pandemic. We have been zooming and playing and having so much fun. Check it out this holiday!