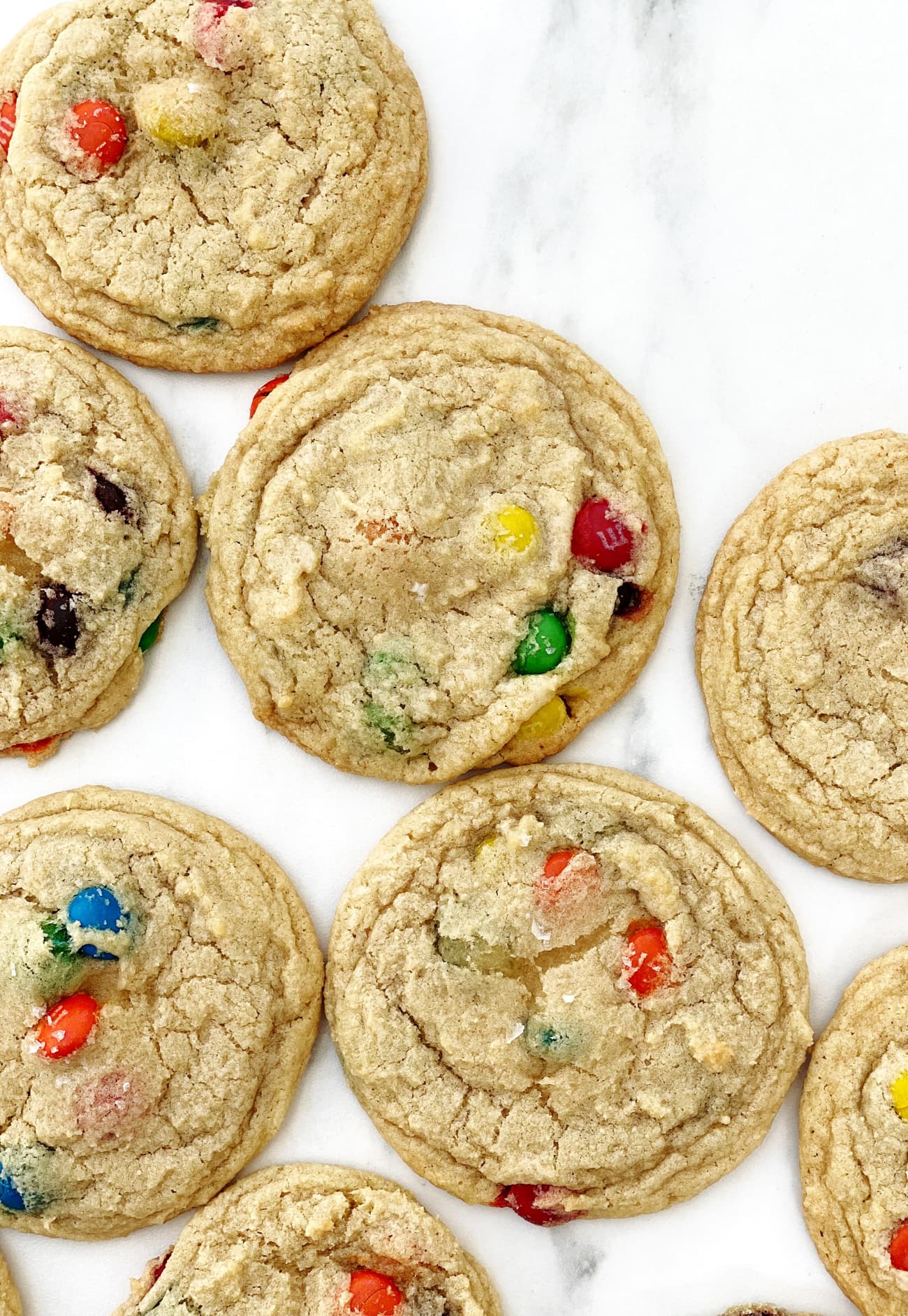 As much as I love my Chocolate Chip Cookies 2.0 , what with dark, dreamy chopped chocolate and sprinkled with sea salt, or my wrinkled, rippled Pan-banging Chocolate Chip Cookies, I am convinced there is still a need for a nostalgic M&M cookie that doesn't require much work or pretension. At least, that's what my kids tell me on a weekly basis. They have declared these soft and chewy cookies as one of their favorites, and each time I make them, I have to agree.
These M&M Cookies are essentially the Soft Chocolate Chip Cookies from 100 Cookies, with milk chocolate candies swapped in for the chips. I love the bit of crunch from the candies, and find that milk chocolate works perfectly in these cookies. My kids prefer these cookies warm, or on the second day, when they are very soft and practically melt in your mouth.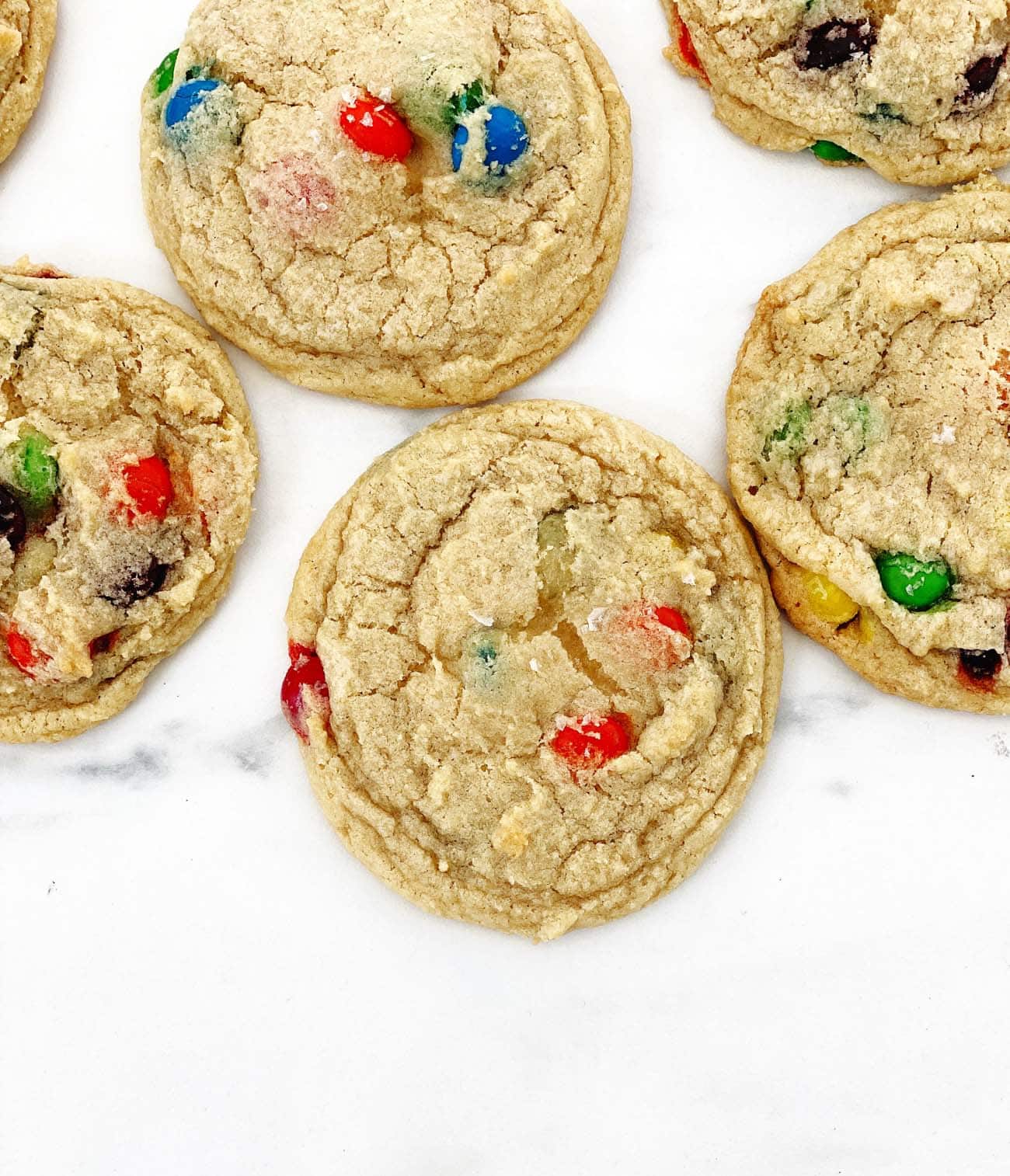 An easy recipe for M&M cookies
I wanted to keep this recipe very simple so you could make them on a whim, or just in time for the kids to get home from school.
You'll whisk the dry ingredients, then cream the butter and sugars. Eggs and vanilla are added, and then the dry mixture. Stir in M&M candies and you're ready to bake! No chilling time needed.
Ingredient notes:
All-purpose flour: Make sure your all-purpose flour is not too high or low in protein; I like to use Gold Medal unbleached all-purpose for cookie baking. At 10.5 percent protein it is a good, moderate choice to keep baked goods tender.
Unsalted butter: I use unsalted butter in my recipes so I can control the salt content. This recipe uses both salt in the dough and sprinkled on top before baking, so unsalted works well here in order to keep the cookies from getting too salty.
M&M Candies: These classics are easy to find in any store, but if you prefer to find a naturally colored chocolate candy, Trader Joe's has them, or you can find the Unreal Chocolate Gems at many stores.
Pure vanilla extract: I prefer the flavor of pure vanilla extract over artificial, and recommend it here since this recipe has a vanilla forward flavor. However, if you love a brand of artificial and use it regularly, it will work fine.
Freezing baked cookies
I like to bake a batch of these cookies and then freeze them, so I have plenty available for packing school lunches. To freeze the cookies: let them cool completely on the wire rack, the transfer them to a ziplock bag or other freezer-safe container. I place a piece of parchment paper between the layers of cookies so they don't freeze together.
Each morning I take one out, place it in a small ziplock bag, and then place in a lunch box, where it is thawed a ready to eat for lunch.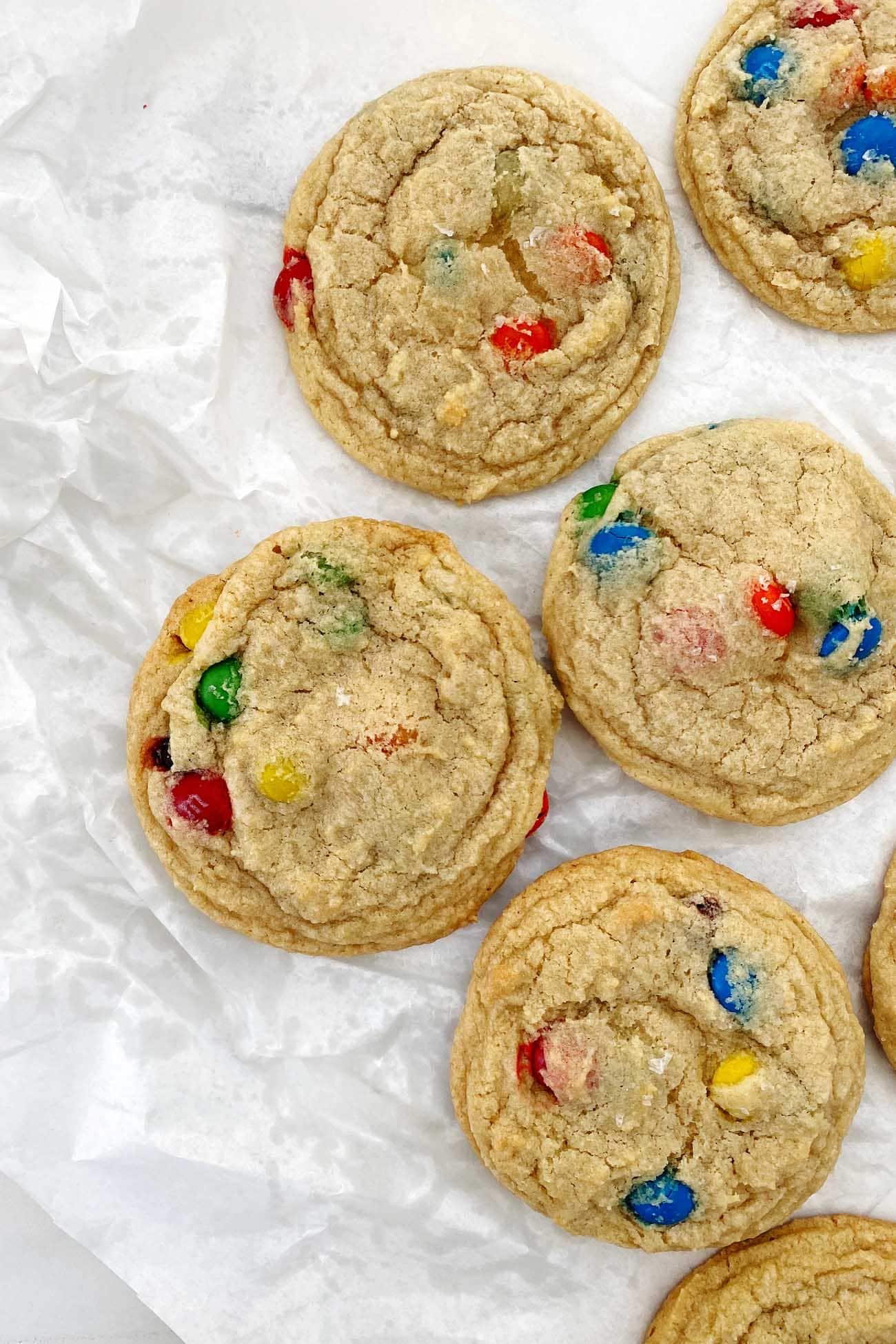 More Cookie Recipes:
Soft and Chewy M&M Cookies
These chewy M&M cookies practically melt in your mouth. We love the bit of crunch from the candies, and find that milk chocolate works perfectly in these cookies. An easy recipe, no chilling of the dough necessary.
Print
Pin
Rate
Ingredients
2 1/2

cups

(355 grams) all-purpose flour

1

teaspoon

baking soda

3/4

teaspoon

fine salt

12

tablespoons

(1 1/2 sticks or 170 grams) unsalted butter, at room temperature

3/4

cup

(150 grams) granulated sugar

3/4

cup

(150 grams) brown sugar

2

large eggs

1 1/2

teaspoons

pure vanilla extract

7

ounces

(200 grams) M&M chocolate candies
Instructions
Adjust an oven rack to the middle of the oven. Heat the oven to 350°F (180°C). Line three sheet pans with parchment paper.

In a medium bowl, whisk together the flour, baking soda, and salt.

In the bowl of a stand mixer fitted with a paddle, beat the butter on medium speed until creamy, about 1 minute. Add the granulated and brown sugars and beat on medium speed until light and fluffy, 2 to 3 minutes. Scrape down the sides of the bowl, add the eggs and vanilla, and mix until smooth. Add the flour mixture and beat on low speed until just combined. Add the chocolate and mix into the batter on low speed.

Form the dough into 1 1/2-ounce (45-gram) balls (2 tablespoons) and place 8 cookies on each sheet pan.

Bake one pan at a time, rotating halfway through baking. Bake for 8 minutes, until the cookies are slightly puffed in the center. Give the pan a slight tap in the oven. Bake the cookies until the edges are just turning golden brown but the center is still soft, 2 or 3 minutes more (10 to 11 minutes total).

Give the pan one final tap in the oven and then transfer the pan to a wire rack to cool. Let the cookies cool completely before removing from the pan. When pulled from the oven, the cookies will look puffed and light in color, but they will slowly deflate as they cool on the pan. Store cookies in an airtight container at room temperature for up to 5 days.