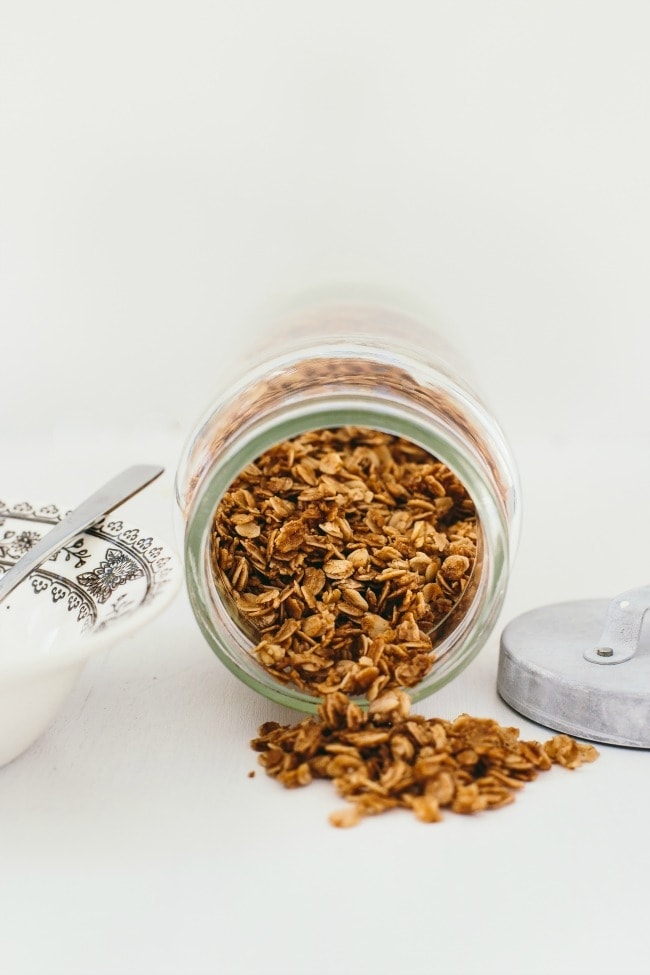 I have spent many hours working in coffeehouses, either as barista or baker. Almost every shop had a little kitchen tucked in the back, where ovens cranked out early A.M meals: scones, muffins, quiche, and coffee cake. I loved the mornings that the granola was included in that lineup. Seven minutes after the trays of oats went into the oven, a faint whiff of cinnamon would weave its way through the store, tempting the line of hungry patrons. Four minutes later the aroma would hit like a flame, leaving no nose untouched. Our minds raced with holiday memories: coming in from the cold and finding a fire ready, with cookies beside it. Together, we would all breathe a collective sign of nostalgia.
Maple Cinnamon Granola
Notes: This recipe is simple and can be easily tweaked to accommodate your breakfast preferences. Here the maple syrup sweetens the oats, but honey can be used instead. The olive oil's peppery note is balanced by the sugars, but can be swapped for canola oil for a more straightforward taste. Cinnamon and and vanilla extract can be removed or supplemented: almond extract, cardamom, Chinese five-spice, and ground ginger are all good starting places.
1/2 cup pure maple syrup
1/2 cup canola oil (olive oil will work, too)
1 tablespoon water
1 tablespoon pure vanilla extract
5 cups (450g) old-fashioned rolled oats
1/4 cup (50g) brown sugar
1 teaspoon cinnamon
1/4 teaspoon salt
Adjust the oven racks to the upper and lower thirds of the oven. Preheat the oven to 350F. Line two baking sheets with parchment paper.
In a large bowl or liquid measuring cup, mix the maple syrup, oil, water, and vanilla. In a large bowl, mix the oats, sugar, cinnamon, and salt. Add the wet ingredients to the dry and stir well, making sure the oats are fully coated.
Spread the oats evenly between the prepared baking sheets and baked 18-25 minutes, stirring often, until the oats are golden brown and no longer wet. Halfway through baking, reposition the baking sheets, moving the top one to the bottom oven rack and the bottom to the top, and rotate the pan 180 degrees.
Transfer the baking sheets to wire racks and let the granola cool, stirring once or twice.