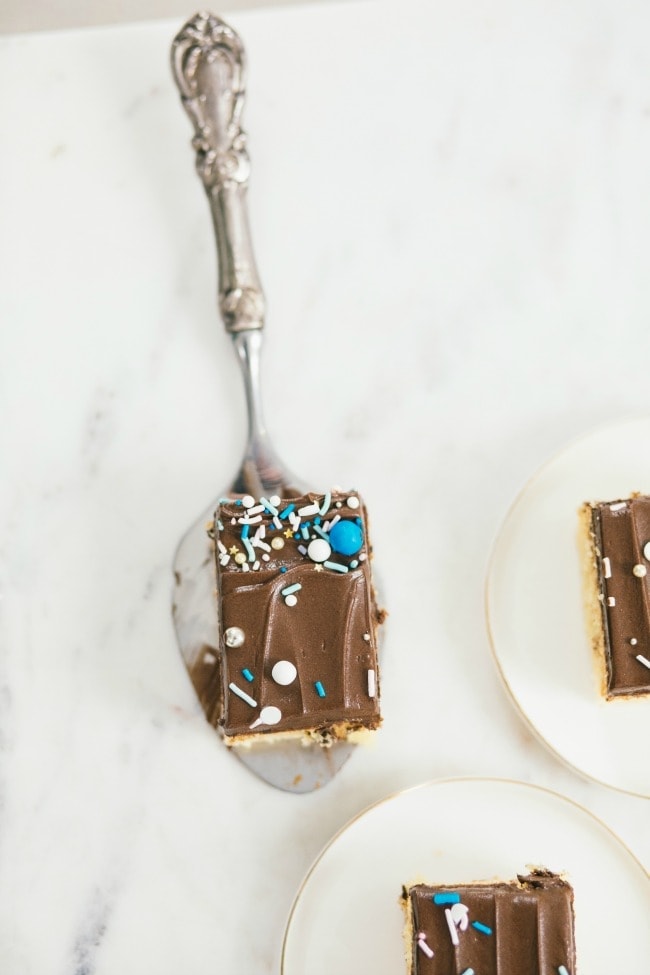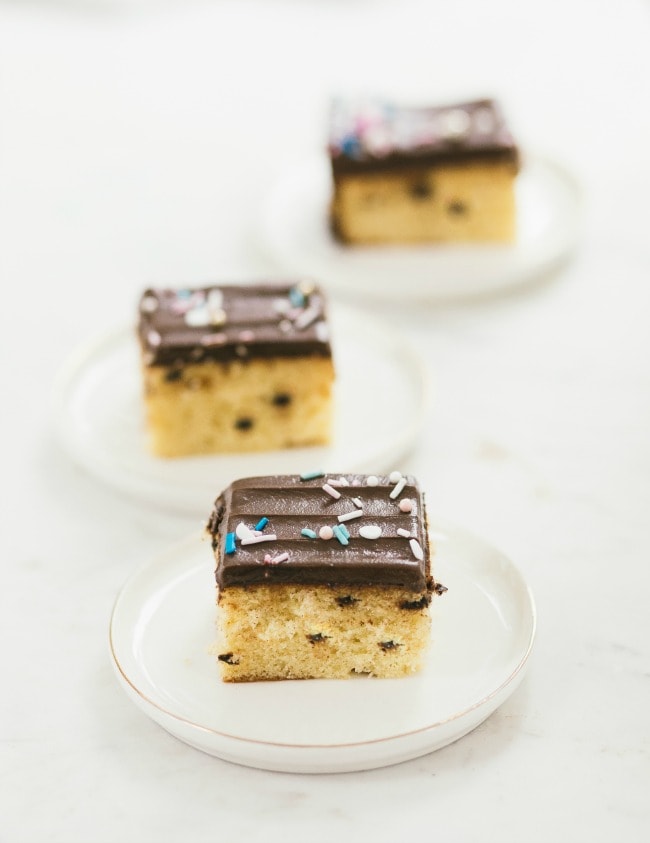 I have another snack cake for you, this time one with a yellow cake base and mini chocolate chips: chocolate chip snack cake. I must admit I've been enjoying these snack cakes more than layer cakes – the frosting to cake ratio is perfect, and eating small squares of cake instead of giant triangles somehow feels just right. If you prefer an all chocolate cake, I have that for you here.
Chocolate Chip Snack Cake
This recipe is adapted from my cookbook, The Vanilla Bean Baking Book (affiliate link).
This recipe makes enough for two snack cakes, and buttercream for two snack cakes. Both the cake base and the buttercream freeze well, so if you only want to serve one, you can freeze the other one (and half the buttercream) to use at another time. I would suggest freezing the cake layer and buttercream separately, and then assembling when they have come to room temperature (you will have to rewhip the buttercream a little bit before spreading). You can also bake this in a 9 x 13-inch pan which will give you a nice thick cake, or a half sheet pan (12 x 16 inches, with a 1-inch rim) for a thinner cake (you might want to double the buttercream if you go this route, unless you want both to be a thin layer). If using these other pans, you can frost the cakes right in the pan and serve.
*****************************************
"Hold summer in your hand, pour summer in a glass, a tiny glass of course, the smallest tingling sip for children; change the season in your veins by raising glass to lip and tilting summer in." -Ray Bradbury, Dandelion Wine
The last few weeks have been a blur. August always is that way for me – the month flies right by and all of a sudden we're back to fall. Two weeks ago my niece was born, and I have been terribly excited to be an Aunt for the first time. I've also been working on quite a few projects relating to baking this summer, which have kept me very busy. I apologize for another short post, but hopefully the snack cake will make up for it.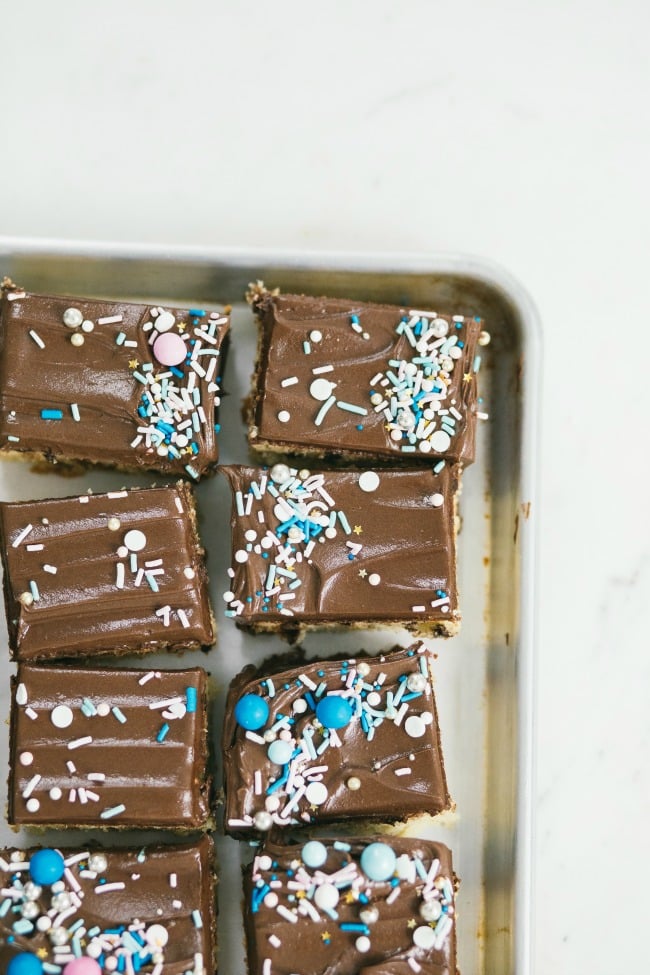 A few things:
*Edd Kimber from The Boy Who Bakes made my pan-banging chocolate chip cookies on his YouTube channel this week! You can watch his verdict on them here.
*The new Artisan Bread in Five Minutes a Day book, Holiday and Celebration Breads in Five is now out! I photographed this cookbook (along with Zoë François) and am so excited about it. It features recipes for breads from all over the world, and for just about every occasion. From Tahini Swirled Challah, to Christmas breads from all over Europe (and beyond), pitas for Ramadan and other celebrations, even monkey bread for after school and of course, there are several sticky buns and cinnamon rolls.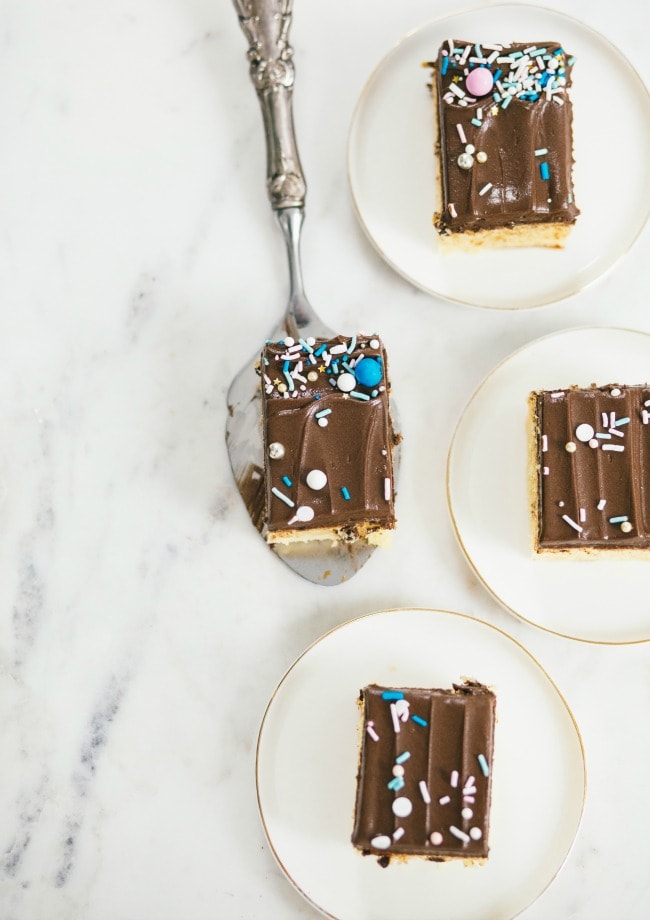 *Accessories*
plates | sprinkles
More Snack Cake Recipes: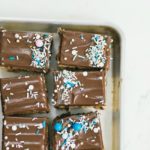 Chocolate Chip Snack Cake with Chocolate Buttercream
Servings:
2
(8 inch) cakes
A soft yellow cake with mini chocolate chips scattered throughout and topped with a chocolate buttercream!
Print
Pin
Rate
Ingredients
3

large eggs

2

eggs yolks

1

tablespoon

pure vanilla extract

1/2

cup

sour cream

1/2

cup

whole milk

2

cups

(284g) all-purpose flour

1 1/2

cups

(297g) granulated sugar

3/4

teaspoon

baking powder

3/4

teaspoon

baking soda

3/4

teaspoon

salt

1/2

pound

(2 sticks | 227g) unsalted butter, room temperature, cut into 1-inch pieces

3/4

cup

mini chocolate chips
Chocolate Buttercream
8

ounces

(226g) semisweet chocolate, chopped

1 1/2

cups

(339g | 3 sticks) unsalted butter, room temperature

1

teaspoon

pure vanilla extract

2

tablespoons

corn syrup

1/4

teaspoon

salt

2

cups

(226g) confectioners' sugar

Sprinkles,

if desired
Instructions
For the chocolate chip snack cake
Adjust an oven rack to the middle position. Preheat the oven to 350F. Butter and flour two 8 by 2-inch square cake pans (see note above for other pan options) and line the bottoms with parchment paper.

In a medium bowl or liquid measuring cup, whisk the eggs, egg yolks, vanilla, sour cream, and milk.

In the bowl of a stand mixer fitted with a paddle, mix the flour, sugar, baking powder, baking soda, and salt on low until combined. With the mixer running on low, add the butter one piece at a time, beating until the mixture resembles coarse sand. With the mixer still running on low, slowly add half the wet ingredients. Increase the speed to medium and beat until incorporated, about 30 seconds. With the mixer running on low, add the rest of the wet ingredients, mixing until just combined. Increase the speed to medium and beat for 20 seconds (the batter may still look a little bumpy). Scrape down the sides and bottom of the bowl, add the chocolate chips, and use a spatula to mix the batter a few more times until the chips are incorporated.

Pour the batter into the prepared pans and smooth the top. Tap the pan gently on the counter 2 or 3 times to help get rid of any bubbles. Bake 15-18 minutes, rotating the pan halfway through, until the cake is golden brown and pulls slightly away from the sides and a wooden skewer or toothpick inserted in the centers comes out clean.

Transfer the cakes to a wire rack and let cool for 30 minutes. Turn the cakes out onto a half sheet pan lined with parchment paper, remove the parchment paper from the bottom of the cakes, and let the cakes cool completely upside-down (this will help deflate any doming). Once cool, the cakes can be wrapped in plastic and refrigerated overnight or frosted.
For the buttercream
Put about 1 inch of water in a medium saucepan and bring it to a gentle boil. Melt the chocolate in a heatproof bowl set over the pan of boiling water, being careful not to let the water touch the bottom of the bowl. Stir constantly until just melted and set aside to cool slightly.

In the bowl of stand mixer fitted with a paddle, beat the butter on medium until light yellow and fluffy, about 3 minutes. Add the vanilla, corn syrup, and salt and beat on medium until combined. Turn the mixer to low and gradually add the confectioners' sugar. Beat at medium, stopping to scrape down the sides of the bowl as necessary, until smooth and creamy, 2-3 minutes. Add the chocolate and mix on low speed until no streaks remain.
To assemble
Use half the buttercream on each chocolate chip snack cake, and frost as desired. Decorate with sprinkles if also desired.