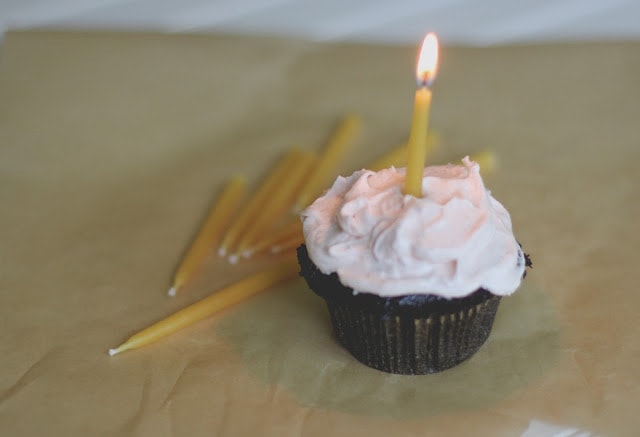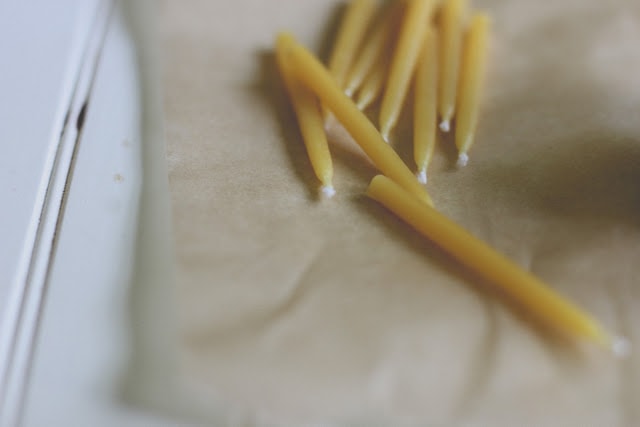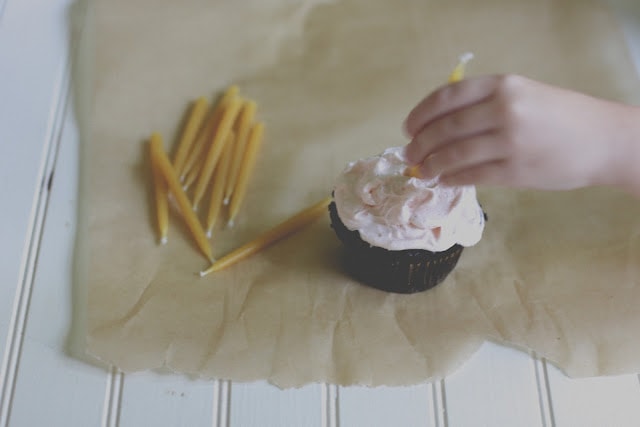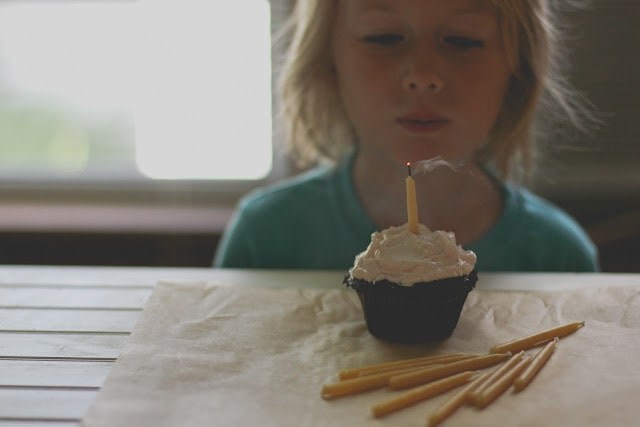 We are enamored with these little beauties, and they grace our table at almost every birthday celebration for my littles. Deep, chocolate flavor and sweet but not-too-sweet buttercream make these a perfect choice. Their frosting tops can stand as high and as colorful as you'd like, but they are also beautiful when left alone; the buttery white and dark cocoa becoming a glorious bite of day and night.
adapted from Orangette
These cupcakes are wonderful – moist and oh so chocolate-y. The frosting is sweet, but not too sweet, and is perfect for decorating, if desired. We serve these at almost all our birthday parties, and they are always greeted with smiles.
The first couple times making cupcakes from this recipe I had trouble with them not rising well in the oven, but they tasted so delicious I kept trying them. I realized that if I bumped up the oven temperature from 300 to 350, and chilled the batter for at least 30 minutes, I would get beautiful cupcakes with a perfectly round top.
This makes a lot of cupcakes – almost 32.
The batter can be chilled overnight, if needed.
3 oz fine-quality bittersweet or semisweet chocolate
1 ½ cups hot brewed coffee [or cold press, heated]
3 cups sugar
2 ½ cups unbleached all-purpose flour
1 ½ cups unsweetened cocoa powder [not Dutch process]
2 tsp baking soda
¾ tsp baking powder
1 ¼ tsp salt
3 large eggs
¾ cup canola oil
1 ½ cups well-shaken buttermilk
¾ tsp pure vanilla extract
Finely chop chocolate and in a bowl combine with hot coffee. Let mixture stand, stirring occasionally, until chocolate is melted and mixture is smooth.
Into a large bowl sift together sugar, flour, cocoa powder, baking soda, baking powder, and salt. In another large bowl, beat eggs with an electric mixer until thickened slightly and lemon-colored [about 3 minutes with a standing mixer or 5 minutes with a hand-held mixer]. Slowly add oil, buttermilk, vanilla, and melted chocolate mixture to eggs, beating until combined well. Add sugar mixture and beat on medium speed, until just combined well. Chill batter for 30 minutes.*
Preheat oven to 350 degrees. Line the wells of your pans with fluted paper liners.
Divide batter between pans, filling about 3/4 full. Bake in middle of oven 20 to 25 minutes, until a tester inserted in center comes out almost clean, with just a teensy bit of crumb attached.
Cool cupcakes completely in pans on racks. Remove and frost.
This buttercream makes enough icing for about 24 cupcakes. The cake batter makes about 30ish cupcakes, so you may have to double this, unless you put a very thin layer of frosting on each cupcake. 
3 sticks unsalted butter, cut into chunks and softened
3 tablespoons heavy cream
2 1/2 teaspoons vanilla, or 1 vanilla bean, seeds scraped
1/4 teaspoon salt
3 cups powdered sugar
food coloring, if desired
Beat the butter, cream, vanilla, [or vanilla bean seeds] and salt together in a large bowl with an electric mixer on medium high speed until smooth, 1-2 minutes.
Reduce the speed to medium low, slowly add the powdered sugar and beat until incorporated and smooth, 4-6 minutes. Add food coloring a few drops at a time, if using, until desired color is reached.  Increase the mixer speed to medium high and beat until the frosting is light and fluffy, 5-10 minutes.