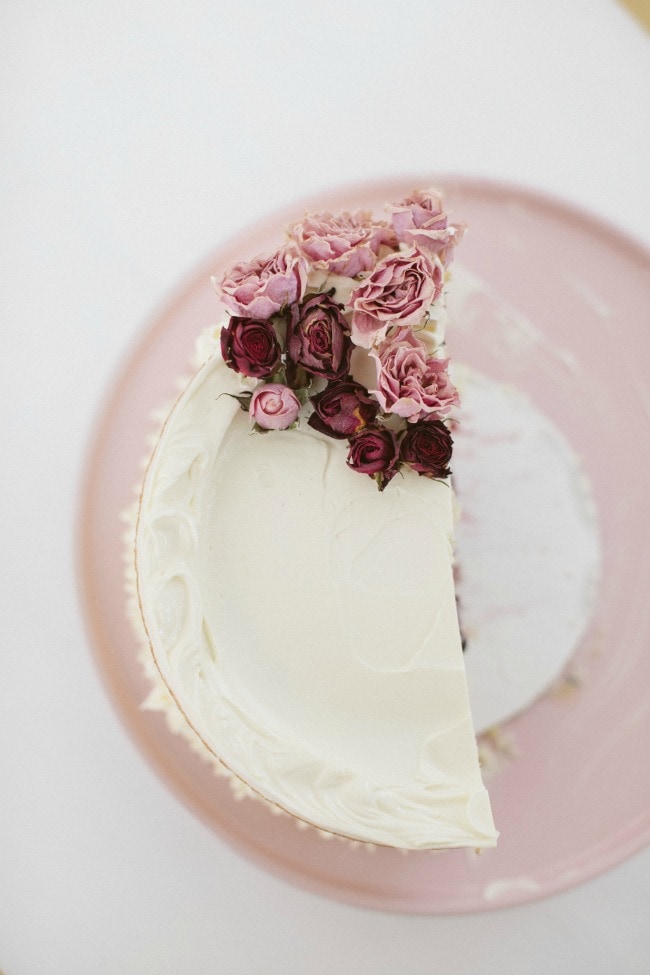 My children are curious ones, often on tip-toe or climbing up onto kitchen stools, trying to figure out what I'm always doing in the kitchen. Sometimes they jump in and help: throwing on their little aprons and grabbing spatulas and whisks, and other times they are content with just peeking into bowls and moving on. I find their interest in that space constantly ebbs and flows, and the days I'm in a hurry and don't need help are the days they seem to want to offer it, and the occasions I'm dying to bake with them and teach them new things, well, those are the days they'd rather be doing anything else. Every once in awhile we land on the same page. My daughter is more eager than my son; he wants to sneak cookie dough, she wants to shape and bake cookies. I've watched her come a long way in the kitchen, and enjoy the moments when we make something together.
I've discovered that while she's come a long way, I, however, still have some needed areas of growth. Basically, I can be a control freak. I find myself hovering and managing. I want to pre-measure the ingredients, and find the right bowl. I don't fully trust her to dip and sweep or mix things fully. She is well aware of my tight grip while sweetly encouraging me to step back and let her try. She is sure of her abilities, and isn't worried when she's lacking. This is the hardest part of parenting for me: watching your child get to a place you've been training them for, and then having to let go, trusting they can do whatever it is you've been preparing them to do. I've spent so much time nurturing and caring and equipping, that when my child is finally ready, I want to keep tagging along to micromanage any mishaps, not fully confident in her abilities.
I'm slowly making progress.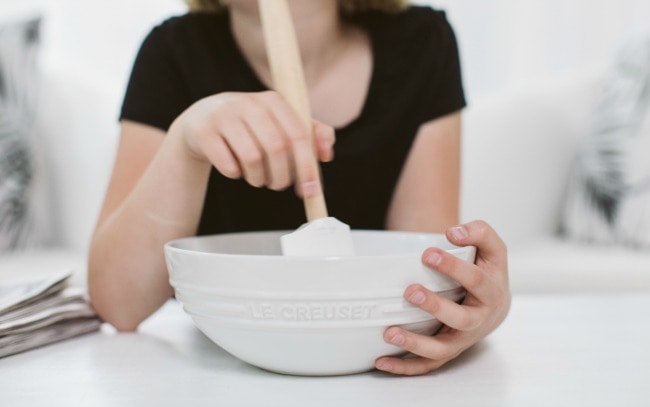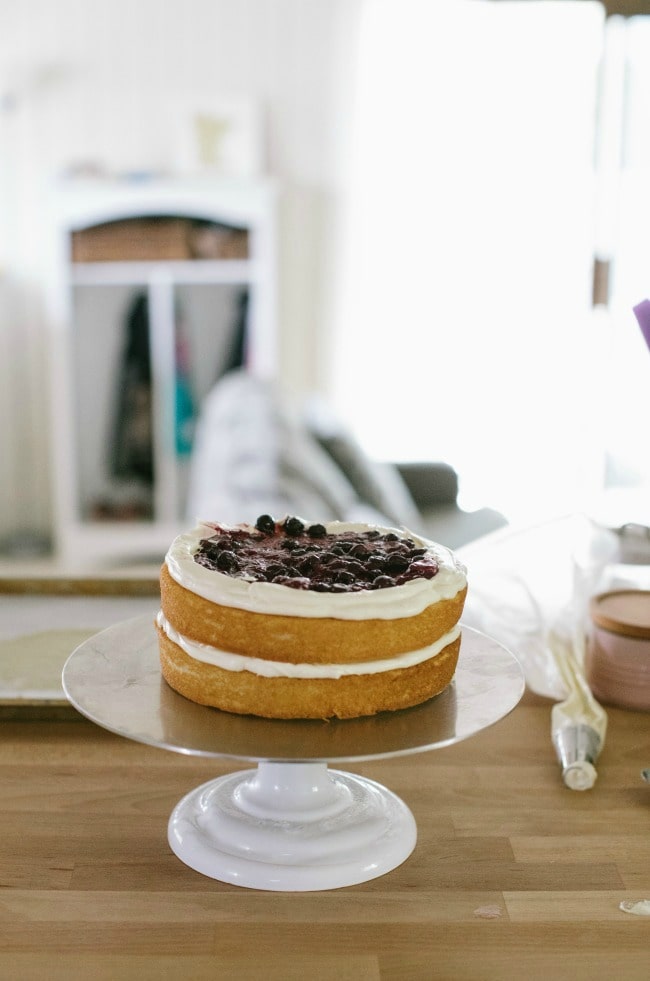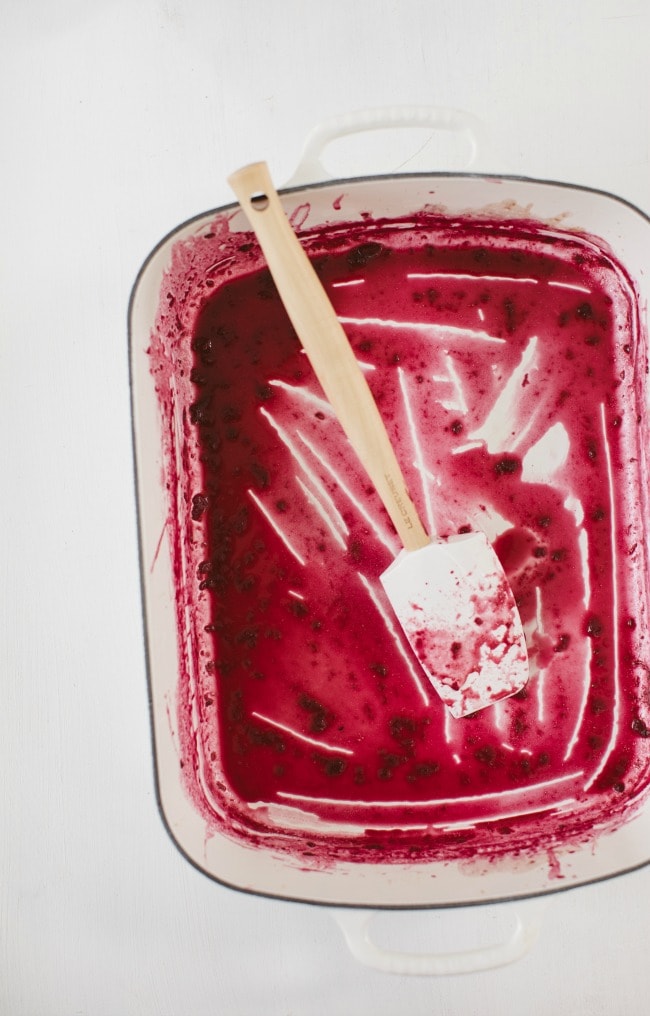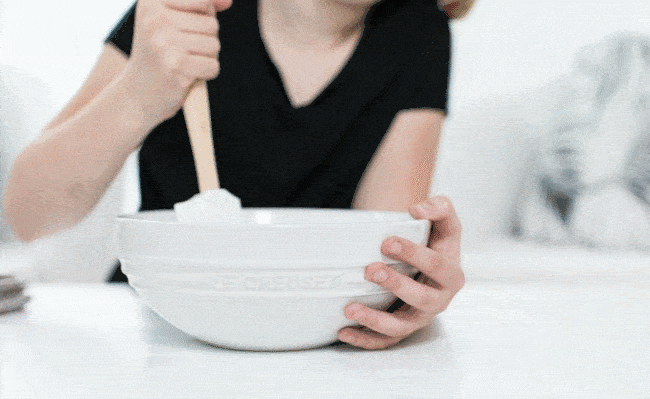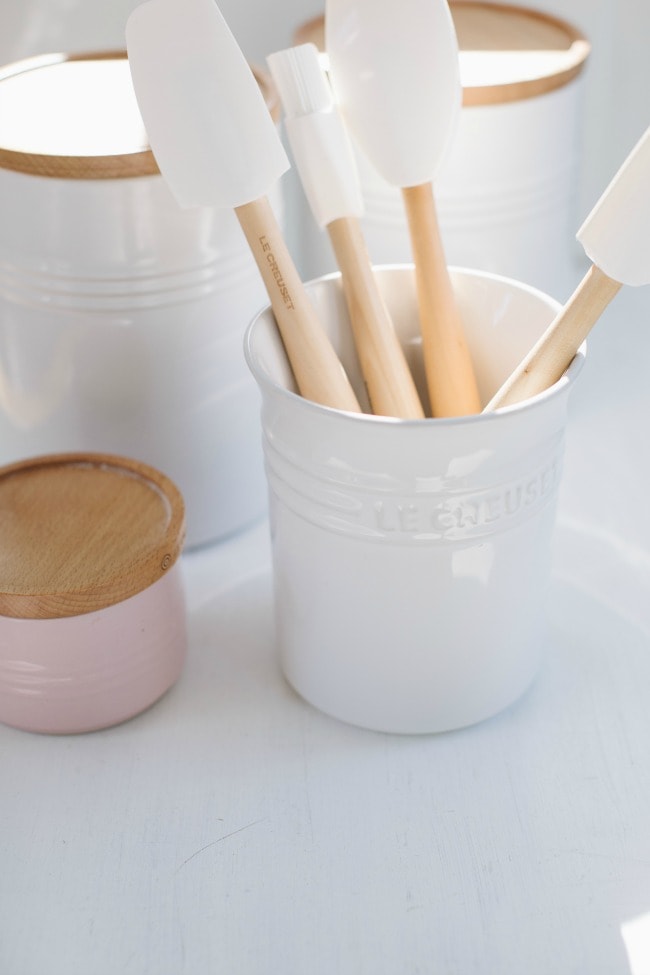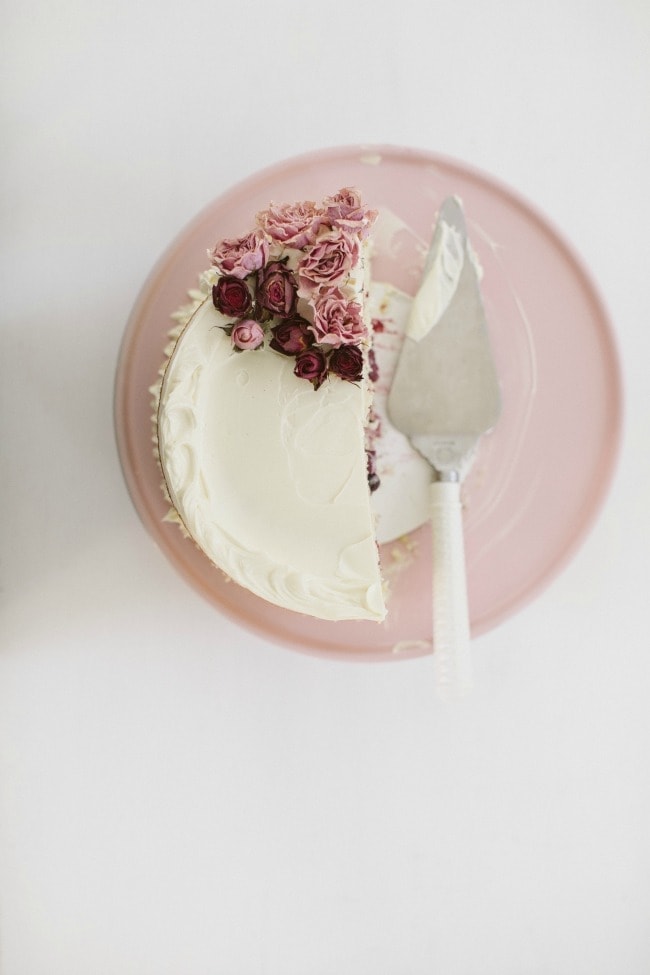 We did have a lot of fun together, making this crème fraîche cake. My kids could have gobbled up the crème fraîche layers plain (I could have as well), but the berries and white chocolate buttercream take this to the next level.
Le Creuset kindly sent us this 5 piece utensil set (with crock) from their Craft Series to use on our cake experiements (or #cakexperiments, as I like to call them on Instagram), and so far I'm impressed. The spatulas are 'made for scraping the bowl clean', and they do an incredible job. Their smooth surface is great for scraping batter from the surface in just two strokes, and the ergonomic handle keeps hand secure when scraping or spreading. And yes, this spatula can also spread, which is a dream come true. And guess what! One lucky reader can win this utensil set! All you need to do to enter is leave a comment below (along with an email). This contest is open to US residents only. Winner will be announced June 20th, 2017. (For an extra entry, follow Le Creuset on Instagram.)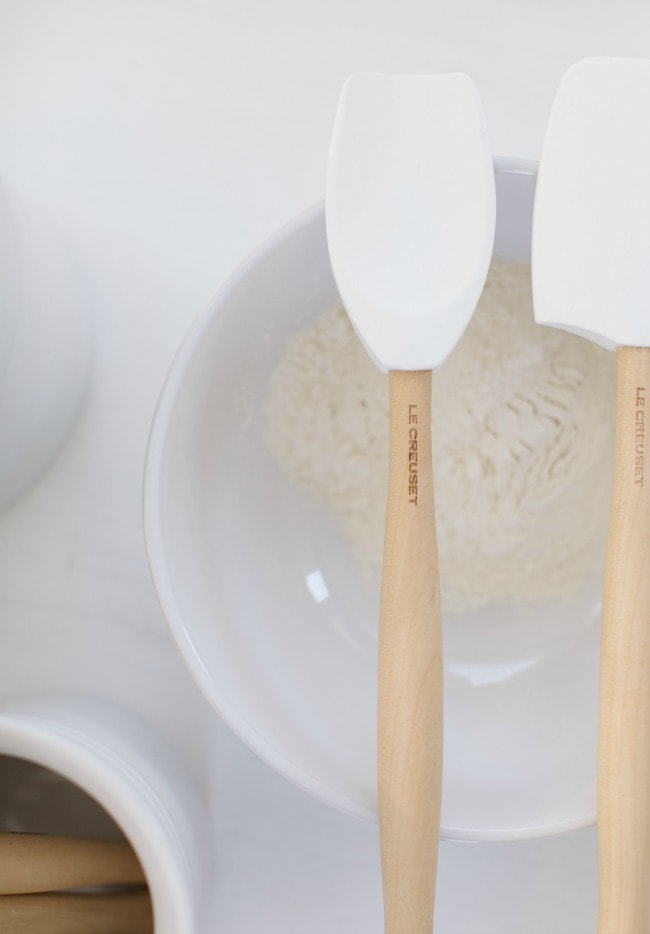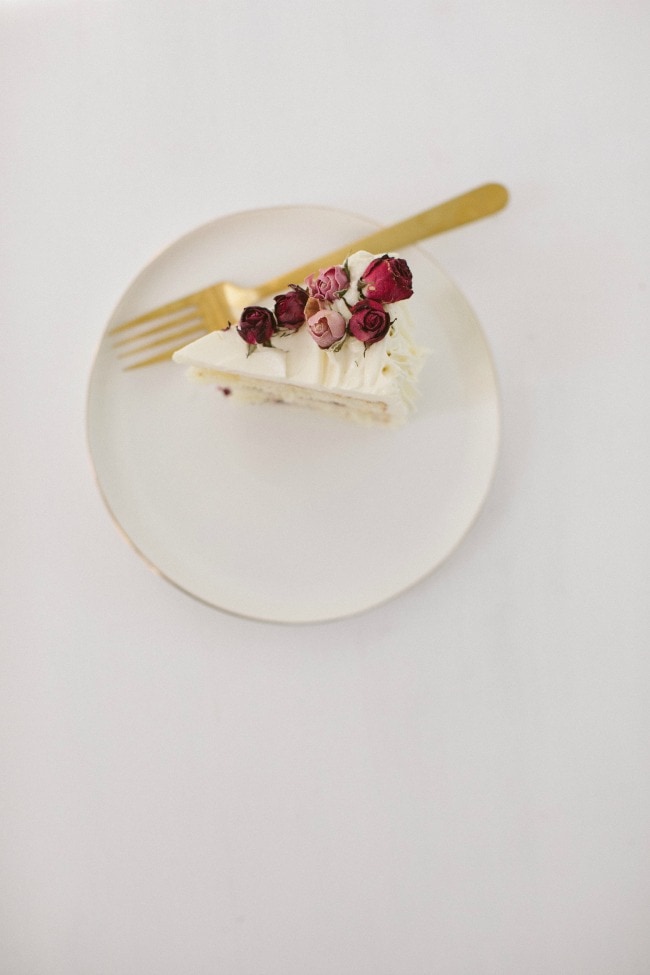 Crème Fraîche Cake with Roasted Berries and White Chocolate Buttercream Recipe

This cake is similar to the Blackberry White Chocolate Cake found in my cookbook (affiliate link), but I've replaced the sour cream with crème fraîche,
and it is currently my favorite way to make it. I used Vermont Creamery crème fraîche. You may have a little bit of roasted fruit left over, but this would taste delicious spooned over ice cream or yogurt. Don't put the extra fruit in-between the layers; the cake is too tender for all of that fruit, and it will slide around.

crème fraîche cake
1/2 cup whole milk
3/4 cup crème fraîche
5 large egg whites
2 teaspoons pure vanilla extract (use clear vanilla extract for a slightly whiter cake)
2 1/4 cup (320g) all-purpose flour
1 1/2 cup (297g) granulated sugar
4 tsp baking powder
½ tsp salt
12 tablespoons (170g) unsalted butter, room temperature, cut into 1-inch pieces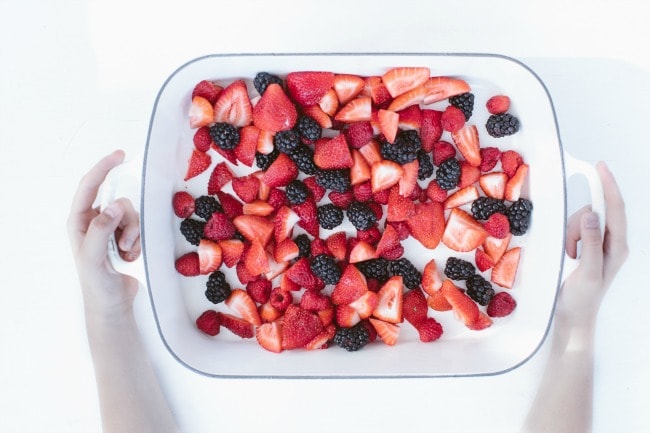 roasted fruit
8 ounces (227g) strawberries, hulled and quartered
3 ounces (85g) blackberries
3 ounces (85g) raspberries
1/3 cup granulated sugar
Pinch salt
1 teaspoons lemon juice
1 tablespoon unsalted butter, cold
1 teaspoon gelatin
1 tablespoon water
white chocolate buttercream
8oz (226g) good white chocolate, chopped
3/4 pound (3 sticks; 339g) unsalted butter, room temperature
1 tbsp pure vanilla extract
3 tbsp light corn syrup
¼ tsp salt
2 cups (226g) confectioners' sugar
For the cake
Adjust an oven rack to the middle position. Preheat the oven to 350F. Butter and flour three 8in x 2-inch round cake pans and line the bottoms with parchment paper.
In a medium bowl or liquid measuring cup, whisk the milk, crème fraîche, egg whites, and vanilla.
In the bowl of a stand mixer fitted with a paddle, mix the flour, sugar, baking powder, and salt until combined. With the mixer running on low, add the butter one piece at a time, beating until the mixture resembles coarse sand. With the mixer still running on low, slowly add half the wet ingredients. Increase the speed to medium and beat until the ingredients are incorporated (about 30 seconds). With the mixer running on low, add the rest of the wet ingredients, mixing until just combined. Increase the speed to medium and beat for 20 seconds. Scrape down the sides and bottom of the bowl, and use a spatula to mix the batter a few more times. Divide the batter between the prepared cake pans and smooth the tops. Tap the pans gently on the counter two times each to help get rid of any bubbles.
Bake for 17-22 minutes, rotating the pans halfway through, until the cakes are golden-brown and pull slightly away from the sides and a wooden skewer inserted into the centre comes out with a faint bit of crumb. Transfer to a wire rack and let cool for 30 minutes. Turn the cakes out onto the rack, remove the parchment paper, and allow to cool.
For the roasted fruit
Adjust an oven rack to the middle position, and preheat the oven to 400F. Place all the fruit in a roasting pan (a glass pan will work, too). Toss with the sugar, salt, and lemon juice.
Bake for 15-20 minutes, until the fruit is soft and has released a lot of liquid, stirring occasionally (you want the strawberries soft enough to smash with a wooden spoon).
Take the pan out of the oven and gently smash the fruit (especially the strawberries) into bite-sized pieces. Add the butter and stir until melted and combined.
In a small bowl, sprinkle the gelatin over the water and let stand until softened, about 5 minutes. When ready, add to the warm fruit and stir until combined. Cover the fruit and let cool to room temperature, then chill in the refrigerator until ready to use.

For the white chocolate buttercream
Put about 1-inch of water in a medium saucepan and bring it to a gentle boil.
Melt the white chocolate in a heatproof bowl set over the pan of boiling water, being careful not to let the water touch the bottom of the bowl. Stir constantly until just melted and set aside to cool slightly.
In the bowl of a stand mixer fitted with a paddle, beat the butter on medium until light yellow and fluffy (about three minutes). Add the vanilla, corn syrup and salt, and mix on medium until combined. Turn the mixer to low and gradually add the sugar. Beat on medium until smooth and creamy, stopping to scrape down the sides of the bowl as necessary (2-3 minutes). Add the white chocolate and beat on low until combined.
To assemble
Place one cake layer on a turntable or serving plate. With an offset spatula, spread the top with a third of the buttercream. Top with 1/3 cup of the roasted, cooled fruit and spread it evenly over the surface. Place the second cake layer on top and frost with a third of buttercream and another 1/3 cup of fruit. Place the final layer on top and evenly coat the cake with the remaining buttercream. Decorate as desired.