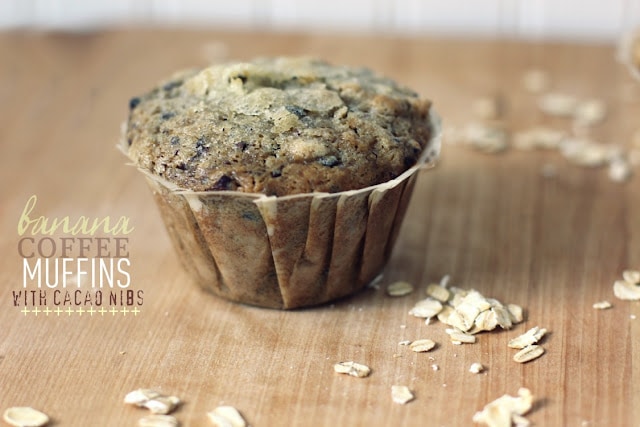 Sometimes, if I close my eyes very tight, I can recall a short period of my life where Saturday mornings were a leisurely affair. There was no alarm that sounded: not from bedside clock, or dated cellphone, or upstairs crib. I would dreamily drift into the morning, allowing myself to wake up in my own.good.time. Aimlessly I would reach for my nightstand, grabbing the book I had left open the night before, and would proceed to lose myself in someone else's adventure, pausing only to steal sleepy kisses with my Adam.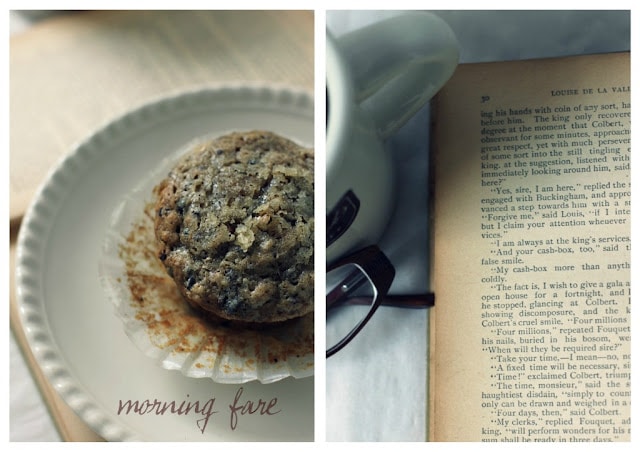 The morning hours would then slip by and we would talk of breakfast, and coffee. Wandering down the street to a crowded cafe, we would indulge in something to fill our hungry bellies, something as simple and sweet as a muffin to take us to the afternoon. There, nestled together near a window, our respite seemed to stretch on for hours; our day seemed to be made just for young lovers to squander away.
But now it is getting late, and I must close this book of faded memories. My eyes will open tomorrow before the sun rises high; I will awaken to little voices that run from sleep and warm cozy covers, that resist hours spent quietly engaged. You will find me, then, shuffling to the kitchen with eyes half shut, quickly gulping leftover coffee and stumbling to the counter for this little treat, a simple muffin, to take me to the afternoon.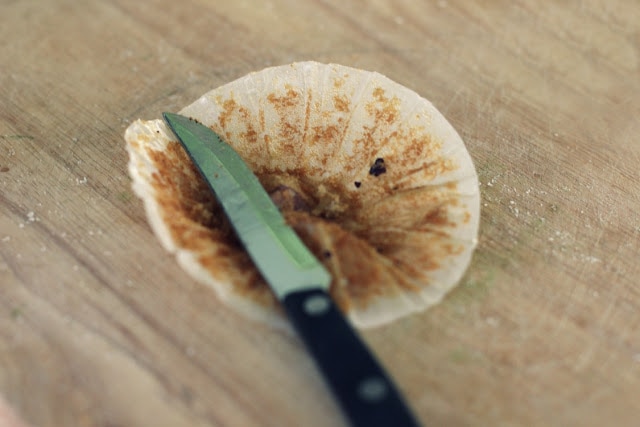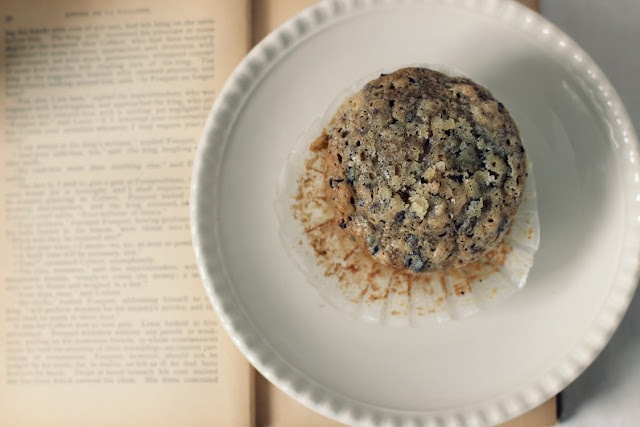 Banana Coffee Muffins with Cacao Nibs and Oatmeal
This recipe is adapted from the Blue Heron Coffeehouse. I have used both canola oil and olive oil in the recipe – and liked both. Olive oil will have a more distinct taste. Light brown sugar can be substituted for the dark. I have also made these without banana – but really preferred the flavor and texture that they brought to the muffin.
2 cups flour
1/2 cup rolled or quick oats
1 teaspoon baking soda
1 teaspoon baking powder
1/2 teaspoon salt
1/4 teaspoon grated nutmeg (optional)
3/4 cup buttermilk
1/2 cup strong coffee, cold
3/4 cup canola oil or olive oil
1 egg
2 teaspoons vanilla
1/2 cup dark brown sugar
2 bananas, diced small
1/2 cup cacao nibs
sugar for sprinkling
Preheat oven to 350. Line muffin tins.
Combine flour, oats, baking powder, baking soda, salt and nutmeg [if using] in a large bowl. Whisk together, and make a well in the center. Combine buttermilk, coffee, oil, vanilla, sugar and eggs. Whisk wet ingredients together and pour over the dry ingredients. Mix wet ingredients together until almost mixed. Add bananas and cacao nibs, and finish mixing until just combined, being careful not to over mix.
Scoop batter into prepared pans, filling the muffin cup to the top. Sprinkle with sugar. Bake until muffin edges are golden brown and a toothpick inserted comes out with the tiniest bit of crumb, 16-20 minutes.