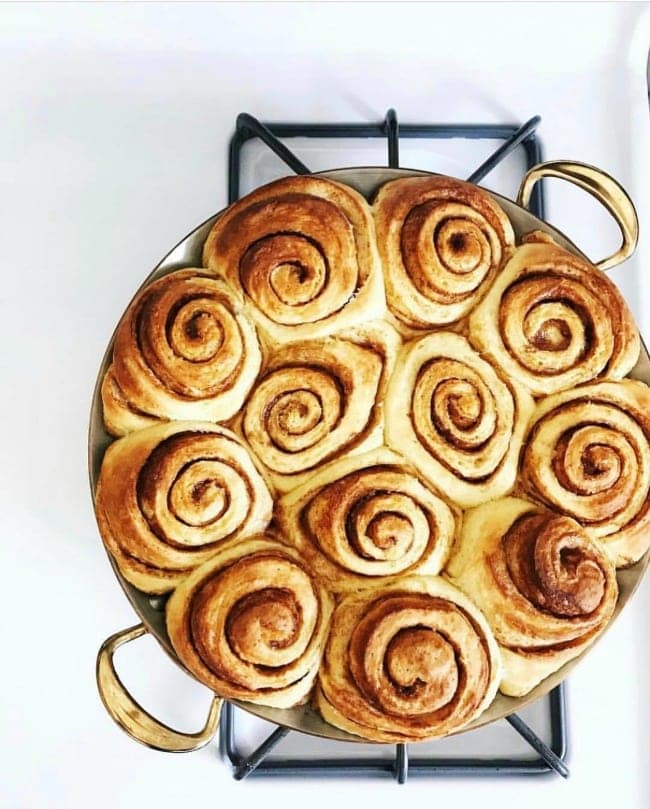 I'm posting the cinnamon roll recipe from my book here today, as many of you have been looking for it after the Pancake Princess declared it winner of her Cinnamon Roll Bake Off (yay!). I had the rolls in a different form here, but since the recipe was on several other sites and I had so many questions about where to find it and how to make them, I now have it here for you.
A few other things
I have been highly enjoying Kid the Whiz on Instagram, and especially this video here.
This drum off between Buddy Rich and Gene Krupa and Sammy Davis Jr. is pretty awesome.
I just started watching Wrecked (mostly because Murray from Flight of the Conchords is on it) and have found myself laughing a lot.
I love this song from Monica Martin. And this album by Kenny Burrell.
I just finished Right Ho, Jeeves by Wodehouse and now have started on Joy by Abigail Santamaria.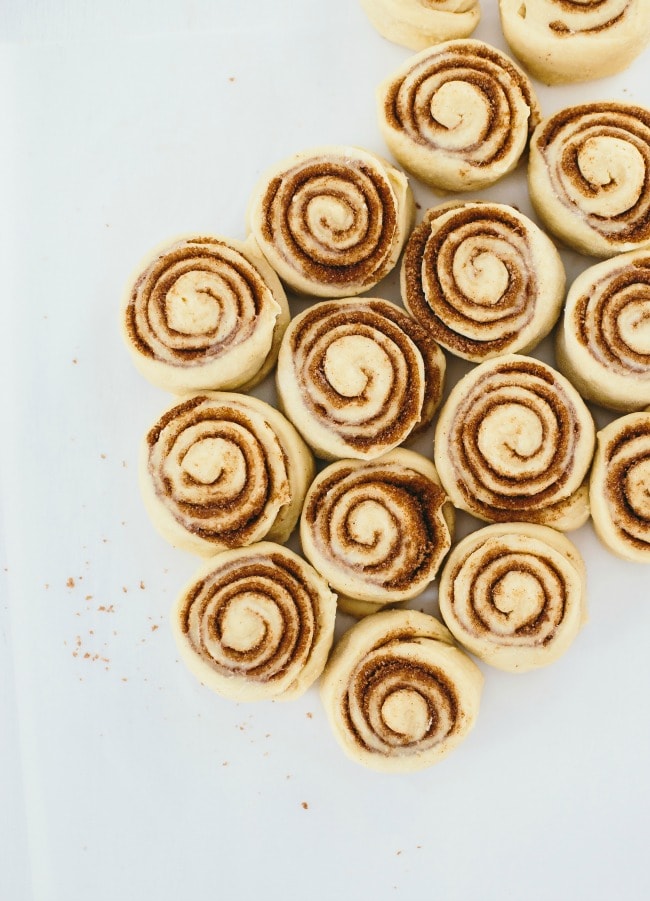 Cinnamon Rolls
From my book, The Vanilla Bean Baking Book
Notes: The dough can be cut into 8, 10, or 12 pieces, depending on your preferred size. Add a few minutes to the baking time for larger-size buns.
I like my cinnamon rolls super soft and gooey, so I put a thin layer of the icing over them while they are still very warm. The icing melts into the warm rolls, eliminating any hard corners or edges. If you prefer a little crispy crunch to your cinnamon rolls, you can wait until they have cooled and then top them with all the icing. And if you need to eat them warm, go ahead and smoother them with all the icing right from the oven.
You don't have to use a 9 x 13-inch baking pan here; you can get creative if you'd like. I often use this round 10-inch pan for baking the cinnamon rolls or this 5 quart braiser. You could also bake them on a half sheet pan lined with parchment.
1 recipe Sweet Dough
1/2 cup (99g) packed brown sugar
1 tablespoon ground cinnamon
Pinch salt
2 tablespoons (29g) unsalted butter, melted and cooled
Icing
8 tablespoons (1 stick | 113g) unsalted butter, room temperature
4 ounces (114g) cream cheese, room temperature
1 teaspoon pure vanilla extract
1/4 teaspoon salt
1 cup (113g) confectioners' sugar
Flour a work surface and knead the Sweet Dough 10 to 12 times. Shape the dough into a ball, cover the top lightly with flour, and if your dough has been refrigerated, cover with a tea towel and let come to room temperature.
Grease a 9×13-inch pan; if desired, line with parchment paper (this makes for easier cleanup).
In a small bowl, mix the brown sugar, cinnamon, and salt.
Roll the dough into a 16 by 12-inch rectangle. Brush the dough with the melted butter and sprinkle the cinnamon-sugar mixture evenly over the top, pressing it lightly into the butter so it adheres. Starting at a long side, roll the dough into a tight cylinder. Pinch the seam gently to seal it and position the dough seam side down. Use scissors or a sharp knife to cut the dough into 12-equal pieces. Transfer the pieces to the prepared pan and place them cut side up. Cover the pan loosely with plastic wrap and let the dough rise until doubled, 1 to 1 1/2 hours.
Adjust an oven rack to the middle position. Preheat the oven to 350F (180C). Remove the plastic and bake 27 to 32 minutes, rotating the pan halfway through, until the rolls are golden brown. While the rolls are baking, prepare the icing.
Transfer the pan to a wire rack and let cool for 5 minutes. Using an offset spatula or table knife, apply a thin layer of the cream cheese icing, using about one-third of the mixture. Let the rolls cool for another 15 to 20 minutes. Top with the rest of the icing and serve.
For the icing
In the bowl of a stand mixer fitted with a paddle, beat the butter and cream cheese on medium until smooth and creamy. Add the vanilla and salt and mix on low to combine. Add the confectioners' sugar and mix on low until combined. Scrape down the sides of the bowl and mix on medium until the icing is light and fluffy, 3 to 4 minutes.
For overnight cinnamon rolls
Prepare the rolls (roll out dough, fill them, roll them up, cut them, and put them in the prepared pan, but do not let rise for 1 1/2 hours as stated above) then cover them loosely with plastic and refrigerate for up to 18 hours. When ready to bake, preheat the oven, and let the rolls sit at room temperature (still covered in plastic) for 30-45 minutes. Bake as directed (they make take slightly longer to bake).