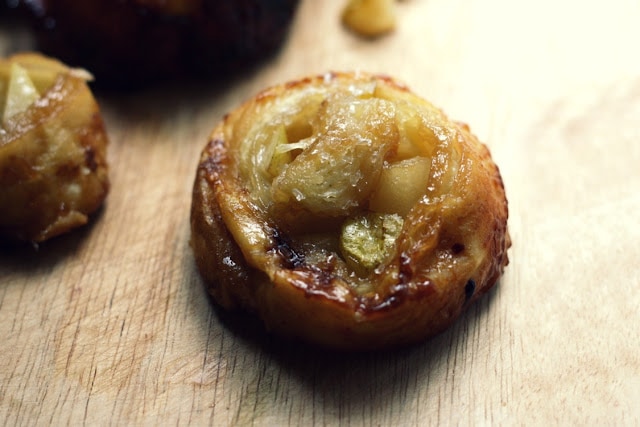 Sometimes inspiration hits slowly. There I was, with a box of puff pastry in my freezer. I had a friend coming over the next morning, so I pulled it out and stuck it in my fridge, racking my brain to come up with something easy to make for breakfast. I had ripe pears in the fruit bowl, and wanted to include them. I remembered my
crème fraîche
in the fridge, and thought that could be lovely. I fell asleep that night, dreaming of something to make it just right.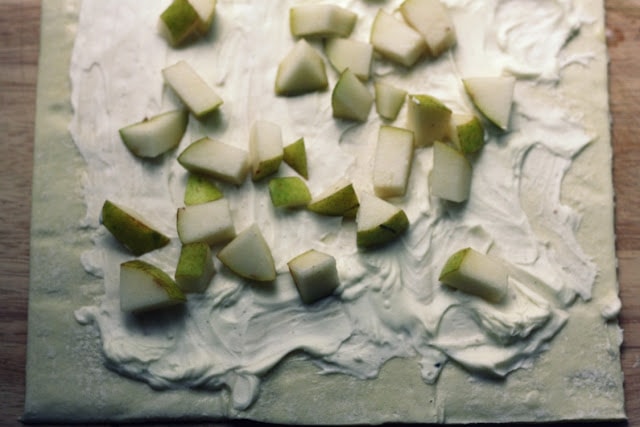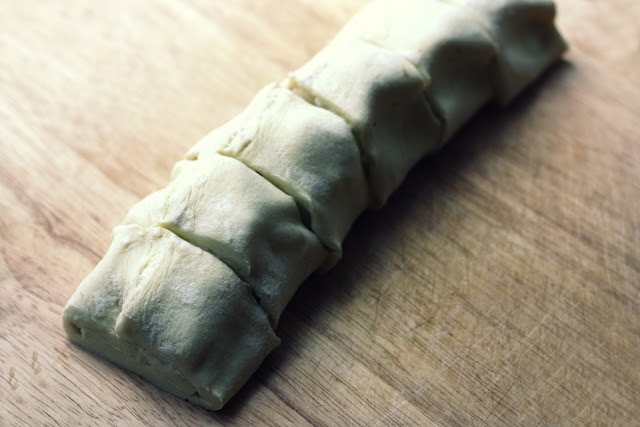 Morning arrived, and with it thoughts of salted caramel sauce. I recalled a recipe for sticky buns made from puff pastry – and I decided on a sticky caramelly-sugar topping with a little extra salt for these breakfast beauties.
We were lucky- they were delicious. Not too sweet, with tender warm pears and tangy crème fraîche, sweetened with a bit of vanilla bean sugar and topped off with that salty caramel. And the puff pastry brought everything together; so flaky and light. It was a perfect Fall treat, and something I'll be including in my holiday baking this year.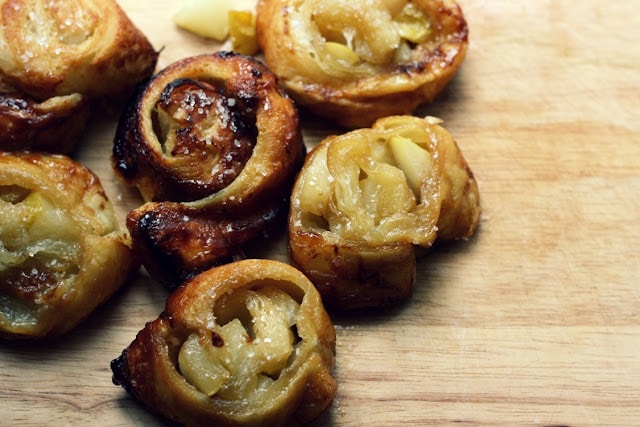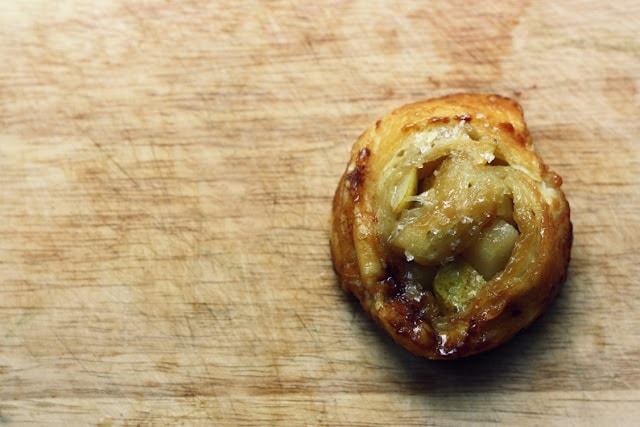 salted caramel sticky buns with pear and crème fraîche
inspired by the Barefoot Contessa
This recipe calls for vanilla bean sugar , but if you do not have that on hand, you can substitute regular sugar and a teaspoon of vanilla. I liked the coarse salt on top, but if you feel that will be just too salty for your taste buds, feel free to omit it. The coarse sugar does add a nice sparkle to the pastry.  My only complaint is that the caramel topping tends to overflow out of the muffin tin, so make sure to have a baking sheet underneath to catch spills. [AND, I wrote 'racking my brain' above, but I've been taught it is 'wracking my brain', which looks better to me. However, 'racking' with an 'r' is seen as more correct, if you care to read about it here.]
12 tablespoons [1 1/2 sticks] unsalted butter, at room temperature
1/3 cup light brown sugar, lightly packed
3/4 teaspoon salt
1 package [17.3-ounces/ 2-sheets] frozen puff pastry, defrosted
filling:
2 tablespoons unsalted butter, melted and cooled
2/3 crème fraîche
1 1/2 cups pears, diced small
2 tablespoons vanilla bean sugar [see note]
1 cup diced pears
fleur de sel and coarse sugar, for sprinkling [optional]
Preheat the oven to 400 degrees. Place a 12-cup standard muffin tin on a sheet pan lined with parchment paper.
In a large bowl, combine the 12 tablespoons butter, 1/3 cup brown sugar, and salt. Place 1 rounded tablespoon of the mixture in each of the 12 muffin cups.
In a small bowl, combine the crème fraîche and the vanilla bean sugar together.
Unfold 1 sheet of puff pastry with the folds going left to right. Brush the whole sheet with the melted butter. Leaving a 1-inch border on the puff pastry, spread each sheet with half the crème fraîche mixture, and then sprinkle each sheet with half the pears. Starting with the end nearest you, roll the pastry up snugly like a jelly roll around the filling, finishing the roll with the seam side down. Trim the ends of the roll about 1/2-inch and discard. Slice each roll in 6 equal pieces, each about 1 1/2 inches wide. Place each piece, spiral side up, in 6 of the muffin cups. Repeat with the second sheet of puff pastry to make 12 sticky buns.
Bake for 20-30 minutes, until the sticky buns are golden to dark brown on top and firm to the touch. Be careful – they're hot! Allow to cool for 2 minutes only, invert the buns onto the parchment paper [ease the filling and pecans out onto the buns with a spoon]. Sprinkle the tops with coarse salt and sugar.