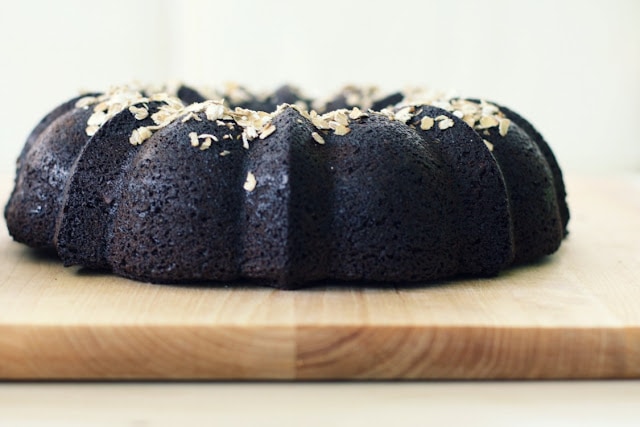 It's New Year's Day, and after a Christmas holiday filled with too many sweet treats, I probably should be sharing a different recipe with you, something full of bright green vegetables and hearty legumes; a recipe that clearly declares my healthy resolutions and good intentions for this coming year. But I'm not. I made this cake, and after one bite decided it's the only way I wanted to start this New Year out. In it's defense, there are some healthy aspects to it. There is oat flour and olive oil. Fresh brewed coffee is basically hot water [right?]. Dark chocolate is good for your heart and can reduce bad cholesteral [
I'm not making this up
]. So really, aside from some white flour and
two packed cups
a few ounces of sugar, this cake really is good for you.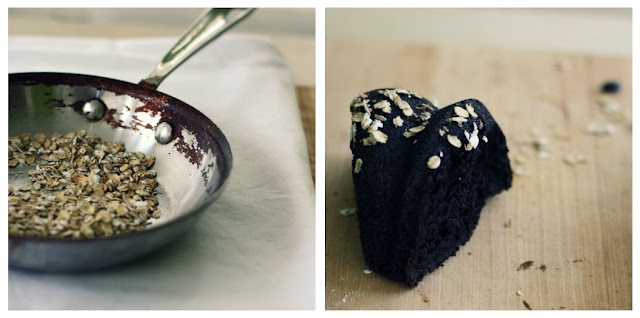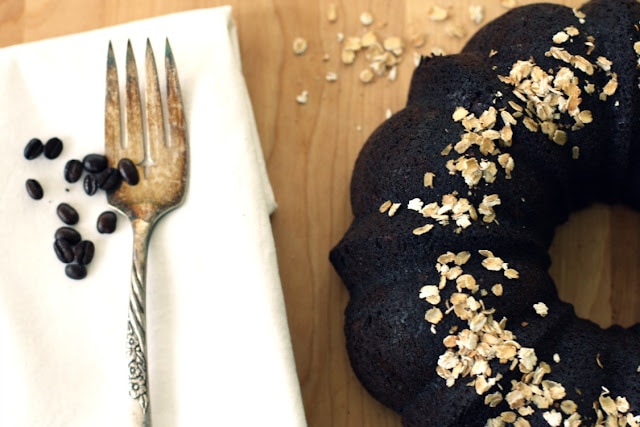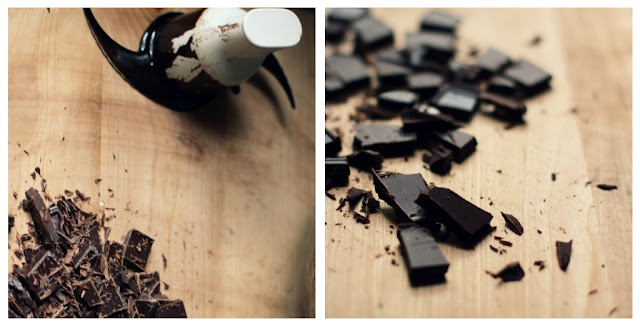 Also, I should really mention that it's quite tasty. I wasn't sure about all the flavors together – and the bite of batter I snuck tasted overwhelming like olive oil. But once the cake cooled, and I cut my first piece, the flavors had melded together and complimented each other nicely. The chocolate is in the forefront – deep dark cocoa bloomed in hot coffee and large chunks of bittersweet chocolate steal the show, but underneath the olive oil shines, dancing around the palate, all fruity and zesty-like. The oats and coffee are very mellow; the coffee highlighting the chocolate and the oats adding one more layer of depth and texture. I loved it all right away, but knew I had a winner when I watched my husband take his first bite – his eyes lit up and that dreamy stupor washed across his face as he reached for another taste.
So Happy New Year friends! My your days be filled with health and wholeness and chocolate cake.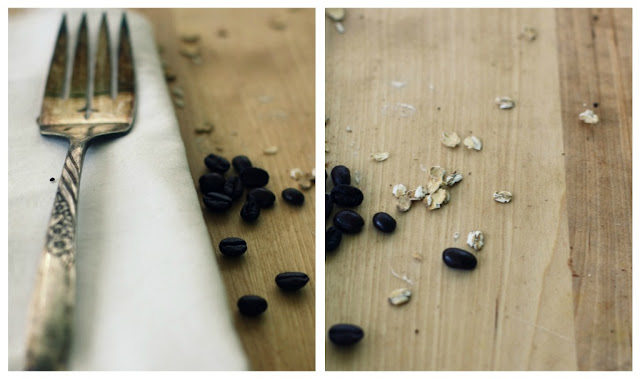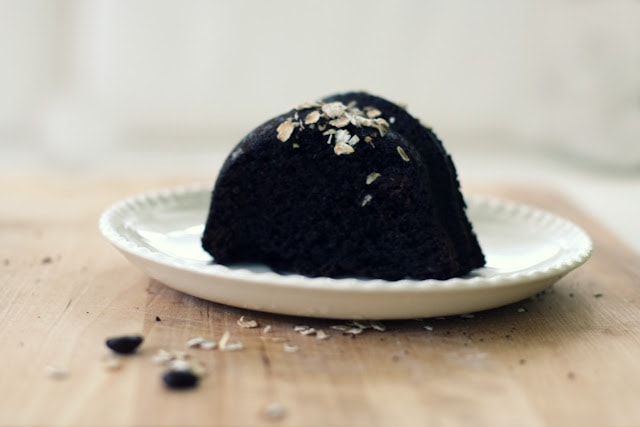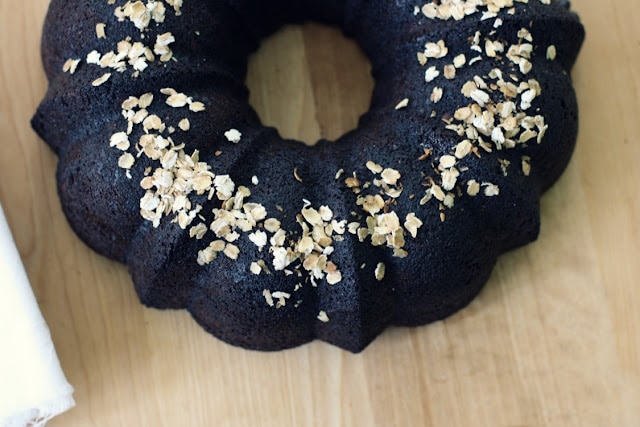 similar posts you might enjoy
chocolate cake    chocolate pudding cakes    olive oil cake with bittersweet chocolate and rosemary    pumpkin poundcake with chocolate
Chocolate Olive Oil Bundt Cake with Coffee and Oats
The base of this cake is taken from a recipe from America's Test Kitchen's Healthy Family Cookbook. I've made several changes – oat flour, hot coffee, chopped chocolate and olive oil. I made this cake with 4 ounces chopped chocolate added at the end, but always wish I would have added more – I think it would be safe to bump it up to 8 ounces if you want some extra chocolate flavor. I toasted the oats in a small skillet until they were lightly browned and fragrant.
3 ounces bittersweet chocolate, chopped fine
3/4 cup [2 1/4 ounces] Dutch-processed cocoa powder
1 cup very hot brewed coffee, plus 1/4 cup brewed coffee
1 1/4 cup flour
1/2 cup oat flour
1 teaspoon baking soda
1 teaspoon salt
2 cups packed [14 ounces] brown sugar
1/2 cup good olive oil
2 large eggs, room temperature
1 tablespoon vanilla extract
4-8 ounces bittersweet chocolate, chopped
1/3 cup rolled oats, lightly toasted
Adjust an oven rack to the lower middle position and heat oven to 350 degrees. Grease a 12 cup Bundt pan.
Combine chocolate and cocoa in a medium bowl. Add the hot coffee, cover, and let sit for 5 minutes to melt the chocolate. Whisk the chocolate mixture until smooth, then set aside to cool slightly, about 2 minutes. In a separate bowl, whisk flour, oat flour, baking soda and salt together.
Process the melted chocolate mixture, sugar, olive oil, eggs and vanilla together in  food processor until combined, about 1 minute. Pour the mixture into a large bowl.
Sift one-third of the flour mixture over the batter and whisk until just a few streaks of flour remain. Repeat twice more with the remaining flour mixture, then continue to whisk the batter until most the  lumps are gone. Gently stir in the chopped chocolate.
Scrape the batter into the prepared pan and smooth the top. Gently tap the pan on the counter to settle the batter. Bake the cake until a toothpick inserted into the center comes out with a few moist crumbs attached, 45-60 minutes, rotating the pan halfway through baking.
Let the cake cool in the pan for 10 minutes, then flip it out onto a wire rack. Brush the outside of the cake with the remaining 1/4 cup hot coffee, and sprinkle the top with toasted rolled oats. Let cake cool completely, about two hours, before slicing. Cake keeps well for several days at room temperature, covered.