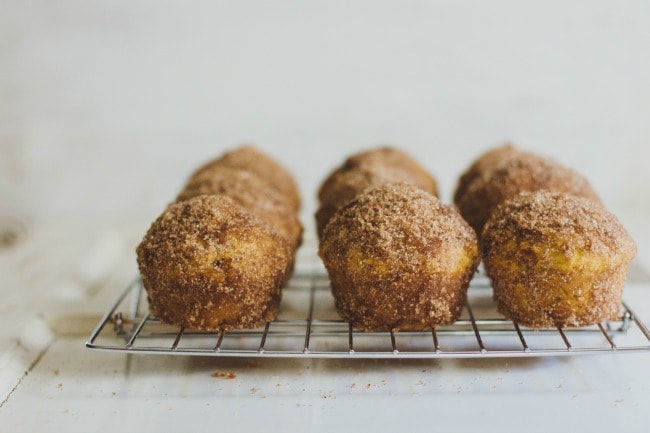 How hard can it be to write a blog post about pumpkin doughnut muffins? I've been staring at this screen for too long, trying to conjure up something creative. Words like 'good' and 'tasty' and 'delicious' are all overused. The English major in me warns my professor  read something similar in my last paper. I see bright red ink marks firmly reminding me that I have no concrete ideas; there's too many descriptive words and no direction.


Pretty little doughnut muffins, what is your main objective? What do you symbolize? How do I tell your story? Your flavors bring to mind childhood memories, full of sweetness and laughter. Your little muffin body wrapped in sugar and cinnamon is like cozy snowy afternoons and warm first kisses. When your pumpkin-y insides roam the insides of my mouth and swoop down to my belly, it is Christmas morning, with lights all aglow.  Oh, pumpkin doughnut muffin. I have come to no other conclusion but to make you again and again.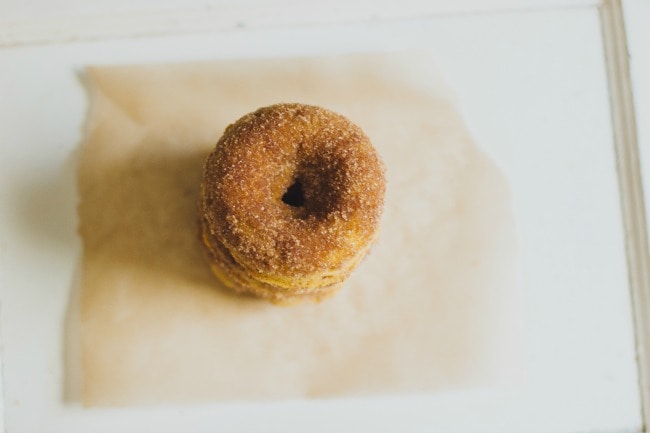 Pumpkin Doughnut Muffins
adapted from Everyday Food Magazine
The recipe says it makes 12 muffins, but I got 15 out of the batter. And, the recipes says 30 minutes bake time, but mine were done in 20, so keep an eye on them! They do taste best on the day they are made – they are good the following days, but *great* the first day. Also, this makes great baked pumpkin doughnuts!
3 cups flour
2 1/2 teaspoons baking powder
1/4 teaspoon baking soda
1 teaspoon coarse salt
1/2 teaspoon nutmeg
1/4 teaspoon allspice
1/3 cup buttermilk
1 1/4 cups pumpkin puree
1/2 teaspoon vanilla
10 tablespoons butter, room temperature
3/4 cup brown sugar
2 large eggs
sugar coating
3/4 cup sugar
2 1/2 teaspoons cinnamon
1/4 cup butter, melted
Preheat oven to 350. Grease muffin pans. Make batter: in a medium bowl, whisk together flour, baking powder, baking soda, salt, nutmeg and allspice. In a small bowl, whisk together buttermilk and pumpkin puree. In a large bowl, use an electric mixer, beat butter and brown sugar until light and fluffy. Beat in vanilla and eggs, one at a time, scraping down bowl as needed. With mixer on low, add flour mixture in three additions, alternating with two additions pumpkin mixture, and beat to combine.
Spoon 1/3 cup batter into each muffin cup and bake until a toothpick inserted in center of a muffin comes out clean, 20-30 minutes. Meanwhile, in a medium bowl, combine sugar and cinnamon. Let muffins cool 10 minutes in a pan on a wire rack. Working with one at a time, remove muffins from pan, brush all over with butter, then toss to coat in sugar mixture. Let muffins cool completely on a wire rack.
For baked doughnuts:
Scoop batter into a doughnut pan, filling to the top. Bake for 8-10 minutes at 350, until a toothpick comes out clean. Follow directions for butter and sugar coating above.