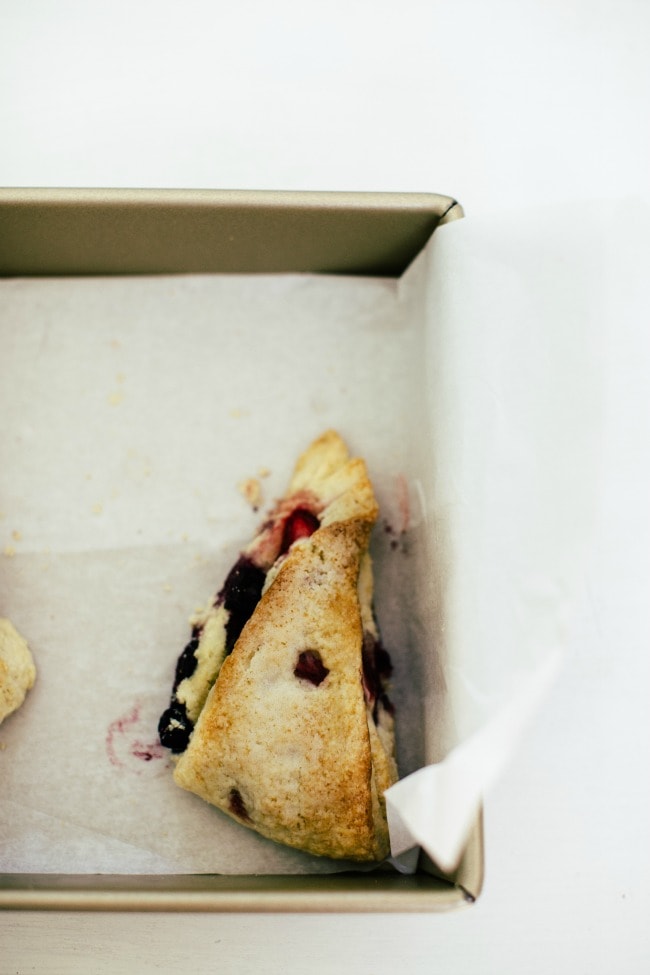 "How can I find the words? Poets have taken them all and left me with nothing to say or do."
"Except to teach me for the first time what they meant."
-Lord Peter Wimsey and Harriet Vane, Dorothy Sayers: A Busman's Honeymoon
I'm not one for using expletives much in my day-to-day, but I must admit this past Monday a very loud one flew out of my mouth as my twitter notifications lit up my phone. Somehow, I had won the Reader's Choice portion of the Saveur Food Blog Awards for Baking and Desserts.
I'm not going to lie to you, I'm still pinching myself. It's a huge honor, a dream come true, and I have you to thank. All you wonderful, lovely readers who took the time to cast a vote my way, thank you so much.
I share the category with the amazing Izy from Top With Cinnamon (who won Editor's Choice), and I am excited that in just over a month I get to meet her, along with so many other favorite bloggers.
But in the meantime, Crème Fraîche Scones!
These breakfast treats are made with mixed berries and crème fraîche, and they might be my favorite scones to date. The berries are tart and the crème fraîche smooth and dreamy, rounding everything out. A perfect way to start the day.
I had been making scones the same way for years – an adaption of Ina Garten's Strawberry Scones from her first cookbook, The Barefoot Contessa. However, I changed things up after stumbling upon a genius idea from Cook's Illustrated.
Their scone recipe included folding the dough over several times to create multiple flaky layers. I applied this technique to my tried and true recipe, along with replacing the heavy cream with crème fraîche. Crème fraîche is similar to sour cream, but is less sour and has a more nuanced flavor.
These scones bake up tender, with just a hint of tang, and the addition of crème fraîche is divine.
Also, a few things:
–Michael Jackson. Amazing.
–Great writing advice, all in one place.
-I also have Chocolate Sugar Cookies up on Handmade Charlotte.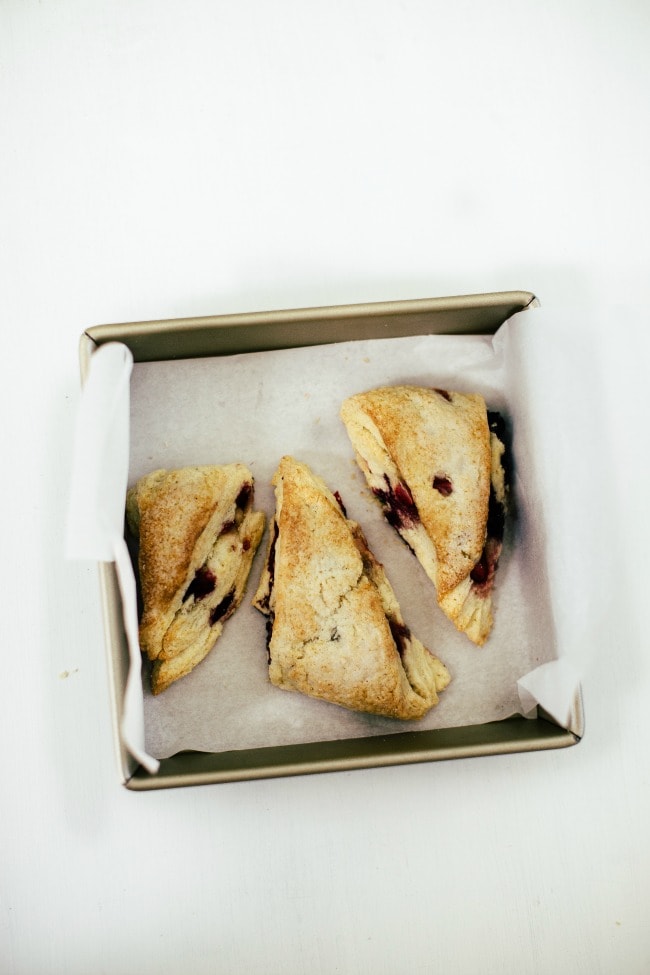 More Scones Recipes: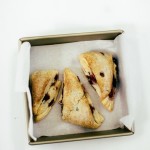 Crème Fraîche Scones with Mixed Berries
These delicious scones are flaky and tender thanks to the addition of creme fraiche, which is similar to sour cream. Add mixed berries to bring a jammy, fruit flavor to each bite.
Print
Pin
Rate
Ingredients
2 ¼

cups

320g all-purpose flour

1

tablespoon

baking powder

2

tablespoons

sugar

plus more for sprinkling

½

teaspoon

salt

1/2

cup

crème fraîche

or you can substitute sour cream

½

teaspoon

pure vanilla extract

1

large egg

12

tablespoons

1 ½ sticks; 170 g unsalted butter, cold and cut into ½ -inch pieces

Heavy cream for brushing
Instructions
Adjust an oven rack to the lower middle position. Preheat the oven to 400°F. Stack two baking sheets on top of each other and line the top sheet with parchment paper.

In a large bowl, whisk the flour, baking powder, 2 tablespoons sugar, and salt. In a medium bowl or liquid measuring cup, whisk the crème fraîche, vanilla, and egg.

Add the butter to the dry ingredients and use a pastry cutter to cut it into the mixture until the flour-coated pieces are the size of peas. Add the wet ingredients and fold with a spatula until just combined.

Transfer the dough to a lightly floured surface and knead until it comes together, 4 to 6 times, adding flour as necessary, as the dough will be sticky. Pat the dough gently into a square and roll it into a 12-inch square (again, using flour as necessary). Fold the dough in thirds, similar to a business letter. Fold the dough into thirds again, making a square. Transfer it to a floured sheet pan or plate and put it in the freezer for 10 minutes.

Return the dough to the floured surface, roll it into a 12-inch square, and fold it business letter style. Place the dough seam side down and gently roll it into a 12 by 4-inch rectangle. With a sharp knife, cut it crosswise into 4 equal rectangles, then cut each rectangle diagonally into 2 triangles. Transfer the triangles to the prepared baking sheet.

Brush the tops with a little heavy cream, making sure it doesn't drip down the sides and sprinkle the tops generously with sugar. Bake 18 to 25 minutes, rotating the pan halfway through, until the tops and bottoms are light golden brown. Transfer the sheet pan to a wire rack and let the scones cool 10 minutes before serving.

Crème Fraîche Scones with Berries: You can add fruit to the scones (as pictured above). Chop the berries into bite-sized pieces. After rolling the dough into a square the second time, scatter 1 cup of berries or berry pieces over the top, pressing them down gently into the dough. If the berries are especially tart or out of season, sprinkle 2 tablespoons of sugar over them. Using a bench scraper, loosen the dough from the work surface and roll it into a cylinder, like a jelly-roll log, to help incorporate the berries. Place the cylinder seam side down and press it into a 12 by 4-inch rectangle. Continue with the recipe.
Notes
Putting another baking sheet nestled directly underneath the one the scones are on helps keep the bottoms of the scones from browning too quickly before they fully bake. If you like the bottoms extra crisp, you can just use one pan.