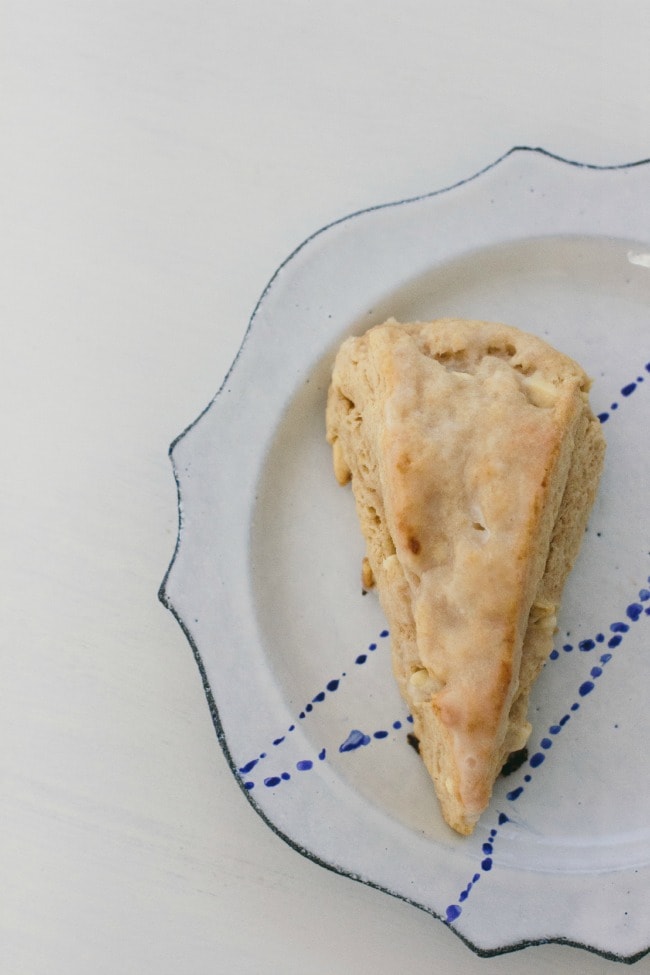 If you've followed along here long enough, you know I have a thing for scones.
I still have a bags of lemons and blood oranges in my refrigerator. Maybe it's the Minnesota in me, but I never quite believe spring is really here until April is over and done.
After years filled with brief moments of blissful warm followed by weeks of dreary cold rain mixed with snow, I don't trust this 'second' month of spring. So the citrus stays a little bit longer. And I make these scones and this meyer lemon cake once more.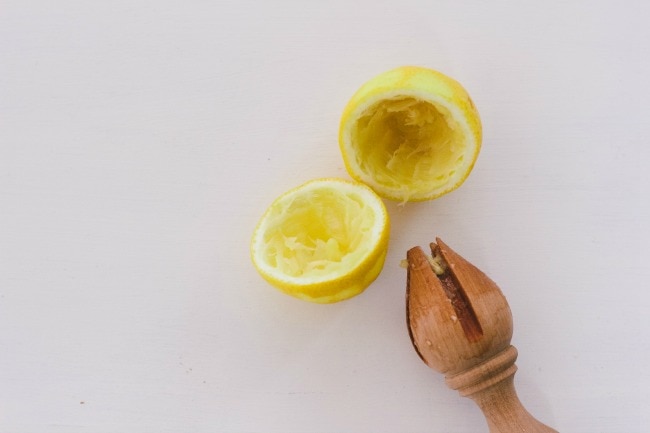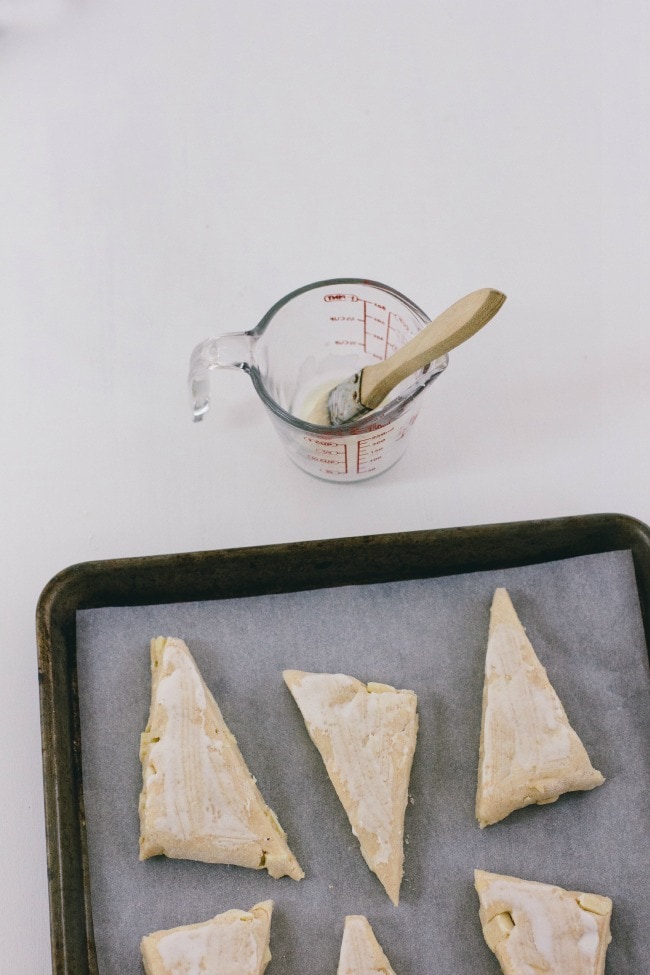 This white chocolate and lemon combination is inspired by Erin Alderson's new book, The Easy Vegetarian Kitchen, and America's Test Kitchen's amazing scone folding technique.
The white chocolate can get a little burnt on the bottom of the scone, but it still tastes delicious.
I ended up deviating from Erin's recipe quite a bit, only because I was baking three things at once, forgot what I was doing, and just used my memorized scone recipe.
Her scones contain poppy seeds, but lately I've been intrigued with white chocolate, and decided to see how it paired with lemon. The marriage has my blessing.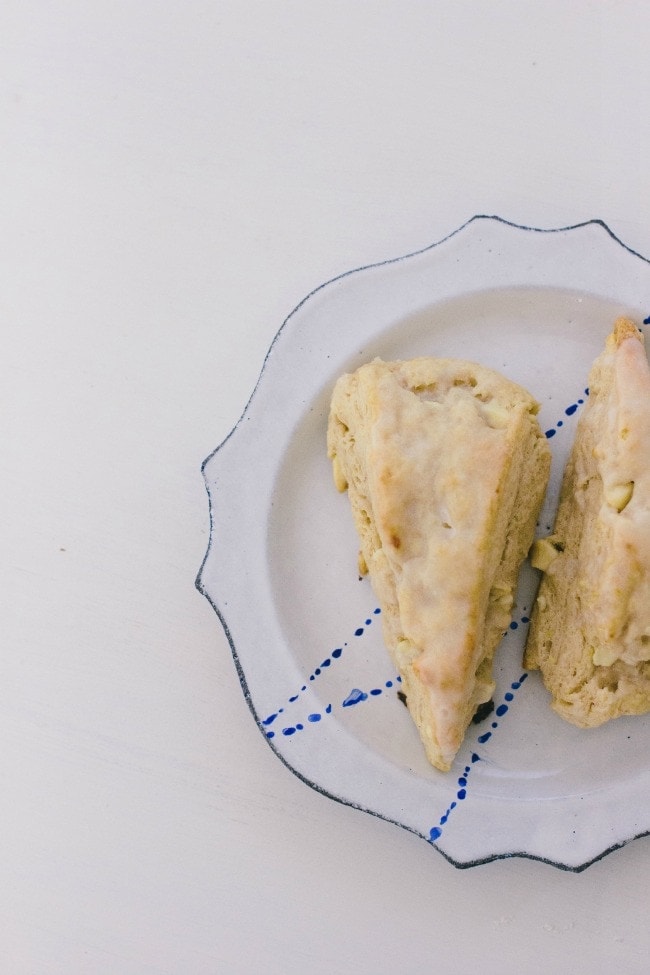 More Scone Recipes: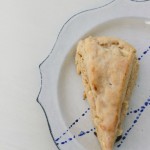 Lemon White Chocolate Scones
These tender scones have delicious layers infused with fresh lemon juice and white chocolate. Finished with a lemon icing.
Print
Pin
Rate
Ingredients
2

cups

all-purpose flour

1/4

cup

whole wheat flour

1

tablespoon

baking powder

2

tablespoons

sugar

1/2

teaspoon

salt

zest of 1 lemon

12

tablespoons

unsalted butter

cut into 1/2-inch pieces

1/2

cup

heavy cream

1/4

cup

fresh lemon juice

1

egg

1/2

teaspoon

vanilla extract

4

ounces

white chocolate

chopped into small pieces
Lemon icing
1/2

cup

powdered sugar

2-3

tablespoons

lemon juice

1/4

teaspoon

vanilla

pinch

of salt
Instructions
Position a rack in the center of the oven and the preheat the oven to 400 F. Line a baking sheet with parchment paper.

Mix the flour, baking powder, sugar, salt, lemon zest, and white chocolate together in a large bowl. In another bowl, whisk together the heavy cream, lemon juice, vanilla, and egg. Use a pastry cutter to cut the butter into the flour mixture, until the butter is the size of small peas. Add the wet mixture to the flour, and mix until combined. Dump the dough out onto a lightly floured surface, and knead the dough 6 to 8 times (add more flour if the dough is sticking too much).

Using a floured rolling pin, roll the dough into a 12-inch square. Fold the dough in thirds (a business letter fold). Lift the short ends of the dough and fold into thirds again, making a 4-inch square. Transfer dough to a baking sheet or plate dusted with flour, and chill in the freezer for 5 minutes.

Bring the chilled dough back to your floured surface, and roll into a 12-inch square again. Fold business letter style one more time, and then turn the dough over so it is seam side is down. Gently roll/pat the dough into a 12-by 4-inch rectangle. Using a sharp knife, cut the rectangle crosswise into four equal rectangles, then cut each rectangle diagonally to form two triangles. Transfer the triangles to the baking sheet.

Brush the tops with a little heavy cream. Bake until the tops and bottoms are golden brown, 18-25 minutes, rotating the sheet halfway through baking. Transfer the sheet to a wire rack and let cool a bit. Top with lemon icing.
For the icing
In a small bowl, whisk together the powdered sugar, 2 tablespoons lemon juice, vanilla, and salt. Add more lemon juice to taste. If the mixture is still too thick, add a little milk until the desired consistency is reached (if the mixture gets too thin, you can add a little more powdered sugar to thicken it back up).