I've been sick for quite some time – going on 6 weeks, in fact, with this on again off again cold and cough nonsense. I've spent the last 3 days under my covers, rereading comforting books and pinning my little heart out. I have lots of things racing through my mind (it always seems to happen when I'm sick), but I just don't quite have the energy to articulate them. Somehow I did find the strength to sneak out of bed and bake a cake, but, well, I just couldn't help myself.
So, here is a cake, and here is a recipe. My thoughts I'll keep for now.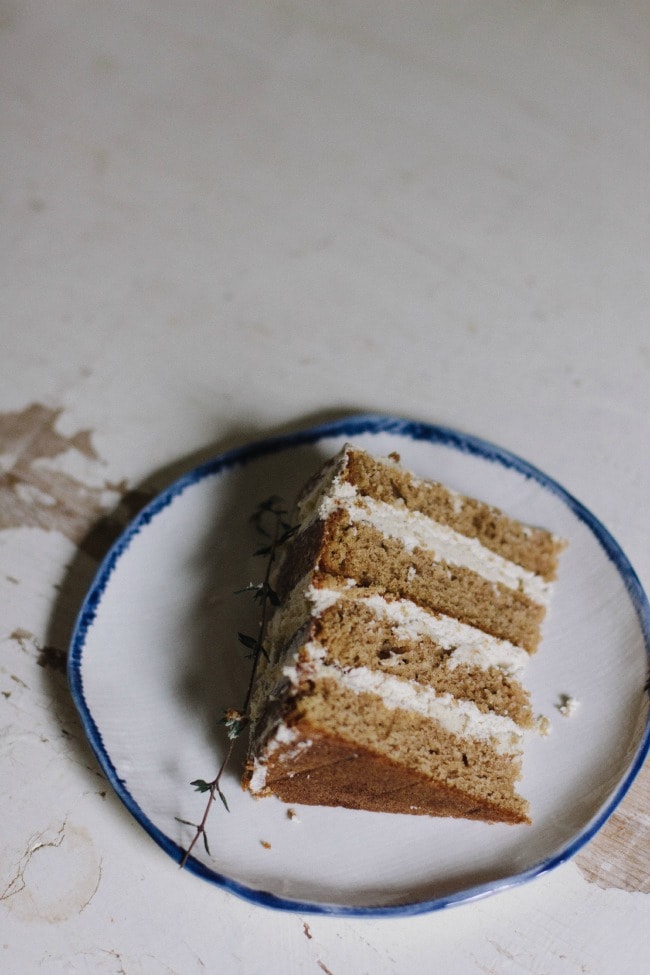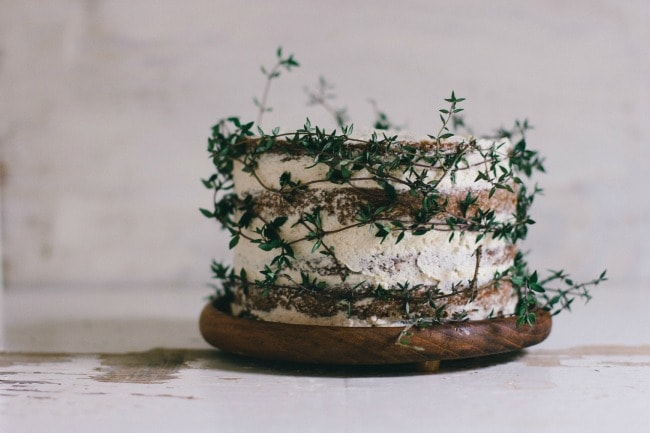 Spice Cake with Cardamom Coffee Frosting
adapted from Savoring the Seasons of the Northern Heartland by Lucia Watson and Beth Dooley
I haven't changed much from the original recipe here; I swapped out some all-purpose flour for whole wheat, and added a bit more cardamom to the frosting. This is a lovely cake, and stays moist for several days. It has a great, but subtle spice flavor, and the cardamom-coffee icing compliments it nicely. I was highly inspired by Beth and Molly's cakes – I love the 'naked' cake look. I didn't have any fancy flowers on hand, but there was still some thyme peeping out of my garden boxes, so that's what I wrapped the cake with.
I also made this a 'mini' cake – baked in three 6-inch pans (well, one 6-inch pan, baked three times). I was able to get 6 layers total – I used 4 for this cake, and then had 2 left over.
1 1/2 cups all-purpose flour
3/4 cup whole wheat flour
1 teaspoon baking powder
1 teaspoon baking soda
1/2 teaspoon salt
1 1/2 teaspoons cinnamon
1/2 teaspoon cloves
1/4 teaspoon cardamom
1/8 teaspoon black pepper
1/2 cup (1 stick) unsalted butter
1 cup sugar
1/2 cup dark brown sugar
2 large eggs
1 1/2 teaspoons vanilla
1 1/4 cup buttermilk
Preheat the oven to 350. Butter two 8 inch round cake pans (make sure cake pans are at least 2 inches tall). Line with parchment paper, then butter and flour the pans (if you need a visual on this step, here is a You Tube video that is helpful.
In a medium bowl, whisk together the flours, baking powder, baking soda, salt, and spices. Set aside. Beat the butter and sugars together in a standing mixer. Add the eggs and vanilla and beat until light and fluffy, about 5 minutes, scraping down the sides as needed. On low speed, beat the flour mixture alternately with the buttermilk, beginning and ending with the flour. When the flour is totally combined, increase the mixer to medium high and beat batter until smooth, about 30-45 seconds. Pour the cake batter evenly into the pans. Bake until the surface of the cake gently springs back when touched with your fingers, 30-35 minutes (or, you can use a toothpick to check doneness). Cool the cakes in the pans for 10 minutes, then invert on a wire rack and continue cooling.
cardamom-coffee frosting
I've made this cake quite a few times, but I have on several occasion had trouble with the frosting; mainly, that it curdled on me. I'm sure it's my own fault, but I just want to warn you. The coffee-milk mixture needs to be added slowly to try and prevent the curdling. If you feel nervous about things, you could always use the frosting from this post, which makes a lot more frosting in case you want to get fancy with things (the frosting listed below will give you just enough to cover the cake). I would add 2 teaspoons cardamom and 3 tablespoons strong coffee to that recipe, and omit the food coloring (which is listed as optional).
I didn't have espresso powder on hand, so I mixed 1/8 cup whole milk with 1/8 cup cold press (a very strong coffee). I really liked the flavor. If you don't have cold press, you could substitute any strong coffee that has been cooled to room temperature.
1/4 cup whole milk (see note)
1 tablespoon instant espresso powder (see note)
1 cup (2 sticks) unsalted butter
1 1/2-2 teaspoons cardamom
1 teaspoon vanilla extract
a good pinch of salt
3/4 cup powdered sugar
Heat the milk and dissolve the coffee in it, then set aside to cool. Beat together the butter, cardamom, vanilla, and salt, then add the powdered sugar and beat until combined. Slowly add the coffee mixture and continue beating until fluffy, 3-5 minutes. Place one layer of the cake, flat side up, on a plate. With a knife or offset spatula, spread the top with the frosting. Place the second layer on top, rounded side up, and spread the frosting evenly on the top and sides of the cake.