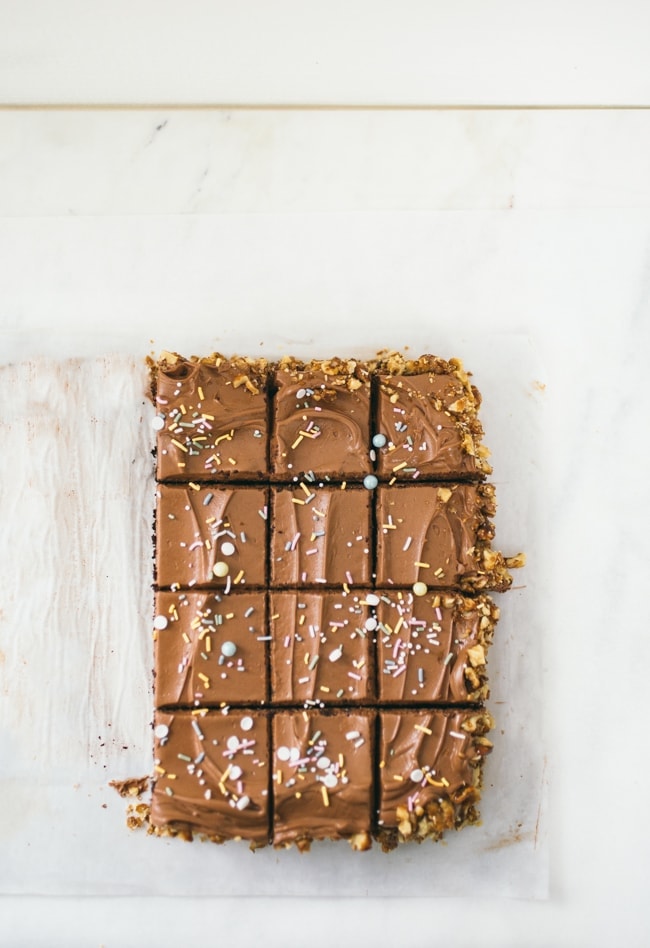 This post is sponsored by California Walnuts. As always, all opinions are my own.
I'm a fan of cake, of course, and while I've made plenty of layer cakes and snack cakes on this site, I realized that I could also do with a sheet cake, an essential for birthday parties, picnics, and other large get-togethers. This one is double chocolate, with sides coated in candied walnuts.
I've teamed up with California Walnuts to bring you some recipes over the past year (such as this walnut snack cake with raspberry buttercream and these raised donuts with chocolate glaze and candied walnuts). Over 99 percent of walnuts grown in the U.S. come from California's walnut orchards, many of which are on family owned and operated farms that have been around for generations. Walnuts are nutritious and heart-healthy*, and offer 4 grams of protein and 2 grams of fiber per ounce. Walnuts are also the only nut with a significant amount of plant-based omega 3 ALA (2.5 grams/ounce). You can check out the CA Walnuts website for more nutrition info, research, tips for cooking with walnuts, and recipes. I'm excited to share more recipes with you!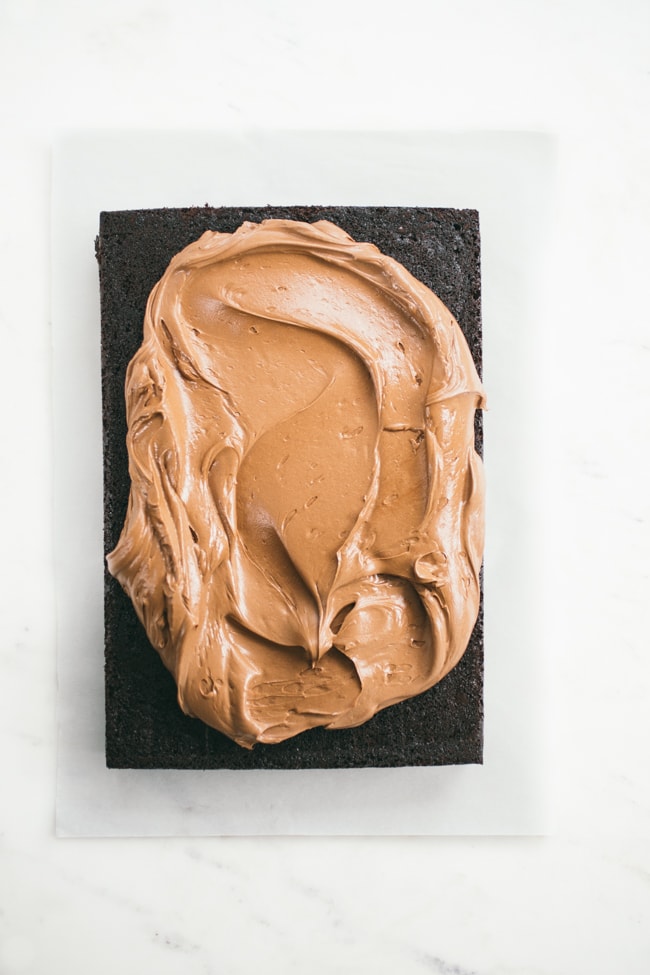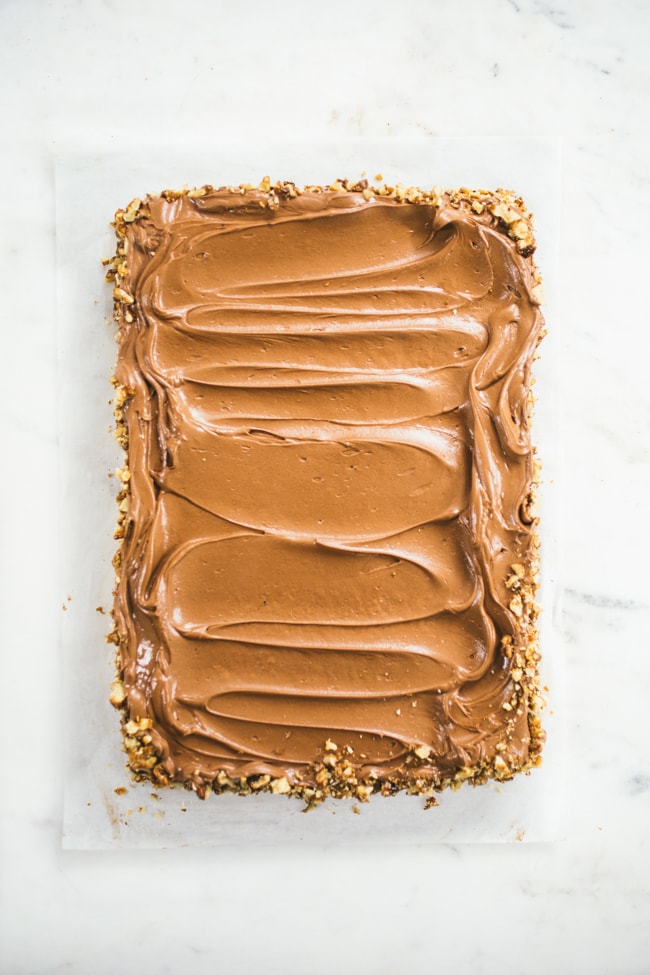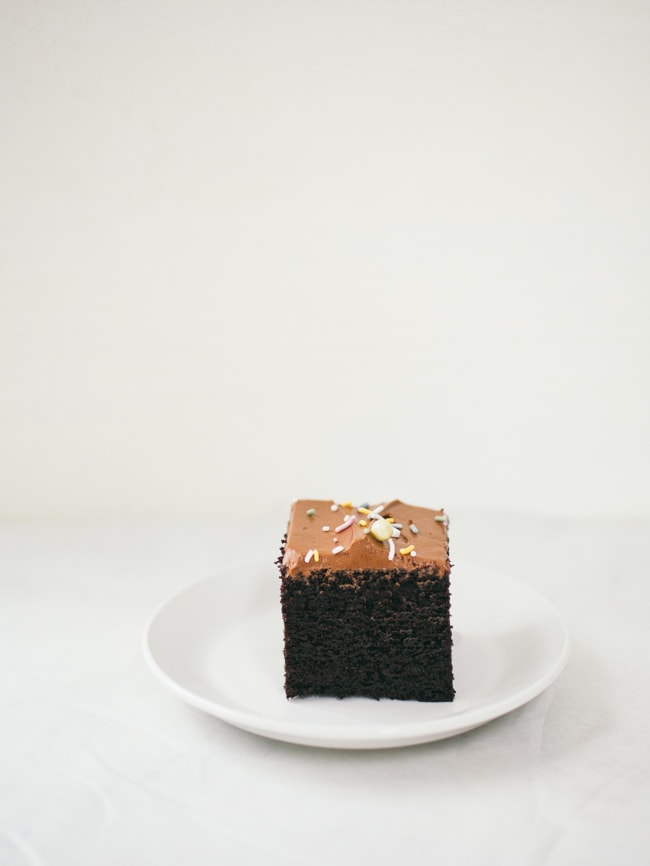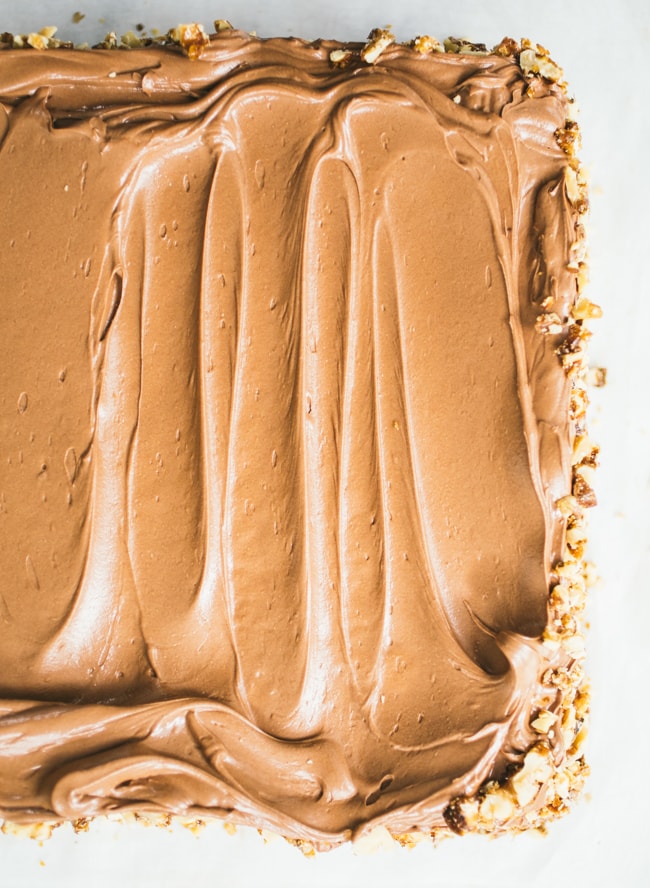 Chocolate Sheet Cake with Candied Walnuts
A few notes: This cake has a higher 'cake-to-frosting' ratio, which is how my family prefers things. You can trim an inch off the cake (horizontally) if you want the cake portion to be shorter – just make sure the unfrosted cake is very cold (preferably frozen) when doing this, as the cake is tender. You could also bake the cake in two 8 x 2-inch square pans (divide the batter evenly between them), and then put the cakes right next to each other and frost. The frosting can be doubled if you want a more substantial layer.
Cake
3 ounces (85g) bittersweet chocolate
1 cup hot coffee (hot water works, too)
1/2 cup sour cream
1/2 cup whole milk
1/2 cup canola oil
3 large eggs, room temperature
1 teaspoon pure vanilla extract
2 cups (284g) all-purpose flour
2 cups (396g) granulated sugar
3/4 cup (75g) Dutch process cocoa powder
2 teaspoons baking soda
1 teaspoon baking powder
1 teaspoon salt
Chocolate Buttercream
8 ounces (226g) semisweet chocolate, chopped
1 1/2 cups (339g | 3 sticks) unsalted butter, room temperature
1 teaspoon pure vanilla extract
2 tablespoons corn syrup
1/4 teaspoon salt
2 cups (226g) confectioners' sugar
Sprinkles, if desired
Candied Walnuts
2 cups (200g) walnuts
1/2 cup (99g) granulated sugar
1/4 teaspoon salt
For the cake
Adjust an oven rack to the middle position. Preheat the oven to 350F. Butter and flour a 9 by 13-inch pan and line the bottom with parchment paper.
Put the bittersweet chocolate in a small bowl. Pour the hot water over it and cover with a piece of plastic wrap. In a medium bowl or liquid measuring cup, whisk the sour cream, milk, canola oil, eggs, and vanilla.
In the bowl of a stand mixer fitted with a paddle, mix the flour, sugar, cocoa powder, baking soda, baking powder, and salt on low until combined. With the mixer running on low, slowly add the sour cream mixture. Increase the speed to medium and beat until combined, 20 to 30 seconds.
Whisk the chocolate and hot water together until completely smooth. With the mixer running on low, slowly pour the chocolate mixture into the batter and mix until just combined. Using a spatula, give the batter a couple of turns to make sure it is fully mixed.
Pour the batter evenly into the prepared pans. Bake 25 to 35 minutes, until a wooden skewer or toothpick comes out with the tiniest bit of crumb.
Transfer the cakes to a wire rack and let cool for 30 minutes. Turn the cakes out onto a half sheet pan lined with parchment paper, remove the parchment paper from the bottom of the cakes, and let the cakes cool completely upside-down (this will help deflate any doming). Once cool, the cakes can be wrapped in plastic and refrigerated overnight or frosted (cake can also be frozen unfrosted for up to one month).
For the buttercream
Put about 1 inch of water in a medium saucepan and bring it to a gentle boil.
Melt the chocolate in a heatproof bowl set over the pan of boiling water, being careful not to let the water touch the bottom of the bowl. Stir constantly until just melted and set aside to cool slightly.
In the bowl of stand mixer fitted with a paddle, beat the butter on medium until light yellow and fluffy, about 3 minutes. Add the vanilla, corn syrup, and salt and beat on medium until combined. Turn the mixer to low and gradually add the confectioners' sugar. Beat at medium, stopping to scrape down the sides of the bowl as necessary, until smooth and creamy, 2-3 minutes. Add the chocolate and mix on low speed until no streaks remain.
For the candied walnuts
In a large skillet, stir together the walnuts, sugar and salt. Cook over medium heat until the sugar begins to melt and the nuts begin to toast, stirring almost constantly. Once the sugar begins to melt, turn the heat down to low and cook until the nuts are lightly caramelized. Pour the nuts onto baking sheet lined with parchment paper. Let them cool completely before chopping into small pieces.
To assemble
Frost the cake with the chocolate buttercream. Press the chopped, candied walnuts into the sides of the cake, then decorate with sprinkles if desired.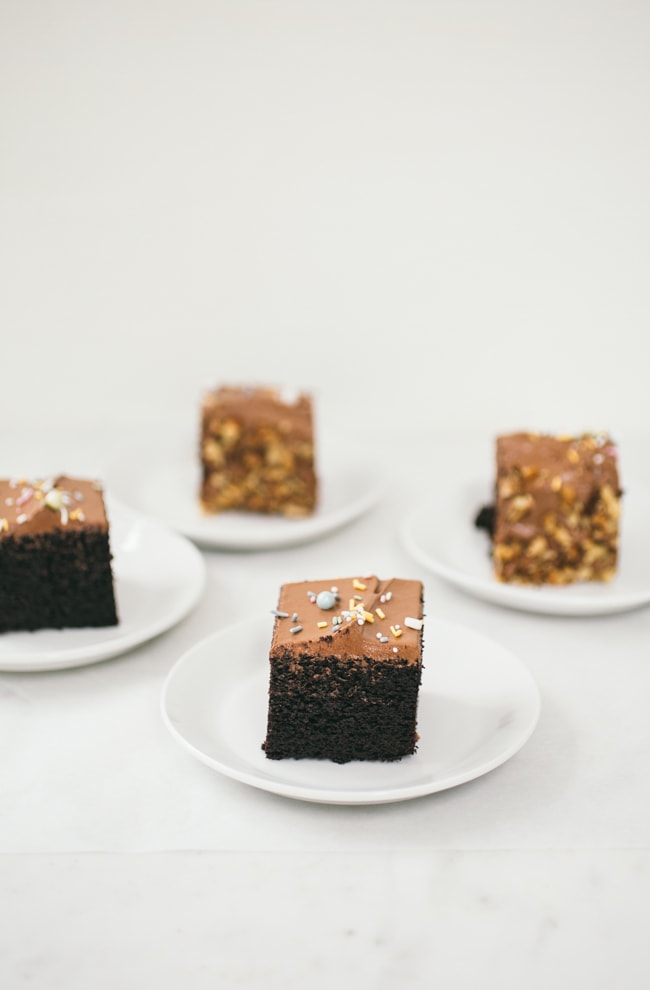 *Supportive but not conclusive research shows that eating 1.5 ounces of walnuts per day, as part of a low saturated fat and low cholesterol diet, and not resulting in increased caloric intake may reduce the risk of coronary heart disease. One ounce of walnuts provides 18g of total fat, 2.5g of monounsaturated fat, 13g of polyunsaturated fat, including 2.5g of alpha-linolenic acid, the plant-based omega-3.