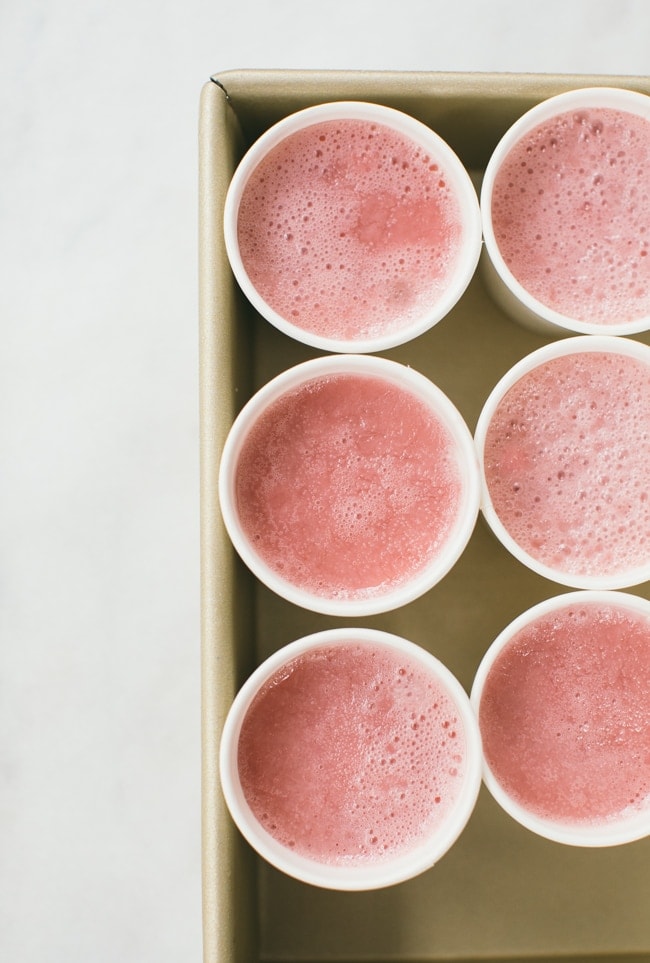 We've had a heat wave here in Minneapolis, which I've welcomed with open arms for two reasons: last year we were robbed of a fall (it rained and was cold and the sun rarely shone and we never got our bright, crisp, Autumn days) and I'm not ready to let go of summer quite yet. I'm still drinking an Iced Americano through out the day, my windows are flung wide open from dawn to dusk, and I've tried to keep baking to a minimum so as not to have to turn the air conditioning back on (it just feels wrong in September). I also made these ice cakes from Alana Kysar's beautiful new cookbook, Aloha Kitchen, to cool us off in the afternoons. I am enamored with Alana's book – it is a gorgeous collection of recipes: favorites from her childhood growing up in Hawai'i, along with modern twists, and accompanied by her stunning photographs. She also gives a brief history lesson on the Hawaiian islands, the food culture of the islands, and some political history as well. Her introduction to the book has stayed with me for months; giving me much food for thought. She writes:
"This Hawaiian word aloha means so much. It means love and affection, kindness and compassion, mercy and sympathy, pity and grace, and is also used as a greeting or farewell. It's a state of mind, an attitude, and a way of life…Aloha must be extended with no obligation in return, and to live aloha, you must 'hear what is not said, see what cannot be seen, and know the unknowable.'" And with that, her book title, Aloha Kitchen, becomes both spiritual and material; who wouldn't want their kitchen to be a place described by such a beautiful word?
The ice cakes are delicious. I was drawn to them as I flipped through the cookbook; they reminded me of a very specific memory from my childhood: seeing Peter Pan on Ice with my Dad and my siblings. I don't remember much about the actual show (other than I was cold the whole time), but I do remember the vendors. The vendors were constantly moving up and down the aisles, hollering at us to buy their wares: light up head bands and bracelets, popcorn and giant sodas, balloons and coloring books. We begged for everything, but were told we could just pick out one crappy plastic object to take home. My dad bought us popcorn and drinks, but towards the end of the show handed us each our own paper cup filled with ice cream. I remember the moment of not expecting any thing else, and then being handed something I had been secretly hoping for. I ate my tiny cup of chocolate in greedy joy, knowing I had the best father in the world. Alana's ice cakes aren't quite the same as the cups from my past – they are made with fruit, water, and evaporated milk, but they are a perfect mixture of icy, creamy, and sweet. The liliko'i (passion fruit) was my favorite, but my kids both preferred the strawberry.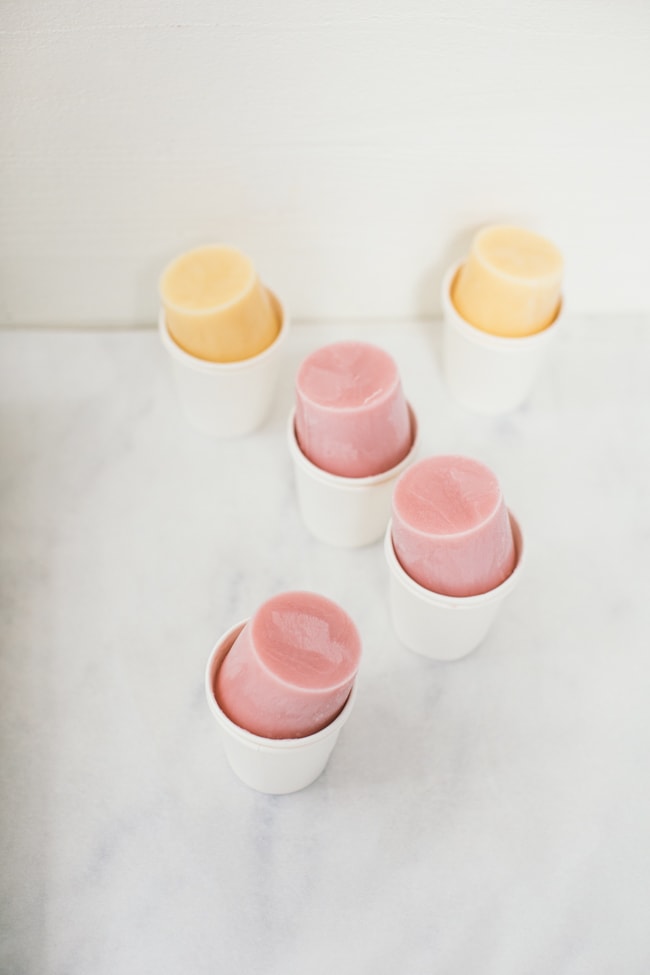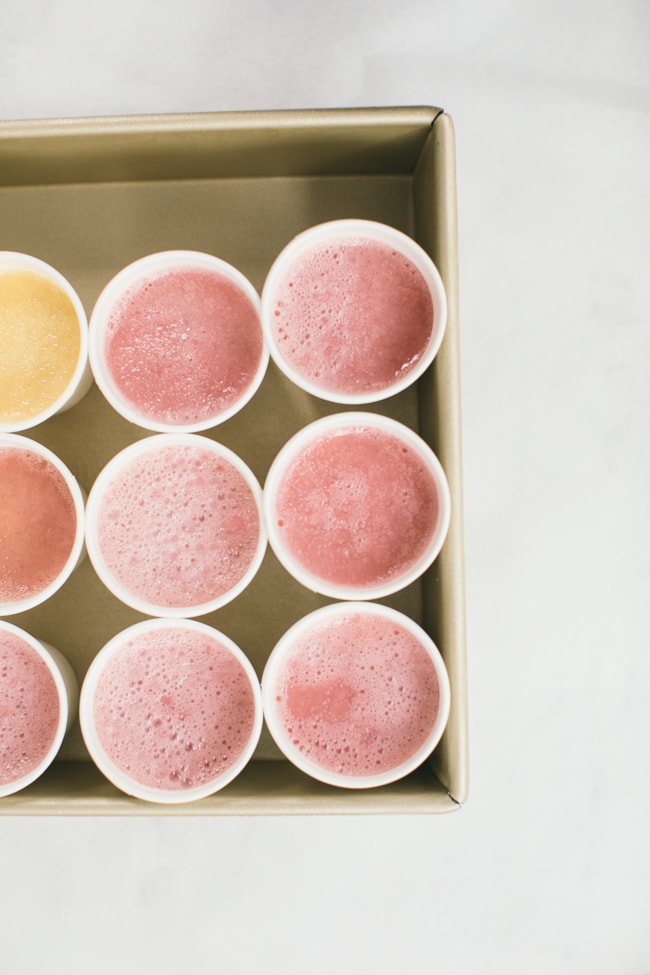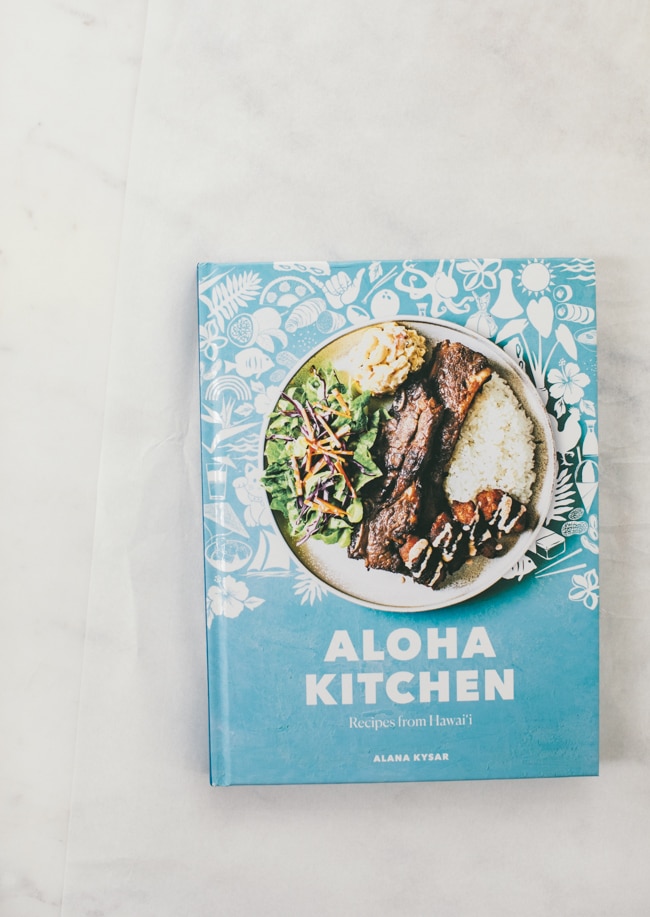 Liliko'i and Strawberry Ice Cakes
From Aloha Kitchen by Alana Kysar
Note: These simple syrups could also be used in snow cones (Alana has a recipe for that as well in her book). I used this passion fruit puree, which worked well. It contains a tiny amount of sugar, but not enough to make a difference to the recipe. I had a hard time finding both fresh passion fruit and puree in my local grocery stores, but was happy with this purchase – I also used it to make passion fruit pastry cream (also a recipe in Alana's book) and passion fruit no-churn ice cream.
Simple Syrups
Liliko'i Syrup
3/4 cup liliko'i (passion fruit) pulp or puree (see note)
1 cup [200g] granulated sugar
Pinch salt
1 1/2 cups water
Strawberry syrup
1 pound [454g] fresh ripe strawberries, hulled and sliced
1 cup [200g] granulated sugar
Pinch salt
1 1/2 cups water
2 to 3 drops red food coloring (optional)
To make the syrup
Place the individual syrup ingredients (except teh food coloring) into their own saucepans and bring each to a boil over medium-high heat. Turn the heat to low and simmer for 20 minutes. Let the mixture cool to room temperature, add the food coloring (if using), and strain the mixtures mixtures through a fine mesh sieve into separate bowls. Transfer each syrup to a separate bottle and chill until ready to use up to 1 month.
For the ice cake
Have ready eight 4-ounce paper cups. In a bowl, whisk the evaportated milk, water, and desired syrup together. Pour 6 tablespoons of the mixture into each paper cup. Freeze until frozen solid, at least 3 hours or up to 2 weeks.
Briefly run an upside-down cup under warm water to loosen the ice cake, remove the ice cake and then flip it back over into the cup. Serve immediately with small wooden spoons.