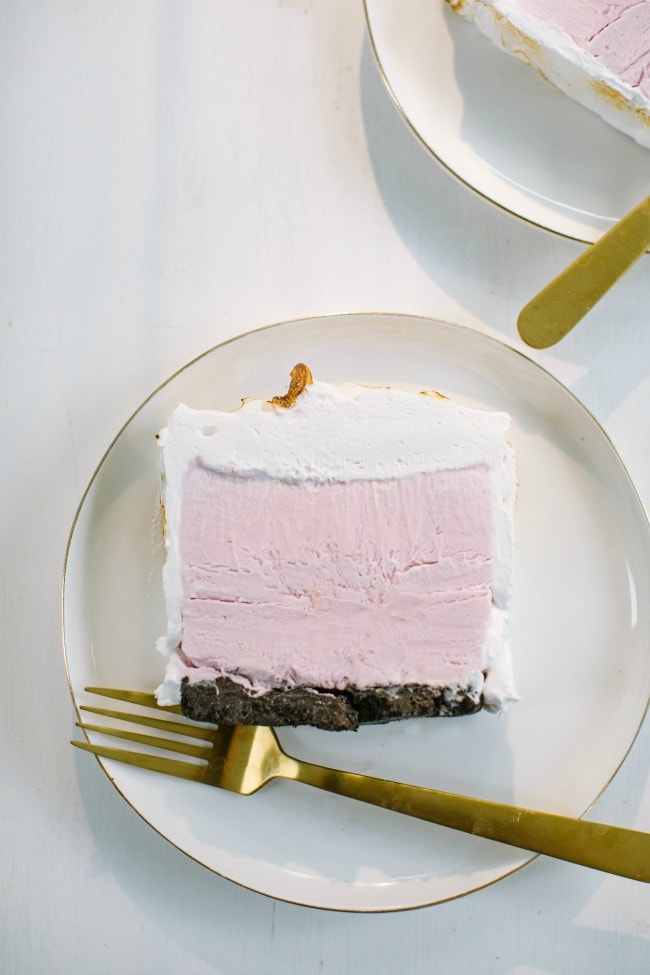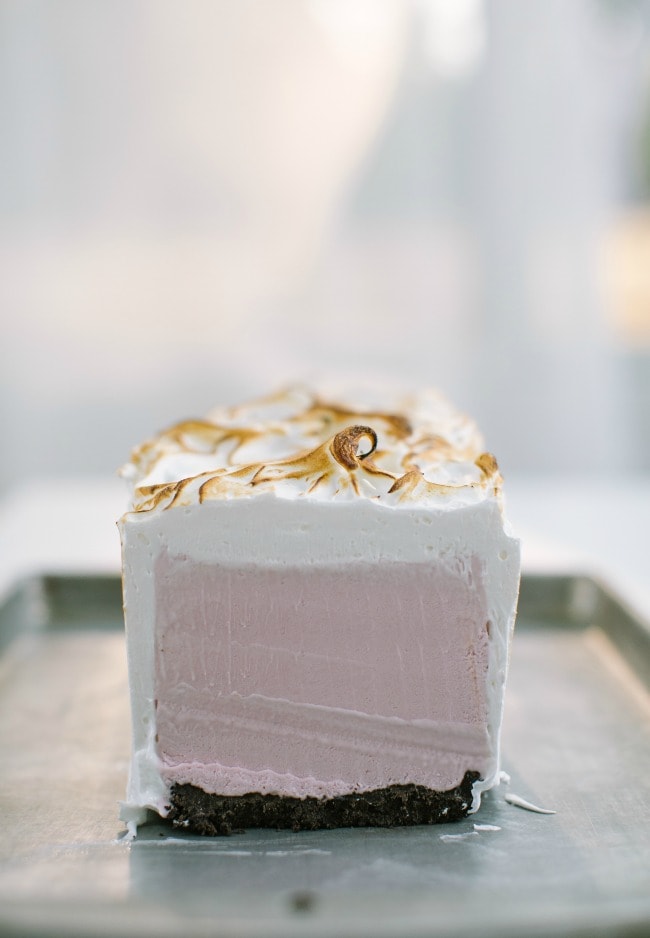 "Summer afternoon – summer afternoon; to me those have always been the two most beautiful words in the English language." – Henry James
I have to agree with Mr. James here; summer is magic. With my littles at home and days filled with swimming, reading, long walks, trips to the library, canoeing, hammocking, lego building, and not homeworking, I am entering August on tiptoes, knowing there are only four weeks of leisure left. 'Twenty-nine days!' my seven year old son lamented today as he counted on the calendar. "Only twenty-nine days left of summer! I'm doomed!" I tried to reassure him it was plenty of time, but August does have a reputation for flying by too fast. Or, as my friend Kate put it, "August is the Sunday of summer. June is Friday night, July is Saturday, and each day of August quietly whispers, Monday is just around the corner."
So we made ice cream cake. Because the weather is warm, and we still have days left to celebrate our freedom. Raspberry crème fraîche no-churn ice cream with chocolate cookie crumb and toasted meringue topping, to be exact. It was decadent, and delicious; it cooled us to our toes and made us momentarily ignore that yes, we are doomed.
"All in all, it was a never-to-be-forgotten summer — one of those summers which come seldom into any life, but leave a rich heritage of beautiful memories in their going — one of those summers which, in a fortunate combination of delightful weather, delightful friends and delightful doing, come as near to perfection as anything can come in this world."- LM Montomery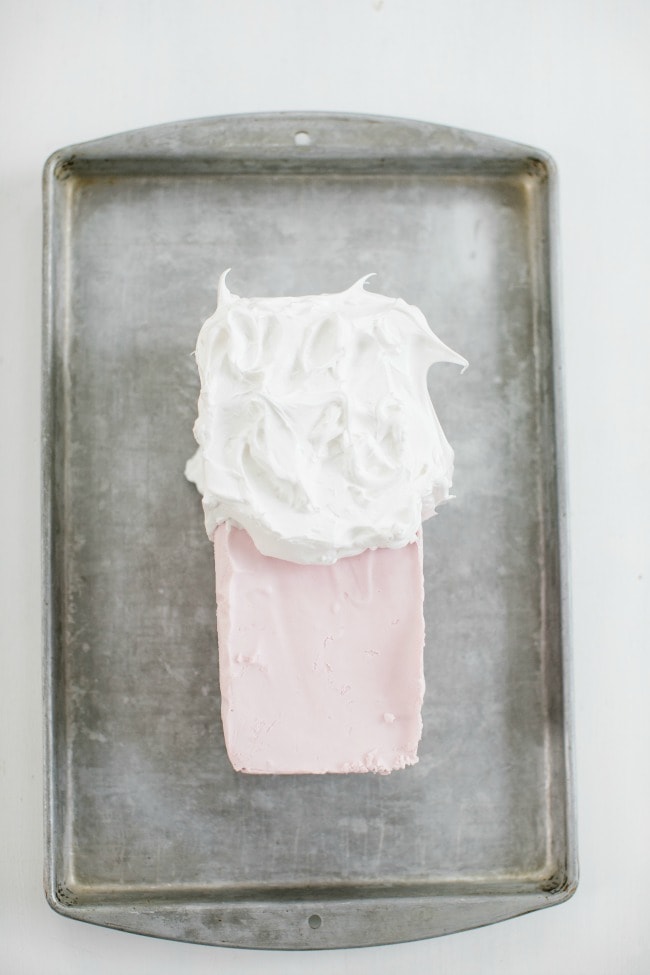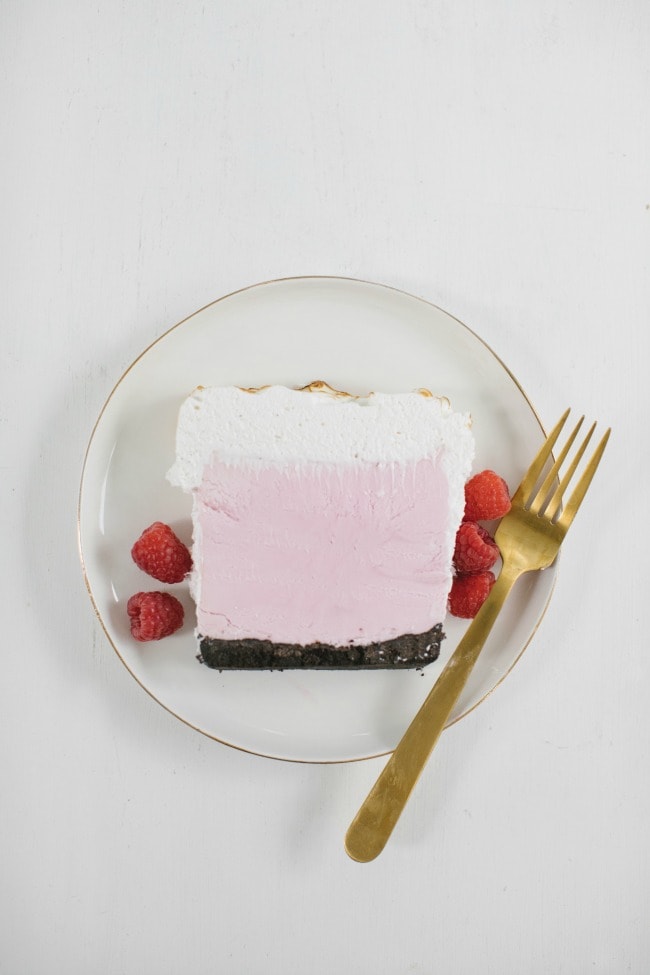 More Ice Cream Cake Recipes: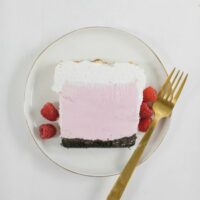 Raspberry Ice Cream Cake with Oreo Cookie Crust
This no-churn raspberry ice cream cake with Oreo cookie crust is a delicious, decadent treat for hot summer day. Cool, creamy, and fruity.
Print
Pin
Rate
Ingredients
Cookie Crust
20

Oreo sandwich cookies

(not double stuffed)

3

tablespoons

unsalted butter,

melted and cooled
Raspberry Ice Cream
3 1/2

packages,

6 ounces each (4 cups|600g) raspberries

2

tablespoons

sugar

1/4

teaspoon

salt

1

14 ounce cans weetened condensed milk

2

teaspoons

pure vanilla extract

2

cups

heavy cream

1/3

cup

crème fraîche

(optional but delicious)
Meringue
5

large egg whites

1

cup

(200 g) granulated sugar

¼

teaspoon

salt

2

teaspoons

pure vanilla extract
Instructions
For the cookie crust
Line a 9x4x4-inch Pullman pan with parchment paper or plastic wrap (this will help easily remove the ice cream cake from the pan). You can use a standard loaf pan as well, the cake just won't be as tall.

Place Oreos in a food processor, and process until they are broken down into crumbs.

In a medium bowl stir together the cookie crumbs and melted butter until evenly coated.

Press the cookie crumbs evenly on bottom of the prepared pan, pressing them down gently. Place the pan in the freezer for 15-20 minutes.
For the Ice Cream
Bring the raspberries, sugar, and salt to a simmer in a medium saucepan over medium-high heat. Cook, mashing the berries slightly, until they have released their juices, about 5 minutes. Strain the berry mixture through a fine-mesh strainer, pressing on the solids to extract as much juice as possible. Discard the solids. Set aside to cool.

In a large bowl, combine sweetened condensed milk, the strained, cooled, raspberry juice, and vanilla. Set aside.

In a large bowl of a standing mixer, beat the heavy cream and crème fraîche (if using) on high until stiff peaks form, about 3 minutes. With a rubber spatula, fold 1/3 of the whipped cream into the condensed milk mixture until combined. Gently fold the rest of the whipped cream in. Pour the mixture over the cookie crumbs and freeze until firm, at least 8 hours (but preferably overnight).
For the meringue
Put about an inch of water in a medium saucepan and bring it to a gentle boil.

In the bowl of a stand mixer, stir the egg whites, sugar, and salt to combine. Place the bowl over the saucepan, being careful not to let the water touch the bottom of the bowl. Stir with a rubber spatula until the sugar is completely melted and reaches a temperature of 160°F, 4 to 5 minutes. While you are stirring, be sure to scrape down the sides of the bowl with the spatula—this will ensure no sugar grains are lurking on the sides and also help prevent the egg whites from cooking.

Remove the bowl from the heat and place it in the stand mixer fitted with a whisk. Whisk on medium-high until stiff, glossy peaks form, 8 to 10 minutes. The bowl should have cooled down to room temperature at this point. Add the vanilla and beat until combined. Use immediately.
To assemble
Use a spatula to spread the meringue evenly over the top of the ice cream cake and, if desired, use a spoon to create curls. Hold a kitchen blowtorch 1 or 2 inches away from the cake and touch the flame down in between the curls. The curls will toast and brown (if the curls set on fire, you can blow them out). Slice the cake and serve immediately. (Because this is ice cream, an oven broiler won't work here to toast the meringue – you will just have a melted puddle. If you don't have a blow torch, you can serve the cake without toasting it – it will still taste delicious.)