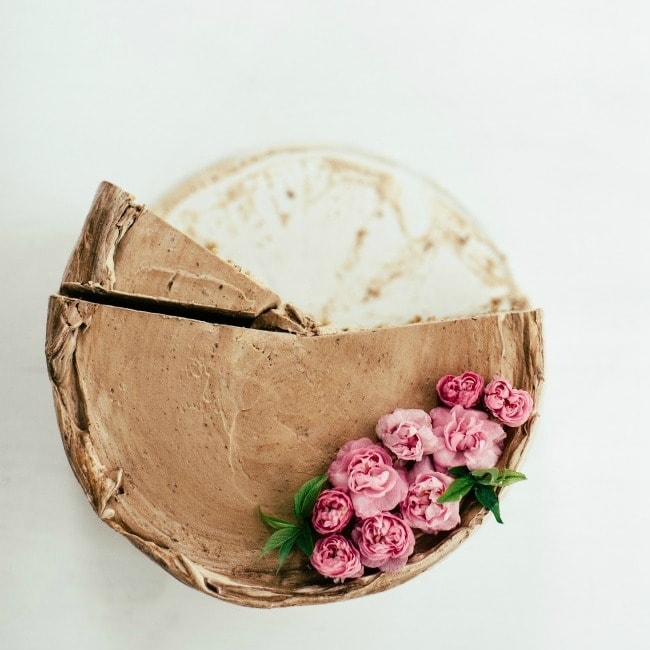 "PHOSPHORESCENCE. Now there's a word to lift your hat to… to find that phosphorescence, that light within, that's the genius behind poetry." – Emily Dickinson
(I apologize for the short post. I'm currently working on my first pass for my book, and don't have time to talk today. But! I do have this hazelnut cake recipe that I hope makes up for my lack of words. Have a lovely weekend, dear friends.)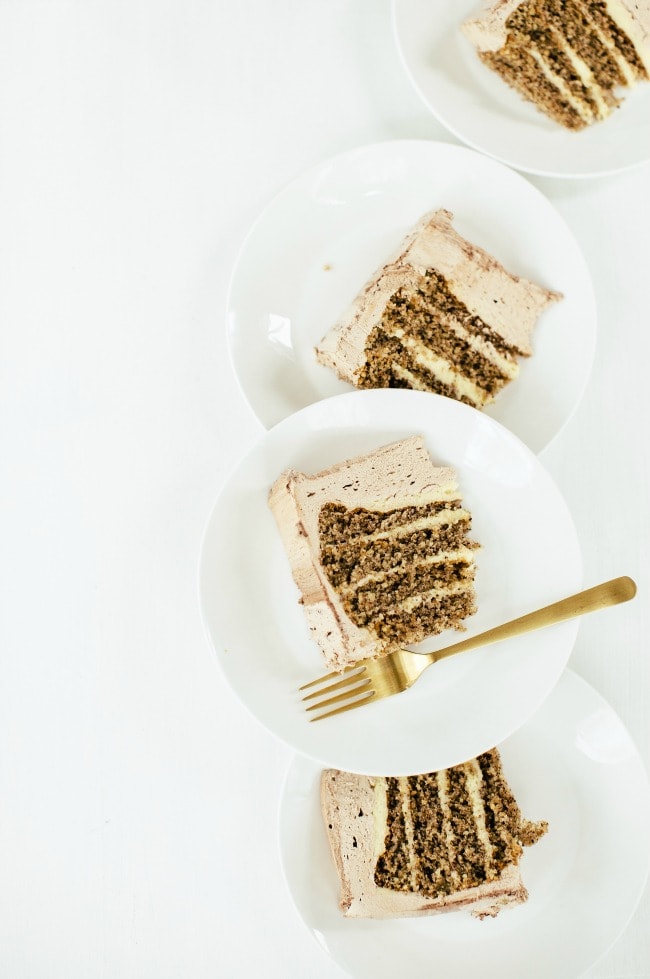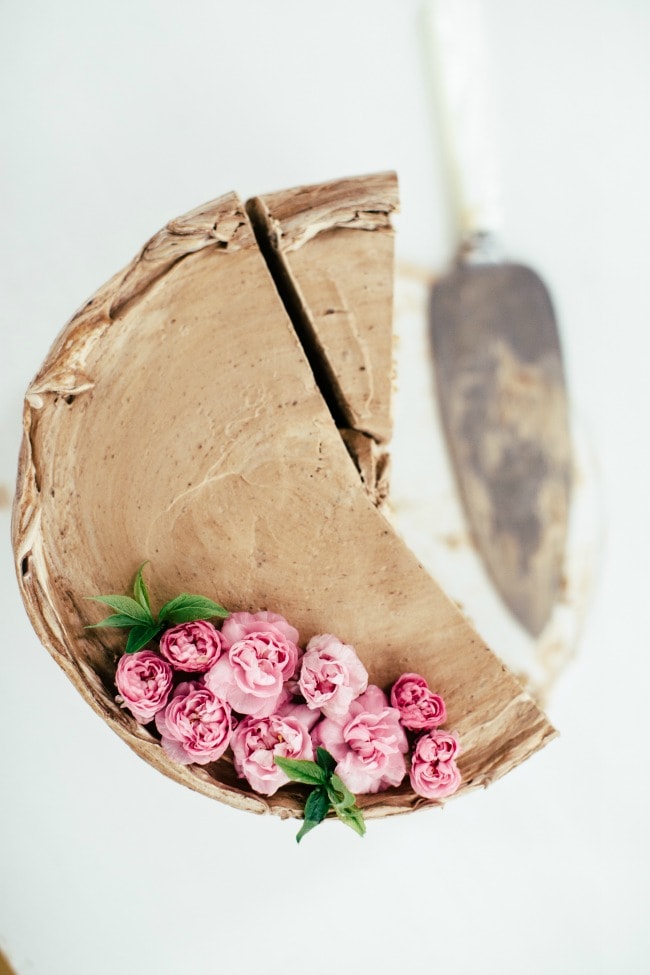 Hazelnut Cake with Crème Mousseline and Chocolate Buttercream
We made a version of this cake at the Blue Heron Coffeehouse, but used pecans instead of hazelnuts, and an orange filling and frosting. After using hazelnuts in the Dacquoise, I've been putting them in everything. The cake layers are very fragile, and since they are made with mostly nuts, they do not have the fluffy texture of a regular cake, there is a bit more 'chew' to them. But the cake tastes incredible paired with the mousseline and buttercream.
The cake layer tops will sink in a bit and the cake will pull from the sides as it bakes (see above photo); you may have to cut the layers around the edges to make them all the same size before assembling, or else use tons of frosting to make the cake look straight and even (that's what I did). But it's worth it.
The chocolate buttercream in the photos didn't turn out exactly as I wanted, so I'm instead posting the buttercream from my favorite chocolate cake recipe. But you can use any chocolate buttercream you'd like here.
Hazelnut Cake
2 1/2 cups (290g) hazelnuts, skin on (or you can cheat like I did and buy chopped hazelnuts)
3 tablespoons all purpose flour
4 teaspoons baking powder
3/4 teaspoon salt
6 large eggs
1/4 cup canola oil
1 cup (198g) granulated sugar
Adjust an oven rack to the middle position, and preheat the oven to 350F. Grease two 8 x 2-inch cakes pans, and line the bottoms of the pans with parchment paper.
Place the hazelnuts in a food processor. Process until finely ground.
In a medium bowl, whisk together the hazelnuts, flour, baking powder, and salt.
Put the eggs, sugar, and oil in the food processor and process until combined and smooth. Add the nut mixture, and process again until combined.
Evenly divide the batter between the two prepared pans. Bake until the top is golden brown and springs back when pressed, 22-28 minutes. Move the cakes to a wire rack and let cool for 20 minutes in the pans, then gently invert them and let them finish cooling on the rack.
Crème Mousseline (German Buttercream)
Crème mousseline is basically pastry cream made into a buttercream. I used Ina's recipe here for the pastry cream, and then followed Joe Pastry's instructions on how to make the mousseline.
2 cups pastry cream
1 cup (227g) unsalted butter, room temperature and very soft, cut into 1-inch pieces
Place the pastry cream in the bowl of a stand mixer fitted with a whisk attachment. Whisk the pastry cream for a minute, then add the butter pieces one at at time, until incorporated. Keep beating the mixture until smooth and glossy (if your buttercream appears curdled at any point, don't panic, just keep beating until smooth).
Chocolate Buttercream
6 oz (170g) good semisweet or bittersweet chocolate
1 cup (227g) unsalted butter, room temperature
1 egg yolk, room temperature (you can use 1 tablespoon corn syrup here instead, if you'd rather not use the raw yolk)
1 teaspoon pure vanilla extract
Pinch salt
1 1/4 cups (142g) confectioners' sugar
Chop the chocolate and place it in a heat-proof bowl set over a pan of simmering water. Stir until just melted and set aside until cooled to room temperature.
In the bowl of an stand mixer fitted with a paddle, beat the butter on medium-high speed until light yellow and fluffy, about 3 minutes. Add the egg yolk, vanilla, and salt and continue beating for 3 minutes. Turn the mixer to low, gradually add the powdered sugar, then beat at medium speed, scraping down the bowl as necessary, until smooth and creamy.
On low speed, add the chocolate to the butter mixture and mix until blended. Use a spatula to finish mixing, making sure the buttercream has no yellow streaks.
To assemble:
Carefully cut each layer of the cake in half horizontally, to make a total of 4 layers (the cake layers are very delicate, so be gentle with them). Put one cake layer cut side up on a turntable or serving plate, and top with about 1/2 cup of the crème mousseline. Use an offset spatula or knife to smooth it out. Repeat with two more layers, and then top the cake with the final layer of cake, cut side down. Frost the top and sides with the chocolate buttercream.