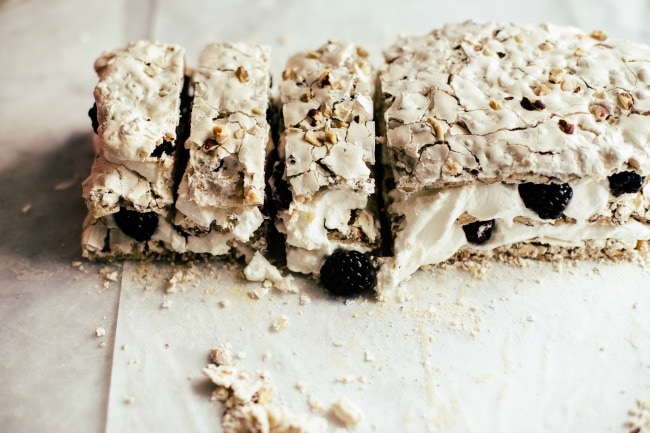 My new copper beating bowl arrived in the mail, and I immediately took it over to Zoë François' house and made her beat white egg whites by hand in it for this post. In between laughing and giving me dirty looks, she made this incredible dacquoise with blackberries and cream. It was so good we couldn't stop nibbling on it all afternoon (after she made me wash all the dishes in payback).
The meringue base here is on the sweet side, but the hazelnuts incorporated in the layers and tart berries in between balance it perfectly. Zoë mentioned this dessert would also work for Passover (you can check out her Chocolate Caramel Matzo as well), so here's another dessert option if you celebrate.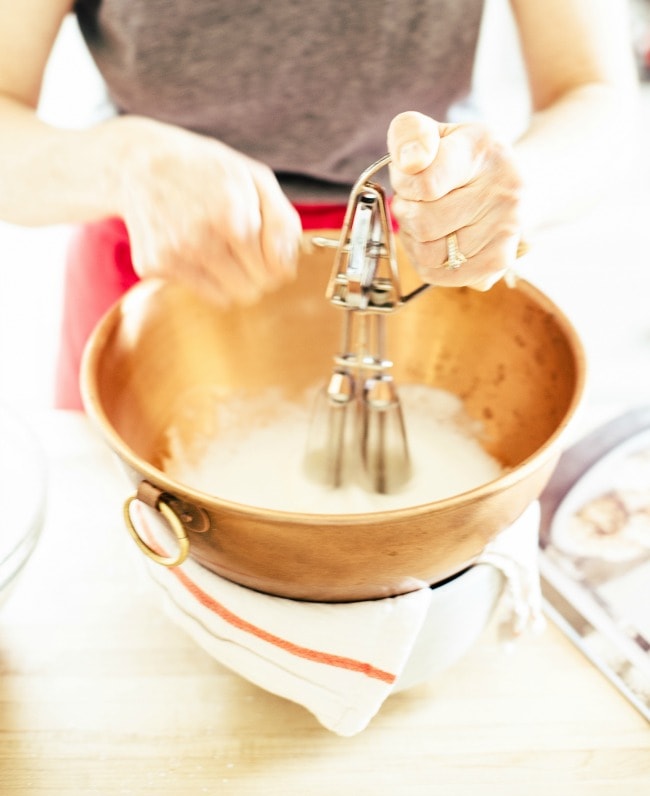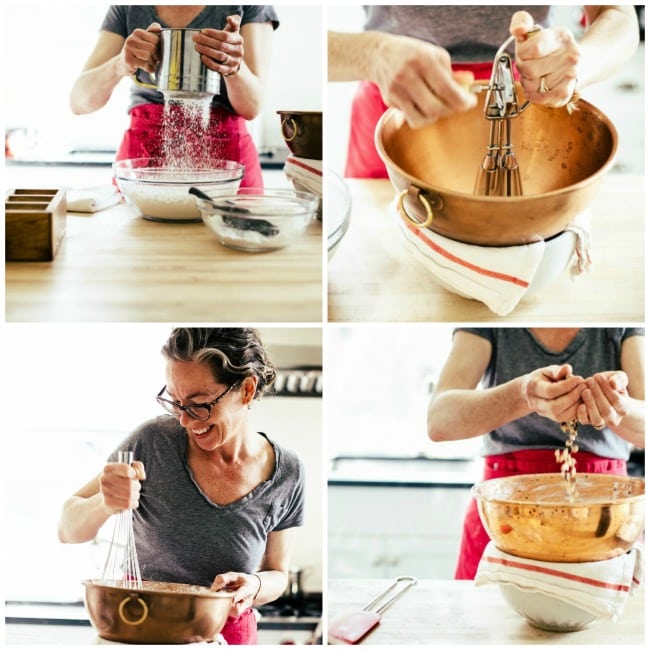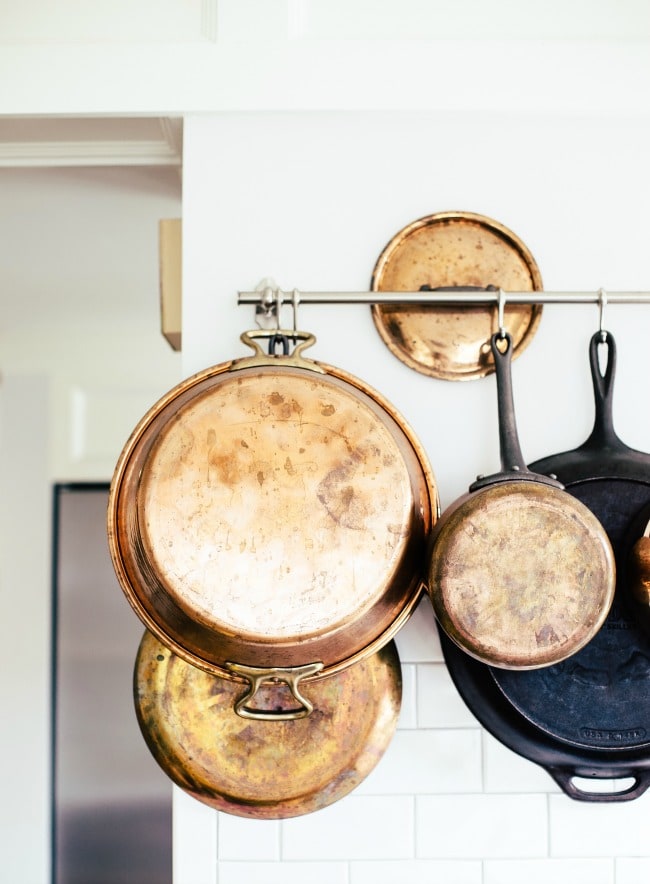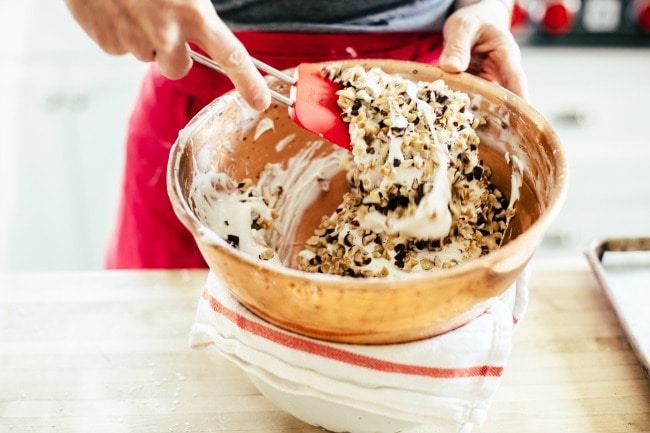 Dacquoise with Blackberries and Cream
Inspired by the brutti ma buoni from Tasting Rome by Katie Parla and Kristina Gill
Meringue
10 ounces (285g) hazelnuts, skin on (or you can cheat and buy chopped hazelnuts)
5 large egg whites
Pinch salt
2 1/2 cups (285g) confectioner's sugar
1 teaspoon pure vanilla extract
Whipped Cream
1 cup heavy cream
1 tablespoon granulated sugar
1/2 teaspoon vanilla
7 ounces (200g) blackberries
Adjust an oven rack to the middle position and preheat the oven to 350F. Spread the hazelnuts on a rimmed baking sheet and toast them for 8-10 minutes, or until their skins began to crack and loosen. Remove from the oven and allow to cool, then rub them with a clean towel to remove the skins. Chop into small pieces.
Reduce the oven temperature to 300F. Line a half sheet pan with parchment paper.
Whip the egg whites and salt (either by hand, as pictured, or in a stand mixer fitted with a whisk, on medium speed) until foamy. Gradually add the sugar and continue to whisk until the mixture appears glossy and starts to thicken. Fold in the hazelnuts and vanilla.
Transfer the mixture to the prepared sheet pan. Use an offset spatula to even out the mixture, covering the parchment paper completely. Bake for 20-25 minutes, until the meringue is lightly browned. Remove from the oven and let cool slightly on a wire rack.
For the whipped cream
Add the heavy cream, sugar, and vanilla to a chilled mixer bowl. Beat on low speed until small bubbles form, about 30 seconds. Increase the speed to medium and and continue beating, about 30 seconds. Increase speed to high and continue beating until cream is smooth, thick, and nearly double in volume, and 30 seconds. Refrigerate until ready to use.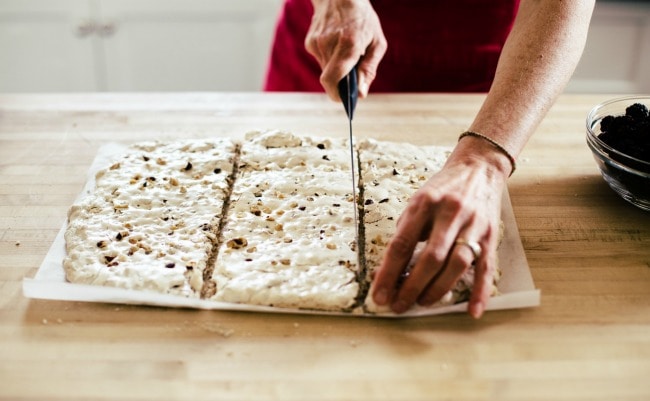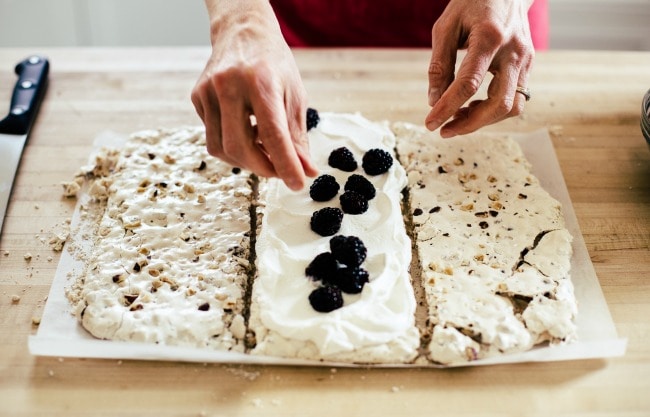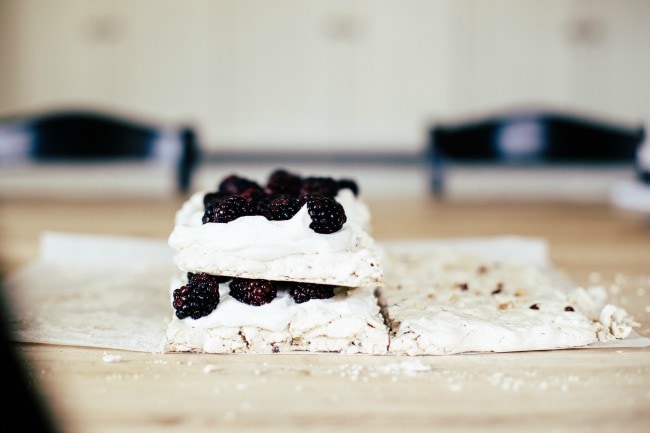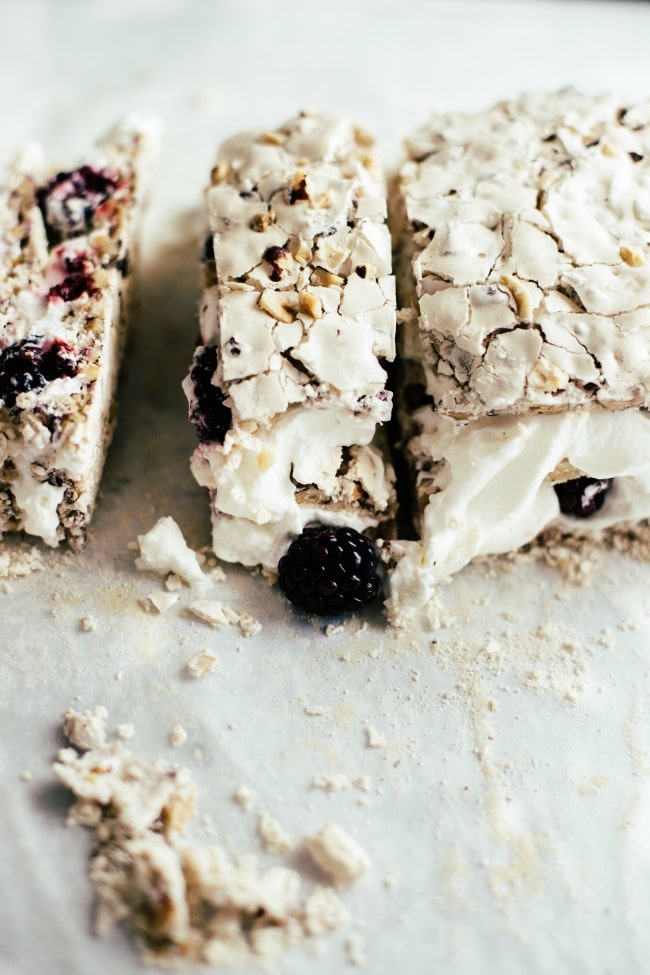 To assemble the dacquoise
When the meringue is almost cool, very carefully cut it into three equal pieces (you want to do this before it completely cools and will shatter when cut). Trim the sides slightly for straight edges if desired.
Lay one piece of meringue on a serving dish. Top it with 1/2 of the whipped cream and blackberries, coating both evenly over the top. Place a second layer of meringue on top, and repeat with the whipped cream and blackberries. Top with a third piece. Carefully cut into strips and serve (cutting it will be a slightly messy affair).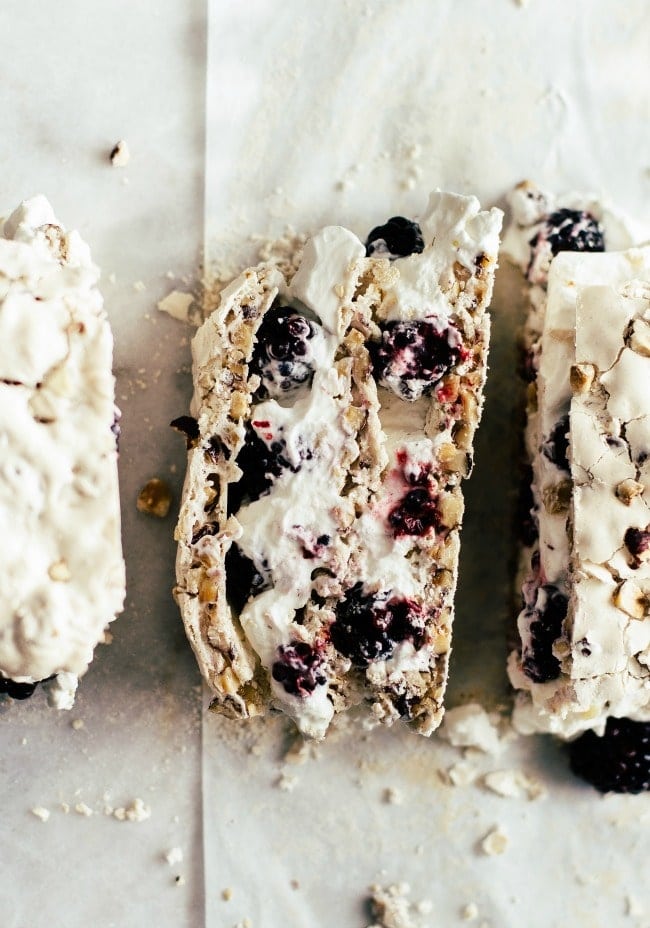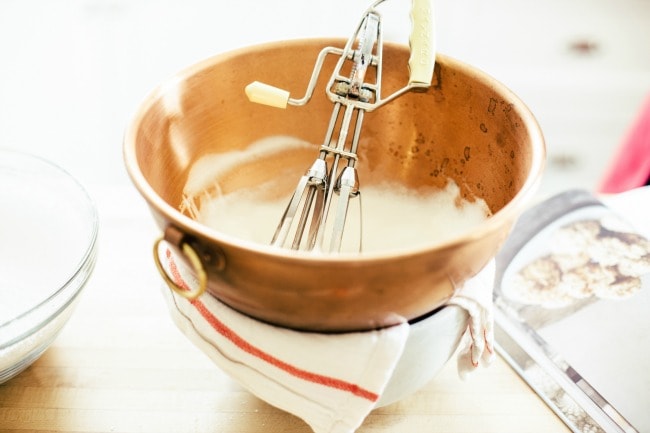 The Mauviel copper bowls seen throughout the photos were sent to me by Equip My Kitchen. They are gorgeous, and worth every penny. Zoe's collection includes the jam pan.