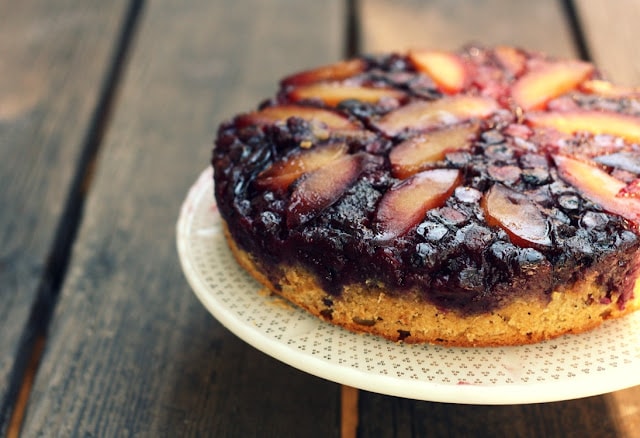 I like having dinner guests.  It's lovely, catching up, sipping cold beer, laughing and watching the little ones race around. Sometimes friends come spur of the moment, to chat the afternoon and evening away. Even though it's last minute, I still have to have dessert. I can't help it. It somehow doesn't feel right to skip that after dinner sweetness.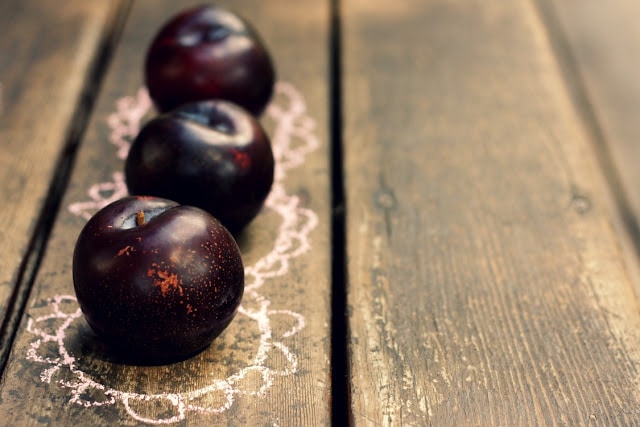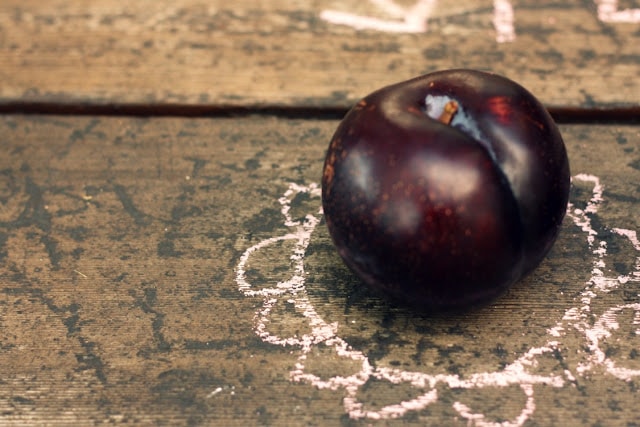 Luckily I had bought plums earlier that day. And there were blueberries left over from the CSA. I always have buttermilk on hand, and cardamom is stocked in my pantry, too. So let's make a cake: a pretty, tasty, upside-down cake. It's brilliant purple top will be the highlight of the table, and it will taste as good as it looks. Another every day cake to make life more enjoyable.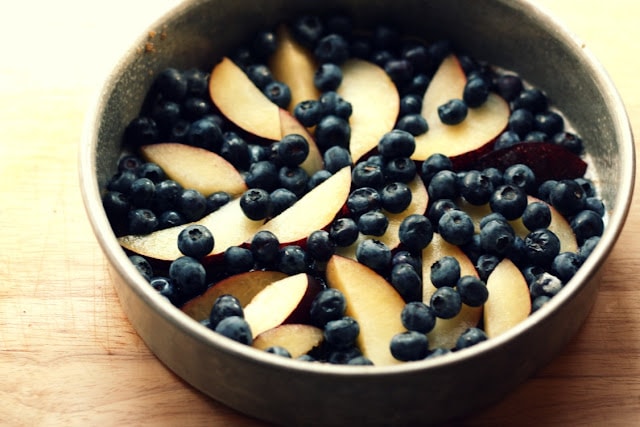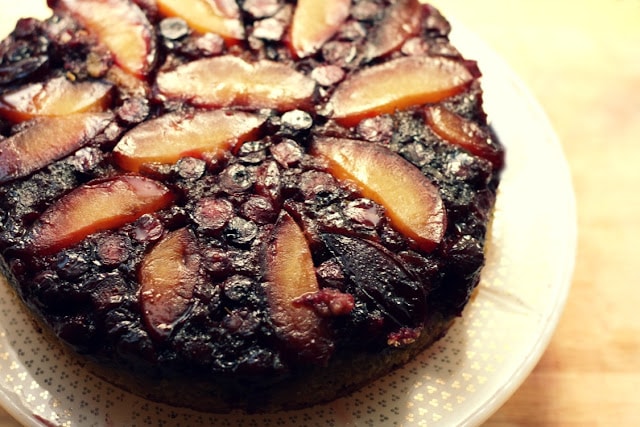 Plum Blueberry Upside Down Cake with Cardamom
adapted from Everyday Food
Light brown sugar works just fine in the recipe, too. 
10 tablespoons [1 1/4 stick] unsalted butter, room temperature
1 cup packed dark brown sugar, divided
1 large firm but ripe black plum, cut into 1/2 inch wedges
1 1/2 cups blueberries [7 ounces]
1 large egg plus 1 large egg white
1 1/2 teaspoons cardamom
1 1/2 cups all purpose flour [7 1/2 ounces]
1 teaspoon poppy seeds
3/4 teaspoon baking powder
1/4 teaspoon baking soda
1/2 teaspoon salt
1/2 cup buttermilk
1 teaspoon vanilla
Preheat oven to 375. Lightly butter an 8 inch round cake pan [2 inches deep]; line bottom with parchment paper. Melt 2 tablespoons butter and pour into pan; swirl to coat paper. Sprinkle 1/2 cup brown sugar evenly over butter. Arrange plum evenly in pan, then add blueberries, filling in any gaps.
In a medium bowl, whisk together flour, poppy seeds, baking powder, baking soda, cardamom and salt. Set aside.
In a large bowl of a standing mixer, beat 8 tablespoons butter and 1/2 cup brown sugar on high until light and fluffy, about 3 minutes. Beat in egg and egg white until combined. With mixer on low, beat flour mixture into butter mixture until combined. Beat in buttermilk and vanilla until smooth.
Transfer the batter to the cake pan. Tap firmly on counter several times to remove air bubbles; smooth top.
Bake until cake is deep golden brown, juices are bubbling around edge, and a toothpick inserted in the center comes out clean, about 45 minutes, rotating pan halfway through. Let cake cool in the pan on a wire rack, 1 hour. Run a knife around the edge of the pan and invert cake onto a serving plate. Serve warm or a room temperature [store, covered, at room temperature, up to 2 days].