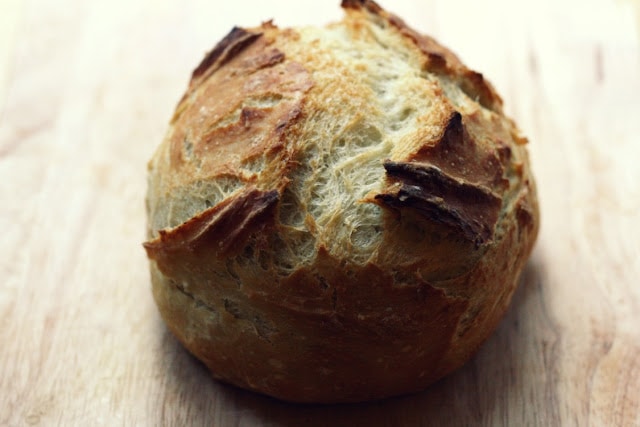 A few years ago I discovered no knead bread. It has, of course, been around for awhile, and there are now amazing amounts of variations on it.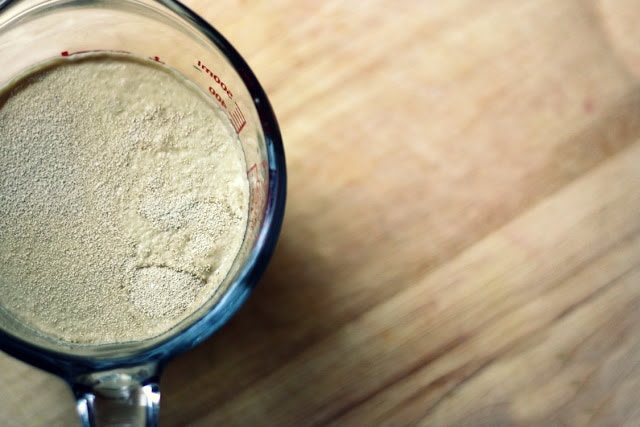 What's unique about this version is that the dough is mixed, allowed to rise, and then is refrigerated. This allows for many things, but the two that I love are the flavor development and the easy factor.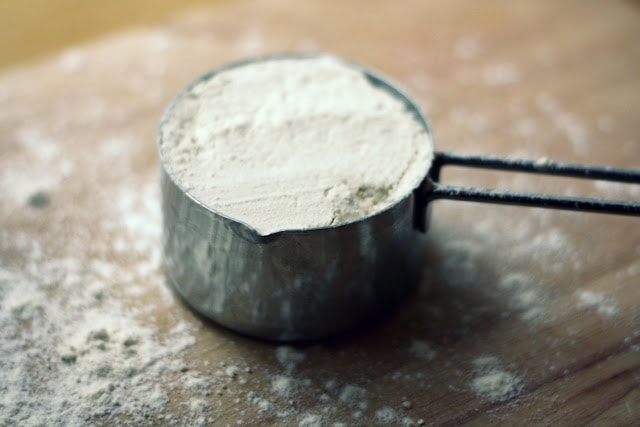 The bread can be put aside in the fridge and used when needed in a 2 week time frame. The amount of dough needed is pulled out, shaped, allowed to rise for a short amount of time [while the oven is heating, no less], and then baked to perfection. It's lovely.
I started making this a couple years ago and then stumbled across a dutch oven version, which I love even more. The dough bakes up so nice and round, and there is no need for extra pans of water for steam.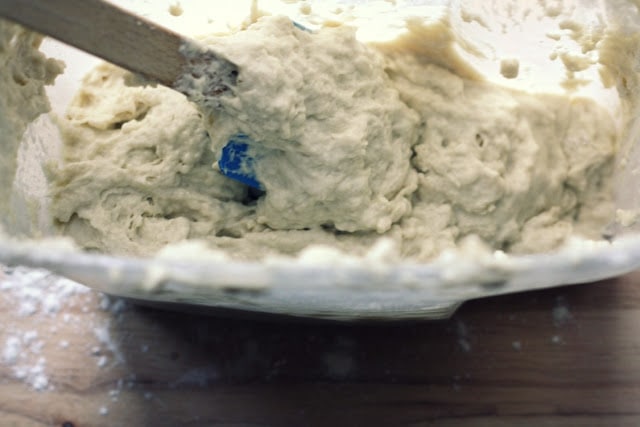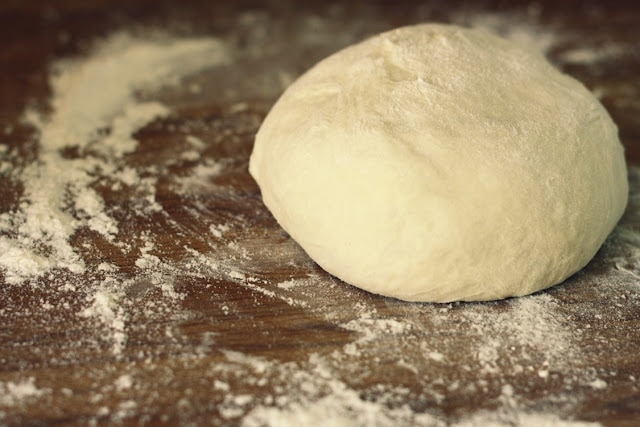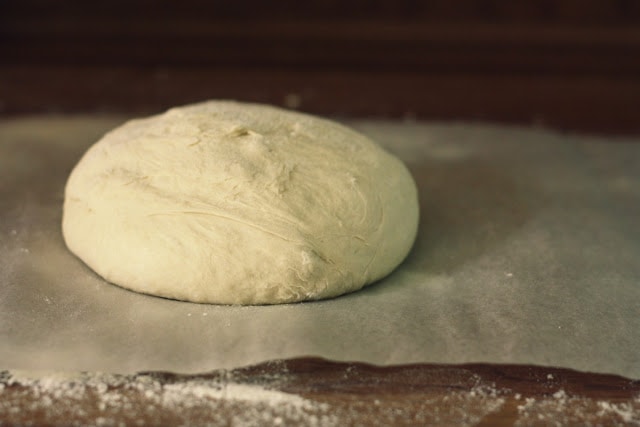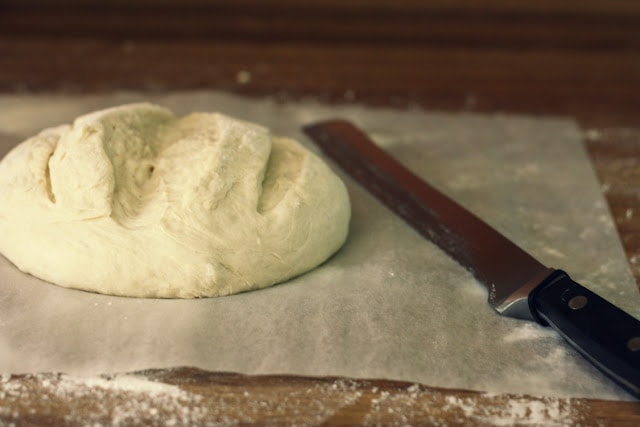 It's a fabulous concept, and has helped keep homemade bread on our table. And while I will admit it's taken me time to get it just right: figuring out shaping, cooking time for my oven, how wet I want the dough, perfecting a crackly crisp top and a soft, holey center; it has been a worthwhile investment. Even the 'learning' bread – the bread with no holes, or too doughy, or too crispy, or cut too soon – has been better than anything bought in a grocery store.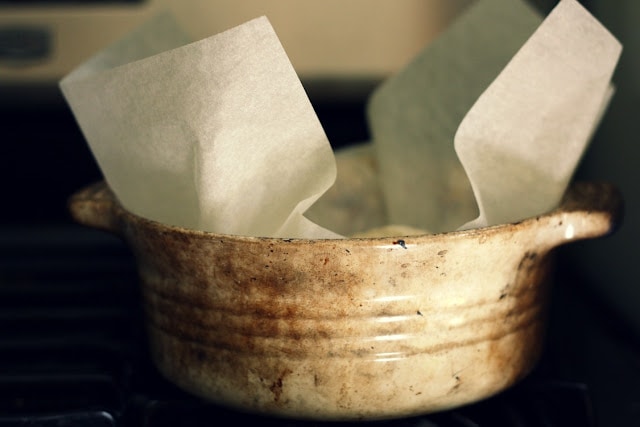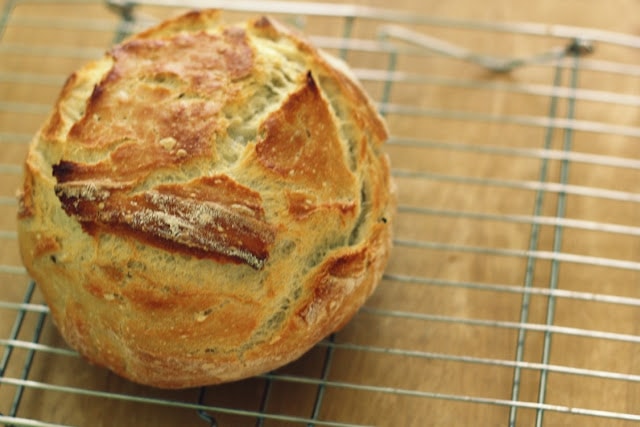 Fresh, warm bread can't be beat. My little ones look forward to the soft inside, and soak their pieces in puddles of olive oil. We make french toast, sandwiches, and bread pudding out of leftovers. We are thankful, so thankful for our daily bread.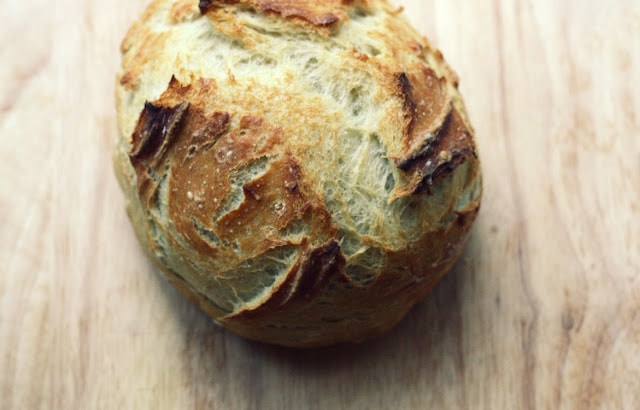 No Knead Dutch Oven Bread
adapted from Artisan Bread in Five Minutes A Day
I highly recommend checking Artisan Bread in Five Minutes A Day's blog post for tips on baking with a dutch oven. There is a lot of useful information in the comments. You can find that here.  There is lots of useful information about frequently asked questions here. Also, make sure your dutch oven does not have a plastic knob – these cannot stand temperatures above 450 degrees and your kitchen will *stink* [believe me, I learned from experience]. There are replacement knobs you can purchase, or else you can rig up a knob [again, the above mentioned post goes into detail of all that]. This bread can be made without a dutch oven, but again, check the site for information on that.  This recipe can be cut in half to make a smaller batch.
**The dutch oven I personally use is smaller than typical dutch oven. On the website, the authors of the book used a 7 1/4 quart dutch oven for a 1 1/2 pound piece of dough. I put a one pound piece in mine. You many have to adjust cooking times according to the size of your dutch oven – see links in the above italics for help**
3 cups water, lukewarm
1 1/2 tablespoons yeast
1 1/2 tablespoons kosher salt
6 1/2 cups unbleached, all-purpose flour
In a 5 quart plastic container or bowl [preferably a resealable plastic container], mix yeast and salt into 3 cups lukewarm water [about 100 degrees]. Stir in flour, mixing until there are no dry patches. Dough will be quite loose. Cover, but not with an airtight lid. Let dough rise at room temperature for 2 hours.
Bake at this point or refrigerate, covered, for as long as two weeks [It's best to let dough refrigerate at least three hours – it is less sticky and easier to work with. Also, more flavor will develop if it sits longer].  When ready to bake, sprinkle a little flour on the dough and cut off a grapefruit-size piece with serrated knife [about 1 pound]. Sprinkle flour on work surface and lightly knead dough 5-6 times to form a ball, adding flour as needed so it won't stick to your hands. Put dough on a piece of parchment paper, and let rest 40 minutes. Refrigerate the rest of the dough.
About 30 minutes before baking, adjust oven rack to the upper middle position and place the Dutch oven (with lid on) on the rack, and heat oven to 500 degrees. Lightly flour top of dough and, using razor blade or sharp knife, make one 6-inch-long, 1/2-inch-deep slit along top of dough. Carefully remove pot from oven and remove lid. Pick up dough by lifting parchment overhang and lower into pot (let any excess parchment hang over pot edge). Cover pot and place in oven. Bake covered for 25 minutes. Lower oven temperature to 450, remove lid and continue to bake until loaf is deep brown and/or instant-read thermometer inserted into center registers 210 degrees, 12 to 15 minutes longer. Carefully remove bread from pot; transfer to wire rack and cool to room temperature, about 2 hours.