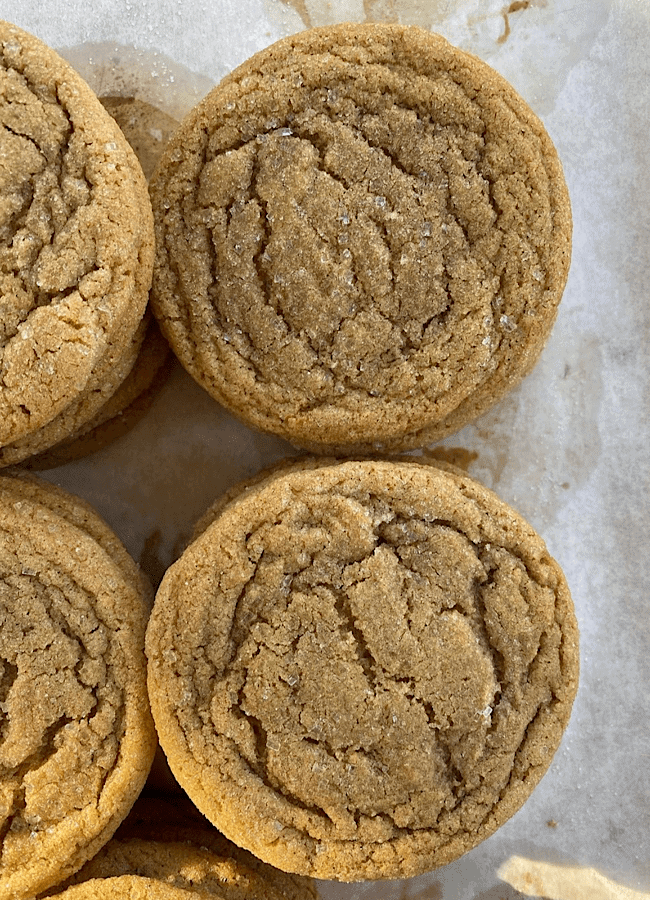 I will never say no to a simple sugar cookie, but adding brown sugar makes for an interesting twist on the class white version. A teaspoon of molasses increases the dark brown sugar flavor without making it taste like holiday fare (but, to be sure, these are a great addition to your holiday cookie tray).
Brown Sugar Cookies
From 100 Cookies
2 1/2 cups plus 1 tablespoon [364 g] all-purpose flour
3/4 teaspoon baking soda
3/4 teaspoon salt
1 cup [2 sticks | 227 g] unsalted butter, at room temperature
1 3/4 cup [350 g] dark brown sugar
1 teaspoon molasses
1 large egg plus 1 large yolk
2 teaspoons pure vanilla extract
1/2 cup [100 g] granulated sugar, for rolling
Adjust an oven rack to the middle of the oven. Preheat the oven to 350F [180C]. Line three sheet pans with parchment paper.
In a medium bowl, combine the flour, baking soda, and salt.
In the bowl of a stand mixer fitted with a paddle, beat the butter on medium speed until creamy, about 1 minute. Add the brown sugar and the molasses and beat on medium speed until light and fluffy, 2 to 3 minutes. Add the egg, yolk, and vanilla, and beat on medium speed until combined. Add the flour mixture and beat on low speed until just combined.
Place the granulated sugar in a medium bowl.
Form the cookies into 1 1/2 oz [45 g] balls (2 tablespoons). Roll each ball in the sugar and place 8 cookies on a sheet pan.
Bake one pan at a time, rotating halfway through baking. Bake until the sides are set and the bottoms are light golden brown, 10 to 11 minutes.
Transfer the sheet pan to a wire rack and let the cookies cool for 5 to 10 minutes on the pan, then remove them and let them cool completely on the wire rack. Store the cookies in an airtight container at room temperature for up to 3 days.