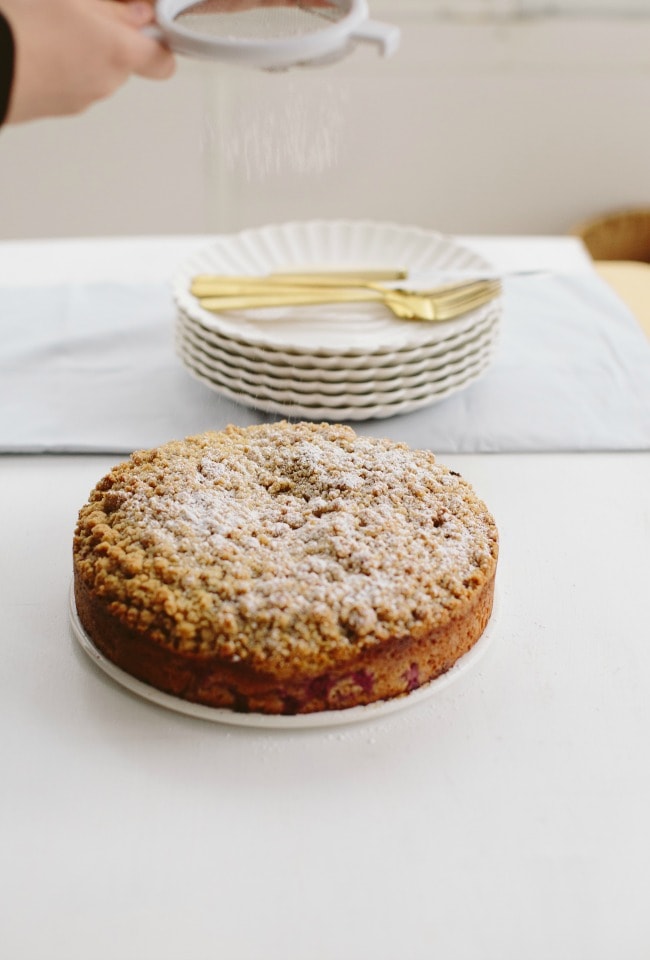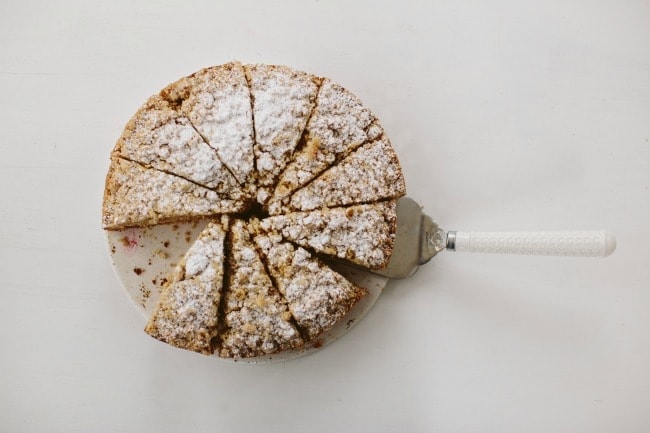 How to Eat a Poem
Don't be polite.
Bite in.
Pick it up with your fingers and lick the juice that
may run down your chin.
It is ready and ripe now, whenever you are.
You do not need a knife or fork or spoon
or plate or napkin or tablecloth.
For there is no core
or steam
or rind
or pit
or seed
or skin
to throw away.
-Eve Merriam
*************************************************
Nicole Gulotta, of the blog Eat This Poem, has a cookbook, where both the poem above and the ginger coffee cake below are found. It's a lovely book, filled with poetry and recipes and thoughtful musings, much like her site.
I've met Nicole a few times over the years and have followed her progress on this book; it's been years of work and a labor of love. I highly recommend putting it on your wish list. I especially love the poem above, and have found a handful of other poets I need to check out.
There are many recipes I am eager to try as well, but, I just can't help myself and gravitated first towards the baking section (this is the case in any cookbook I pick up).
I started with this Ginger Coffee Cake.
Nicole's version has pears but I used raspberries, in hopes that the usually warm April we've been having is here to stay. My family agreed it was delicious.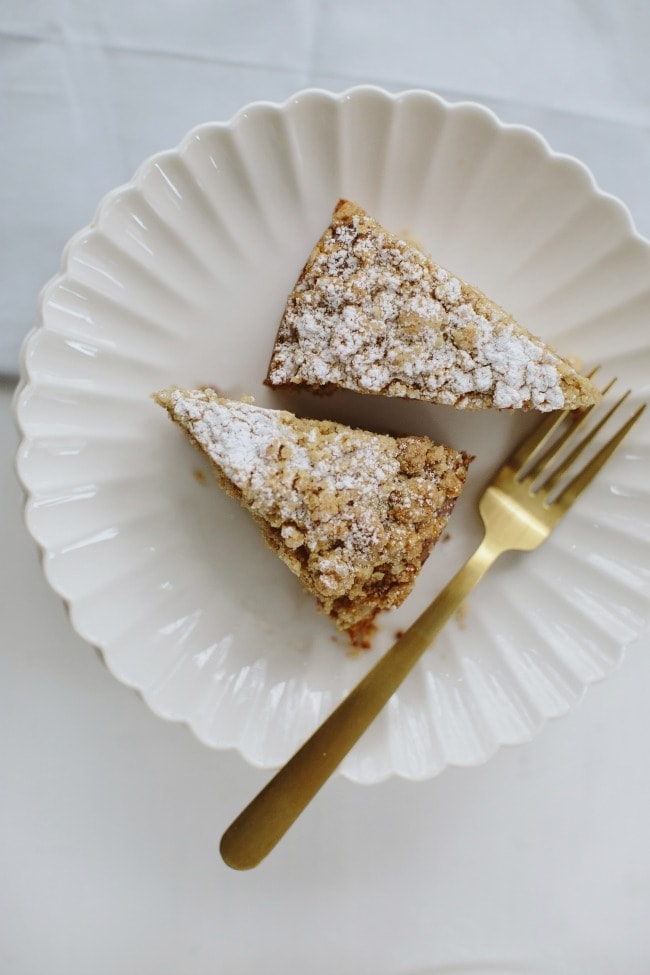 A few other things
I can't get enough of this song.
Turntable Kitchen's Sounds Delicious is in full swing (every month you receive an exclusive, limited-edition 12? vinyl record featuring an artist covering a full-length album of their choice). I received the first LP: Yumi Zouma covering Oasis' What's the Story Morning Glory, and it is so good!
The Blackberry White Chocolate Cake from my book found its way into the Sunday Times, Ireland this month, which was very exciting. You can view the recipe here (although, you have to sign up to see it – it's free.)
Yossy used my yellow cake recipe for the base of her Meyer Lemon and Raspberry Cake (her video is lovely!)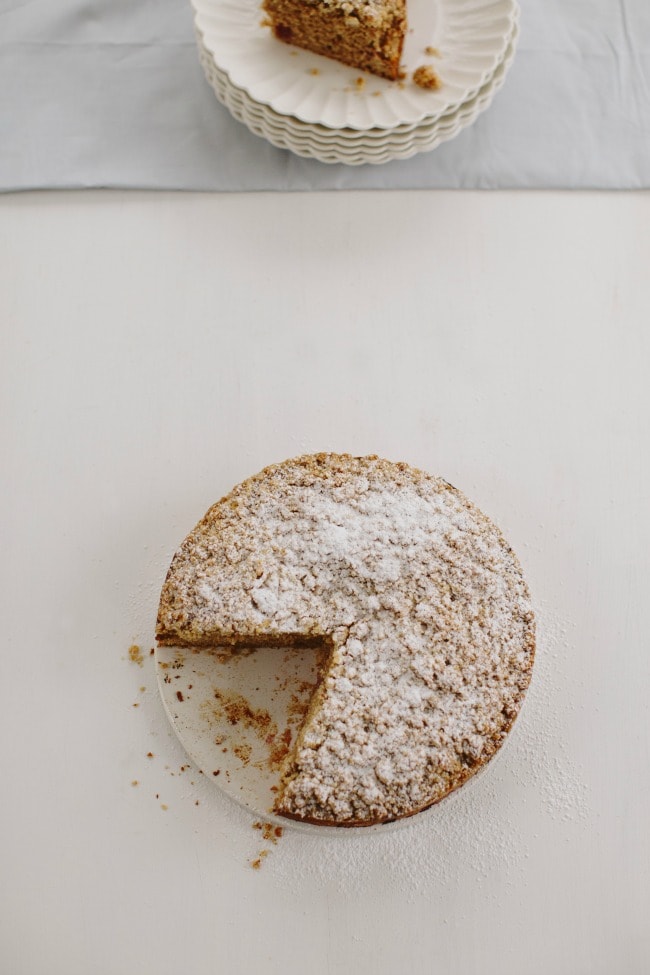 More Coffee Cake Recipes: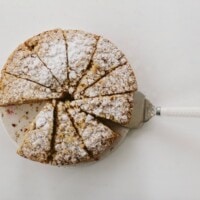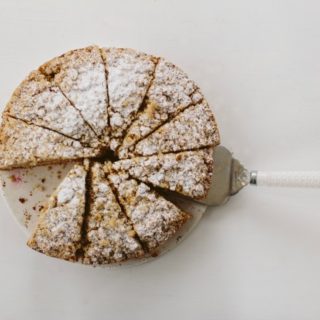 Triple Ginger Raspberry Coffee Cake
A soft and plush ginger coffee cake with warm spices, studded with raspberries. This cake is finished with a buttery streusel. The perfect brunch cake that's full of flavor.
Print
Pin
Rate
Ingredients
1

cup

(156g) whole wheat flour

1

cup

(142g) all-purpose flour

1

tablespoon

ground cinnamon

1

tablespoon

ground ginger

1/2

teaspoon

cardamom

1/2

teaspoon

nutmeg

1

teaspoon

baking powder

1/2

teaspoon

baking soda

1/2

teaspoon

fine salt

1

large egg

1 1/2

cups

buttermilk

2

teaspoons

grated fresh ginger

1/4

cup

(57g), 1/2 stick unsalted butter, room temperature

1/4

cup

(50g) granulated sugar

1/4

cup

(50g) brown sugar

1

cup

(120g) raspberries, fresh or frozen
Streusel Topping
1

cup

(156g) whole wheat flour

1/2

cup

(99g) brown sugar

1

teaspoon

ground ginger

1/2

teaspoon

cinnamon

1/4

teaspoon

fine salt

6

tablespoons

(86g) unsalted butter, melted

Powdered sugar

for dusting
Instructions
Adjust an oven rack to the middle position. Preheat the oven to 350F, and butter and flour a 9-inch round or square cake pan, or a springform pan like I used.

 

In a large bowl, whisk together the whole wheat and all-purpose flours, spices, baking powder, baking soda, and salt. In a small bowl, whisk together the egg, buttermilk, and fresh ginger.

In a stand mixer fitted with a paddle, beat the butter until soft. Add the sugars and beat on medium until light and creamy, 2-3 minutes. Reduce the speed to low. Add half the dry ingredients followed by half the wet ingredient; repeat, mixing until incorporated. Turn off the mixer and give the batter a stir from the bottom up, incorporating any remaining streaks of flour. Add the raspberries and crystallized ginger; mix by hand until well distributed. Pour the batter into the prepared cake pan and spread evenly.
For the topping:
Add all the ingredients except the butter to a small bowl. Slowly pour in the melted butter and use a fork to incorporate until large clumps form and no traces of flour remain. The topping should look damp but not overly wet; lightly press into the cake in an even layer. Bake for 45-50 minutes, until the top is slightly puffed and a toothpick comes out clean. Dust with powdered sugar before serving, if desired.
Notes
Recipe from Eat This Poem.
I have the recipe below as written in the book, except I've used raspberries instead of pears. If you aren't a fan of crystallized ginger, you can omit it. The raspberries were very tart here, which I loved, but you may not.
If you have out of season berries, you could toss them in some sugar before stirring into the cake to help sweeten them. I also used all-purpose flour in the streusel instead of whole wheat.