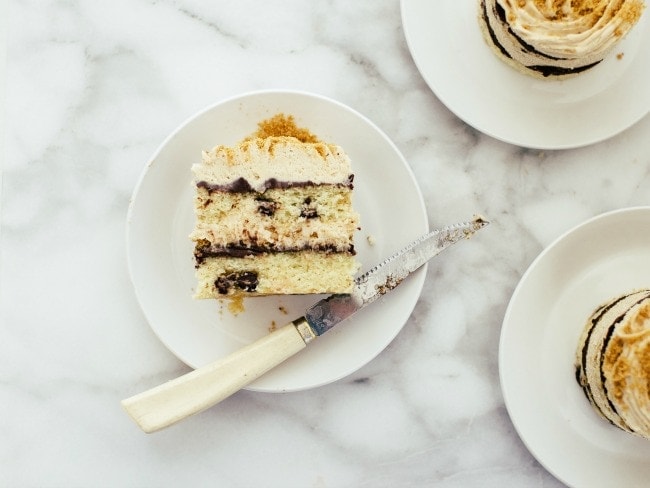 "Who I am is certainly part of how I look and vice versa. I want to know where I begin and end, what size I am, and what suits me… I am not "in" this body, I am this body. Waist or no waist.
But all the same, there's something about me that doesn't change, hasn't changed, through all the remarkable, exciting, alarming, and disappointing transformations my body has gone through. There is a person there who isn't only what she looks like, and to find her and know her I have to look through, look in, look deep. Not only in space, but in time.
There's the ideal beauty of youth and health, which never really changes, and is always true. There's the ideal beauty of movie stars and advertising models, the beauty-game ideal, which changes its rules all the time and from place to place, and is never entirely true. And there's an ideal beauty that is harder to define or understand, because it occurs not just in the body but where the body and the spirit meet and define each other."
-Ursula K. Le Guin on Aging and What Beauty Really Means (you can read more on Brainpickings, or find her book here (affiliate link).)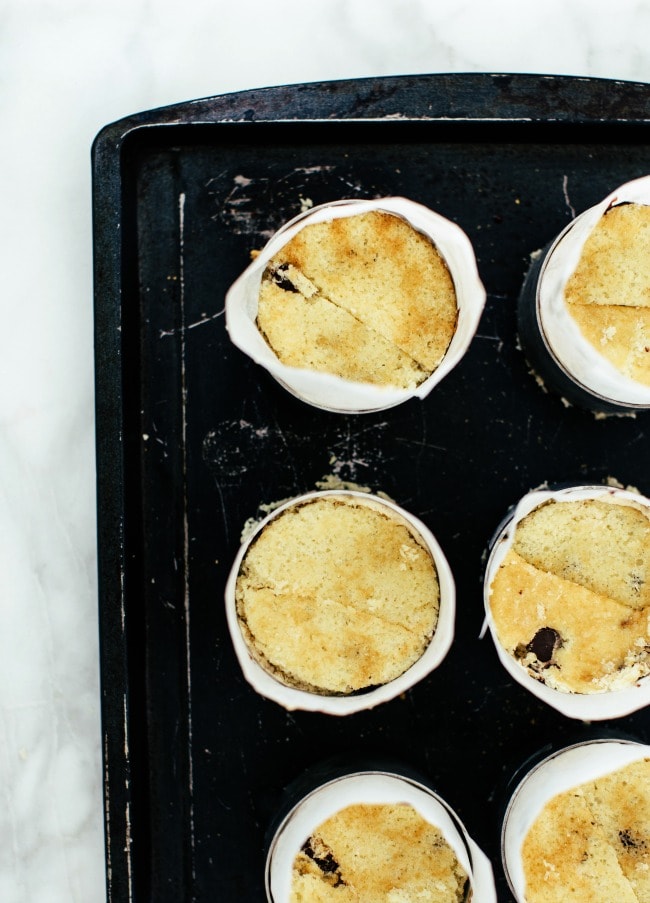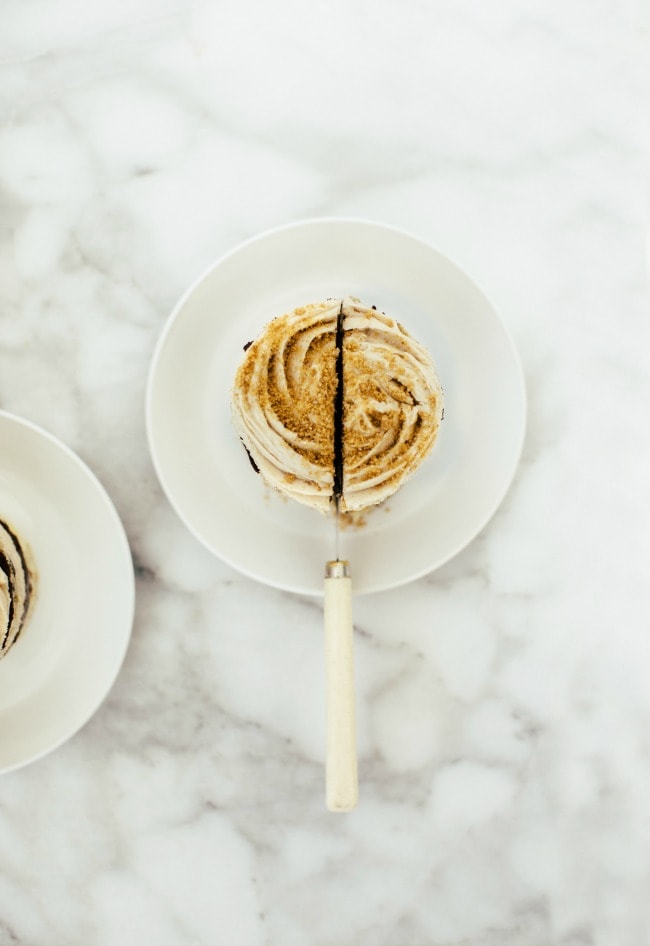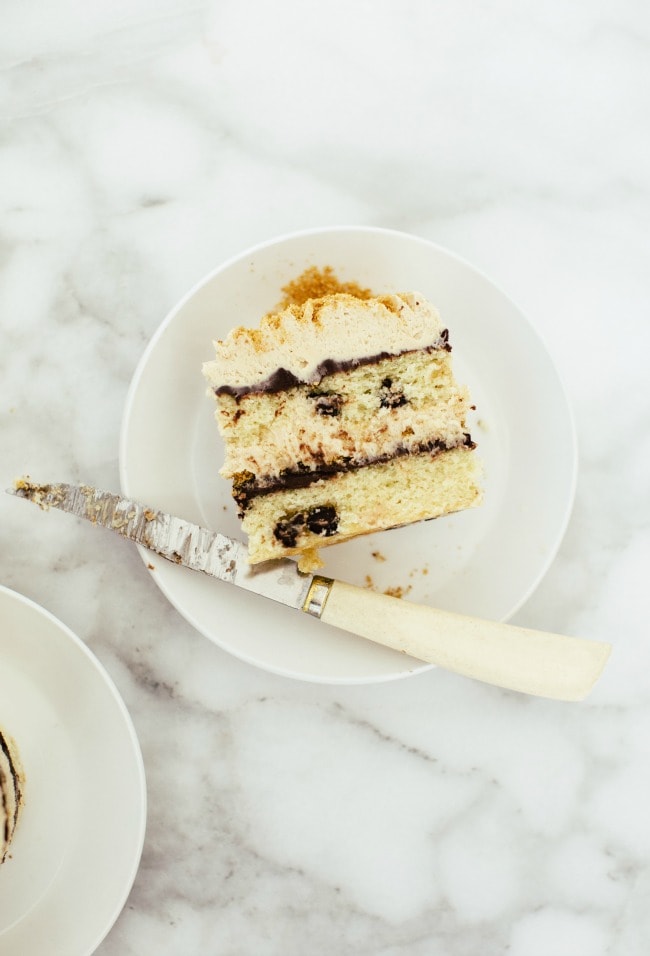 Chocolate Chip Mini Cakes with Peanut Butter Buttercream Recipe
There is enough buttercream and filling here to make this into an 8-inch layer cake instead – evenly divide the cake batter between  two 8-inch cake pans and bake for 17-28 minutes. There will be a little leftover buttercream and toasted graham crumbs if making mini cakes. I used 3-inch cake rings (similar to these (affiliate link)) to cut out and form cakes. You don't have to use them, but they are helpful. I lined mine with parchment for easy removal, but it was not fun to work with, and I would highly recommend using acetate sheets or collars (affiliate link) instead. You don't have to use them, but they help with removal and clean, neat sides. Makes 8-10 mini cakes.
Cake
3 large eggs
2 egg yolks
1 tablespoon pure vanilla extract
3/4 cup sour cream
1/4 cup buttermilk
2 cups (284g) all-purpose flour
1 1/2 cups (297g) sugar
3/4 teaspoon baking powder
3/4 teaspoon baking soda
3/4 teaspoon salt
1/2 pound (2 sticks; 227g) unsalted butter, room temperature, cut into 1-inch pieces
1 cup mini chocolate chips
Chocolate Ganache
4 ounces (113g) semi-sweet or bittersweet chocolate, chopped fine
1/2 cup heavy cream
Toasted Graham Cracker Crumbs
2 cups (200g) graham cracker crumbs (or 14 whole graham crackers, pulsed in a food processor
3 tablespoons granulated sugar
5 tablespoons (72g) unsalted butter, melted and cooled
Peanut Butter Buttercream
1 lb (4 sticks; 452g) unsalted butter, room temperature
1/2-1 cup peanut butter (see note)
Pinch salt
1 teaspoon vanilla
3 cups (339g) confectioner's sugar
Note: The recipe starts with 1/2 cup peanut butter, then adds more to taste. I liked this with 1 whole cup. I used regular, store brand peanut butter that included sugar. Not all natural peanut butters are created equal, and some don't work well in buttercream. If you are going to use a natural peanut butter, make sure you know it will work in this application.
For the mini cakes
Adjust an oven rack to the middle position. Preheat the oven to 350ºF. Grease a half sheet pan  (12 x 16 inches, with a 1-inch rim), and line the bottom with parchment paper.
In a medium bowl or liquid measuring cup, whisk the eggs, egg yolks, vanilla, sour cream, and buttermilk.
In a bowl of a stand mixer fitted with a paddle, mix the flour, sugar, baking powder, baking soda, and salt on low until combined. With the mixer running on low, add the butter one piece at a time, beating until the mixture resembles coarse sand. With the mixer still running on low, slowly add half the wet ingredients. Increase the speed to medium and beat until incorporated, about 30 seconds. with the mixer running on low, add the rest of the wet ingredients, mixing until just combined. Increase the speed to medium and beat for 20 seconds (the batter may still look a little bumpy). Scrape down the sides and bottom of the bowl, and use a spatula to mix the batter a few more times.
Pour the batter into the prepared pan and smooth the top. Scatter the chocolate chips over the top and gently press them down into the batter with a spatula. Tap the pan gently on the counter 2 times to help get rid of any bubbles. Bake 14 to 22 minutes, rotating the pan halfway through, until the cake is golden brown and a wooden skewer or toothpick inserted in the center comes out clean.
Transfer the pan to a wire rack and let cool completely. Carefully turn the cake out onto a parchment lined wire rack, remove the parchment paper the mini cake was baked on, and let cool completely.
For the ganache
Place the chocolate in a small bowl. Heat the heavy cream in a small saucepan until it is simmering and just about to boil. Pour the cream over the chocolate, cover the bowl with plastic wrap, and let sit for 5 minutes.
Remove the plastic and whisk until completely smooth. Let cool to room temperature before using.
For the crumbs
Adjust an oven to the middle position. Preheat the oven to 325ºF. Line a sheet pan with parchment paper.
Whisk the graham cracker crumbs and sugar in a medium bowl. Add the melted butter and mix with a spatula until evenly incorporated. Pour the crumbs on the prepared sheet pan, and smooth into an even layer. Bake for 8-10 minutes, until the graham crumbs are golden brown and smell delicious. Remove from the oven and let cool on a wire rack to room temperature.
For the buttercream
In the bowl of a stand mixer fitted with a paddle, beat the butter on medium until creamy. Scrape down the sides and add 1/2 cup of the peanut butter, vanilla, and salt. Mix on low until combined and then beat on medium for 1 minute. Turn the mixer to low and slowly add the confectioner's sugar, a little at a time, mixing until combined, and stopping to scrape down the sides of the bowl as necessary. Taste – add up to 1/2 more cup of peanut butter if desired. Increase speed to medium-high and beat 6-8 minutes until light and fluffy.
To assemble
Use a large biscuit cutter to stamp out the rounds (I used a 3-inch cutter), which will be your mini cake layers. Next assemble the cake, either free form, or in cake rings lined with acetate sheets (see note above recipe title). You want to assemble in this order: cake layer, chocolate ganache, graham cracker crumbs, buttercream, repeat once. Use a thin layer of ganache to cover the cake, a good scattering of crumbs to cover the ganache, and a generous amount of buttecream to cover the crumbs. The graham cracker crumbs need to be in between the ganache and buttercream so they stick. I found using a piping bag for the buttercream to be essential – that way the graham cracker crumbs wouldn't come off on my knife (the crumbs don't want to stay put). Layering the cakes in the cake rings helps with assembly, but isn't essential. Chill the mini cakes for a few hours to set, then remove from the molds while still chilled. Let the cakes come to room temperature before serving/eating.