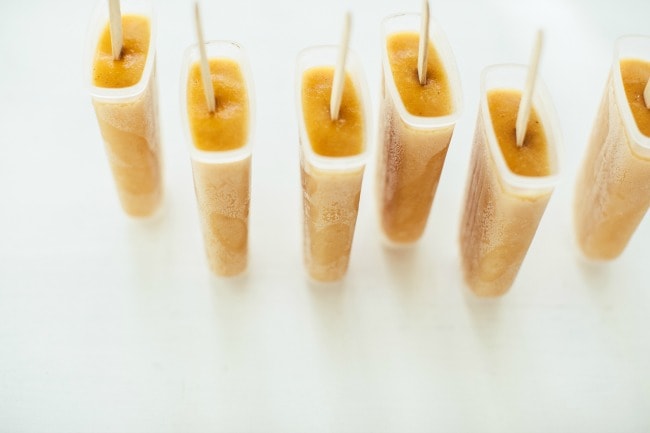 I missed Billy's Popsicle Week back in June. I stuck my popsicle molds somewhere last winter 'so I knew where they were' and then of course, couldn't find them when warm weather hit. Last week my husband gently guided me down to the basement to clean out our storage room filled with (mostly my) boxes and piles and whatnot, and lo and behold, there they were, tucked in a box marked 'random kitchen things.' So, much later, I am finally making popsicles.
But not just any popsicles. These little pretties took a bit of time to put together, but dang, they are worth it. Roasted peaches, salted caramel, simple syrup, and some bourbon make these quite the late summer evening treat. Get yourself cozy in on a pool floaty and enjoy.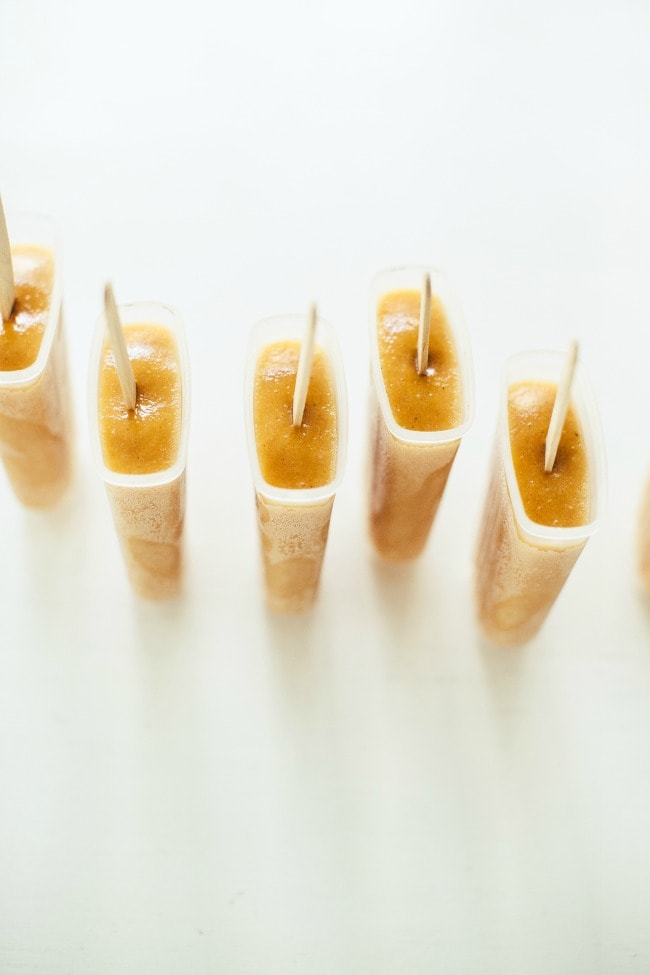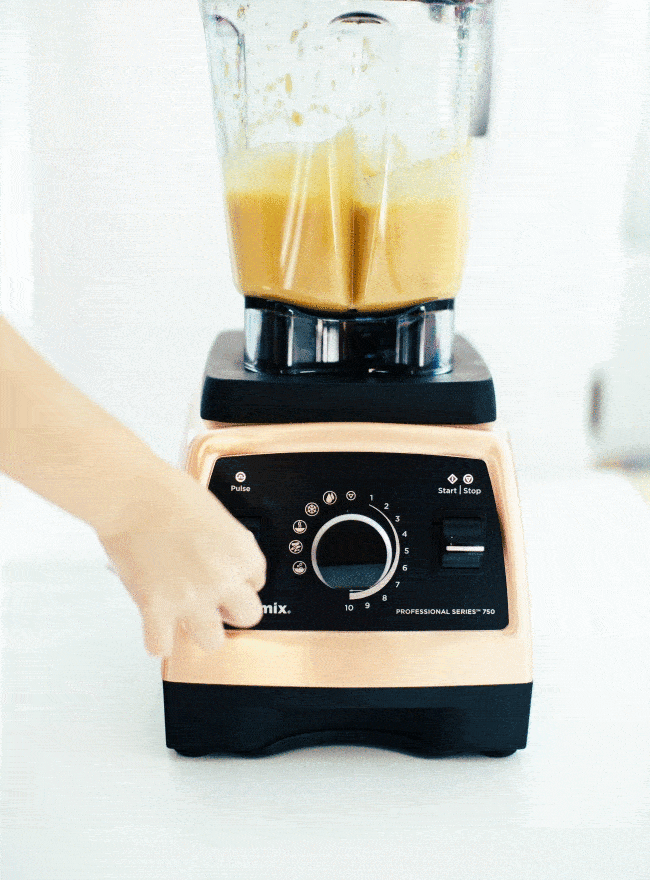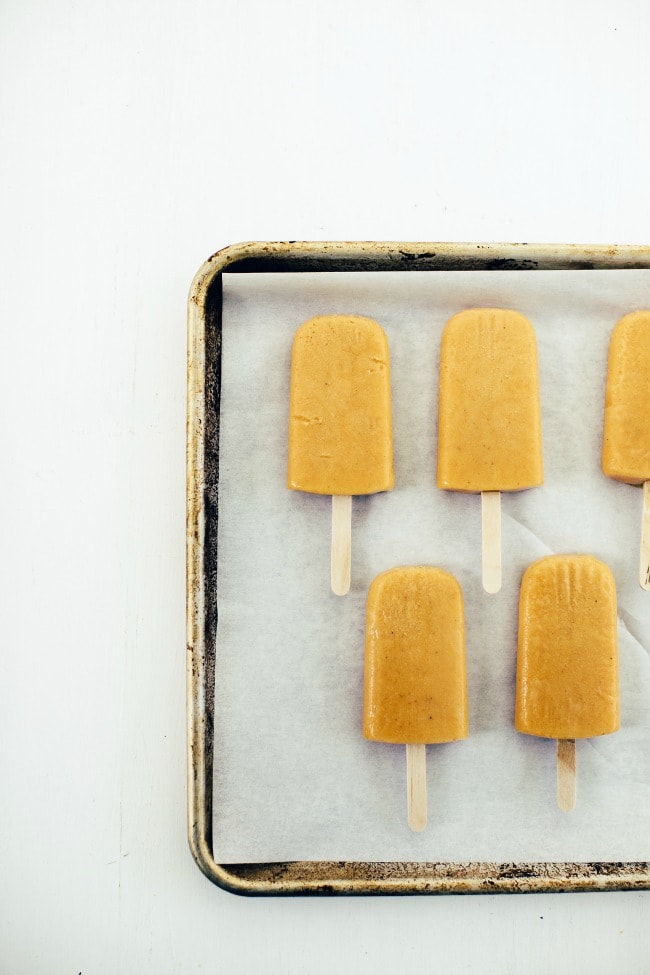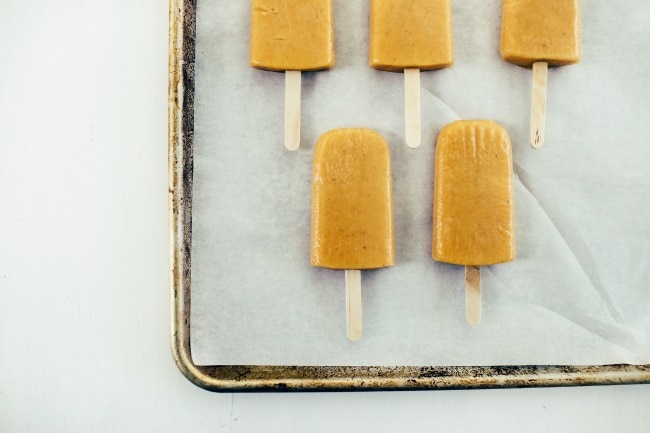 Roasted Peach and Salted Caramel Popsicles (with vanilla and bourbon)
Adapted from People's Pops by Jordi, Carrell, and Horowitz. Ten Speed Press 2012.
The salted caramel and simple syrup can be made ahead of time, and refrigerated. You will have a little caramel and simple syrup left over. I have these popsicle molds, and they work well – I just didn't use the lids, and put sticks in instead.
1 pound 5 ounces peaches (4 to 5 peaches), peeled and halved
1 teaspoon pure vanilla extract
1-2 tablespoons bourbon
Salted Caramel
1/2 cup (99g) granulated sugar
2 tablespoons unsalted butter
1/4 cup heavy cream
1/4-1/2 teaspoon salt
Simple syrup
2/3 cup (132g) granulated sugar
2/3 cup water
Pinch salt
1 vanilla bean, seeded and scraped
For the peaches
Preheat the oven to 350F. Line a half sheet pan with parchment paper.
Place the peaches cut side down on the prepared pan. Bake until softened, about 20 minutes. Remove from the oven and let cool.
When cool enough to touch, remove and discard the pits, and place the peaches in a blender or food processor. Whiz the peaches, until smooth. You should have about 2 cups of puree. Add the vanilla extract and bourbon (1 or 2 tablespoons, depending on how you like it) to the puree, and mix to combine.
While the peaches are roasting, work on the caramel and simple syrup.
For the caramel
Place the sugar in a medium heavy-bottomed saucepan and melt it over high heat until it darkens to a light amber color. Add the butter and stir. Once the butter melts, take the pan off the heat and add the cream very, very slowly (it will sputter a bit, so be careful!). Add the 1/4 teaspoon salt, and shake the pan to combine. Add more salt to taste. Let cool to room temperature. (If the caramel hardens once cool, you can gently heat it in the microwave to soften it again.)
For the simple syrup
Combine the sugar, water, salt, and vanilla bean seeds and pod in a small saucepan. Bring to a simmer over medium-high heat, stirring until the sugar dissolves completely and the mixture is transparent. Turn off the heat and let cool. Once cool, remove the vanilla bean pod and discard.
To finish
Transfer the pureed peaches to a bowl or liquid measuring cup with a pour spout and add 1/2 cup of the caramel, and 3/4 cup of the simple syrup. Stir until well incorporated. Taste, adding more simple syrup if desired.
Pour the peach mixture into ice pop molds, making sure to leave a little room at the top for the mixture to expand. Insert the sticks and freeze until the pops are solid, 4-5 hours. Unmold and transfer to a plastic bag for storage, or serve immediately.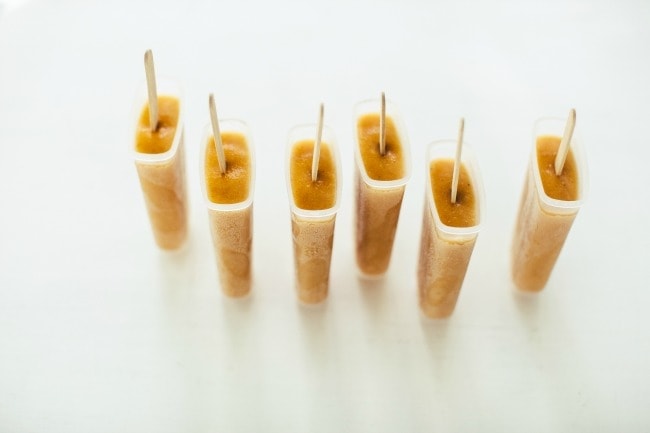 Thanks so much to Williams-Sonoma for providing the Vitamix.