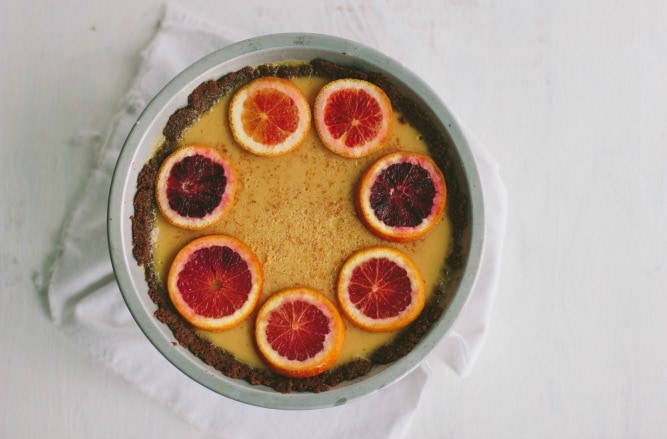 So, I'm on this blood orange kick. I keep buying bags of them, cutting them open one by one, just to see their pretty purple pieces stare back at me. I've eaten so many, hoping for inspiration, something new I can make with them. And then the idea came one afternoon, as I was scrubbing purple juice off my hands: blood orange pie. I am crazy about key lime pie – could I just trade some orange juice and zest and make some sassy dessert?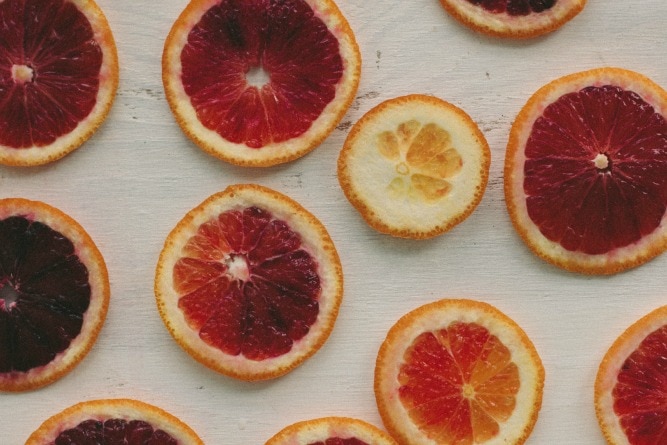 Yes, yes I could. And when I took my first bite, my mind immediately went to humid summer evenings, where my sister and I were tucked downstairs in the only corner of our house that was cool. There, stashed in the freezer, was a box of orange dreamsicles; our perfect summer treat. We would eat them slowly, the cold ice cream helping us momentarily forget our friend's air conditioned homes where sleep came easy.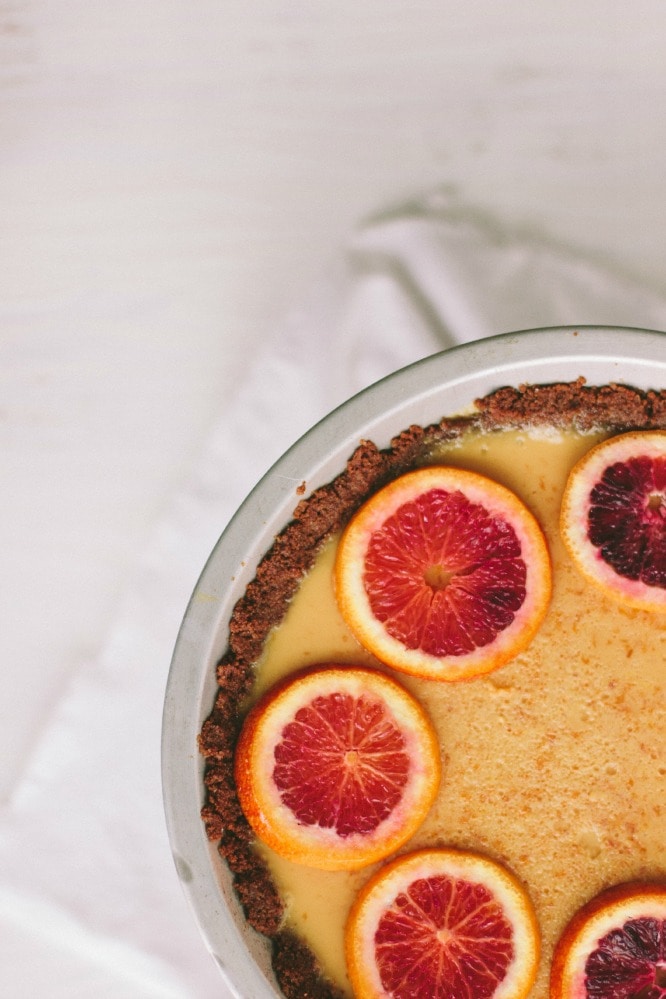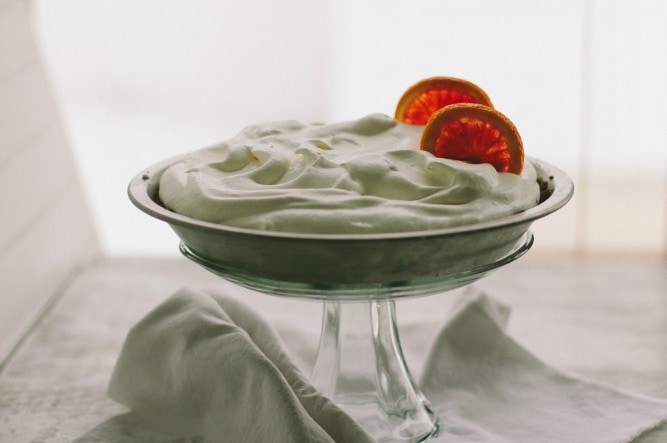 Blood Orange Pie
This recipe is adapted from America's Test Kitchen's recipe for Key Lime Pie. I tweaked it a bit – added vanilla and, of course, blood oranges. You could use regular oranges as well, if you can't find blood oranges. Don't worry about the color of the filling as you mix it with the sweetened condensed milk – it may look a little purplish-grayish, but I found it turned a nice rusty orange when the filling had set. You could always add a drop or two of food coloring if you want it to be a vibrant orange.
In the pie in the photos above I used homemade graham crackers – they were made with graham and teff flour, and are much darker than normal ones. I didn't prefer them- the crust didn't bake up quite right and was a tiny bit soggy. I would suggest store bought here. Also, I didn't serve the pie with the blood orange slices – I highly recommend a pile of whipped cream on top, to balance the flavors.
NOTE: Several people have commented they are having trouble getting this pie to set. I have made this pie (and various versions of key lime and lemon) with good results many times over the years, but apologize for the trouble readers are having. If your pie hasn't set, it could be that your oven temperature is off (this is a frequent problem with home ovens). Using an oven thermometer to check that your temperature is correct can help. Also, the directions for "set but still wiggly" might mean different things to different readers, so I've changed that to indicate that it should be set and mostly firm with just the slightest jiggle.
blood orange filling
1 tablespoon grated blood orange zest
1/2 cup strained blood orange juice
4 large egg yolks
1 tablespoon vanilla
1 [14 ounce] can of sweetened condensed milk
Whisk (by hand) the zest and yolks in a bowl until tinted light orange, about 2 minutes. Whisk in the sweetened condensed milk, vanilla, then orange juice; set aside at room temperature to thicken.
graham cracker crust
11 full sized graham crackers, processed to fine crumbs [1 1/4 cups]
3 tablespoons sugar
5 tablespoons unsalted butter, melted
Adjust oven rack to center position and heat to 325. Mix graham cracker crumbs and sugar together. Add butter, and stir until well blended. Put the mixture into a 9 inch pie plate. Press crumbs evenly on bottom and up sides of the plate. Refrigerate crumbs for 20 minutes. Bake until lightly browned and fragrant, about 15 minutes. Transfer to a wire rack and let cool slightly.
Pour blood orange mixture into the warm crust, and bake until center is set and firm, but has the just slightest jiggle, 16 to 20 minutes (please read above note about baking time). Return pie to wire rack and let cool. Refrigerate until well chilled, at least 3 hours.
whipped cream
1 1/2 cups heavy cream, chilled
1 1/2 teaspoons sugar
1/2 teaspoon vanilla
Add cream, vanilla and sugar to a chilled mixer bowl. Beat on low speed until small bubbles form, about 30 seconds. Increase speed to medium and and continue beating, about 30 seconds. Increase speed to high and continue beating until cream is smooth, thick, and nearly double in volume, and 30 seconds. Spread whipped cream on chilled pie and serve.