The days aren't discarded or collected, they are bees
that burned with sweetness or maddened
the sting: the struggle continues,
the journeys go and come between honey and pain.
No, the net of years doesn't unweave: there is no net.
They don't fall drop by drop from a river: there is no river.
Sleep doesn't divide life by halves,
or action, or silence, or honor:
life is a stone, a single motion,
a lonesome bonfire reflected on the leaves,
an arrow, only one, slow or swift, a metal
that climbs or descends burning in your bones.
-Pablo Neruda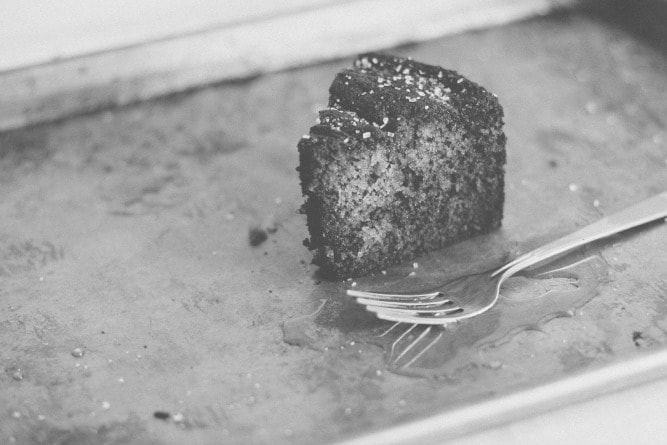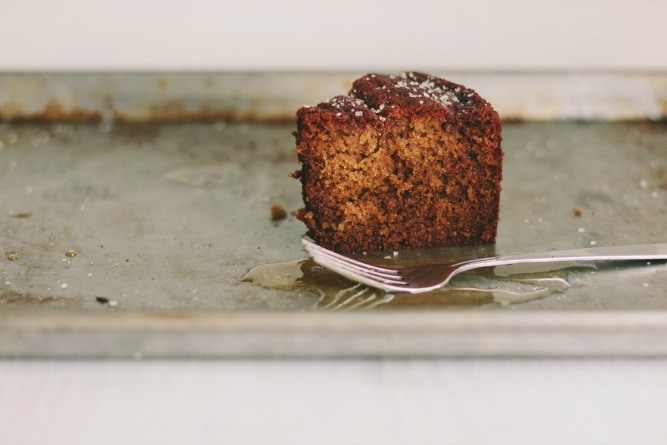 Honey Cake with Fleur de Sel
There are so many recipes for honey cake out there, but one Friday  morning I decided to tinker with my own. I love honey and coffee and butter together [like in this syrup], but most of the cakes I found were made with oil and piles of sugar and piles of spices. I found I still needed some sugar with the honey, but I mostly just wanted to highlight those three ingredients. The warm honey topping was inspired by this cake [isn't that top so so pretty?], and I saw the honey-salt combination in many places; it seemed perfect.
The texture of this cake reminds me of this bread, which is one of my favorites, but one I like best with nuts. Next time around, I would add 1 1/2 cups of almonds, or pecans, or walnuts here. Also, cacao nibs? I feel I've been overusing them, but I would probably throw those in. And, I didn't brush the sides with the warm honey initially [only the top] and highly regretted it. That sticky-salty topping is the very best part of this cake. So go for it. [You can sprinkle some sanding sugar on top along with the salt, if you want to balance the saltiness a bit. It makes everything more sparkly, too, which is never a bad thing].
2 1/2 cups all purpose flour
2 teaspoons baking soda
1/2 teaspoon baking powder
1 teaspoon salt
1 cup [2 sticks] butter, room temperature
1 cup [good] honey
3/4 cup sugar
3 eggs
1/2 cup strong brewed coffee, cold
2 tablespoons sour cream
1 1/2 cups chopped nuts [optional, see note above]
Preheat oven to 350. Grease a 10-inch tube pan.
Whisk together flour, baking soda, baking powder, and salt in medium bowl, set aside.
In a standing mixer, beat butter for a minute or two, then add the honey and sugar. Beat for 3-5 minutes, until light and fluffy. Add eggs one at a time, beating well after each addition [batter may appear a little curdled here – no worries. It will even out when you add the flour]. Add half the flour mixture, and mix until combined. Add the coffee, and mix until combined. Add the remaining flour and mix until combined. Add the sour cream [and nuts, if using] and beat the batter for a minute, until smooth. Pour/scoop the batter into the prepared pan, and smooth the top. Bake cake for 40-50 minutes, until a toothpick comes out clean. Let cool in the tube pan for 30 minutes, the gently invert the cake onto a rimmed baking sheet; remove the tube pan, place a wire rack on top of the cake, and invert the cake again. While the cake is still warm, pour the warm honey mixture over the top , and use a pastry brush to brush some on the sides. Sprinkle with fleur de sel.
warm honey topping
1/2 cup honey
2 tablespoons coffee [optional]
fleur de sel
Heat the honey and coffee if using in a small saucepan until warm and very runny.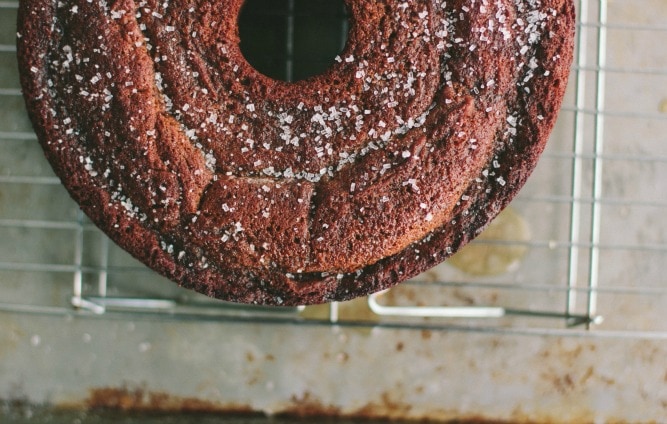 honey honey out on the sea |In the doldrums waiting for me | Me in my boat searching for he | honey honey food for the bees – Leslie Feist