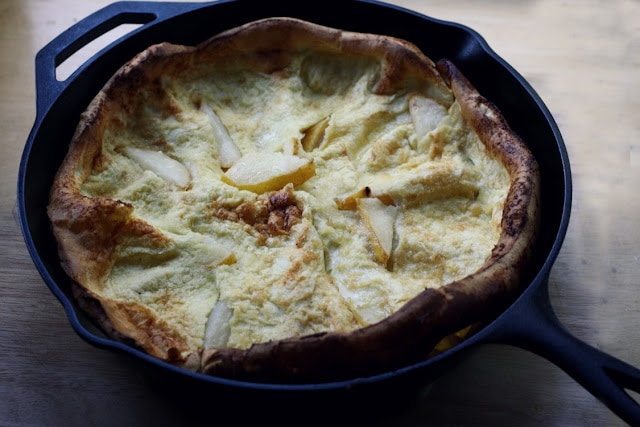 Growing up, big breakfasts were a weekend affair. During the week, it was every man for himself; my morning meal usually consisting of a heaping bowl of cereal overflowing with milk. Saturdays, though, would get a little fancy. Mom would whisk up some pancake mix, and we would slather those warm golden circles with plenty of syrup; all the cares of the week disappearing into that river and a side of bacon.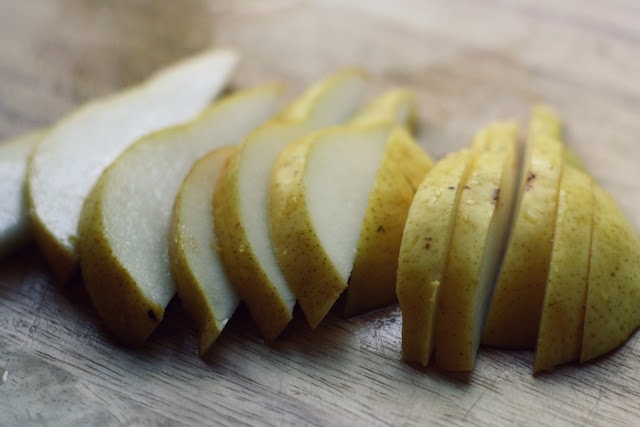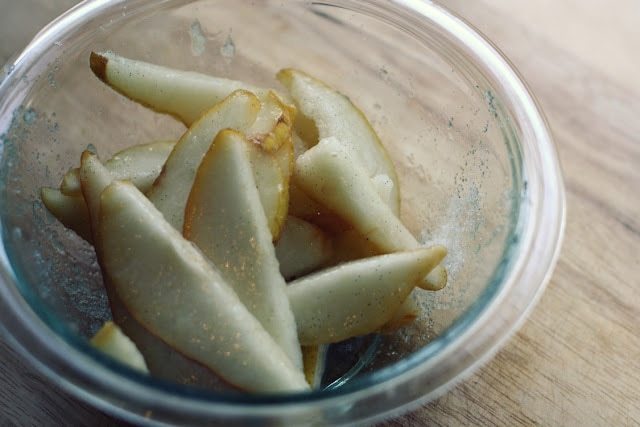 Saturdays still hold their sophisticated edge around here. During the week the kids beg for cocoa wheats and bagels, but weekends we take our time with things: breakfast is a family affair, a process we enjoy from start to finish. Puffed pear pancake is one of our favorites, and we rejoice when the piping hot skillet is pulled from the oven, displaying an elevated pancake of glory. Pears, vanilla bean, a touch of maple syrup; our cares fall away at first bite.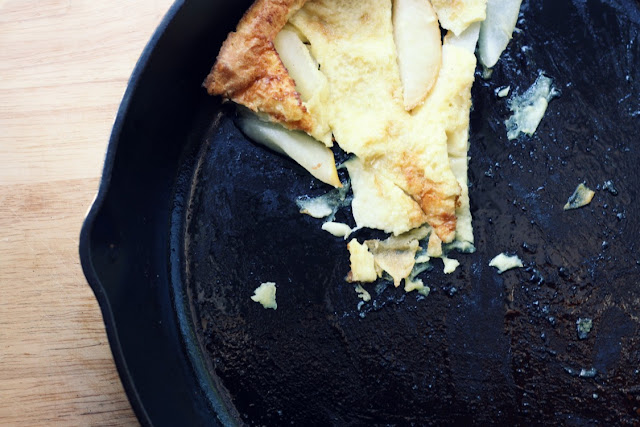 Puffed Pear Pancake
adapted from Real Simple Magazine
If you do not have vanilla bean sugar, you can substitute plain white sugar and 1/2 vanilla bean. You can also omit the vanilla bean and use 3/4 teaspoon cinnamon. I've occasionally added other fruit in with the pears – blueberries, strawberries, etc, and it has turned out really nice. I like to put an oven mitt over the handle after I remove it from the oven – we've had some burns due to accidentally touching the hot handle. This recipe can work in a 10 inch skillet – it will just puff up around the sides more.
3 eggs
3/4 cup whole milk
3/4 cup flour
1 teaspoon vanilla
1/4 teaspoon salt
1 ripe pear, thinly sliced
2 tablespoons vanilla bean sugar* or 2 tablespoons sugar
1/2 vanilla bean, scraped [if not using vanilla bean sugar]
2 tablespoons butter
Preheat the oven to 450. Place a 12 inch cast iron skillet [or other oven safe skillet] in the oven to warm it. In a small bowl, toss pears with the vanilla bean sugar. In a medium bowl, whisk together eggs, milk, vanilla, vanilla bean [if using] and salt. Slowly whisk in the flour until smooth.
Carefully remove the heated skillet from the oven and add the butter, swirling until it is melted. Arrange the pears in a single layer. Pour any leftover sugar/pear juice over the pears, and pour in the batter evenly on top.
Return the skillet to the oven and bake 20-25 minutes, or until puffed and golden brown. Serve with maple syrup.