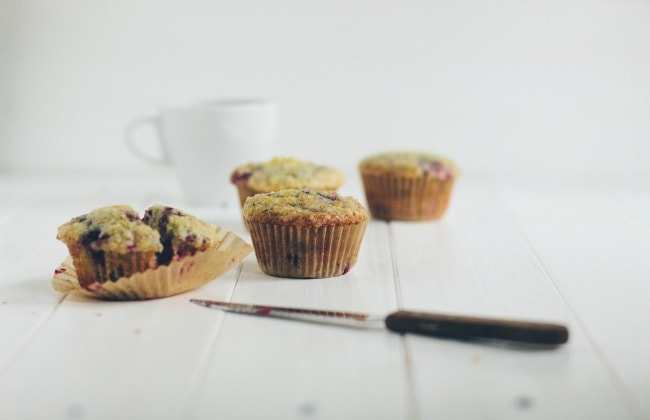 Earlier this week I posted about blueberry muffins, and then decided I should do a follow up on all the other muffins to be made with the recipe. There are lots of options, and lots of room for experimenting. This recipe is fairly straightforward and easy to put together, making weekend entertaining a breeze.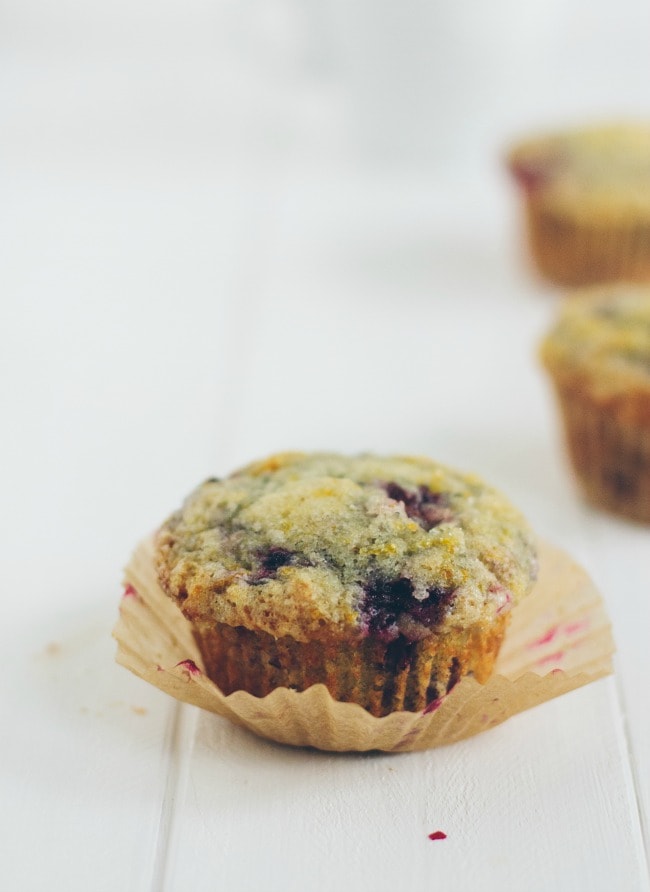 Basic Muffin Recipe
adapted from the Blue Heron Coffeehouse
There are lots and lots of possibilities here. Be creative, but remember not to add more than 1 1/2 cup of any fruit/nut/chocolate combination – otherwise your muffins many fall apart. This recipe makes 12-14 muffins. The muffins pictured above are blackberry-orange, and is listed below the basic recipe, under 'other flavors'. Top muffins with streusel or a sprinkling of sugar.
Basic Fruited Muffins with Streusel
2 1/2 cups all purpose flour
1 teaspoon baking soda
1 teaspoon baking powder
1/2 teaspoon salt
1 teaspoon cinnamon
1 1/4 cups buttermilk
3/4 cup canola oil
1 egg
2 teaspoons vanilla
1/2 cup sugar
1 1/2 cups fruit, diced into bite sized pieces
Preheat oven to 375. Line two muffin tins.
Combine flour, baking powder, baking soda, salt and cinnamon in a large bowl. Whisk together, and make a well in the center. Combine oil, buttermilk, vanilla, sugar, and eggs. Whisk wet ingredients together and pour over the dry ingredients. Mix wet ingredients together until almost mixed. Add fruit and finish mixing until just combined, being careful not to over mix.
Scoop batter into prepared pans, filling the muffin cup to the top. Sprinkle with streusel . Bake until muffin edges are golden brown and a toothpick inserted comes out with the very tiniest bit of crumb, 18-22 minutes.
Streusel
1/2 cup + 4 tablespoons flour
1/3 cup sugar
1/3 cup brown sugar
1 teaspoon cinnamon
1/2 cup pecans, almonds, walnuts or oats
1/4 teaspoon salt
5 tablespoons melted butter
Combine flour, sugars, nuts or oats, cinnamon and salt in a bowl. Add melted butter and combine until streusel forms into pea-sized pieces. Top the muffins with even amounts of streusel.
other flavor ideas:
blackberry-orange: Omit cinnamon. Add 1/4 cup fresh squeezed orange juice to the liquid ingredients. Add 1 tablespoon orange zest to the dry ingredients. Use 1 1/2 cups blackberries (chop if the blackberries are very large). Top with orange-sugar: combine 1 teaspoon orange zest with 1/2 cup sugar, use your fingers to combine. Sprinkle mixture over tops.
espresso chocolate chip: Omit cinnamon. Use 1 cup buttermilk plus 1/4 cup cold press or cold, strong brewed coffee. Substitute 1 cup chocolate chips for the fruit. Sprinkle tops with sugar.
cherry almond: Replace vanilla with almond extract. Use 1 cup chopped and pitted cherries, and 1/2 cup toasted almonds. Sprinkle tops with sugar and a small amount of toasted almonds.
ginger peach: Replace cinnamon with 1/2 teaspoon ground ginger. Use 1 1/4 cup diced peaches, and 1/4 cup diced crystallized ginger. Top muffins with sugar [the sugar at the bottom of the crystallized ginger bag makes these extra yummy!]
fruit + chocolate muffins: use 1 cup diced fruit of your choice [raspberries, blackberries and bananas are especially good] and 1/2 cup chopped chocolate of your choice. Sprinkle tops with sugar.
fruit + nut muffins: use 1 cup diced fruit of your choice and 1/2 cup chopped toasted nuts of your choice. Top with streusel.