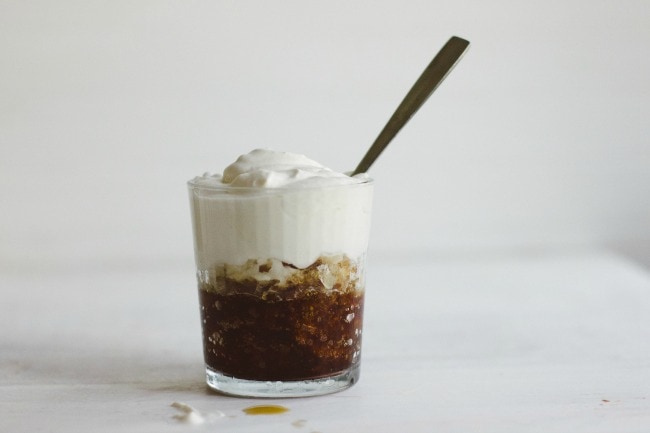 I have only recently become someone who likes to have the occasional alcoholic beverage. Throughout my preteen and young adult years it was common to hear phrases such as 'goody two shoes' hurled at me by friends and enemies alike; however, I'll save delving deeper into those stories for a much sadder day. The only thing you need to know now is that although the thought of not being in complete control of everything my evening activities absolutely terrifies me, I do enjoy a drink. Usually I opt for a nice cold beer or Crispin hard cider, but this sassy number has my name all over it. It's the perfect potion: frozen, slushy coffee, hazelnut liqueur, and whipped cream infused with maple syrup, all in one tall, beautiful glass. Cheers to you, to me, to things that only make us stronger, and all of life's funny little hang ups.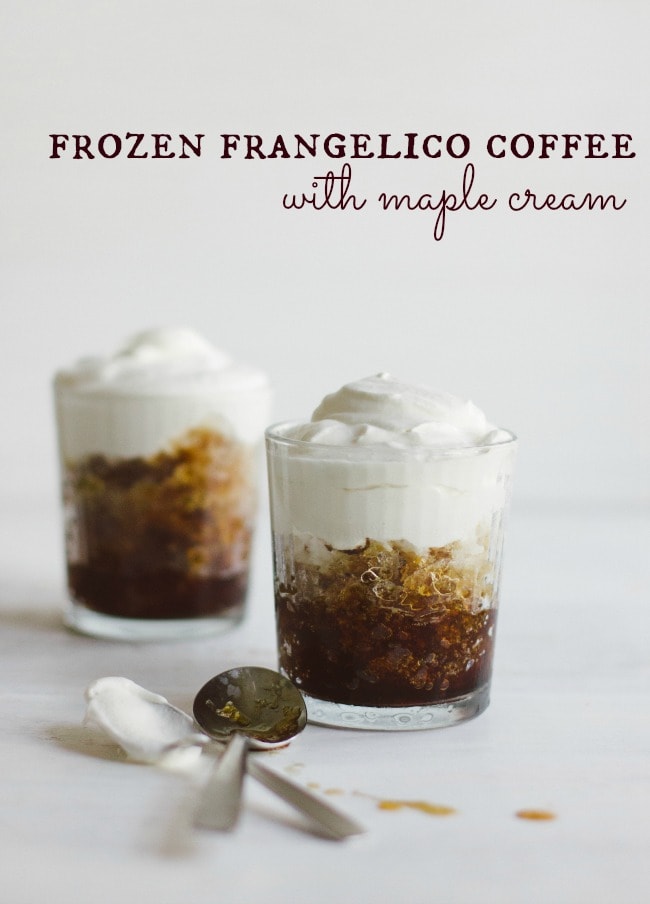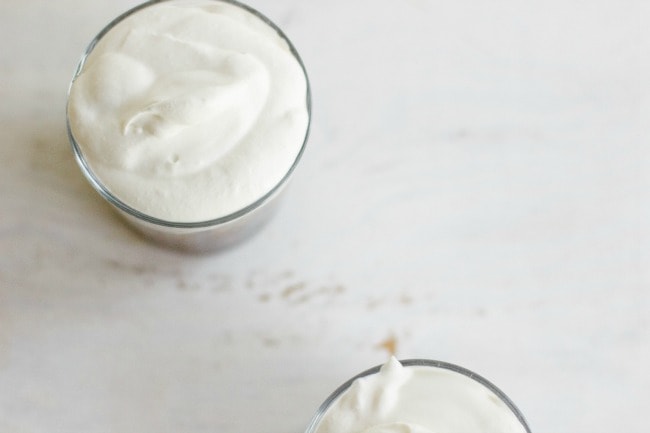 Frozen Frangelico Coffee with Maple Cream
You can double the amount of heavy cream and maple syrup, making this an extra awesome dessert type drink. I might have done that.  I think honey would also be a good substitute for the maple syrup – you might not need as much, however. I would start with 3 tablespoons and taste from there. I used cold press for my cold coffee, which is a very strong concentrated coffee, but any strong, cold brewed coffee will do.
4 cups strong cold coffee
1 cup Frangelico
2/3 cup heavy cream
6 tablespoons pure maple syrup
Stir cold coffee and Frangelico together in a bowl. Transfer to the freezer, and chill until slushy but slightly frozen, anywhere from 4-6 hours. Stir the mixture several times during this time.
Whisk heavy cream in a standing mixer until soft peaks are just forming. Add maple syrup and whisk until soft peaks return.
To serve: divide coffee mixture among 4-6 glasses and  top with equal amounts of whipped cream.