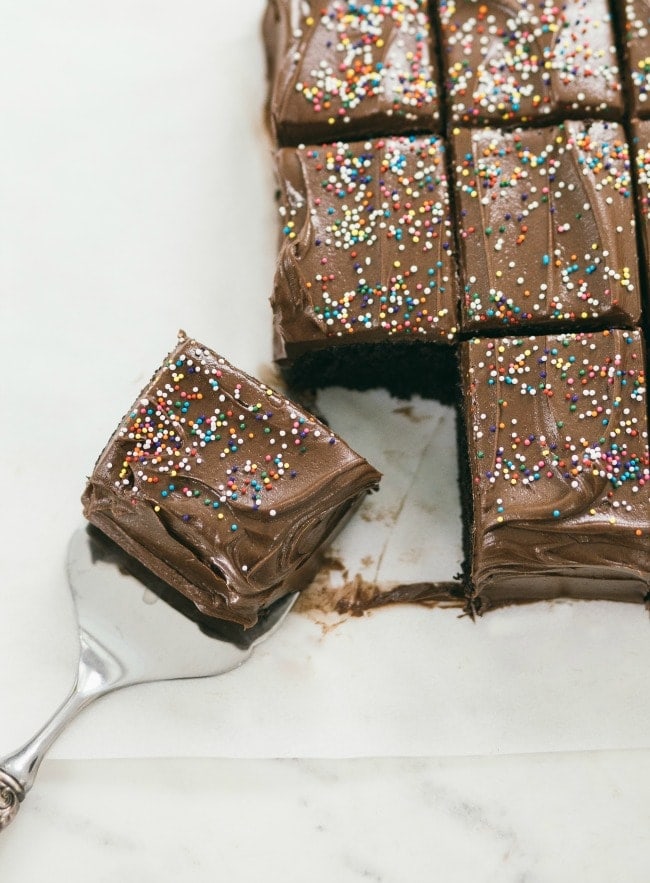 I posted a picture of a chocolate snack cake on Instagram this week and had many requests for a recipe, so here it is. I've featured a snack cake on my site before, but found that cake recipe to occasionally sink in the middle, so I'm offering you this one instead. It is based on my favorite cake recipe, is tried and true, and is very chocolatey and moist. I bake it in two square cake pans, and while it is as decadent as any regular two-layer cake, it feels 'snacky' and simple being served in just one layer.
************************************
A few other things:
Zoe made my white cake today in red velvet form, you can find the recipe here.
The Saveur blog awards are now open; you can vote for your favorite bloggers here.
I posted these Ham and Cheese Brioche Sandwiches on Bread in 5 a few weeks ago, but forgot to point them out here. They are pretty tasty.
I'll be back this weekend with another post, and another Mauviel giveaway! Stay tuned!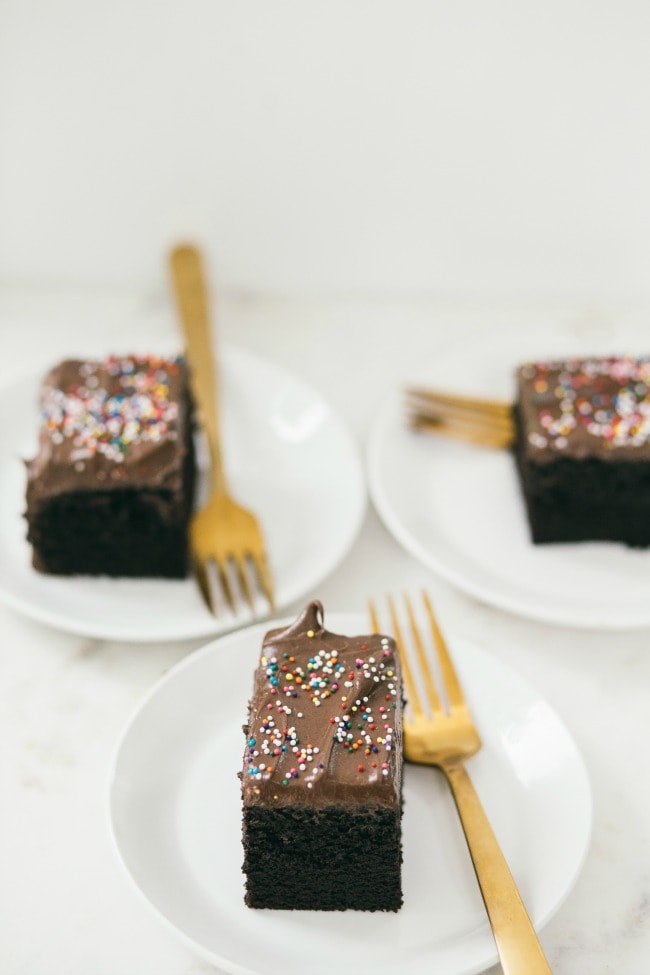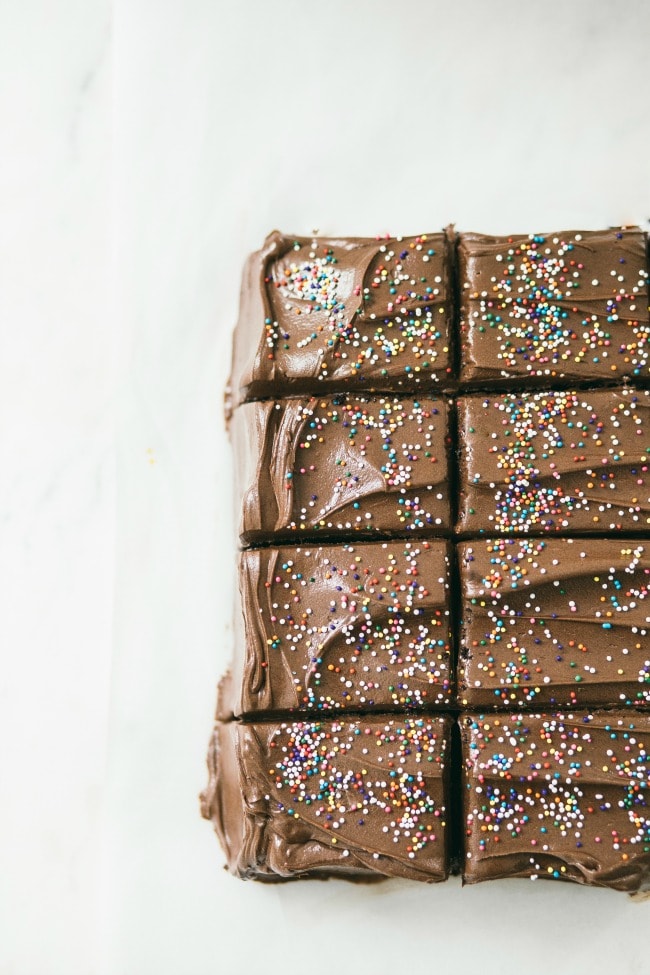 Chocolate Snack Cake
This recipe makes enough for two snack cakes, and buttercream for two snack cakes. Both the cake base and the buttercream freeze well, so if you only want to serve one, you can freeze the other one (and half the buttercream) to use at another time. I would suggest freezing the cake layer and buttercream separately, and then assembling when they have come to room temperature (you will have to rewhip the buttercream a little bit before spreading). You can also bake this in a 9 x 13-inch pan which will give you a nice thick cake, or a half sheet pan (12 x 16 inches, with a 1-inch rim) for a thinner cake (you might want to double the buttercream if you go this route, unless you want both to be a thin layer). If using these other pans, you can frost the cakes right in the pan and serve.
Cake
3 ounces (85g) bittersweet chocolate
1 cup hot water (hot coffee works, too)
1/2 cup sour cream
1/2 cup whole milk
1/2 cup canola oil
3 large eggs, room temperature
1 teaspoon pure vanilla extract
2 cups (284g) all-purpose flour
2 cups (396g) granulated sugar
3/4 cup (75g) Dutch process cocoa powder
2 teaspoons baking soda
1 teaspoon baking powder
1 teaspoon salt
Chocolate Buttercream
8 ounces (226g) semisweet chocolate, chopped
1 1/2 cups (339g | 3 sticks) unsalted butter, room temperature
1 teaspoon pure vanilla extract
2 tablespoons corn syrup
1/4 teaspoon salt
2 cups (226g) confectioners' sugar
Sprinkles, if desired
For the cake
Adjust an oven rack to the middle position. Preheat the oven to 350F. Butter and flour two 8 by 2-inch square cake pans (see note above for other pan options) and line the bottoms with parchment paper.
Put the bittersweet chocolate in a small bowl. Pour the hot water over it and cover with a piece of plastic wrap. In a medium bowl or liquid measuring cup, whisk the sour cream, milk, canola oil, eggs, and vanilla.
In the bowl of a stand mixer fitted with a paddle, mix the flour, sugar, cocoa powder, baking soda, baking powder, and salt on low until combined. With the mixer running on low, slowly add the sour cream mixture. Increase the speed to medium and beat until combined, 20-30 seconds.
Whisk the chocolate and hot water together until completely smooth. With the mixer running on low, slowly pour the chocolate mixture into the batter and mix until just combined. Using a spatula, give the batter a couple of turns to make sure it is fully mixed.
Pour the batter evenly into the prepared pans. Bake 25-35 minutes, until a wooden skewer or toothpick comes out with the tiniest bit of crumb.
Transfer the cakes to a wire rack and let cool for 30 minutes. Turn the cakes out onto a half sheet pan lined with parchment paper, remove the parchment paper from the bottom of the cakes, and let the cakes cool completely upside-down (this will help deflate any doming). Once cool, the cakes can be wrapped in plastic and refrigerated overnight or frosted.
For the buttercream
Put about 1 inch of water in a medium saucepan and bring it to a gentle boil.
Melt the chocolate in a heatproof bowl set over the pan of boiling water, being careful not to let the water touch the bottom of the bowl. Stir constantly until just melted and set aside to cool slightly.
In the bowl of stand mixer fitted with a paddle, beat the butter on medium until light yellow and fluffy, about 3 minutes. Add the vanilla, corn syrup, and salt and beat on medium until combined. Turn the mixer to low and gradually add the confectioners' sugar. Beat at medium, stopping to scrape down the sides of the bowl as necessary, until smooth and creamy, 2-3 minutes. Add the chocolate and mix on low speed until no streaks remain.
To assemble
Use half the buttercream on each cake, and frost as desired. Decorate with sprinkles if also desired.