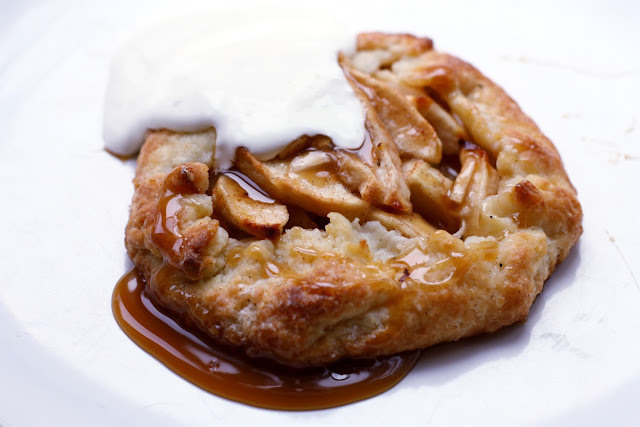 I've always loved making tarts. Pies are homey, cakes are fancy, and tarts fall somewhere in between. They can be rustic or sassy, laid back or all dressed up.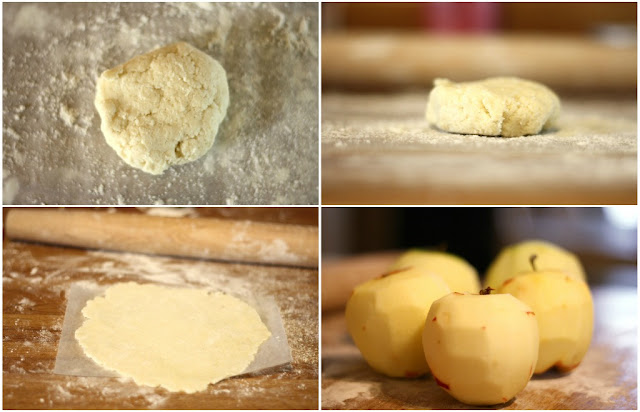 I find I make tarts a lot for dinner guests. I used to always try to make them fancy – I used a tart pan, precooked the crust, added layers of fruit or chocolate. It was time consuming. Lately I've found myself going the rustic route. It still takes just as much time, but I love shaping the dough with my hands, letting it take it's own shape and size.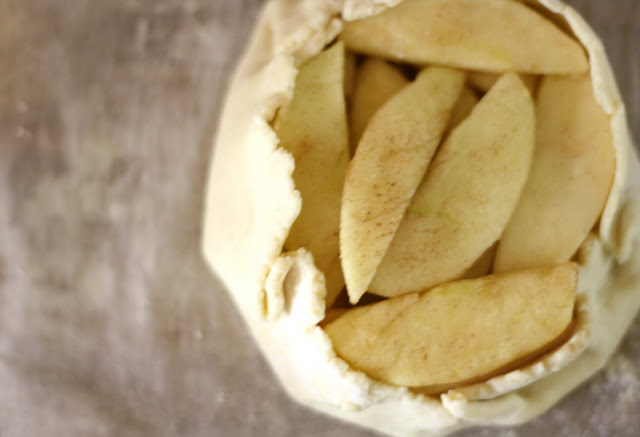 These apple tartlets are a great dessert. They can be very rustic, or you can dress them up a bit. Their dainty size gives them a cute factor, but drizzled with caramel and bourbon whipped cream on the side makes them grown up, and maybe a little sexy.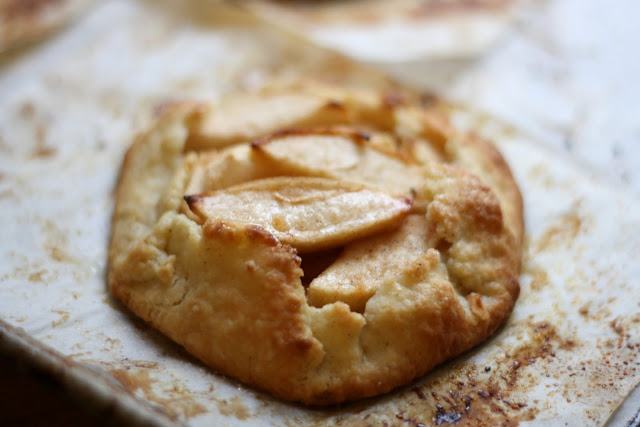 Rustic Apple Tartlets
adapted from Cooks Illustrated
tart dough
1 1/4 cup flour
2 tablespoons sugar
1/4 teaspoon salt
8 tablespoons butter, cold and cut into 1/2 inch pieces
4 ounces cream cheese, cold, cut into 1/2 inch pieces
1-3 tablespoons ice water
In a food processor, pulses flour, sugar and salt to combine. Add butter and cream cheese, pulse until mixture is sandy, with small pebble like curds, 10-12 pulses. Turn mixture into a bowl.
Sprinkle 1 tablespoon ice water over the mixture. Use a spatula to distribute water into the flour mixture until a small portion of the dough holds together when squeezed into the palm of your hand, adding up to 2 tablespoons more water if needed [mixture will look dry even after liquid is added]. Turn dough onto a dry work space; gather and gently press together into a cohesive ball, then flatten into a rough disk. Cut dough into 6 equal pieces, shaping each piece about 3 inches wide. Place disks in a single layer on flat plate, wrap in plastic and refrigerate until firm, about 30 minutes.
Remove dough from fridge. Working one at a time, roll out disks into circles about 6 inches wide. Place disks on parchment cut squares slightly larger than the disk. Stack on a plate, cover with plastic wrap and refrigerate while preparing fruit.
apple filling
1 1/4 pounds granny smith apples [about 3 medium]
1 1/4 pounds gala apples [about 3 medium]
2 tablespoons lemon juice
1/4 cup sugar
2 tablespoons sugar
1/4 teaspoon cinnamon
Adjust one oven rack to the highest position and the other rack to the lowers; heat oven to 400 degrees. Peel, core and cut apples into 1/4 inch thick slices and toss with the lemon juice, 1/4 cup sugar and cinnamon. Arrange parchment lined dough rounds in a single layer on the work surface. Arrange about 1 cup apple slices, thick edges out in a circular mound, leaving 1 inch border of dough. Fold dough border up over filling, pleating dough to fit snugly around apples. With cupped hands, gently press dough to filling, reinforcing shape and compacting apples. Slide 3 tartlets on to each of 2 cookies sheets. Brush crust with water and sprinkle crusts and apples with the remaining 2 tablespoons of sugar.
Bake tartlets until pale golden brown, about 15 minutes. Rotate pans, and bake until crust is deep golden brown and the apples are tender, about 15 minutes longer. Cool on cookie sheets 5 minutes; transfer to cooling rack.
Bourbon-Vanilla Bean Whipped Cream
whipped cream
1 1/2 cup heavy cream, chilled [preferably pasteurized or pasteurized organic]
1 1/2 tablespoons sugar
1 tablespoon bourbon
1/2 vanilla bean, seeds scraped
Chill a bowl and beater of electric mixer in a freezer for a least 20 minutes. Add cream, sugar, bourbon and vanilla bean seeds to a chilled bowl. Beat on low speed until small bubbles form, about 30 seconds. Increase speed to medium and continue beating until beaters leave a trail, about 30 seconds. Increase speed to high and continue beating until cream is smooth, thick, and nearly doubled in volume, about 30 seconds until stiff peaks form. If necessary, finish beating with whisk to adjust consistency.
Serve on the side. Drizzle tartlets with caramel as well, if desired.