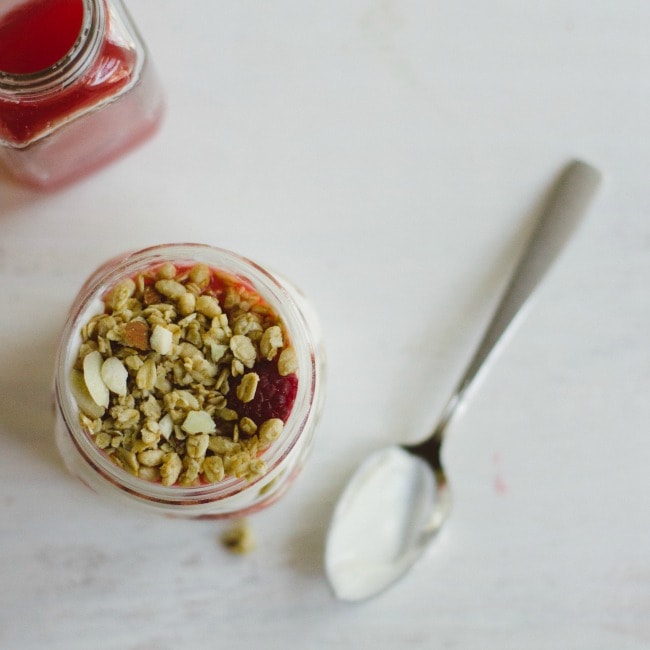 I spent this past weekend in a lovely stupor: spring arrived! finally! I was barefoot in the backyard, spending every waking moment basking in the warm sun. There were sassy coffee drinks to sip with good friends, dinner dates and long walks, spring cleaning and windows wide open all through the night. I even got to spend some time with Mr. Hemingway on our front porch; his well-known words lived out among us: we ate well and cheaply and drank well and cheaply and slept well and warm together and loved each other. He left me with a notebook scrawled with quotes and too many unfinished thoughts.
But, they will just have to wait, for there is lettuce to plant and bikes to ride and ice cream stops to make and hands to hold on a perfect spring day.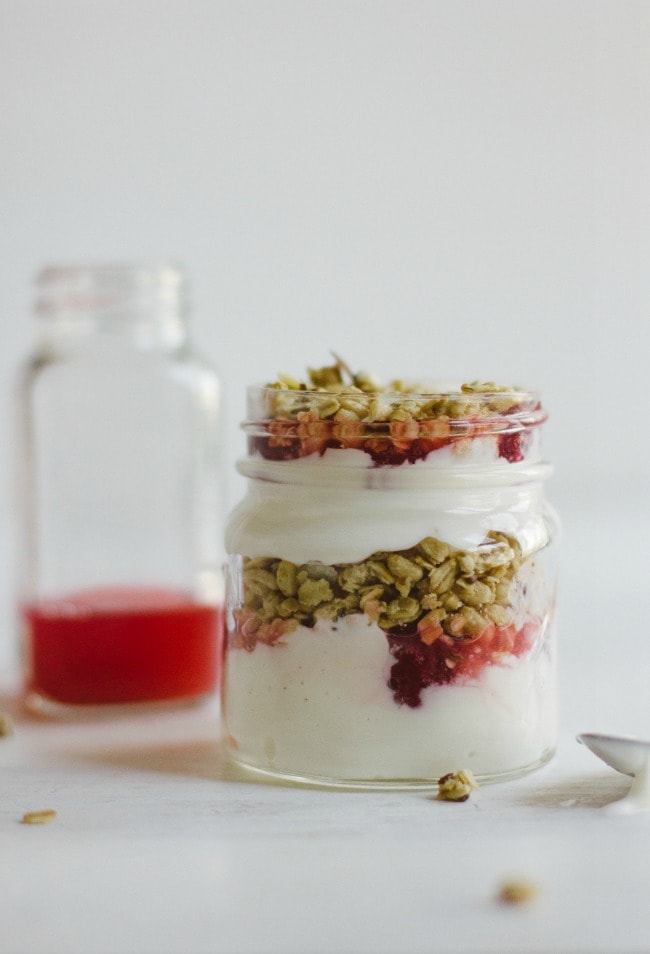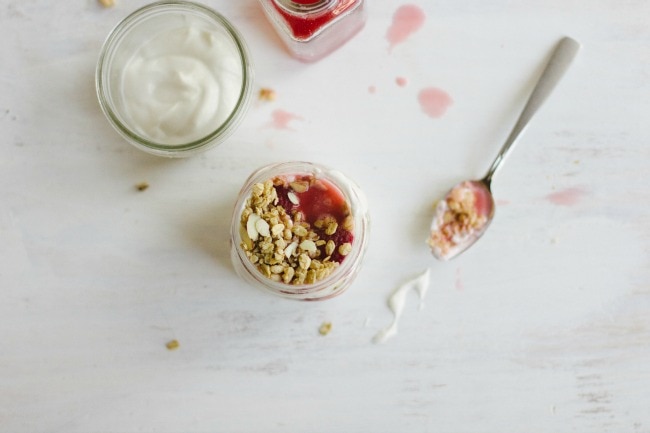 You expected to be sad in the fall. Part of you died each year when the leaves fell from the trees and their branches were bare against the wind and the cold, wintry light. But you knew there would always be the spring, as you knew the river would flow again after it was frozen. When the cold rains kept on and killed the spring, it was though a young person had died for no reason. In those days, though, the spring always came finally; but it was frightening that it had nearly failed. -Ernest Hemingway, A Moveable Feast
Raspberry-Rhubarb Yogurt Bowls
This has been my breakfast of choice for the last week: it's so easy and delicious. It's perfect for spring! I was highly inspired by Ms. Heidi's pomegranate bowls, and by all the gorgeous yogurt parfait pictures I've been seeing on Pinterest.
The raspberry-rhubarb juice will make much more than needed, but it stores well in the fridge, and you can use it for a week or so. (You can also double it and make this tasty drink.) It is very tart, so you will want a good drizzle of honey if you prefer things a bit sweeter. I use honey-flavored yogurt, and find it the perfect balance of tart-sweet.
6 ounces rhubarb, chopped into 1 inch pieces
2 ounces raspberries
1 vanilla bean pod, seeds scraped (optional)
1 cup water
yogurt
granola (I like this homemade version, and this store bought brand)
honey for drizzling
anything else you'd like to add: nuts, fruit, white chocolate chips, cacao nibs, etc
For the Rhubarb-Raspberry Juice
Place the rhubarb, raspberries, vanilla bean seeds and pod, and water in a sauce pan. Bring to a boil, and then let simmer for 30 minutes until rhubarb is tender. Place the mixture in a strainer over a large bowl and press on the rhubarb and raspberries until all the juice is released (you should have about a cup). Discard the pulp and let the juice cool before using.
In jars, glasses, bowls, or whatever container you would like to use, layer your ingredients. I start with yogurt at the bottom, then a splash of juice, some raspberries, nuts, and granola, and then repeat the order until the jar is full.