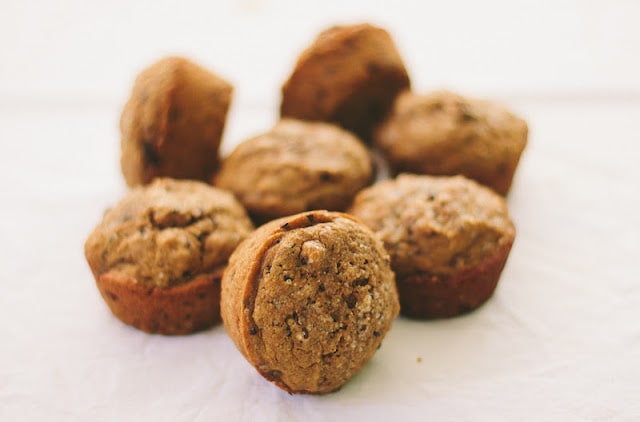 I recently had to have a serious conversation with myself. I knew it was coming – I had been avoiding it for years, but, typical me, I put it off as long as I could. About five years ago I made a decision to start taking care of my emotional self – dealing with past hurts, anger issues, and the like. It's been a long journey, one I'll always be working through, but I found myself with good tools for approaching life in a healthy way. During all this darkest-night-of-the-soul business, however, I found myself eating more. A lot more. It was so comforting to turn to cookies and scones, cheesy pastas and chocolate coffee while working things out. I gave myself some grace, knowing it was how I needed to make it through, especially when everything else was so overwhelming. But a pattern had developed, a pattern that turned into a serious sugar addiction, and now I found myself looking in the mirror at a woman who didn't have pants that fit her, with cupboards and a fridge stocked full of white flour, white sugar, dairy, and chocolate. So I stood there that day, gazing at my reflection, and realized two things. One, I liked myself more than I ever had; working on my emotional health had helped me [for the first time in my life] feel comfortable with how I looked and who I was becoming, and two, it was time to get healthy, for my family, and for me. So, Adam and I took a long look at how we approached food, and decided to change things up.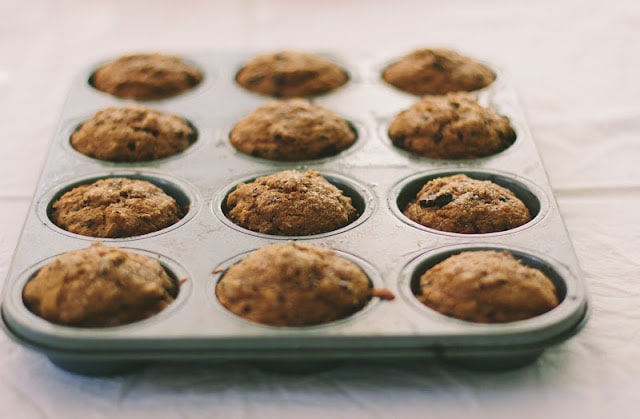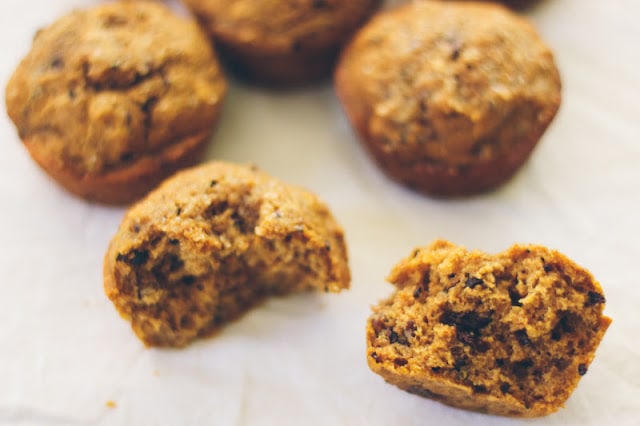 So we're three weeks in, friends. We spent a week eating just fruits and vegetables to clear our systems, and every week we are adding something healthy back into our diet. Whole grains were first, followed by eggs and yogurt, honey, and now chicken and fish. We've cooked our meals at home, finding new ways to be creative with our food [
this cookbook
was a lifesaver when it came]. It's been challenging, fun, and … peaceful. It's been a long time since I've felt this focused, and since my body's felt this good.
These muffins were an experiment, and I was so happy with the results. I was tinkering with
my favorite muffin recipe
, not expecting anything amazing. So I was happily surprised when they tasted as good as they did! Whole wheat flour replaced white, maple syrup stood in for white sugar, and a little olive oil pulled everything together. They were a wonderful treat for us, and we ate them slowly; grateful, yet unattached.
Pumpkin Muffins with Cacao Nibs and Whole Wheat Flour
You can, of course, mix things up – if you're wary about using all whole wheat flour in a muffin, you could substitute some white. I added just a bit of chocolate to these – the small amount added a nice sweetness every couple bites; just enough. This will make about 15 muffins.
2 1/3 cup whole wheat flour
1 teaspoon baking soda
1 teaspoon baking powder
1/2 teaspoon salt
1 1/2 teaspoon cinnamon
3/4 teaspoon ginger
1/2 teaspoon nutmeg
1/4 teaspoon cloves
3/4 cup milk or soy/almond milk
3/4 cup canola or olive oil
1 cup canned pumpkin
1 egg
2 teaspoons vanilla
1/2 cup maple syrup
1 cup pecans, toasted and chopped
1/3 cup cacao nibs
2 ounces chocolate, chopped
turbinado sugar, for sprinkling
Preheat oven to 350. Grease or line a muffin tin, and part of another.
Combine flour, baking powder, baking soda, salt, cinnamon, ginger, nutmeg, and cloves in a large bowl. Whisk together, and make a well in the center. Combine oil, milk, pumpkin, vanilla, maple syrup, and egg. Whisk wet ingredients together and pour over the dry ingredients. Mix wet ingredients together until almost mixed [there will be a few dry streaks]. Add pecans, cacao nibs, and chocolate and finish mixing until just combined, being careful not to over mix. [Remember, lumpy is good!]
Scoop batter into prepared pans, filling the muffin cup about two-thirds full. Sprinkle with turbinado sugar. Bake until muffin edges are golden brown and a toothpick inserted comes out with the very tiniest bit of crumb, 16-20 minutes.