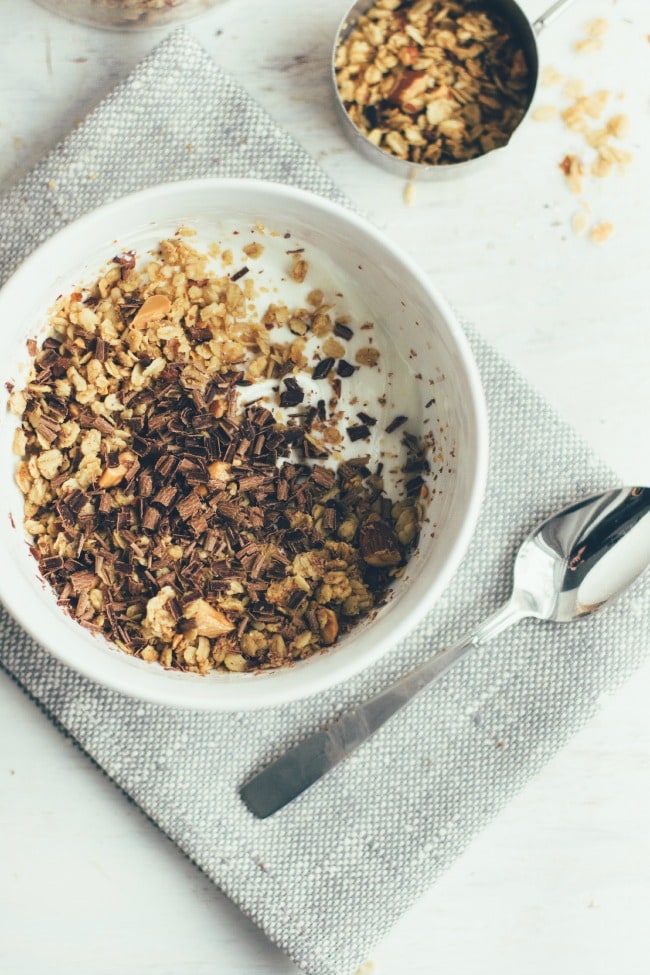 It snows in here.
It snows forever, but there's no Christmas underneath this weather.
When it blows here and gets real cold,
I wanna trip myself and fall upon your fabulous sword
and move
here by the stained-glass window.
Forget about the inside ghetto.
Down here on the hardwood floor,
the lines on the ceiling start to swim once more
like a cheap Renoir,
a fake Van Gogh,
a pop Monet,
a blue Degas.
I breathe you.
I need you.
-Over The Rhine, Jack's Valentine
I've had those lyrics running through my head since January; always winter, never Christmas* has sort of become my theme song this year. I apologize if I'm beginning to sound like a broken record, but when your days consist of shivering, coughing, and cleaning up after sick peeps, you start to view the world through crazy eyes. And wake up every morning craving coffee. And chocolate cake. Although, I've discovered, eating cake for breakfast doesn't really make my day any better, in fact, all that butter and sugar first thing can make it rather worse. So that's when I came up with this breakfast bowl: peanut butter granola with cacao nibs and chocolate. Just a tiny bit of bittersweet grated over the top makes for a delicious bite, and is just enough chocolate to soothe my frazzled nerves.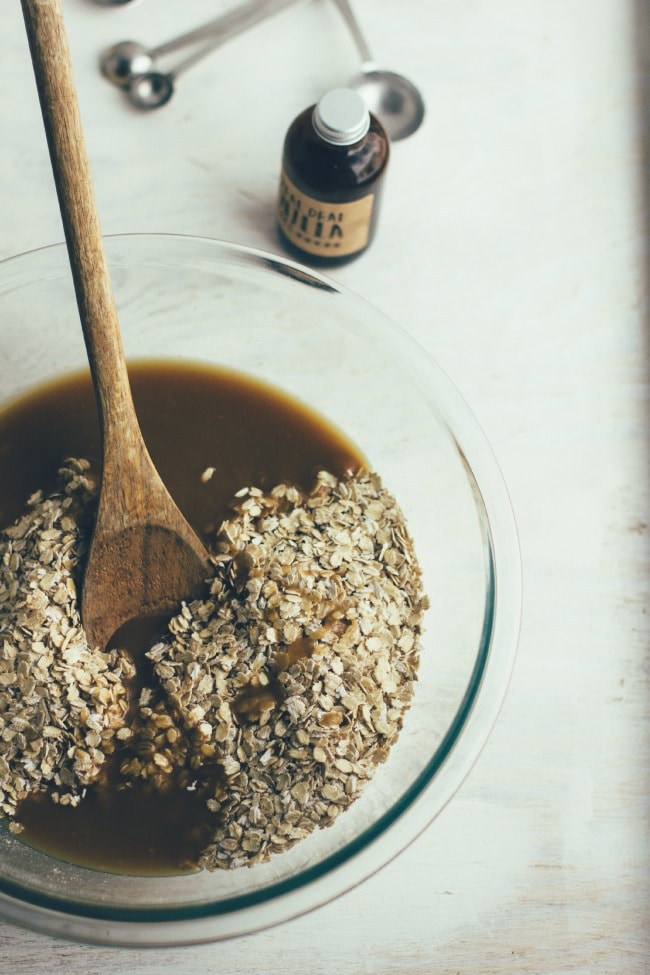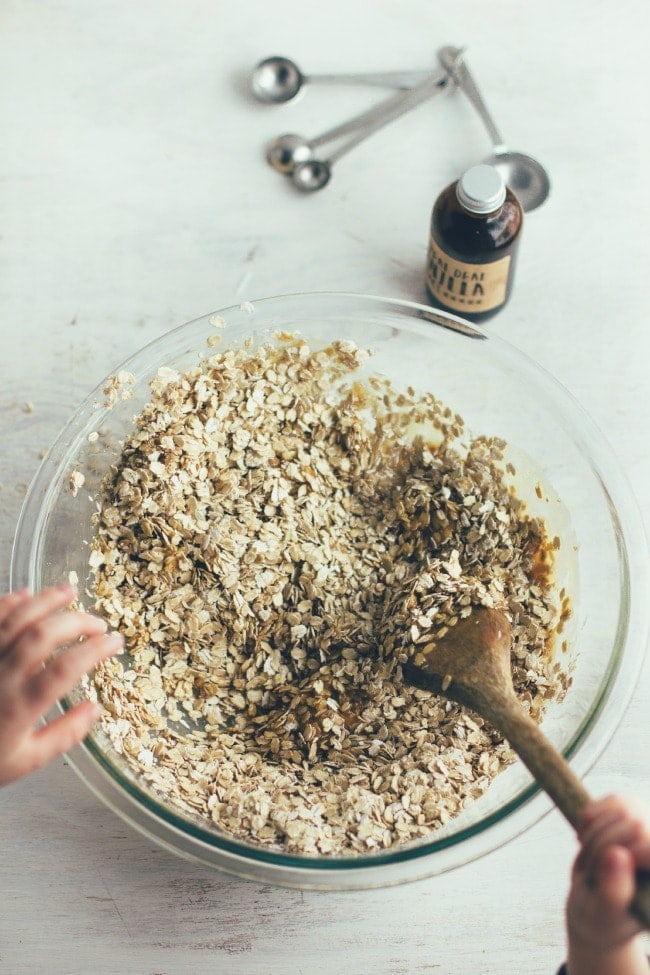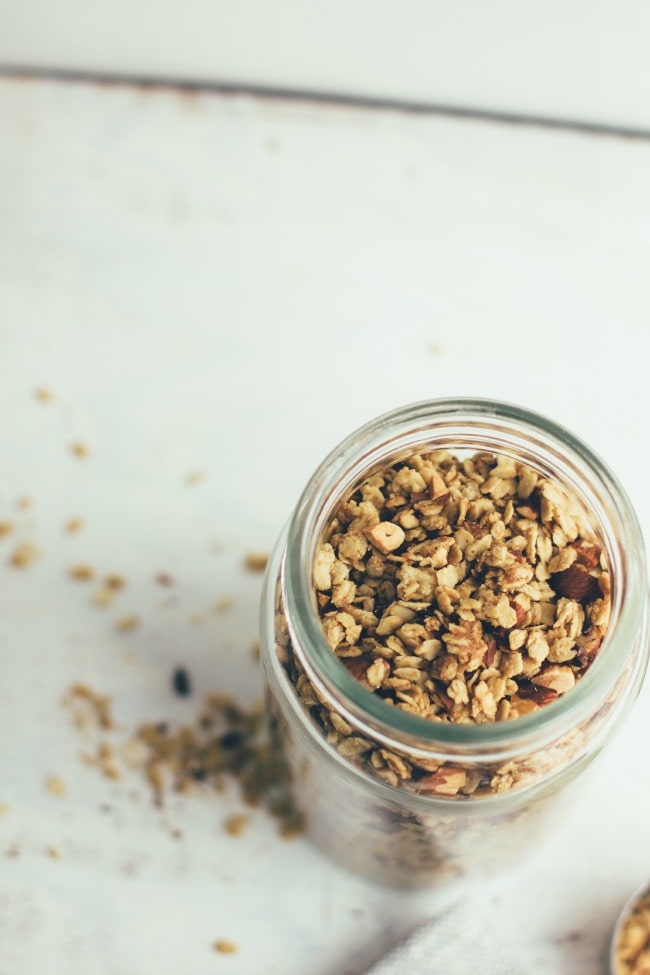 '[B]efore them were the sands, with rocks and little pools of salt water, and seaweed, and the smell of the sea and long miles of bluish-green waves breaking for ever and ever on the beach. And oh, the cry of the seagulls! Have you ever heard it? Can you remember?'*
*Both from The Lion, The Witch, and The Wardrobe, by CS Lewis.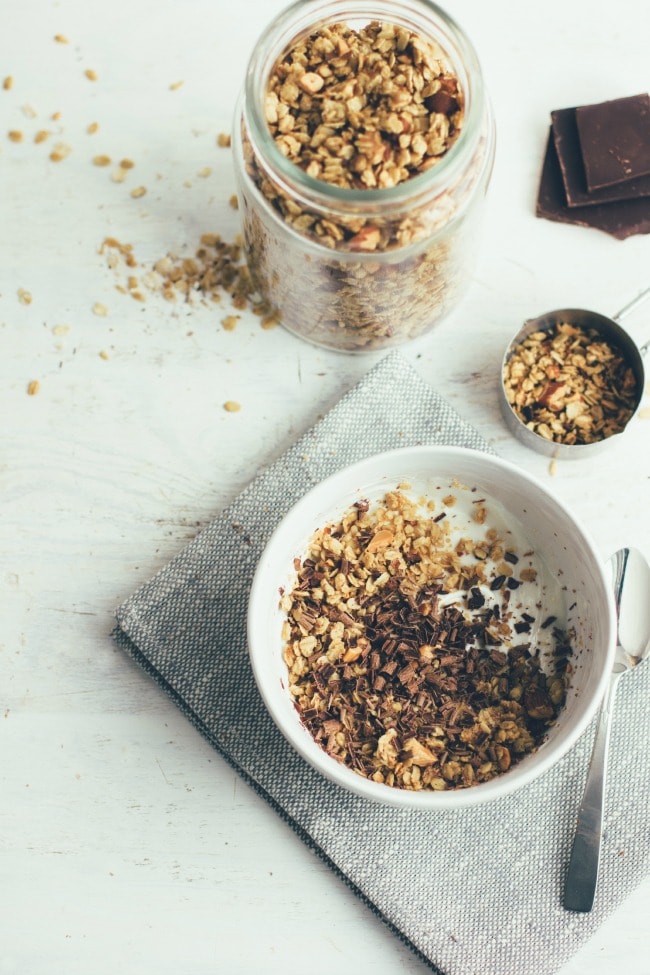 Peanut Butter Granola
This recipe is based on my favorite Maple Pecan Granola. You can use either canola or olive oil here; I used a combination. I like to add the nuts and cacao nibs to the granola after it has been baked – I find the nuts get too dark when they are added in with the granola; when toasted separately you can keep a better eye on them. Toasted quinoa would also taste delicious mixed in here.
4 1/2 cups oats
1/4 cup brown sugar
pinch of salt
1/4 cup pure maple syrup
1/4 cup + 1 tablespoon creamy peanut butter
1/2 cup canola oil or olive oil
2 teaspoons water
2 teaspoons vanilla
1 cup almonds, toasted and chopped
1/3 cup cacao nibs
bittersweet chocolate, grated, to taste
Preheat the oven to 350 degrees. Line a half sheet pan with parchment paper.
In a large bowl, mix together the oats, brown sugar, and salt. In another bowl, whisk together the maple syrup, peanut butter, oil, water, and vanilla until smooth. Add the wet ingredients to the oat mixture and mix well – make sure the oats are fully coated. Spread the oats in an even layer on the half sheet pan, and bake until oats are golden brown and no longer wet, stirring often, 20-30 minutes. Let cool to room temperature, stirring the cooling oats on pan once. Add the toasted almonds and cacao nibs to the cool granola. Serve with yogurt or milk, and grate chocolate to taste over the top.