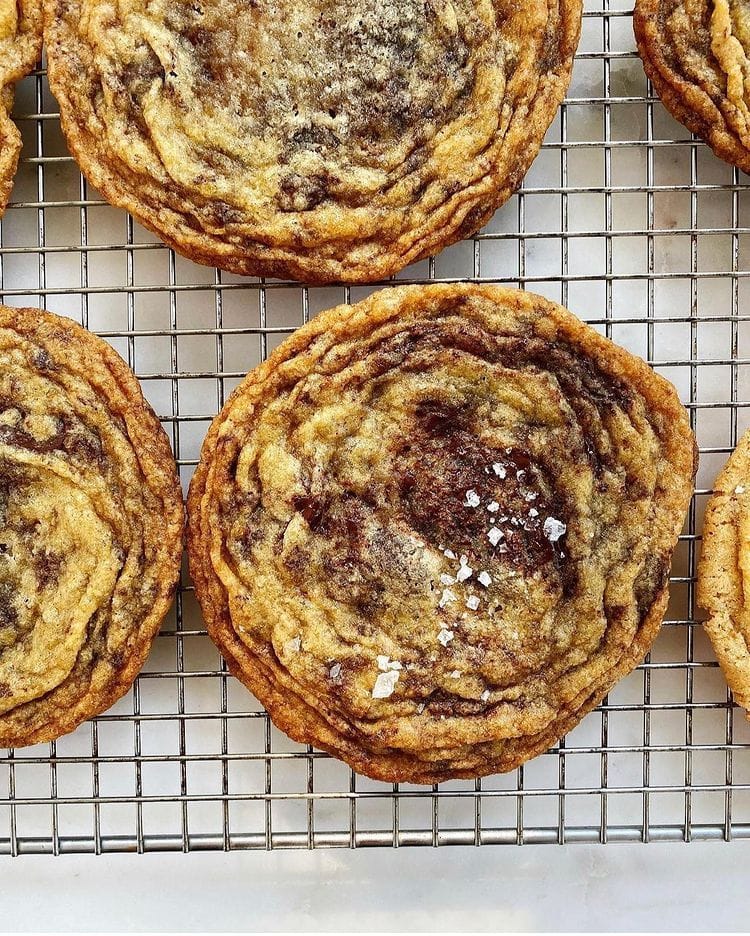 The original Pan-Banging Chocolate Chip Cookie, as featured in the NYTimes .
This recipe first appeared in my Vanilla Bean Baking Book, and was the inspiration for the ENTIRE CHAPTER of pan-banging cookie recipes in my 100 Cookies cookbook!
Originally I thought to include a different chocolate chip cookie recipe in this book. It was my go-to cookie, one I had made for years at Bordertown Coffee. I began working on a thin and crispy version, and along the way it evolved into this recipe.
The cookie falls somewhere in the middle of gooey and crispy, with edges that shatter in your mouth and a center that is soft and full of chocolate. My family loved it so much that my original recipe hasn't seen the light of day since. Meet our new house cookie.
TROUBLESHOOTING
1. What are pan-banging cookies?
Bakers tapping their cookie pans in the oven isn't new, of course, but the pan-banging technique I use here is unique in that the pan is tapped in the oven every few minutes, creating ripples on the edge of the cookie. This creates two textures in the cookie: a crisp outer edge, and a soft, gooey center.
2. Why won't my cookies ripple/wrinkle? I've found that flour can often be the culprit, and it seems that high-protein flour won't allow for as much spreading and wrinkling. I use Gold Medal Unbleached All-Purpose Flour in my cookies, and find that works best.
3. Why are my cookie bottoms greasy? I prefer to think of the cookies as "exceptionally buttery". There is extra butter in these cookies, which helps them spread, and crisp on the bottom. I remove my cookies from the pan when they are cool enough to handle, and let them continue cooling on a wire rack, which helps them stay crispy.
4. Can I use less sugar? The granulated sugar helps with spreading and also helps with crisping. If you decrease the sugar, you won't have the same type of cookie. If you do want to play around with decreasing amounts, start with 2 or 3 tablespoons, and continue to decrease each time you make them until you find your sweet spot (pun intended).
5. Can I switch out some of the granulated sugar for brown sugar? You can, but your cookie won't be as crispy – it will end up with a chewy texture.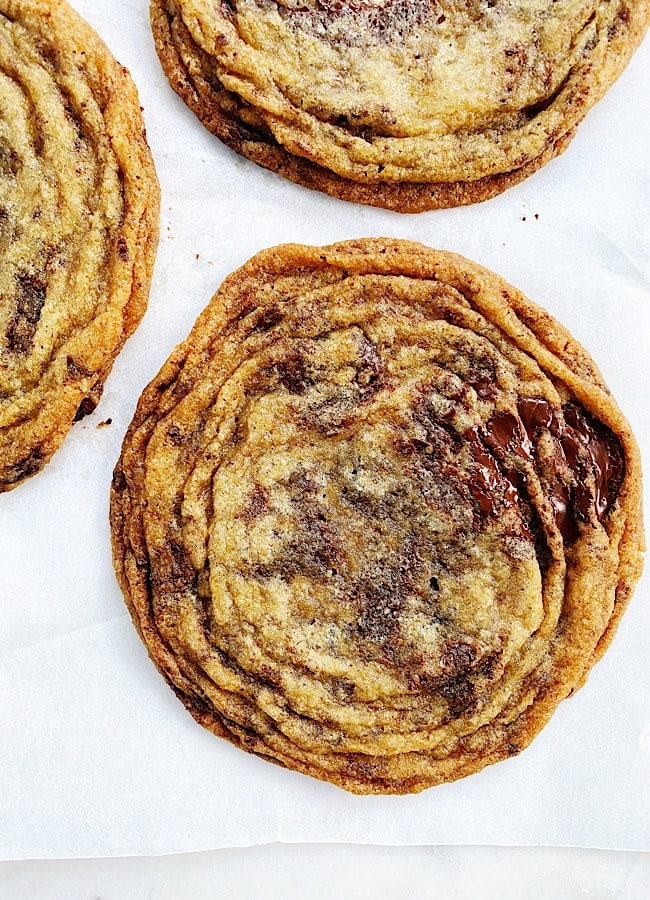 6. Why should I use aluminum foil? I find that aluminum foil helps the cookies spread a bit more and creates a slightly crisper bottom. But parchment paper will work well, too.
7. Can I refrigerate pan-banging cookie dough?
Cookie dough can be refrigerated overnight before using. Shape the dough into balls and cover with plastic wrap before chilling, and then bring it to room temperature before baking (when the cookies are chilled solid, they won't ripple as well). Cookies that spend a night in the fridge will also have a more developed flavor, but also have a bumpier finish.
8. Can I use European butter? Yes! But note that using European butter will make the bottom of these cookies even more buttery.
9. Can I add more ingredients to the dough (nuts, other chips, m&ms, etc)? Yes, but note a few things: too many add-ins (chocolate, toffee, nuts, etc.) will prevent the dough from spreading as it should.
10. Can I use chocolate chips instead of chopped chocolate? Yes, but note that chopped chocolate spreads much better than chocolate chips.
11. Can I use alternative flours (i.e. almond, oat, buckwheat, etc)? You can't swap out all equal parts all-purpose flour for an alternative flour. If you would like to substitute some alternative flour for the all-purpose, start with 1/4 cup (about 50 grams) and slowly increase each time you make it, until you find your perfect ratio.
12. Can I make these gluten-free or vegan? Yes, my friend Amanda has used my recipe to create Gluten-Free Pan-Banging Chocolate Chip Cookies! I haven't played around with a vegan recipe, but I have seen many people on Instagram successfully do so (sorry, I know that isn't helpful). If you do make it successfully either way, comment below on what worked for you!
13. What ingredients are best for making pan-banging cookies?
I use Land O'Lakes unsalted butter and Gold Medal Unbleached All-Purpose Flour, almost exclusively. I use a variety of grocery store brand granulated sugar, brown sugar, large eggs, and pure vanilla extract. For chocolate I use a mix of brands: Ghiradelli Semi-Sweet baking bars and Trader Joe's bittersweet baking bars are great grocery store brands. Valrhona feves (I like Caraibe) and Guittard baking wafers are wonderful higher-end options. I use a mix of all of them.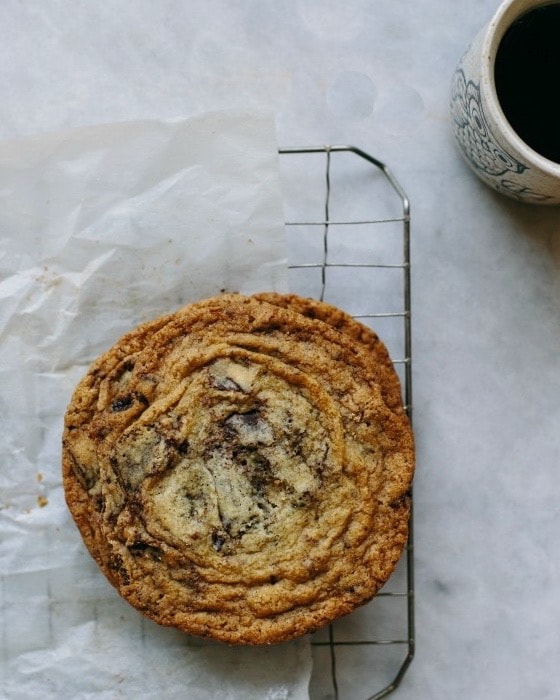 14. Why are my cookies burning on the bottom? Make sure your batter is completely combined – doing a final few stirs with a spatula will help make sure everything is evenly combined and mixed. Having a medium-weight baking sheet makes for even baking (I use these from Nordic Ware). Sometimes your oven temperature can be the culprit – using an oven thermometer each time you bake will help you make sure it is correct.
15. How do I get my chocolate to pool on top? Place a piece of chopped chocolate directly on top of each cookie dough ball before going into the oven (Vahlrona feves work well for this) will make a nice pool as they bake.
16. What kind of baking sheet should I use? I use a medium-weight half sheet pan (12 by 16 in [ 30.5 cm by 40.5 cm]). I find heavier-insulated baking sheets don't ripple as well.
17. What if I can't fit my baking sheet in my freezer? It's okay! You can put the dough balls on a small plate and freeze them, then transfer them to the baking sheet when you are ready to bake.
18. Will this technique work with other cookie recipes? Not necessarily, and not in the same way. Cookies that are made to be thick and gooey won't ripple when tapped in the oven, although doing so may help to set the edges.
19. Do I have to bang the pan outside the oven? No, you don't! As stated in the recipe, I lift the side of the baking sheet up about 4 in [10 cm] and gently let it drop down against the oven rack, so the edges of the cookies set and the inside falls back down.
20. Do you have more pan-banging cookie recipes in your 100 Cookies cookbook? Yes, I have a whole chapter dedicated them! Purchase my book,  100 Cookies. (affiliate link)
More Pan-Banging Cookie Recipes: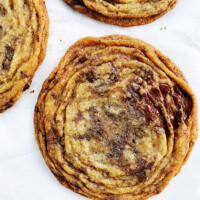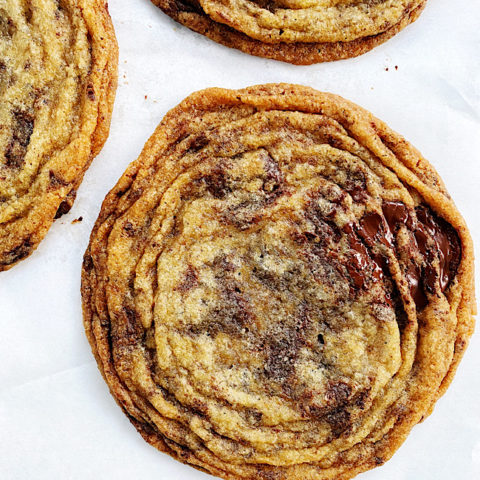 Pan-Banging Chocolate Chip Cookies
Servings:
10
large cookies
The original and famous Pan-Banging Chocolate Chip Cookies, created by Sarah Kieffer. The easy trick of banging the pan a few times during baking, causing the cookies to "fall," produces rippled edges that shatter in your mouth and a center that is soft and full of chocolate.
Print
Pin
Rate
Ingredients
2

cups

(284 g) all-purpose flour

½

teaspoon

baking soda

¾

teaspoon

salt

2

sticks

(227 g) unsalted butter, room temperature

1½

cups

(297 g) granulated sugar

¼

cup

(50 g) packed brown sugar

1

large egg

1½

teaspoons

pure vanilla extract

2

tablespoons

water
Instructions
Adjust an oven rack to the middle position. Preheat the oven to 350°F. Line 3 baking sheets with aluminum foil, dull side up.

In a small bowl, whisk the flour, baking soda, and salt.

In the bowl of a stand mixer fitted with a paddle, beat the butter on medium until creamy. Add the granulated and brown sugars and beat on medium until light and fluffy, 2 to 3 minutes. Add the egg, vanilla, and water and mix on low to combine. Add the flour mixture and mix on low until combined. Add the chocolate and mix on low into the batter.

Form the dough into 3½-ounce (100g) balls (a heaping 1/3 cup each). Place 4 balls an equal distance apart on a prepared pan and transfer to the freezer for 15 minutes before baking. After you put the first baking sheet in the oven, put the second one in the freezer.

Place the chilled baking sheet in the oven and bake 10 minutes, until the cookies are puffed slightly in the center. Lift the side of the baking sheet up about 4 inches and gently let it drop down against the oven rack, so the edges of the cookies set and the inside falls back down (this will feel wrong, but trust me). After the cookies puff up again in 2 minutes, repeat lifting and dropping the pan. Repeat a few more times to create ridges around the edge of the cookie. Bake 16 to 18 minutes total, until the cookies have spread out and the edges are golden brown but the centers are much lighter and not fully cooked.

Transfer the baking sheet to a wire rack; let cool completely before removing the cookies from the pan.
Notes
These cookies are rather large, but to get the edges to spread out and crinkle, they need to be on the big side. If you want to make the cookies smaller, you won't get as many ridges on the outer layer, and your center won't be quite as gooey. They will still be delicious, but not quite what I intended for you.
If you skip freezing the cookies, they will spread too much on the pan and will not form the crinkly outer layer.
Chocolate chips are not a good substitution for the chopped chocolate; the cookies will not turn out the same with chips. If you do still want to use chocolate chips, you will need to use 8 ounces chips and make the cookies 2½ ounces big.
Using the dull side of aluminum foil to bake these cookies is a little trick I learned after hearing Alice Medrich speak. The foil helps make for an extra-crisp, golden brown bottom. Parchment paper can also be used with good results.
The cookies are delicious warm, but I've found I love them a couple of days later just as much. I usually store them in the fridge and sneak pieces of them cold.
*Throughout my recipes posted on this website, 1 cup of flour equals 142g. Please note that 1 cup of flour can range anywhere from 120g to 142g, depending on the baker or website. I found that after weighting many cups of flour and averaging the total, mine always ended up around this number. If I am posting a recipe from another cookbook, I will use whatever gram measure of flour used in that book, which is why you may see a few posts with a different cup measurement. 
Different brands of flour have varying levels of protein, ranging from low to high, which can result in very different outcomes when baking. I've found Gold Medal all-purpose unbleached flour to be the best option for many of my recipes; I use it in all the baked goods that don't use yeast. For yeasted doughs that call for all-purpose flour, I like to use King Arthur Brand. If you are using White Lily flour, please note that it is a low protein flour and doesn't absorb liquid the same as regular all-purpose flours. Check the back of the flour bag for instructions on substituting it for regular all-purpose flours. 
*Reprinted by arrangement with Avery Books, a member of Penguin Group (USA) LLC, A Penguin Random House Company. Copyright © Sarah Kieffer, 2016.