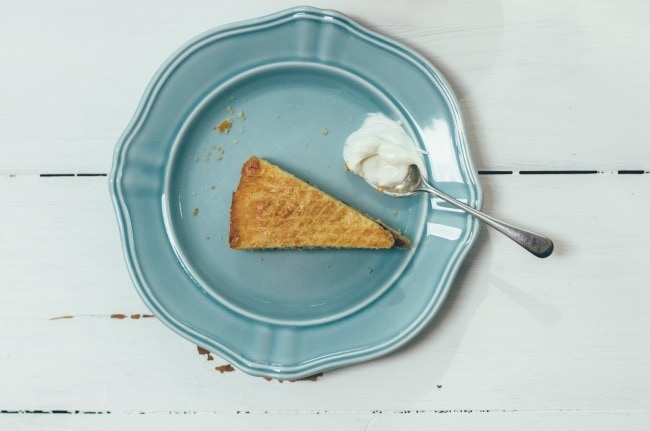 "I do think you have to change with the times in a way that renews your core essence, not abandons it. To change for the sake of change—without an anchor—that is mere faddishness. It will only lead you further astray.
-Richard C. Morais, The Hundred-Foot Journey
A few days ago DreamWorks approached me to create a post inspired by their new movie The Hundred-Foot Journey. I eagerly accepted because a) Helen Mirren is in it and b) I had a good reason to make gâteau basque, with a twist. The movie is a charming tale that interweaves food and love, and two very different cultures. It comes out August 8th so I haven't seen it yet, but I was smitten by the trailer, and saw it got two thumbs up from Food Loves Writing, who viewed it this past weekend. I also started the book yesterday, trying to finish it before I see it in the theater.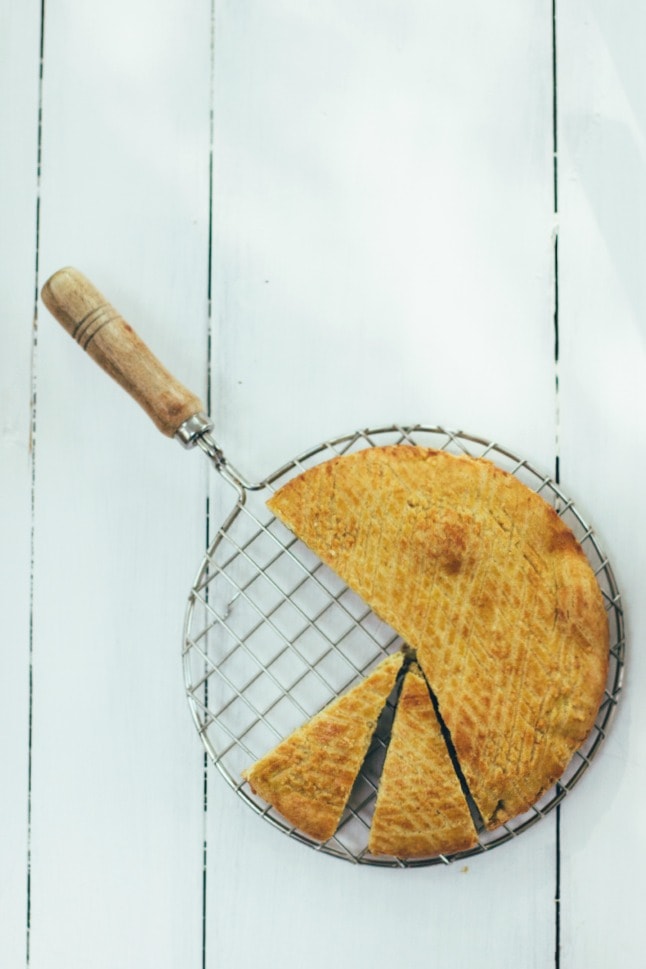 So here is gâteau basque, a French dessert from the Basque region of France. I made a Chai tea pastry cream for the filling, which is very untraditional, but in the spirit of The Hundred-Foot Journey, I decided to change things up. "Never be afraid of trying something new, Hassan…It is the spice of life."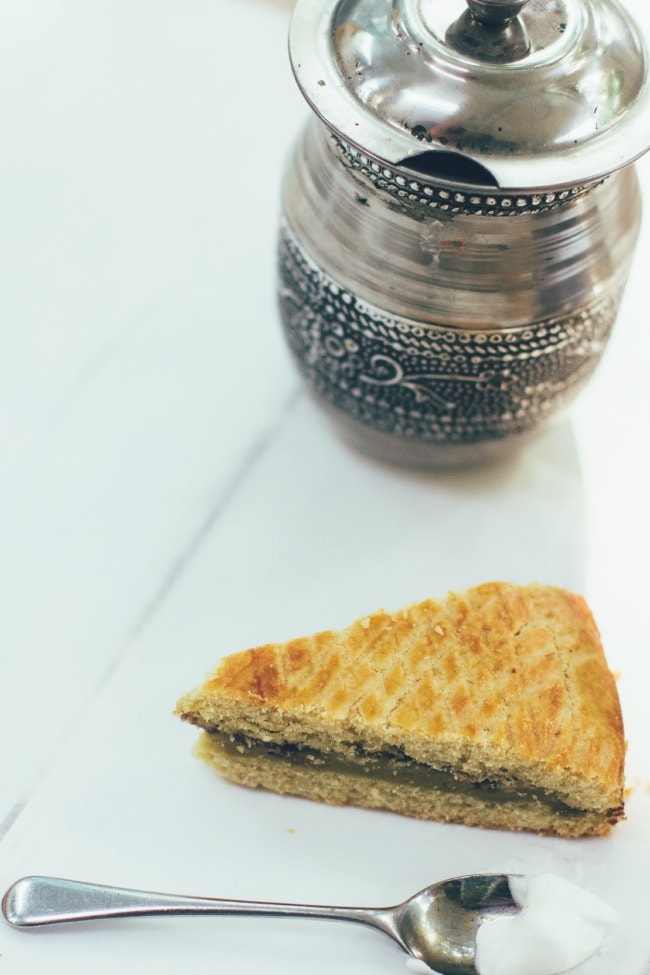 Gâteau Basque with Chai Tea Pastry Cream
For the cake, I used Dorie Greenspan's recipe from her book, Around My French Table. I didn't change the base of the cake at all, so I will send you to NPR for the recipe, which can be found here. I did mess up her pastry cream a bit, infusing it with Chai tea, and my changes are found below.
This cake a bit crumbly and a little bit dry, but not a 'bad' dry. It definitely is best served with tea or coffee. Traditionally it is made with either a layer of pastry cream, or a layer of cherry jam. Since I was already breaking tradition by using a Chai-infused pastry cream, I went ahead and added layer of jam across the top of the pastry cream as well, and it was wonderful.
Chai Tea Pastry Cream
adapted from Around My French Table by Dorie Greenspan
I may have cheated a teensy bit here – I used a high-quality loose leaf Chai tea instead of black tea and fresh spices. I thought it turned out great.
3 tablespoons loose leaf Chai tea
2 cups whole milk
6 large egg yolks
1/2 cup sugar
1/3 cup cornstarch, sifted
pinch of salt
1 1/2 teaspoons pure vanilla extract
3 1/2 tablespoons unsalted butter, cut into pieces, at room temperature
Put the tea in a tea ball infuser or a small coffee filter sealed shut, and put it in a small sauce pan along with the milk. Heat over medium until simmering, and then shut off the heat and let the tea steep for 15 minutes. Remove the tea ball, and turn the heat back up, bringing the milk to a boil.
Meanwhile, in a large saucepan, whisk together the egg yolks, sugar, cornstarch, and a pinch of salt until well combined (it will be very thick). Whisking continuously, slowly pour in 1/4 cup of the hot milk (this will temper the yolks). Still whisking, add the rest of the milk in a steady stream. Put the saucepan back over medium heat, and bring the mixture to a boil, whisking constantly and vigorously. Keep the mixture at a boil (still whisking!) for 1-2 minutes, and then take the saucepan off the heat.
Whisk in the vanilla extract, and then let the mixture stand for 5 minutes. Whisk in the butter pieces, stirring until it is all completely incorporated and the pastry cream is smooth. Scrape the cream into a bowl, and press a piece of plastic wrap against the surface to create an airtight seal. Refrigerate the cream until cold.