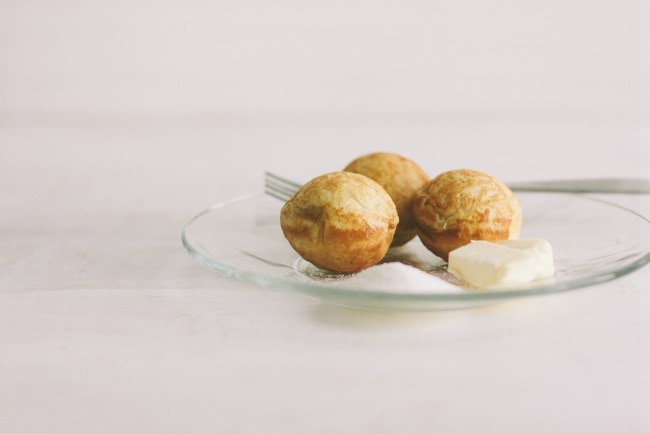 Two weeks ago I got a text from my neighbor and dear friend Michelle. 'We were wondering if you would all like to come over for a late breakfast tomorrow (we're making ebleskivers/little pancakes)?' I had so many questions (what are ebleskivers? are they the little pancakes? is it something really weird and also little pancakes?) but replied with a hurried 'yes!' as two little voices were clamoring for my attention.
The next day we walked across our alley, eager for breakfast. We opened the door and there was  Michelle working fast and furious over a hot stove, pouring and turning  mysterious batter in her special cast iron pan.
But we were in for such a treat, for in fact ebleskivers were tiny pancakes: puffy, golden-brown circles smothered in a little too much butter and sugar. I was completely smitten with them, and immediately decided I must spend my days hunting every thrift store this side of the Mississippi for a good ebleskiver pan.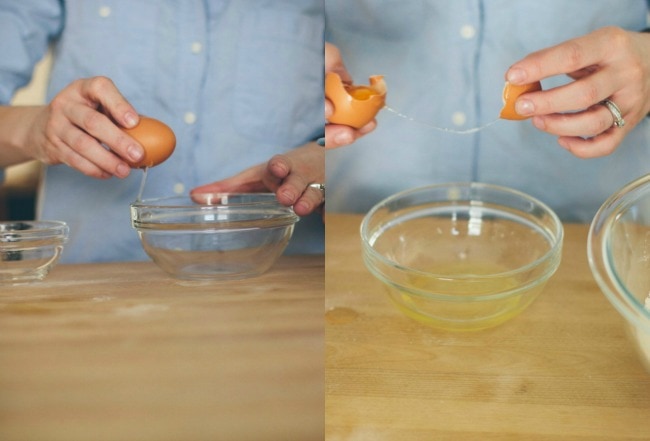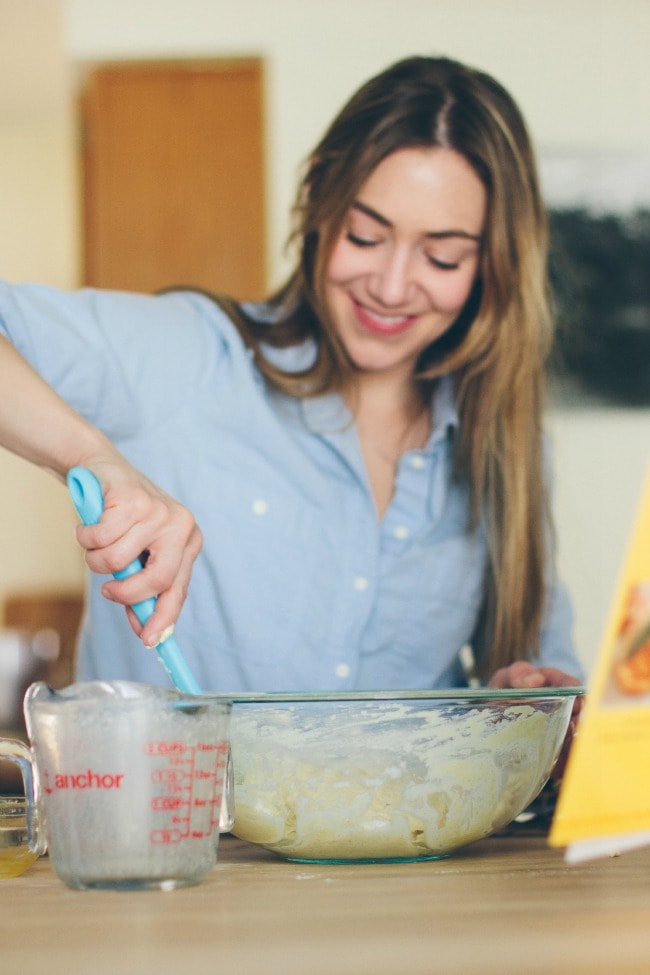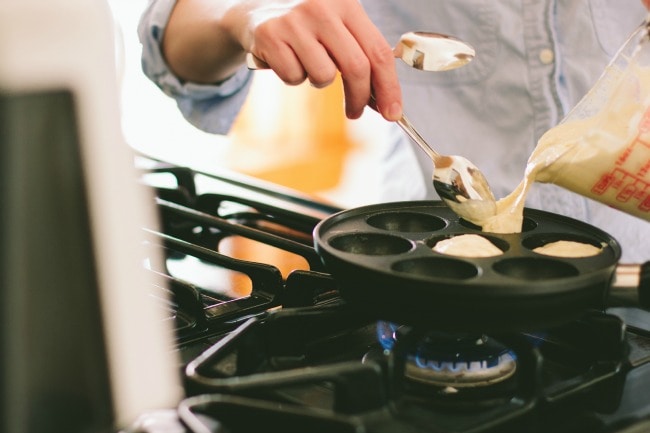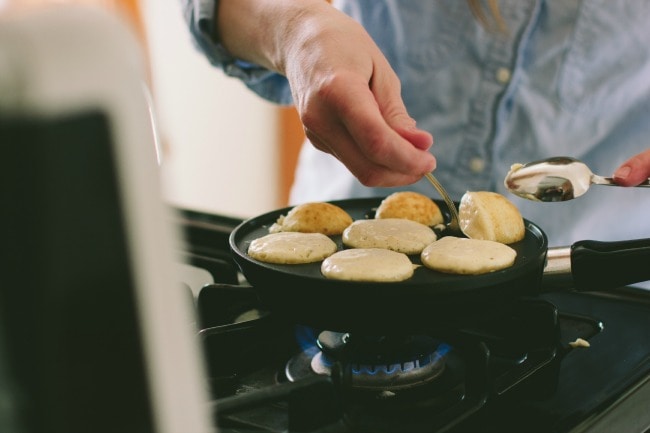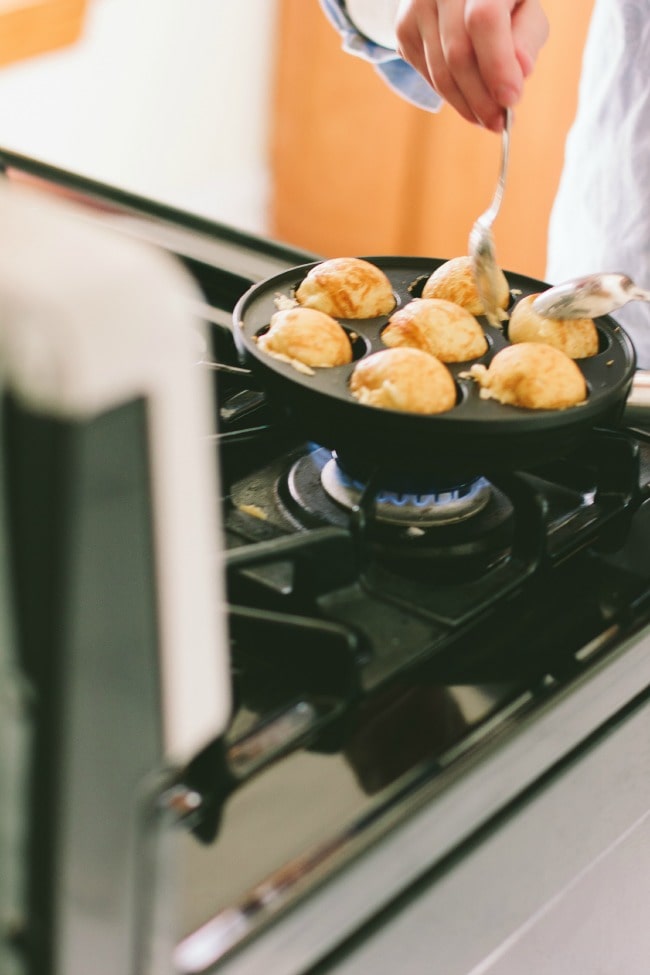 Michelle's family serves ebleskviers at holidays and gatherings; they are a Danish pancake, known for their sphere shape.
There is some arguing over spelling (ebleskiver? aebleskiver?) and, of course, ingredients, but since I am not Danish I will turn a blind eye to all that and share with you this family's version. I will also tell you that they are perfect.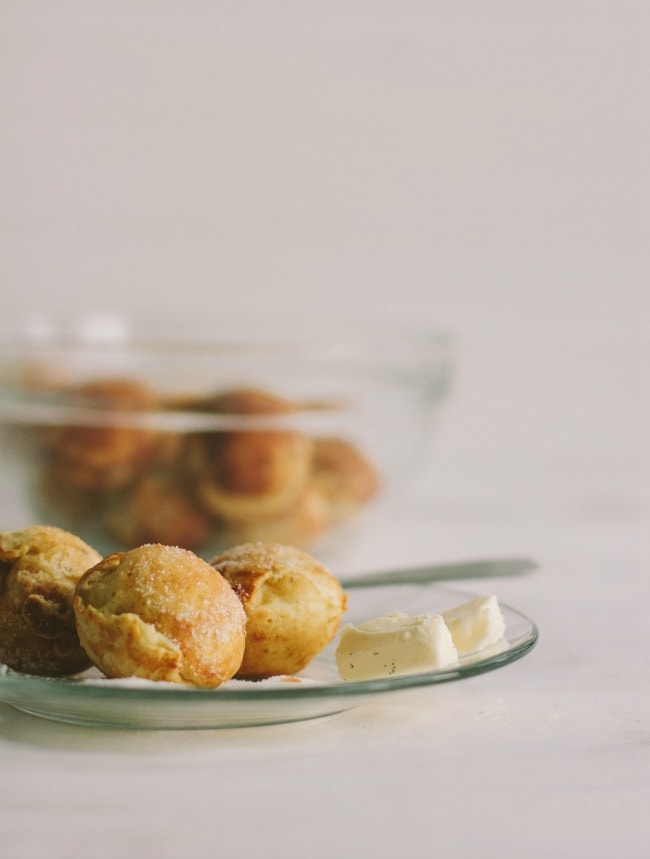 Ebleskivers
This is Michelle's family recipe, with the exception of the vanilla bean seeds and vanilla. (We added them just for fun, and loved how they tasted!) You will need an ebleskiver pan for this recipe. Michelle's family serves the ebleskivers with soft butter and sugar on the side.
Remember that cast iron pans need to be moderated – once they heat up they can overcook things easily, so lower your heat if your ebelskivers are cooking too quickly on the outside. If flipping seems daunting, here is a You Tube video to help.
2 1/2 cups flour
1/2 teaspoons salt
1 1/4 teaspoon baking soda
3/4 teaspoon baking powder
1 vanilla bean, seeds scraped
2 cups buttermilk
2 eggs, separated
3 tablespoons butter, melted and slightly cooled, plus more soft butter for the pan
1 teaspoon vanilla
In a large bowl, whisk together the flour, salt, baking soda, baking powder, and vanilla bean. In another bowl, mix together the buttermilk, egg yolks, and vanilla. Add the cooled melted butter, and stir to combine. Add the buttermilk mixture to the dry ingredients, and stir until well blended. The batter should be lumpy.
Beat the egg whites until stiff, but not dry, peaks form. Fold in one third of the egg whites to lighten the batter, and then gently fold in the rest until no white streaks remain. Use the batter immediately.
Heat the pan over medium heat. Brush soft butter in each mold, covering it well. Add the batter, filling almost to the top, but leaving a little room. Wait for the batter to set, watching for little bubbles to form in the batter (this can take anywhere from 2-4 minutes, depending on how hot your pan is). Using two spoons, gently flip the ebelskiver all the way over, and let the other side cook until golden brown (if you are unsure if your ebelskivers are done, insert a skewer or toothpick into them, and if it comes out clean it is ready) (See note for extra help). Repeat with remaining batter, making sure to re-brush molds each time with butter.  Serve ebleskivers hot, with butter and sugar.