This isn't technically a foraging pie; I didn't gather my mushrooms on Barbara Kingsolver's land for a spectacular photo shoot that is to be featured on an up-and-coming food blog. Also, I know the word 'forage' has had a bad rap lately; deemed hipster-lingo and is often followed by an eye roll. However, a forager's pie sounded better than button-mushroom skillet bake or shepherd-less extravaganza. And, when I thought of foraging mushrooms I instantly thought of hobbits and Farmer Maggot's farm, which of course proves that I've always been more nerdy than hip, but I'll call myself a romantic and name it what I will.
If you are the foraging type (which really, I do find terribly charming regardless of what anyone says), you could gather exotic, hard-to-find mushrooms for this pie. Or, like me, you can frantically scoop plain old mushrooms into a bag at the co-op while watching your three year old son race by you with the child-sized grocery cart. He will then proceed to slam it into not one but two beautiful hipsters, and their deadly gazes remind you that yes, you did forget to brush your hair that morning and yes, you have been wearing the same shirt every other day for the past two years. At this point there will be mushrooms scattered across the entire floor because the tongs used to pick up said mushrooms are made for delicate hands that have hours to inspect each and every individual one, and you have just tried to pick up twenty at a time. But, be comforted, because as you fall on hands and knees to crawl after those rolling white buttons, you will realize that you are, in fact, gathering them just like you had wanted to in the first place.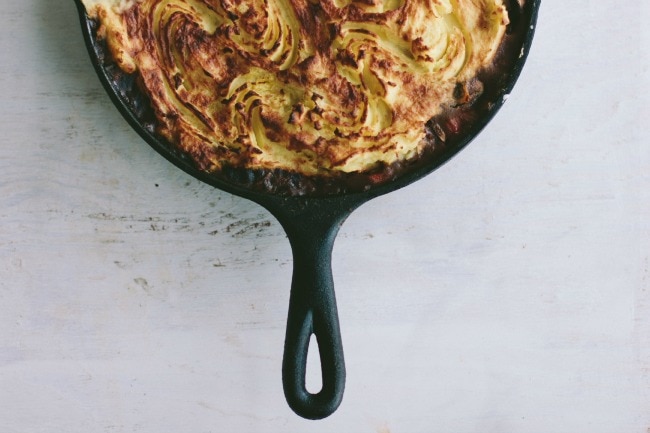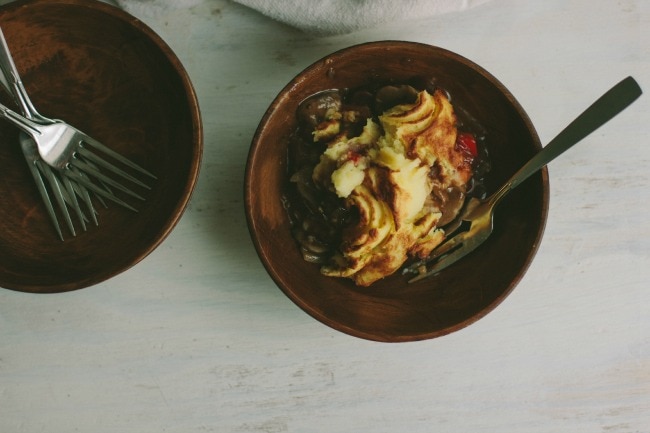 Forager's Pie
This recipe is adapted from two sources – America's Test Kitchen and the Cafe Brenda Cookbook. The filling is based on one of my favorite soups from Cafe Brenda (Burgundy Mushroom Stew), and the potatoes are from a Shepherd's Pie recipe that the Test Kitchen perfected. One thing to note: there is flour and cornstarch in this recipe which helped to thicken things up, but can also thicken things up too much. My advice to you is to see how your liquid looks at the end – if seems too thick, skip the cornstarch step. You can also add a bit more broth at this point and stir it in, to help loosen things up a bit.
2 1/2 pounds russet potatoes, peeled and cut into 1 inch pieces
4 tablespoons unsalted butter
1/2 cup milk
1 large egg yolk
salt and pepper, to taste
2 tablespoons butter
1 onion, chopped
1 red pepper, chopped
3 carrots, peeled and chopped
1 tablespoon tomato paste
2 garlic cloves
2 tablespoons flour
1 1/4 cups chicken or vegetable stock
1/2 cup red wine
2 springs of thyme
1/4 teaspoon marjoram
1/8 teaspoon cayenne
8 ounces mushrooms, sliced
2 teaspoons cornstarch (see note)
2 teaspoons water
potatoes
Put the potatoes in a saucepan and add enough water just to cover them, along with 1 tablespoon of salt. Bring to a boil over high heat, then lower the heat to medium-low and simmer until a knife inserted into the potatoes shows no resistance, about 8-10 minutes. Drain the potatoes and return them to the saucepan. Cook them gently over low heat for a a minute or two (this helps evaporate any surface water). Mash the potatoes well with a potato masher, and then add 4 tablespoons butter, stirring gently until it is completely melted. Whisk together the milk and egg yolk, and then stir it into the potatoes. Add salt and pepper to taste, then cover and set aside.
the filling
Heat the remaining 2 tablespoons of butter in a 10 inch broiler-safe-skillet over medium heat. Add the onion, carrots, red pepper, and 1/2 teaspoon salt. Cook, stirring occasionally, until the carrots are starting to soften, 6-8 minutes. Stir in the tomato paste and garlic, and cook until the garlic is fragrant, about 30 seconds. Add the flour and cook for one minute. Add the broth, red wine, thyme sprigs, marjoram, and cayenne and bring to a boil. Reduce the heat to medium-low, add the mushrooms and let simmer gently until softened, 8-10 minutes. Stir the cornstarch and water together in a small bowl, then add to the filling and simmer for 30 more seconds (see note). Remove the sprigs of thyme, and season with salt and pepper to taste.
Adjust an oven rack 5 inches from the broiler and heat the broiler. Heap the potatoes on top of the filling, and spread and smooth them evenly with an off-set spatula or back of a spoon (this can be a bit tricky, I didn't cover the edges perfectly). Use the tines of a fork to make ridges over the surface of the potatoes. Place the skillet on a baking sheet and broil until the potatoes are golden brown and crusty and the filling is bubbly, 10-15 minutes. Let cool 10 minutes before serving.