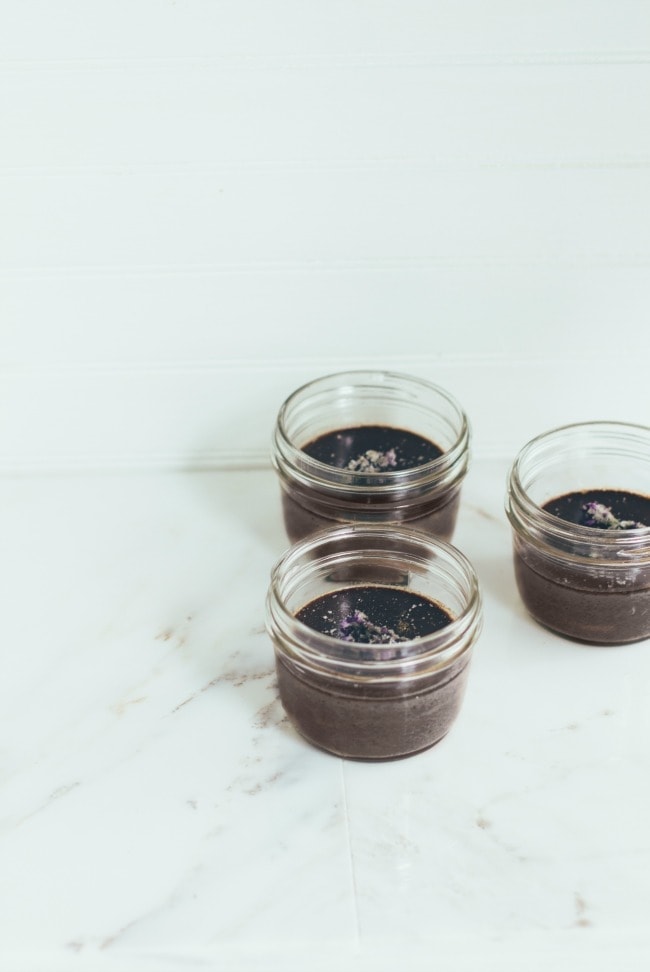 Back when I worked at the Blue Heron Coffeehouse, I spent a lot of time making banana bread. It was one of my daily tasks, and after weeks and weeks of mixing and mashing I could have made the bread in my sleep. However one Friday afternoon, after making it had become more routine than pleasure, I had four loaves that sunk in the middle and tasted terrible. I had no idea how it happened, as this recipe was etched in my soul for all eternity. Larry (the coffeehouse owner) walked over to my prep table to take a peek at the wasted loaves, and I'll never forget his words. "The kitchen gods are always watching," he said. "You may think you have a recipe down, and that you can never make it wrong, but the minute you feel you own a recipe, or have pride approaching your workspace that lacks any form of humbleness for your ingredients and movement, the gods will remind you, and teach you respect again." He said it in all sincerity, and in such a strong, kind voice, that those sentences have never left me in my own kitchen.
Which brings me to chocolate pots de crème. It was Thursday. I was just going to 'whip these up, easy,' while also interacting with two little ones who were officially on summer vacation and were already bored, working on three other things in the kitchen for blog posts and our own evening meal, and trying to clean my house for dinner guests. I rushed around, unfocused on what I was doing: the chocolate looked completely melted, it must be. I didn't bring the eggs to room temperature, but they will be fine. But what came out of my oven, 30 minutes later, was not creamy chocolate pudding. The top was bubbly and the darkest brown, and the bottom almost gray with tiny flecks scattered throughout it. I didn't stop to really notice this, however, and threw them in the fridge to cool. "They're fine! How bad can pudding taste?" Actually very bad, as my dinner guests and I found out later that evening. Grainy, gray pudding is not what one wants to serve new friends who just finished asking you questions about your food blog. Larry's words came to mind as our guests graciously finished their cups and said kind things. I had forgotten to take that moment to breathe, feel my ingredients, linger in the whisking and melting and pouring. I had served myself humble pie (or, pots de crème, I guess), aware of the gods above.
Later that week I made the dessert again, taking my time to get things right. I'm happy to report it is delicious: creamy and dreamy, as I knew it would be. I offered up thanks to the heavens, grateful for hard lessons that eventually bring beauty.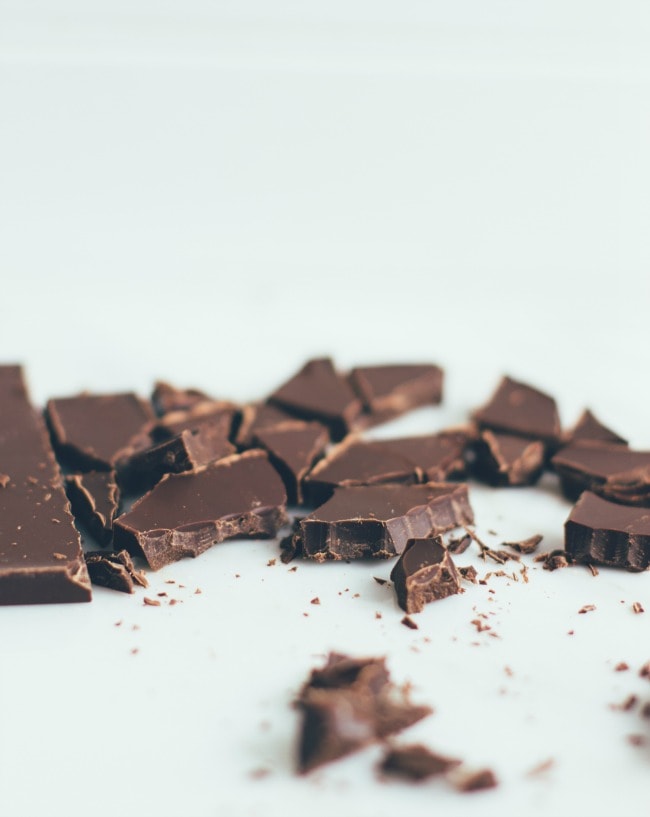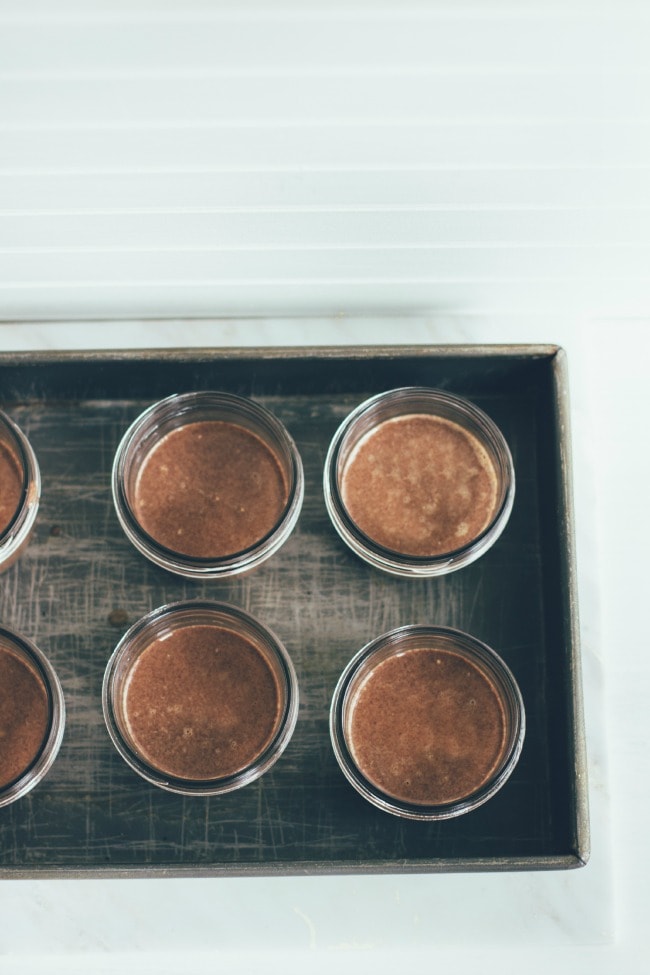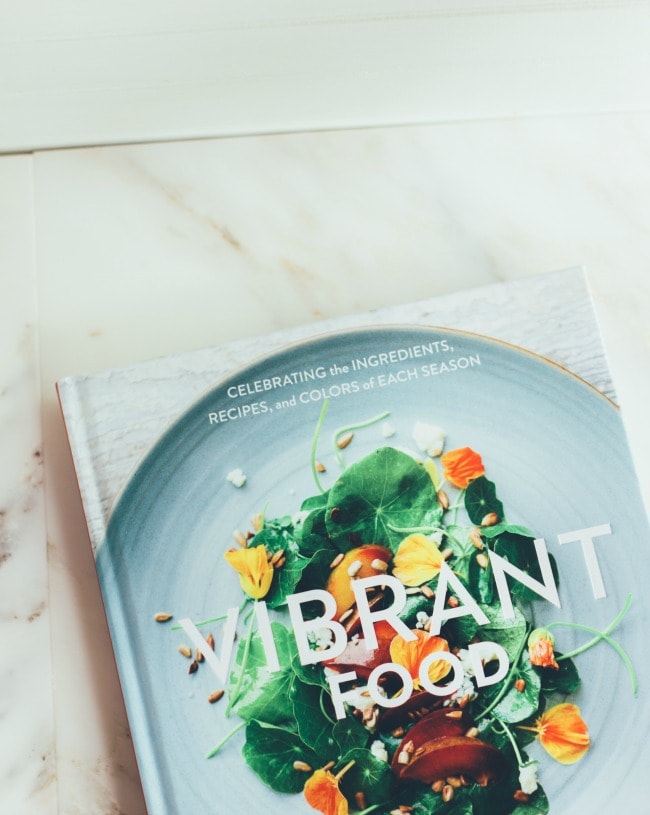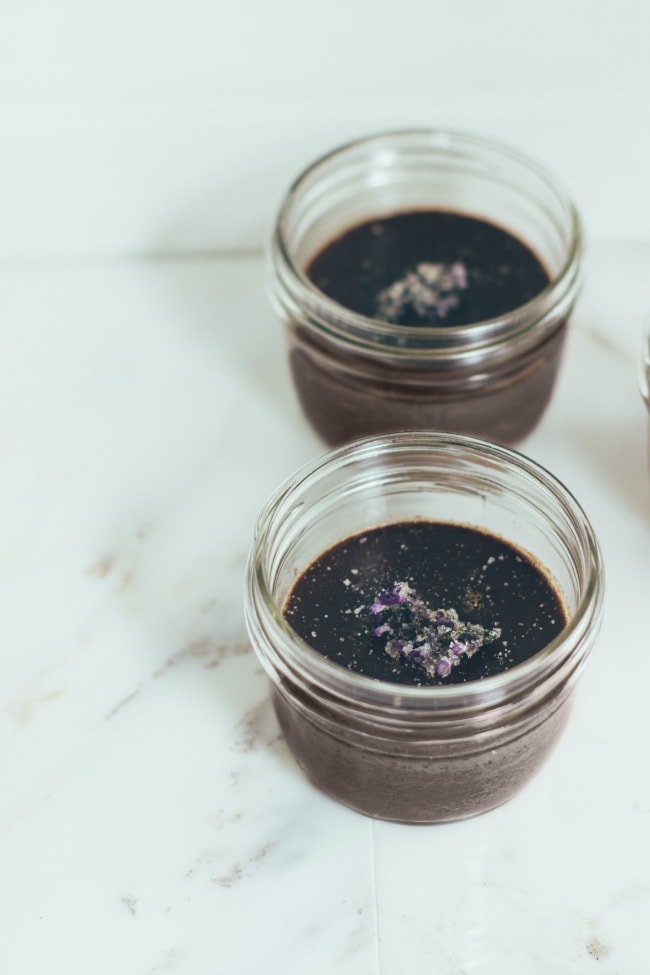 Months ago, Kimberley Hasselbrink from A Year In Food asked on Facebook if anyone would be up for testing recipes for the book she was working on. I immediately emailed her; I had been a fan of her site for such a long time. A few weeks later she sent me some to test: Cornmeal Pancakes with Kumquat Syrup, Autumn Breakfast Bowl, and Summer Berry and Peach Crisp. I knew right away this cookbook was going to be on heavy rotation in my home.
One thing I love about The Year In Food is Kimberley's unique, yet unpretentious recipes. I always leave her space wanting to make something; I may have to pick up an ingredient or two, but the recipes are beautifully simple and never boring. So here's another cookbook to add to your wish list: Vibrant Food.

Chocolate Pots de Crème with Lavender and Sea Salt
adapted from Vibrant Food by Kimberley Hasselbrink
2 cups whole milk
1/4 cup sugar
1/4 teaspoon salt
1/2 vanilla bean, split
4 ounces bittersweet chocolate (at least 65% cacao), coarsely chopped
1 large egg plus 3 large egg yolks, room temperature
flaky sea salt (for sprinkling)
In a saucepan combine the milk, sugar, salt, seeds from the vanilla bean, and the pod. Heat over medium-low heat, stirring occasionally, until the milk is hot and steaming and the sugar has dissolved. Do not let the milk boil. Remove the pan from the heat.
Preheat the oven to 325. Place six 4-to 6-ounce custard cups (or jars) in a roasting pan. Have plenty of boiling water ready.
Put the chocolate in a heat proof bowl, and strain the milk mixture through a fine-mesh sieve over the chocolate, stirring gently until the chocolate is melted and smooth, 1-2 minutes. Rinse the saucepan and scrape the chocolate mixture back into the pan. Warm gently over medium-low heat until hot and steaming, stirring occasionally.
Add the egg and yolks to the heatproof bowl and whisk together until combined. Slowly pour the chocolate mixture over the eggs, whisking constantly, until combined. Strain the mixture through a fine-mesh sieve into a measuring pitcher (you will have about 3 cups). Divide the mixture among the custard cups and skim any bubbles from the top of each. Place the roasting pan in the oven and carefully add boiling water to the roasting pan, until the water comes halfway up the sides of the cups. Bake until the custards are nearly set and jiggle slightly in the center, 25-30 minutes.
Remove the pan from the oven. Transfer the cups to a wire rack to cool completely, about 1 hour. Cover each cup with plastic wrap and refrigerate until well chilled, about 4 hours. To serve, top each pot de crème with some of the sugared flowers (recipe below) and a sprinkle of flaky sea salt.
Sugared Flowers
1/4 cup sugar
12-18 edible small culinary lavender blooms
1 large egg white
While the custards are chilling, make the sugared flowers. Reduce the oven heat to 170. Line a rimmed baking sheet with parchment paper. Place the sugar in a small bowl. Using a small paintbrush, coat each flower with a very thin layer of egg white. Dip the flower into the sugar, shake off any excess, and lay on the sheet pan with the stem end down. Repeat. Place in the oven until the flowers are dried to the touch, about 1 1/2 hours. Set aside to cool completely.
Also: if you can't track down lavender, you could always substitute ice cream! Last week Snoqualmie Ice Cream sent me a box of various flavors to try, and I have become smitten with the French Lavender and Crème Fraiche. They both tasted amazing with the pots de crème. (And, I haven't been paid in any way to say that. Their ice cream and gelato is delicious).