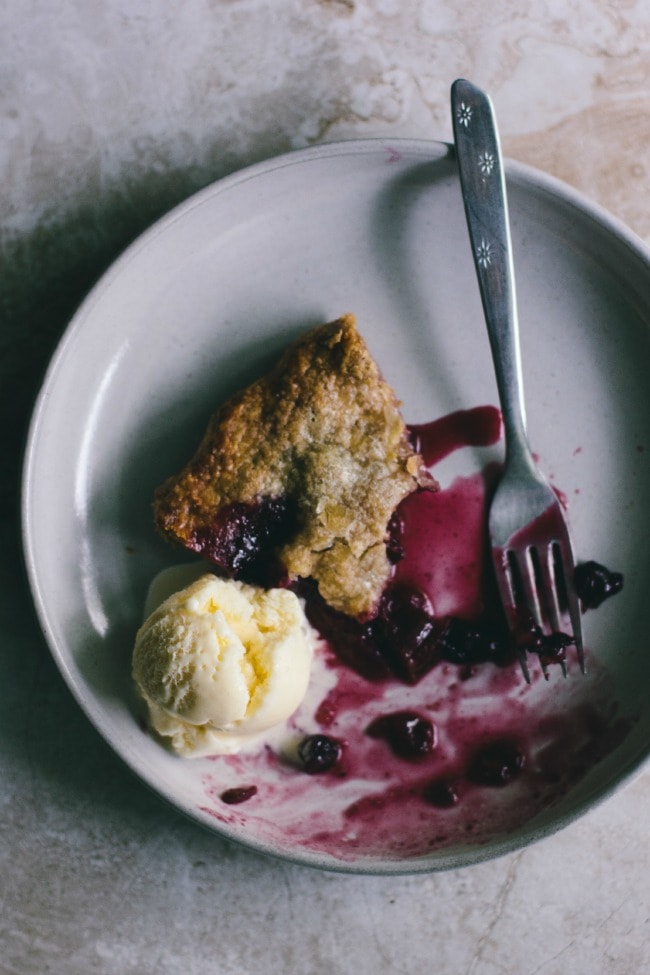 Last week I received my copy of The Homemade Flour Cookbook by Erin Alderson in the mail. I've been a fan of Erin's site Naturally Ella for a long time, and last September had the pleasure of meeting her (and photographing her wedding). Erin is a hardworking, go-getting woman, and one of the most generous souls here in blogland. I've been terribly excited about her book.
The premise of the book is exploring 'the different ways to grind flour including electric and non-electric grinders, food processors, blenders, and even coffee grinders, making it easy for any do-it-yourself homemaker to have fresh flour whenever needed.' The flours range from barley and einkorn, to gluten-free grains like quinoa and corn, and even legumes: chickpeas, lentils, and beans all are used. Erin explains the different ways to grind them, and has a vast array of recipes for all kinds of eaters.
I had a pile of rhubarb in our garden, and a pint of blueberries that were on their way out, so Erin's Whole Wheat Rhubarb Blueberry Apple Pie immediately jumped out at me. It's a jem, and one I will look forward to making each summer.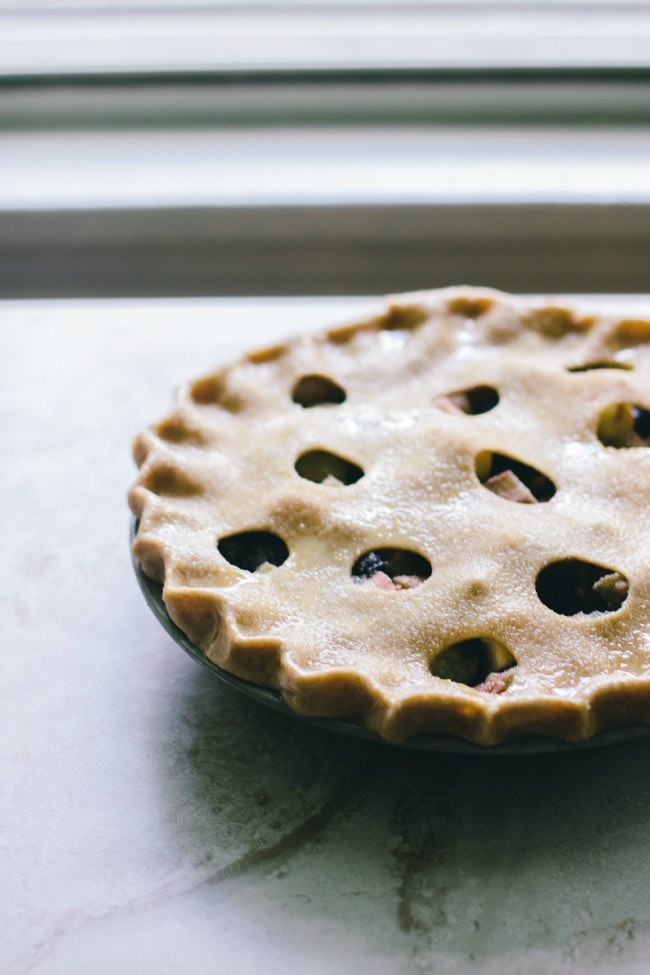 (Also, A few things:)
Sara had her baby. I can't get over these gorgeous and amazing photographs.
A little documentary by Flight of the Conchords. Don't know how I missed this!
Don't forget to enter my giveaway! You could win a copy of Cook's Illustrated Baking Book, a year subscription to Pure Green Magazine, a bottle of Lavender Extract from Hatchery, or a copy of The New Artisan Bread in Five

Rhubarb-Blueberry-Apple Pie with Whole Wheat Crust
I did make a couple of changes to Erin's recipe – her crust calls for just soft whole wheat flour, but I made mine with half all-purpose and half whole-wheat flour (3/4 cup of each). Her pie is also a straight up rhubarb pie, and if you'd like to go that route, use 6 cups of rhubarb, and omit the blueberries and apple. Also, whenever I bake pies I use Cook Illustrated's trick of preheating a baking sheet on the bottom rack, and baking the pie on that, to help crisp up the bottom crust. So I started my oven at 450, baked the pie on the hot baking sheet for 30 minutes, lowered the temperature to 375 and rotated the sheet pan, and then baked the pie about 20 minutes more. If you are grinding wheat berries yourself, look for soft wheat berries in the bulk bins at your local co-op. (Soft flour is comparatively low in gluten and thus results in a finer or crumbly texture. See this for a little more information).
1 1/2 cups (180 g) soft whole wheat flour (see note)
2 tablespoons (26 g) organic cane sugar
1/4 teaspoon sea salt
1/2 cup (112 g) cold butter, cubed
2-3 tablespoons water (25-45 ml) cold water
filling:
4 cups rhubarb, cut into 1/2 inch dice
2 cups blueberries
1 apple, peeled and grated
1/2 cup (100 g) organic cane sugar
1/2 cup (115g) packed brown sugar
1/2 cup (60 g)soft wheat flour
1 tablespoon (15 ml) fresh lemon juice
1 teaspoon ground cinnamon
a good pinch of salt
egg wash
2 tablespoons (26 g) organic cane sugar
Preheat oven to 375.
Combine the flour, sugar, and salt in a medium bowl and whisk to combine. Cut in the cubed butter with your hands or a pastry blender until the dough is in pea-sized pieces. Stir in 2 tablespoons of cold water, and add more as needed to bring the dough together. Transfer the dough to a well-floured surface and divide it into 2 balls. Form each ball into a disk, and wrap in plastic wrap. Refrigerate for 20 minutes, and up to 2 days.
In a large bowl, combined the rhubarb, blueberries, grated apple, sugars, flour, lemon juice, cinnamon, and salt. Toss together until the fruit is coated well. Set aside while the dough chills.
On a floured surface, roll out each dough ball into an 11-12 inch circle. Drape one round of dough into a 9-inch pie pan, being careful not to stretch or tear it. Pour in the filling, and top with the remaining crust. Crimp the edges together. Cut an x into the top of the pie (or cut out several small circles), brush the top with the egg wash, and sprinkle with 2 tablespoons sugar. Bake for 50-60 minutes until the crust is golden brown and the filling is bubbly. Let cool on a wire rack at least 4 hours before slicing.