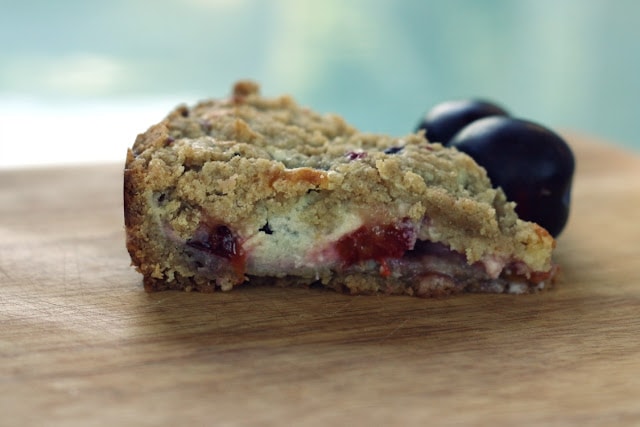 I couldn't resist these little plums. They jumped out at me as I walked through the store, and my daughter squealed with delight as something so tiny and so purple was put into our cart.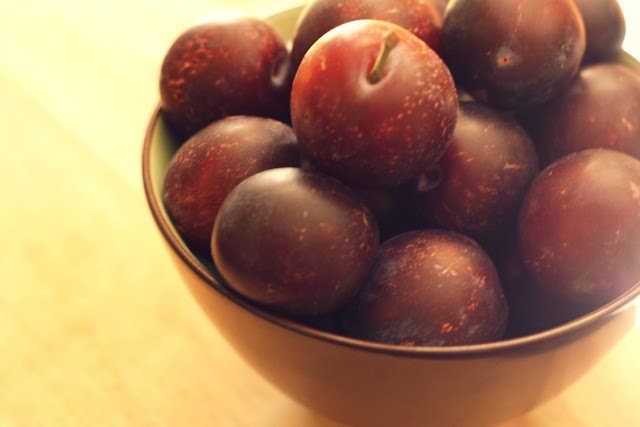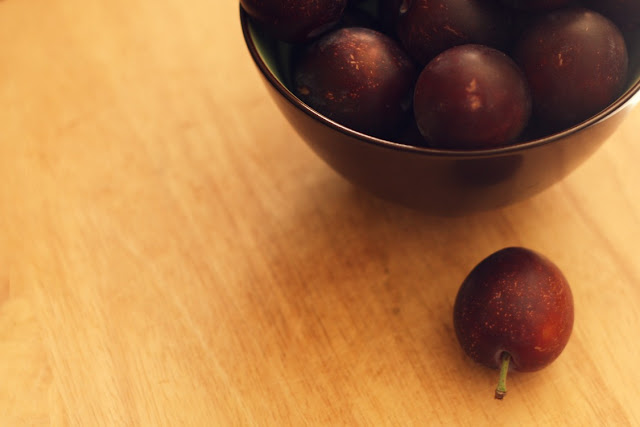 I came home to find the
Smitten Kitchen
had posted a recipe for a Hazelnut Plum Crumb Tart. It was meant to be. Except I didn't have hazelnuts. So I did some tweaking, and a plum walnut crumb tart with a cream cheese filling soon came out of my oven. Then I was the one squealing at what those little purple plums had turned into.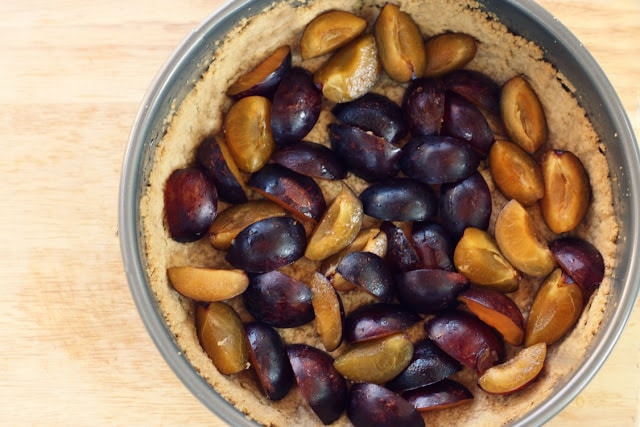 This tart is really incredible. The crumb topping is sweet and a teensy bit salty, and the not-so-sweetness of the plums balance everything nicely. And the cream cheese filling. Yes. That will make everything alright. Just for a moment.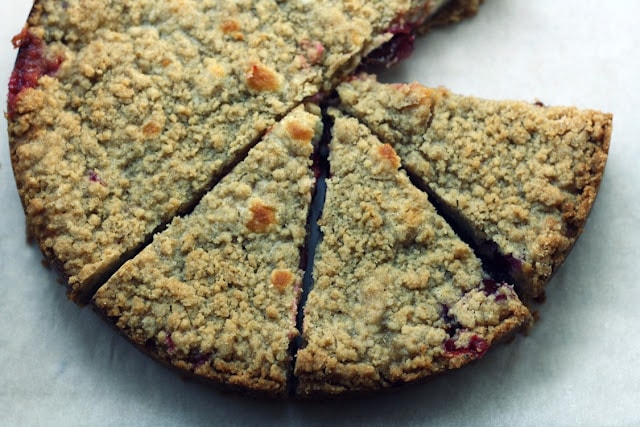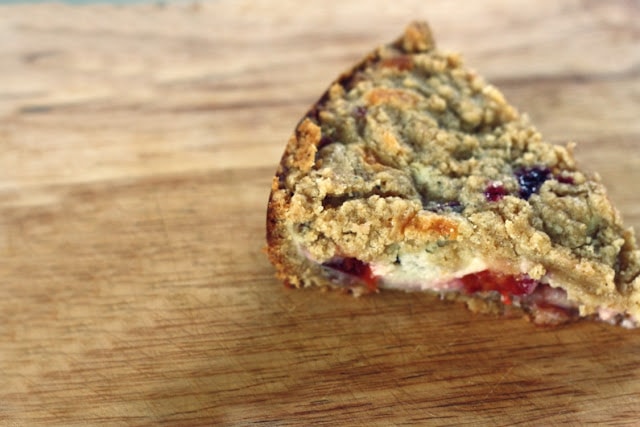 Plum Walnut Crumb Tart
adapted from Smitten Kitchen
I ended up doubling the crust/crumbs from the original recipe – I didn't get as much as called for when I made this, so I'd rather be safe than sorry. You will have some left over, but you could always use it on top of muffins. The original recipe uses hazelnuts instead of walnuts, which would also be great.
crust + crumbs
1 1/2 cups unsalted butter, chilled and cut into small pieces, plus more for pan
2/3 cup walnuts, toasted
3 cups all-purpose flour
1 cup granulated sugar
2/3 cup packed dark brown sugar
1 teaspoon ground cinnamon
1 teaspoon table salt
filling
1 pound ripe but firm plums [about 4 standard black ones or 12 smaller Italian plums]
1 tablespoon all-purpose flour
1/4 cup plus 2 tablespoons granulated sugar
1 large egg, lightly beaten
1 large egg yolk
4 ounces cream cheese, softened
1/4 cup milk
1/4 teaspoon table salt
1/4 teaspoon ground cinnamon
Preheat you oven to 350 degrees. Butter a 9-inch springform pan; set aside. Place nuts in the bowl of a food processor, and pulse until medium fine, about 30 pulses.
for the crust:
Transfer nuts to the bowl of an electric mixer and add the flour,  granulated sugar, brown sugar, cinnamon, and salt; mix until just combined. Add butter, and mix on low speed until crumbs begin to stick together, about 2 to 3 minutes. Press 3 cups of crumb into the bottom of the prepared pan and about 1 1/2 inches up the sides of the pan to form crust; you can use the bottom and side of a heavy measuring cup to help press the crumbs down and up the side. Set remaining crumb mixture aside. Transfer crust to the oven; bake until it appears to be set, 15 to 20 minutes. If the sides slump in the oven; gently press the sides back up with the back of a metal spoon when it comes out of the oven. Set aside to cool.
for the filling:
Slice plums in half, and remove pits. Slice larger plums into eighths and smaller ones into quarters and arrange in cooled crust. In a medium bowl, whisk together flour and sugar. Whisk in egg, egg yolk, cream cheese, milk, cinnamon, and salt. Pour filling over fruit; sprinkle with 1 1/2 cup reserved crumb mixture. Transfer tart to the oven; bake until filling has set and is slightly golden, 45 to 50 minutes. Let rest at least 25 minutes before cutting if serving warm. You can serve this warm or chilled.